Are you completely overwhelmed with the curriculum options? Everything claims to be "the best homeschool curriculum" but how do you know? How do you know if it will work with your family dynamics or children's unique personalities and learning styles? I have been racking my brain trying to come up with a way to help you guys muddle your way through the mass amounts of curriculum out there and I had a total light bulb moment! I am going to offer you guys a completely free 1 week course, I won't charge you for my time or advice, there is absolutely no catch. In this course we will help you figure out your children's unique learning styles, personalities, your teaching style, your homeschool style, and how to account for your family dynamics in choosing curriculum. At the end of the course I will give you my personal curriculum recommendations to help you find the best homeschool curriculum for your family based on your results! How cool is that?!?!
The Best Homeschool Curriculum for YOUR Family!
Last year I compiled a master homeschool list of all the curriculum that I know of. As I was going through it (see the list here) I realized how crazy overwhelming this can all be. It took me 4 years to find what works for my children, for me, their learning styles, their personalities, and our family dynamics! In this course we will first take the time to discover who you are! We will explore your children's learning styles and personalities. You will be sent daily lessons with short videos (optional if you don't have good internet) with homework and worksheets and quizzes to help you better understand your family. You will send me your results and I will give you a personalized recommendation for each of your children for the school year. I have tried a lot of curriculum you guys! I was homeschooled through most of my education and I have been homeschooling for nearly 5 years now. I am passionate about sharing what worked for us and what didn't. I want you to find curriculum that not only works for your children, but that YOU will enjoy teaching! It is possible!
I have broken the course up into a week as it takes time to really analyze and understand your family and for me to get to know you. During this time, we will be able to get a clear overview, without it being too overwhelming or taking up too much time. If you have about 20 minutes a day, I will help you however I can, give you advice if you are new to homeschooling, and respond to your questions (curriculum related or not). I'm not sure how long I'll be able to do this course, and I know I am going to be limited to how many people I can help at once (remember, I still have 5 kids that I homeschool and a blog to run!). So to begin with, I will be taking on 50 people a week.
How to Enrol in the Curriculum Discovery Course
What's there left to talk about? It's a free course to help you figure out what curriculum will work best for you! This course is now open to anyone, though there is potentially some wait times depending on how many people I have enrolled at a given time. Click here or on the image below to enrol.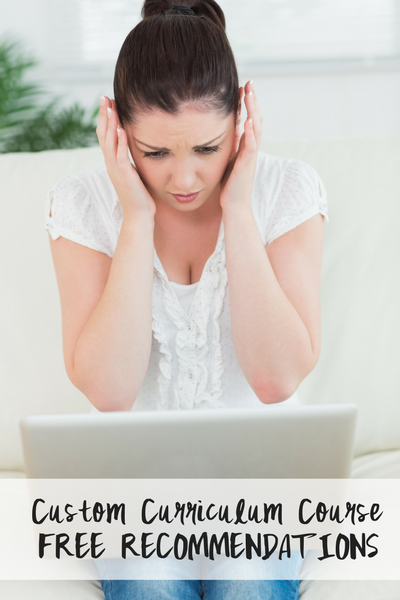 If you didn't get email confirmation, check your junk and add rebecca@rebeccaspoonerpgblog.com to your contact list to make sure. You can log in to view your first day immediately and will be able to view the other lessons daily after that. Once I have your day 5 results, I will start researching/creating a portfolio for you. I need between 5-10 business days to do this depending on my waiting list, so PLEASE bear with me! If it has been more than that time, feel free to email and check up on me, in case I didn't receive your info or something got lost along the way! If you are in a rush for some reason, please reply to the emails and let me know so that I can make sure to get you done ASAP.
Have you tried a bunch of curriculum or are you brand new? Comment below!