I always chuckle to myself when people ask me what a typical homeschool day looks like with 5 kids, mainly because it is anything but typical. There are many homeschoolers out there that are far more structured than I am. They can clearly tell you their routine or schedule and lay it all out like a pretty little package. If you are looking for some posts like that, they really are everywhere, you won't have to search very far. Our family, on the other hand, is a wild, chaotic, mess. We are spontaneous and easy-going and pretty casual when it comes to following curriculum. I have been known to switch curriculums multiple times in a year. I have been known to take full weeks or even months off of school when life get's busy or something more interesting comes up. So when I was considering this post, I was kind of at a loss on how to present this glimpse into our homeschool life. I think the easiest way will be to show you two examples of a homeschool day. One where we are motivated and on-schedule, getting on top of our curriculum, and another where we are just living life. It should give you a pretty good idea of how our school year functions and I hope it gives you perhaps new perspective, maybe a bit more freedom, or better yet removes some of the pressure you might be putting on yourself.
A typical homeschool day in our house
We have days, weeks even, when we are on the ball. We decide we want to get some work done (and by we, I mean me) and we get into a bit of a routine. We tend to get up earlier and go to bed earlier too. We usually work in stages, doing a mixture of group subjects, individual studies, independent work, and one-on-one time depending on the child's individual needs. Take a look at our main schedule when we are having a "school day".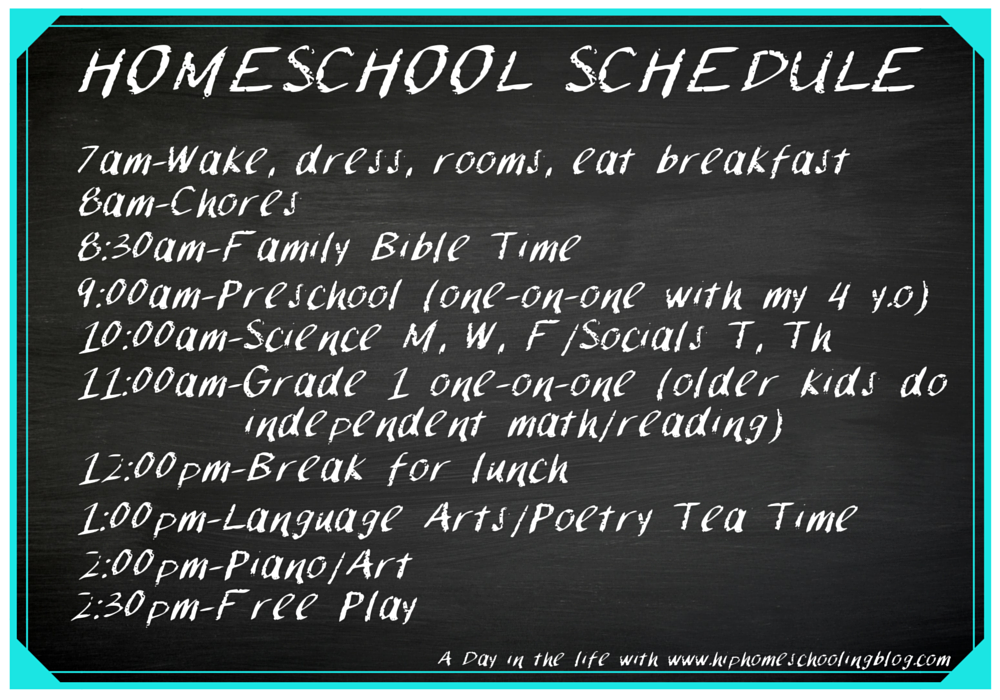 Chores and Bible Time: Our day starts with chores, we work at them all together with the music cranked. I find that when I work alongside the kids, we get a lot more done and they are more motivated. It is key to a successful homeschool day, because there are days when I don't leave the school room other than to feed them lunch, and if I come out to a destroyed house and cereal drying up in bowls, I begin to lose my cheerful demeanor. We then do Bible together as a family, this year we are using WinterPromise and loving it. We can do it with all the kids (including the preschoolers), I only teach once and they all work at their level in their individual workbooks. It is hands on and fun and a great way to start our day.
Preschool: Next, I work one-on-one with my 4 year old. Although I have read many conflicting reports about doing preschool with your kids, if my child is begging to have her own school books, I am not going to deny her! So my little keener and I hide ourselves away in the school room for some special time where we tell stories, make crafts, put on plays, do some copywork, practise reading, and do all sorts of crazy games with WinterPromise. It is the best part of my day. She is so sweet and while it is a commitment from me in my busy school day, the joy on her face when she gets me all alone or the sheer determination in her eye when she is writing her letters or the wonder in her eyes as she solemnly listens to story time is simply priceless. It always puts me in a good mood. What do I do with my other kids while we are hiding away? My toddler often joins us, I have a big scrap bin of paper that she digs in to do writing or "school work" she plays games, listens to stories, and does art projects with us. Again, I just can't turn my kids away if they are asking for it. The older kids play, finish chores, play Minecraft or reading eggs on the iPad, etc. It's pretty much free time for them and no one seems to mind.
Socials or Science: Next we do a group subject, alternating between socials or science. This is with my 3 older kids (grade 1, 3, and 4). We all work together and do the activities at varying levels. We do Science M, W, and F and Socials on T, and Th. For Science we are using Master Books Elementary Zoology right now (get 5% off with code: REBECCASFRIEND). My younger son listens but does not do any of the worksheets. Learning through osmosis my friends, it is the best way to learn 😉 For Social Studies we work together on our Project Passport World History Study on the Middle Ages with Home School in the Woods. It is very hands on and full of activities to bring that time period to life for the kids. There is so much cutting and glueing and coloring that they always have a blast and are often asking to do it more often or to do just one more project when we have finished one for the day. Either of these take us between 30 minutes to an hour depending on the day.
One-on-one with my 6 year old: Once we have completed our group subject, I kick all the kids out again. I usually set up the 2 and 4 year old with a show on TV, and give my older two their books to read and math to complete. During this hour I do all my sons school with him one-on-one. He really needs the coaching, he needs the motivation, and the attention. So we set aside the world and do math, language arts, reading, and anything else he might be interested in.
Language Arts: After lunch, we are nearly finished all of our school. I pull the older two into the school room for language arts, we have been doing writing with Brave Writer, so some days that means we are doing Poetry Tea Time at the table during this time or doing a family freewrite session instead. At this point, all my kids have done their reading so this generally only takes us about half an hour, but we always leave room for prep, tidy up, and the never-ending wrangling that I seem to do.
Piano/Art: We finish our school day generally with piano. We have alternated piano/art in the past, which is why I put it on here like this but because of how in-depth this art program is, we only do art once a week, often on a weekend and often not at this time. We all work together during art days using our Home Art Studio DVD's. Most days we actually do piano lessons daily at this time and then the kids go out and play. We use a home piano lesson software called Piano Wizard Academy. It only takes about 10 minutes, but that is 10 minutes per child so we work our way through and the kids are released to play once they have finished.
Want help making your own homeschool schedule?
A while back I wrote a post about our old homeschool schedule and created a free printable worksheet pack to help you plan your daily needs and routine. I will link to the post here if you want info on how to use it and set it all up, but I will put the download form here as well if you want to just download it and get cracking.
A typical unschooling homeschool day in our home
Most months, we do traditional "school" about half the time. So that might look like 2 days on 3 days off, in a relaxed month, or it might be 1 week on, 1 week off. Or it might be 2 full weeks motivated and on task and then 2 full weeks off. Because it is never really a planned thing, it is most often a strong week and then a flop week. But as I have battled with myself to become more structured, I have seen my kids blossom during these break times. I have seen so many benefits to unschooling and finally found a balance that I am excited about. You see, if I unschool half the time, but do school year round, we actually get in a full school year of curriculum, while having the experience of both my Charlotte Mason style of schooling AND the unschooling freedom style. Take a look at a typical unschooling day: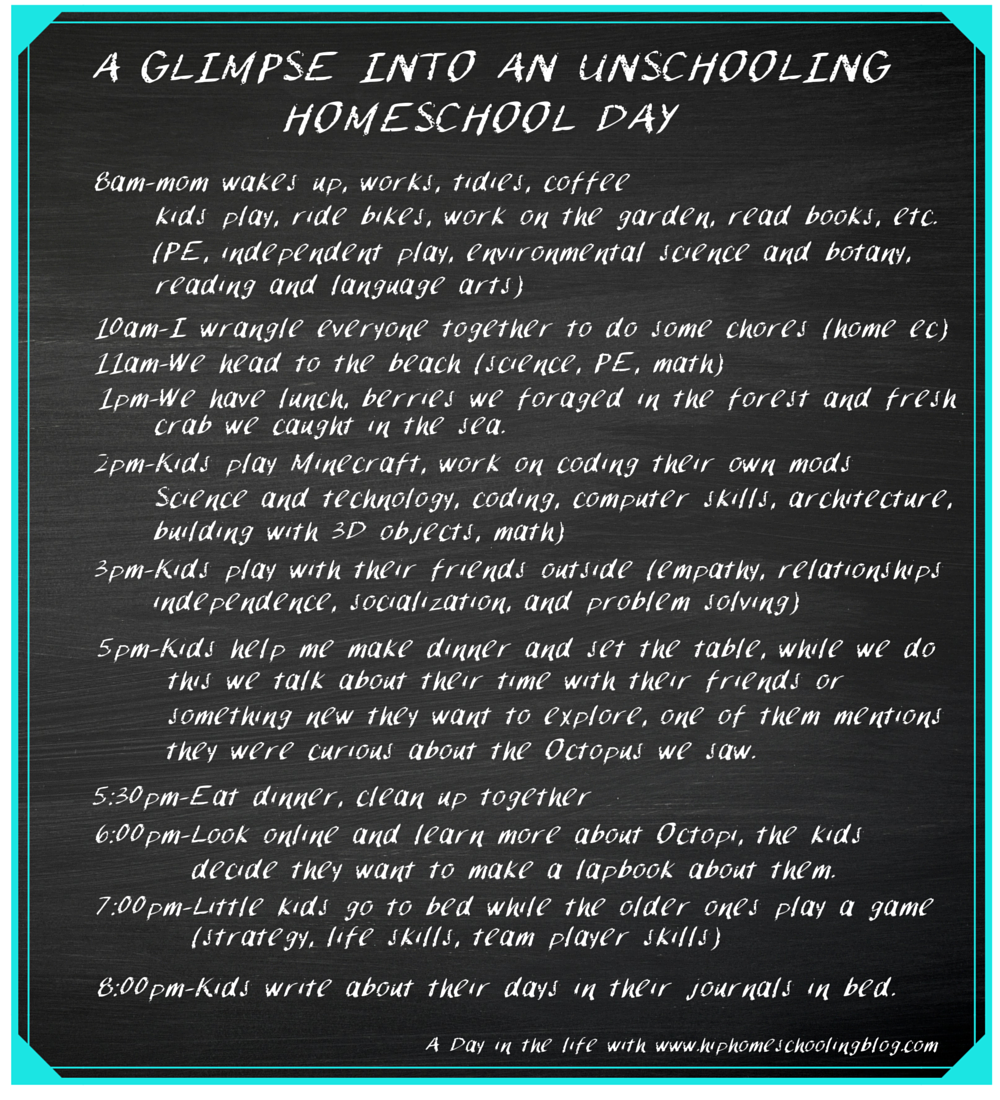 You see, this is just a glimpse. There is so much learning and conversations going on in our day that I can't even cover a quarter of it. My kids will ask me a question I won't know the answer to, so we'll go look it up, which often leads to more discussion and more research. We go to the library and get lost in our library books. We go for nature walks and talk the entire time about things that interest us. The kids make business venture plans and try their hand at selling something, or setting up a storefont in the cul-de-sac. They ask if they can make breakfast or lunch and try their hand at being chef for the day. Learning happens naturally all around us if you look for it, if you are paying attention. Because this type of learning is so natural, so fun, and led by my children's interests, it sticks. Unlike that textbook that means nothing to them, that sea star they saw at the ocean that they wanted to learn more about, THAT they will remember. You see, my kids actually learn more in this style of learning, they might not know that fact that other school aged kids have had hounded into their brain, but they can tell you ten other ones that mean something to them. They are learning about their passions, their interests, their strengths and their weaknesses. Because we blend the books with this unschooling lifestyle, my kids have a chance to direct their education and help choose what they want to learn about. We aren't slaves to curriculum and I am finally finding the freedom to let go of the expectations and perfectionist pressure that has always been on my shoulders. Because we are schooling year round, who cares if we take a day off, a week off, heck even a month off! We will catch up, and even if we don't, I am confident that I am raising children who are global thinkers, not just learning for the sake of someone's pre-decided guidelines.
What does your homeschool day look like? Do you know your homeschool style?
I WAS a traditional homeschooler when I first started homeschooling. But that wasn't who I wanted to be. The more I learned about the other styles, I wanted to break out of my own head, my expectations. I created the homeschool style quiz to help you identify your style, but also to learn about all the styles and maybe identify a style you want to try to reconstruct your homeschool to be. If you haven't taken the quiz yet, I encourage you to do so here. If you found this article encouraging or helpful, you will enjoy my weekly newsletter! I NEVER sell my list to a company to send you ads or pre-written e-blasts. I personally type out a glimpse into my week, my life, and my struggles. I share free printables and resources I have found and sales I have heard about. I try to create content that you will be excited to open each week. If you want to be a part of THAT kind of newsletter, I invite you to join me below!
Got a burning question? A thought? A piece of advice? I want to hear it! Comment below!