Looking for a way to teach multiple subjects and condense the sheer amount of curriculum you work with in a day? Or maybe you are looking for a way to blend multiple grades together and teach a few children at the same time rather than having a segregated homeschool experience? Let me introduce you to WinterPromise, a Charlotte Mason inspired homeschool curriculum company! They have various themed packages that work for a broad age range so that you can teach all your children together. They offer curriculum from Preschool all the way up to grade 12 and everything is quality, hands-on, fun, and engaging. We recently had the opportunity to review Adventures in the Sea and Sky: a theme that incorporates Socials, Science, Bible, Culture, Geography and Reading as a core curriculum for children grades 3-9. Stay tuned for your exclusive coupon code!
A Comprehensive Curriculum with a Themed Approach
WinterPromise is a company created by Kaeryn Brooks, a homeschool mom that couldn't find any one curriculum that met with her values of teaching. Instead she decided to create a new curriculum, that blended the Charlotte Mason style of educating the whole child, while also bringing in Notebooking, Journaling, and an experiential approach that would cater to all learning styles. WinterPromise has a collection of beautiful themed programs that each cover a variety of subjects all pointing towards one common theme. All of the themes have a strong literature approach with lots of quality books that will build a beautiful library over the years on your bookshelf! All of the Language Arts programs and Themes are written directly with your children in mind: they are engaging, fun, and hands-on. They are also written with the homeschool mom in mind: easy to use, open and go, blending multiple subjects into one place to simplify your day, and less teaching to more learning with your children. This is the essence behind the WinterPromise approach and it is one we have been completely captivated by.
Adventures in the Sea and Sky is available in both print and eBook format. When you go to purchase, you will add the Exclusives to your cart (this includes all of the exclusive resources created by WinterPromise Publishing including the Teacher's Guide, your History book (an Unfurling Sail), Culture (Sailors, Whalers & Astronauts), Science (Under the Sea & In the Air), Bible (The God of All Creation), and Notebooking (Captain's Log Notebook)). You will then want to add the theme essentials and probably the theme completer books. Though these are often books you can find at your local library if you prefer and are homeschooling on a budget, which is another great way that WinterPromise is working for YOU by not forcing you to buy everything together. You can also add on an older learner's guide or a younger learner's guide as a way of expanding the program to work for the entire family if you have children younger than grade 3 or older than grade 9. Click on the image below to check out some examples of the guide and interactive components of the curriculum.

We received the guide and the Captain's Log Notebook to review and the eBook versions of the other theme essentials. Because I don't have a Staples near me, this used up a lot of my ink to print it all out (not to mention a bunch of paper and some new binders), however, I actually enjoyed the process and I see a few benefits to going this route versus the print.
The eBooks are licensed to your family so you can print off one consumable for each child without having to buy additional ones (HUGE money saver!)
No waiting for shipping (or paying for it for that matter!)
You can bind or organize them however it works best for your family!
I had just received my new binding machine in the mail (perfect timing, right?) so I spent an evening printing everything off (in color, I just couldn't help myself) and then another evening binding them for my son. I printed them double sided so that we had less paper being used and just used a heavier weight paper for the job so that they are a bit more durable. Here's a peek at all our books printed off and ready to go.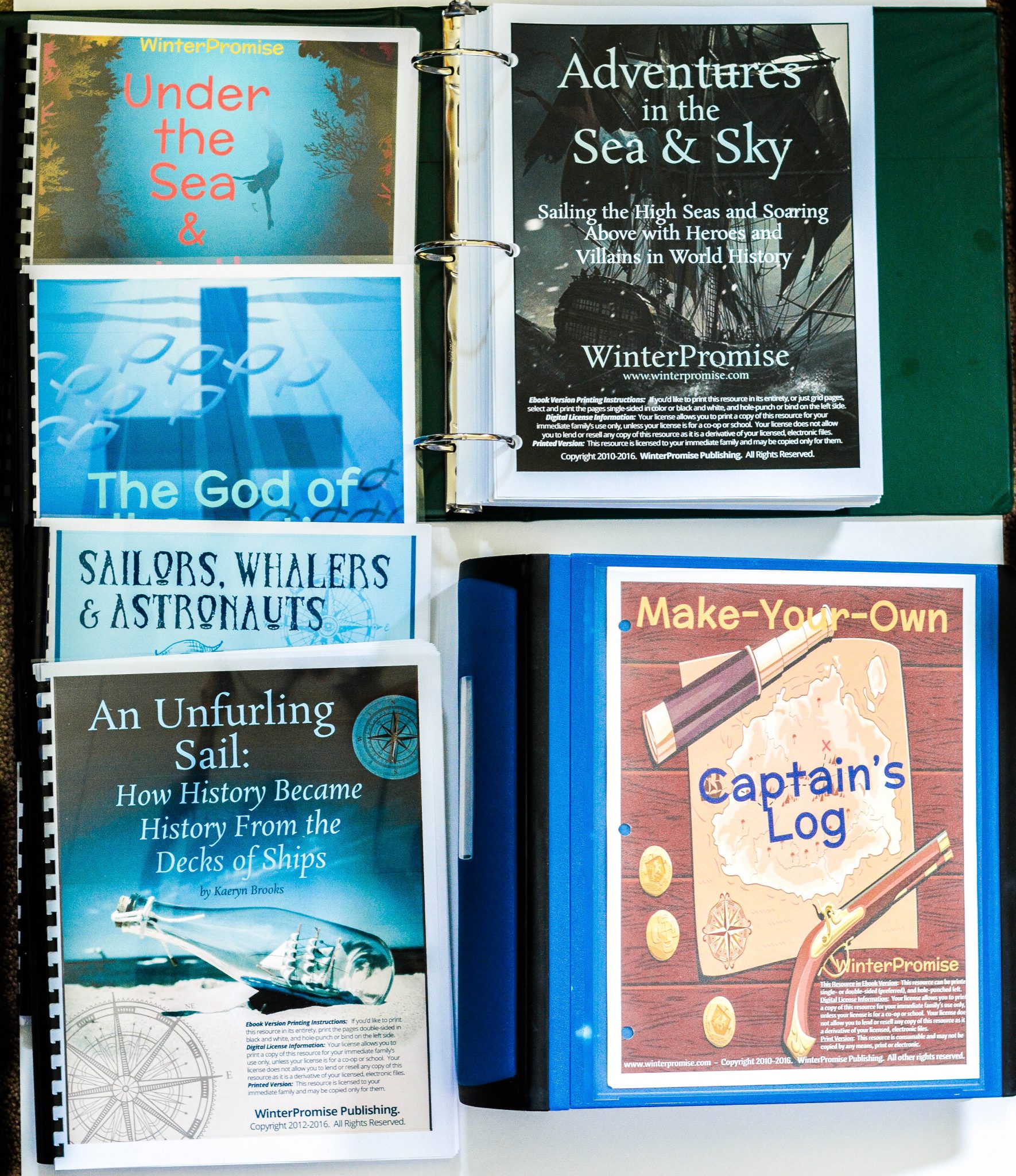 Exclusive WinterPromise Printing Discount!
Now I live on a remote island in the middle of nowhere where our idea of a "big box store" is the local 1000 square foot Fields, however if you live in the land of civilization, WinterPromise has an amazing offer for you! Not only can you get the eBooks with the family license to print off enough for multiple children BUT you can also take advantage of an exclusive Staples offer! For their Mixed and eBook bundles they have arranged a deal with Staples, where you can get THEIR printing prices if you use a specific code. That means that you save a TON of money in printing costs not to mention the time to print everything off and hole punch it. You can even get it bound directly at Staples if you prefer for a small fee and have it ready to go. There are complete instructions on how to do that in your Welcome Packet you will get with your purchase.
A Day with Adventures in the Sea and Sky
In the above samples you will have seen the open-and-go approach of the weekly guide, however I am going to show you with some pictures what a typical day might look like in this program. We add in our Math and Language Arts and we are ready to go for the day for him. The absolute best part of this program, is that they really can do it mostly independently. While I love being a part of his lessons as much as I can, I am VERY limited with 4 other children who all need help with reading every instruction and keeping them on task. Caleb is going into grade four this year and he is completely capable at looking at the teacher's guide and finding what he needs to do in a day. I even took the liberty of putting his weekly page into his Captain's Log binder (which we also put his Pirate Pack and Sea Monsters printables into as well (I got the EXTRA big binder, so there was lots of space). I gave him a highlighter and he just highlights the activities he has done so that he can keep track.
He usually will begin with reading in either Sailors, Whalers, and Astronauts or an Unfurling Sail. There is usually 1-2 pages to read in one or both of these books, but he is a super fast reader so it doesn't take him longer than about 15 minutes to complete this portion of his Social Studies/History/Culture for the program.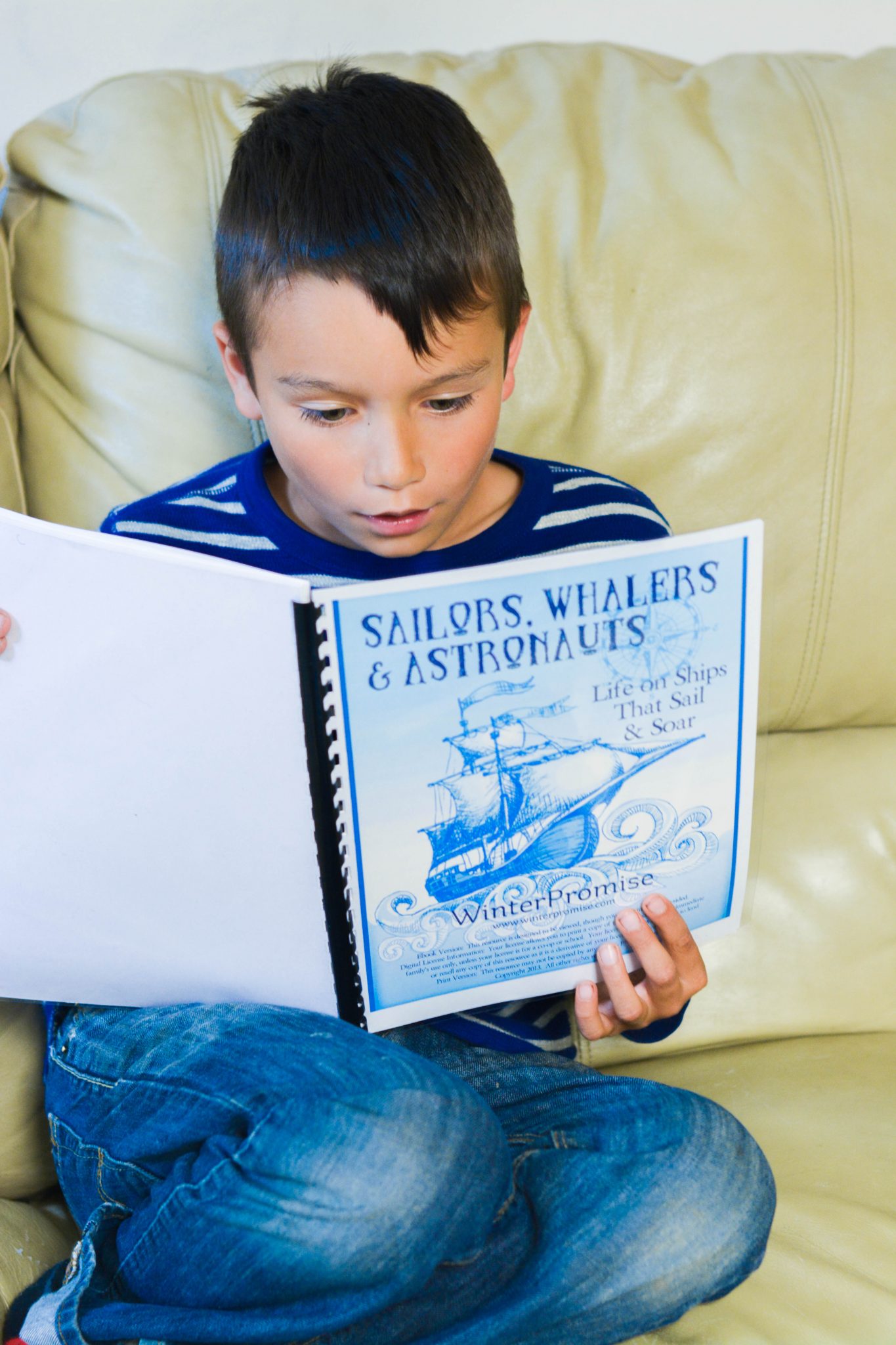 He then moves on to his favorite book, Under the Sea and in the Air. This book is a WinterPromise exclusive (meaning created and published by them, you won't find it anywhere else). It is bright, it is fun, and it is FULL of scientific discovery and experiments. We printed this book off in color and it was worth every penny and minute of my time to do it! It just so happens to be my favorite book as well! Some of the topics covered are: Different Bodies of Water, Our Blue Oceans, Oceanography, The Bulge of Tides, Tsunamis, Ocean Currents, Along the Ocean Shore, Surviving in a Tide Pool, What About Whales? What About Seabirds? Seeing and Sensing in the Sea, Be a Meteorologist! Atmospheric Conditions, A Quick Trip in Our Solar System, Stars, Galaxies Upon Galaxies, and so much more! He only does on average 1 page out of here and it is generally just a bit of information and then discovery time! He gets to experiment and do projects, baking, and exploring to learn about the ocean, ocean creatures, birds, and the solar system!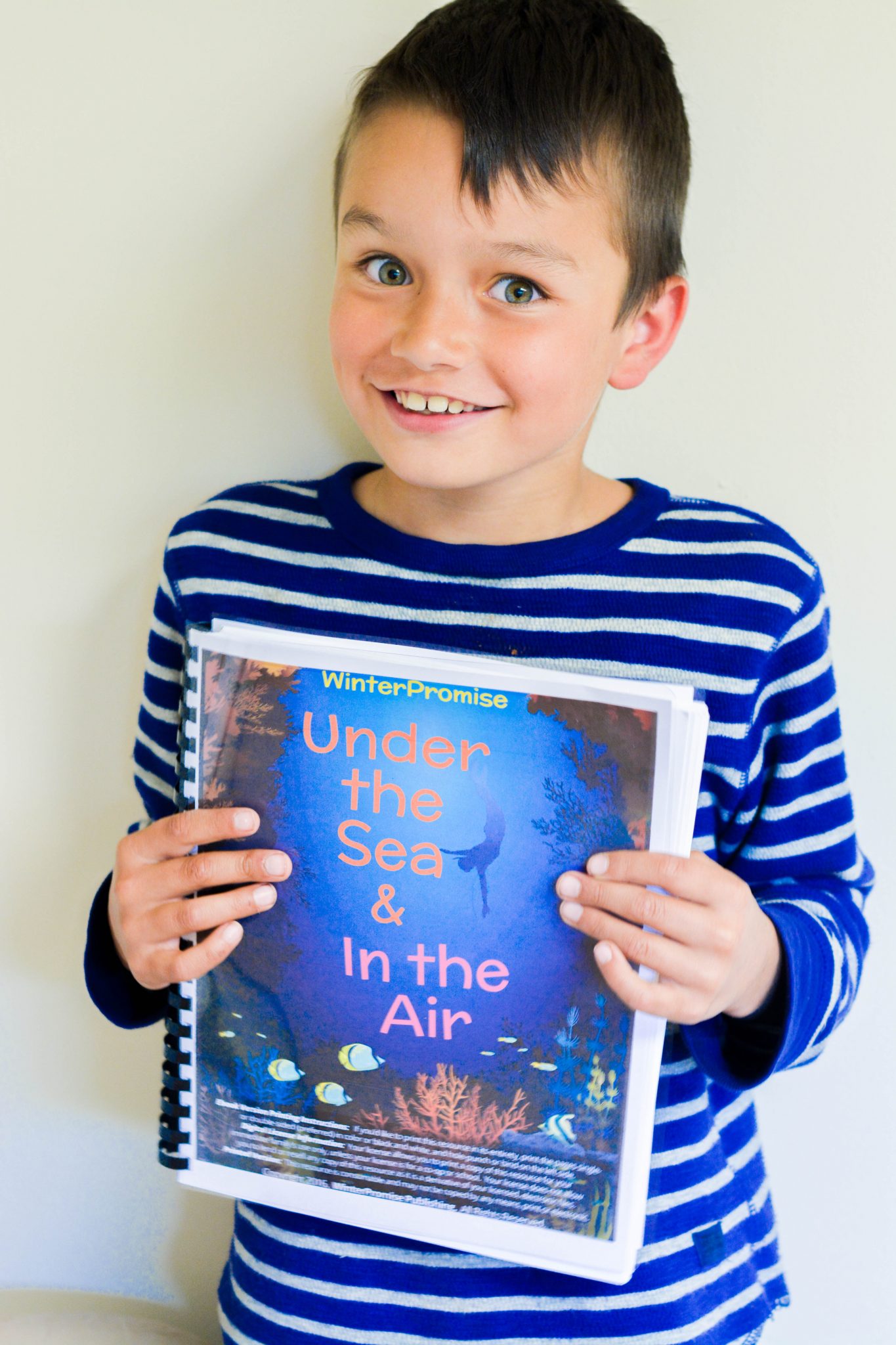 Next he is on to Bible, which is another WinterPromise exclusive, The God of All Creation. This is set up like a Bible study journal. He reads portion of the Bible and answers questions one day, another day he does copywork and memorization, another day he does journaling, and then discussion and how it applies to his life (which I LOVE).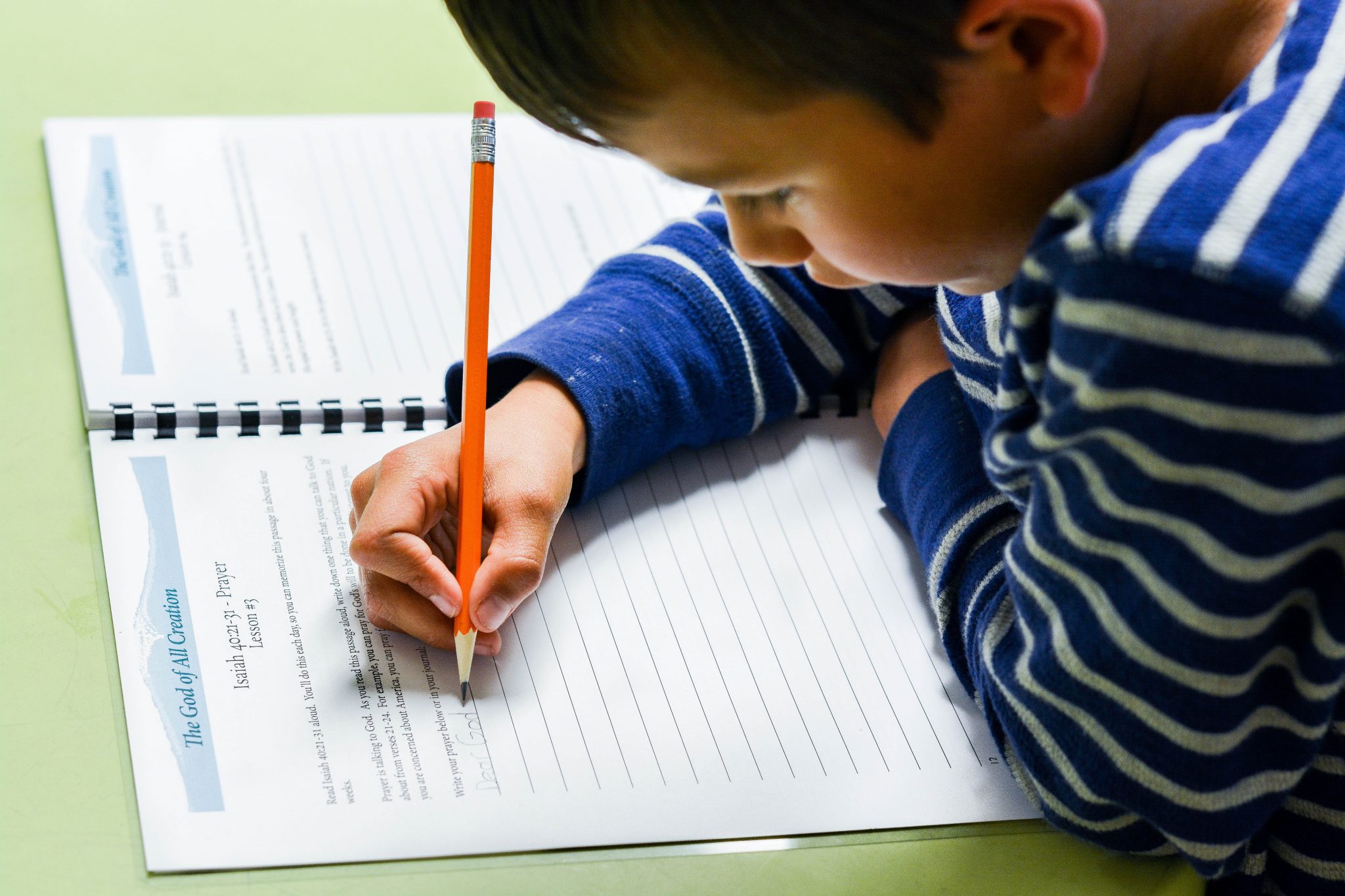 One of my favorite aspects of this program (other than the fact that it combines subjects and grade levels) is that it is so hands on. Each day there are multiple approaches to learning, it isn't all reading and writing. One day we did an activity where we got to "Be a Lookout". Caleb was ALL into this activity, he grabbed his binoculars and ran out to the neighbourhood treehouse where he climbed up with a notebook and pen to make some observations about our neighbourhood. It was a great way to break up the workbooks and do something a little more hands on and experiential to help relate the lesson to him.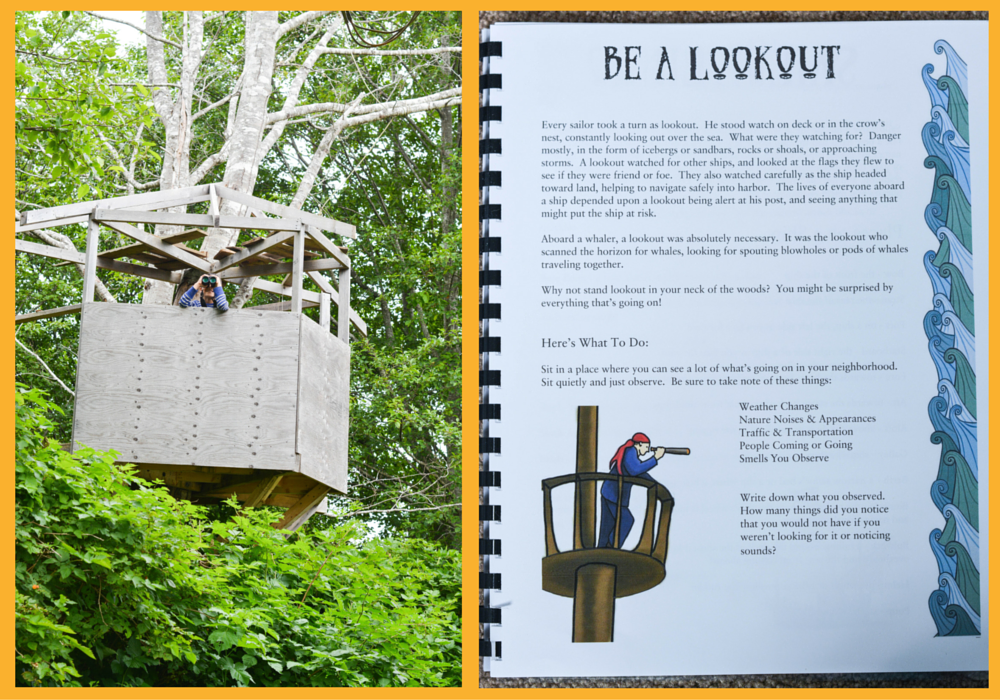 Another activity that we did this week was to observe surface area above the water and how deceiving that can be. This was an activity in our Science book, "Under the Sea & In the Sky". It is another great example of just how hands on this program is. It really does blend the best of all the homeschool styles to offer a program that is uniquely catered to both the homeschool mom and the child. Lots of breaks for the kids, but the activities even have notes next to them that tell you how much prep they require with bold keys such as *EASY*, *OPEN and GO* or *LT. PREP*. For example, on Friday of this week, we were going to be making cup cakes as part of our science, and icing the tops of them a combination of blue and green to show the percentage of water vs. land on the earth. What a cool way to help the kids remember this!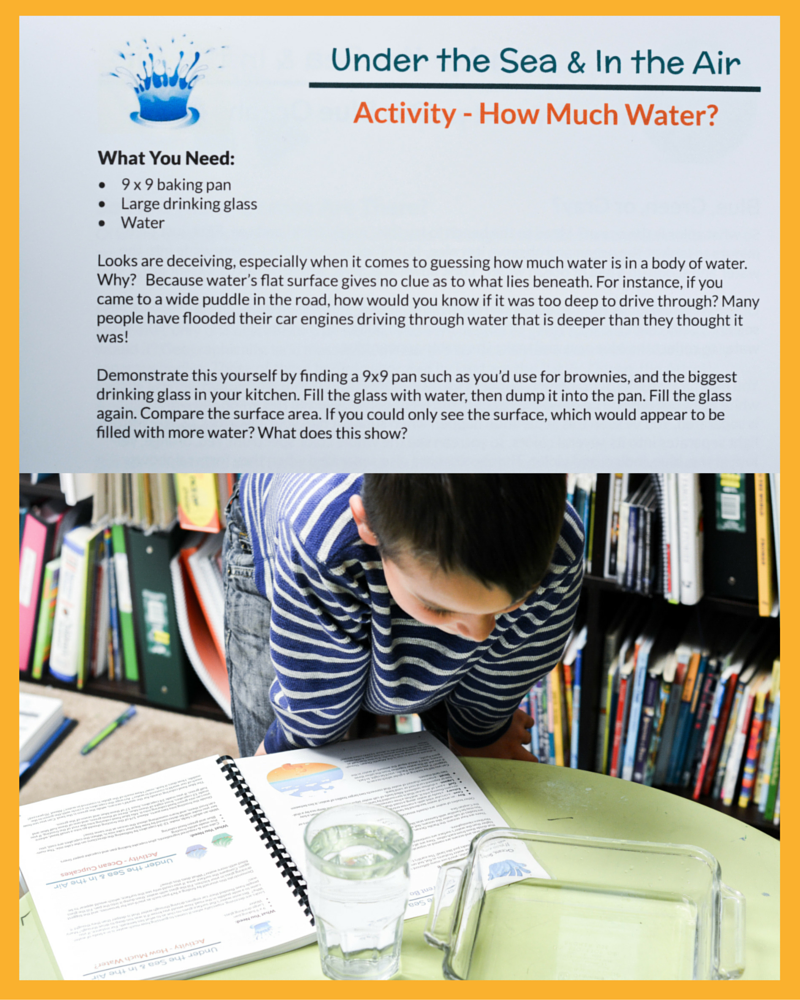 Get 5% at WinterPromise and Learn More!
Want to learn more about Adventures in the Sea and Sky? The a look at the video below to check out a short teaser about the program and what sets it apart, it is animated so a lot of fun for your kids to watch too.
Get 5% off at WinterPromise on ALL their programs (LA, themes, AND Preschool) using the exclusive code HipHS CLICK HERE or on the image below.
Have Questions? Comment Below!