I went to my first cookie exchange as a nervous new mom, plates full of cookies balanced precariously on paper plates. Walking into the room I saw a table adorned with glistening, buttery, flaky treats as far as the eye could see… each one just a little better than the one before… and I wanted to run for the car! These cookies were so complex and beautiful, some of them family recipes passed on and perfected generation to generation. I may as well have been a walking advertisement for All Recipes! The women graciously accepted my cookies with a sympathetic lift in the corner of their mouths… and I SWORE I would never again be so unprepared.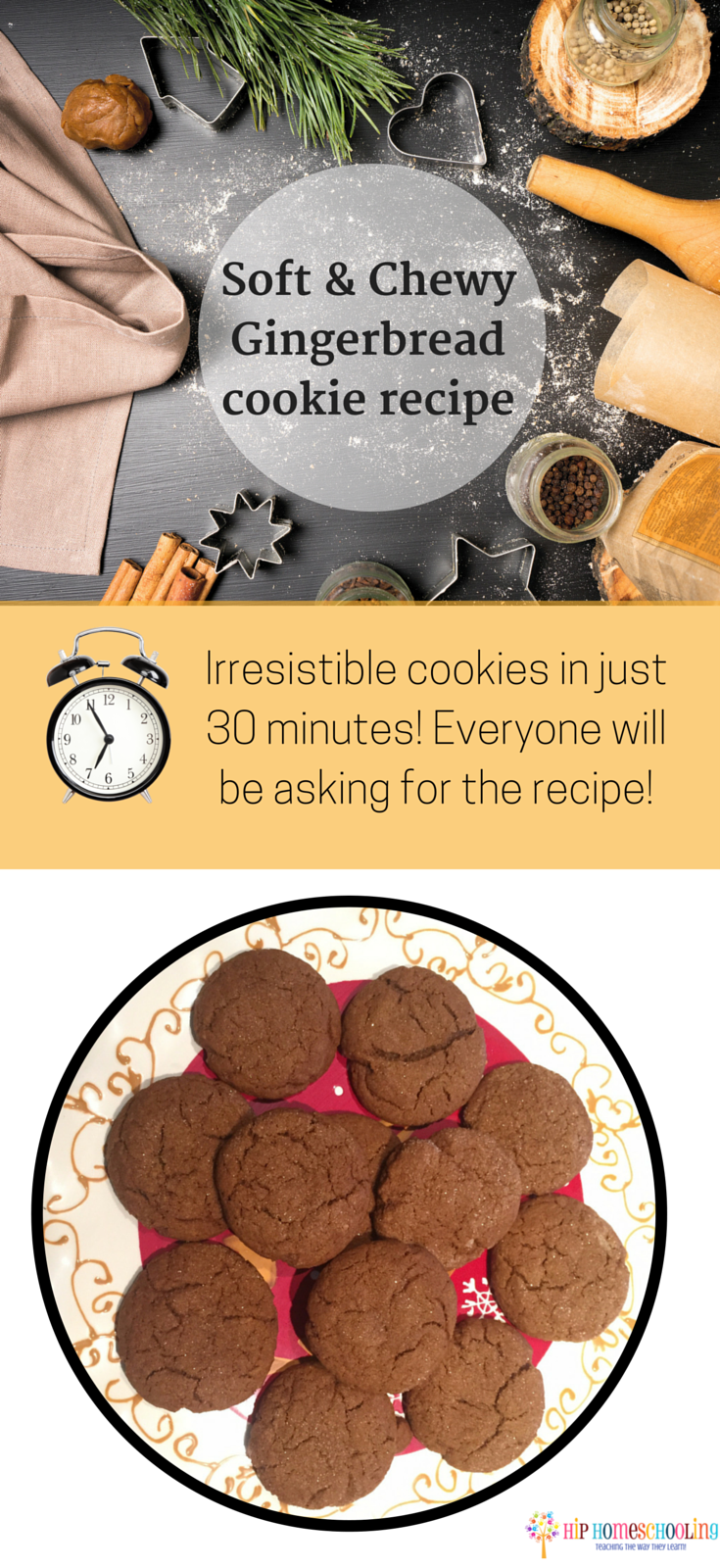 Cookie Exchange Mastery: Keep it Simple!
Over the years, I have learned that the fancier, more complicated cookies are often not the ones chosen on the plate. They look good, but they are heavy, too sweet, and often too taste specific. The ones that are the best sellers are the simpler ones—the crowd pleasers! A little spice, a little sweet, a little salty, you know the ones I'm talking about! Those are the ones you can eat a whole plate of and never tire of them! Those are the ones that have people begging for the recipe. And THOSE are the cookies you can make, in 30 minutes, for your next cookie exchange!
Soft and Chewy Gingerbread Cookie Recipe: The Recipe.
[ingredients title="Ingredients"]
4 1/2 c flour
4 tsp. groung ginger
2 tsp. baking soda
1 1/2 tsp. cinnamon
1 tsp. cloves
1/2 tsp. salt
1 1/2 c. butter, softened
1 1/2 c. white sugar
2 eggs
2 Tbsp. water
1/2 c. molasses
2 Tbsp. white sugar
[/ingredients]


*I think one of the best parts about recipes is sharing them! If you want to share this recipe, use the easy share buttons at the bottom of this post or pin it on your Pinterest board for all your friends to enjoy!


Soft and Chewy Gingerbread Cookie Instructions.
These are so simple, especially if you have a mixer. This recipe will make between 64-72 cookies (depending on how large you make them). They take 8-10 minutes in the oven and as long as they are stored in an airtight ziplock bag or container, will stay chewy and soft for about a week. They freeze BEAUTIFULLY, we often throw them in the freezer and plop them on a plate when we have unexpected company. Within about 10 minutes they thaw out and are just as soft and chewy as they were the day you made them!
[directions title="Directions"]
Preheat your oven to 350º F and grease 4-5 cookie sheets.
If you are using a Bosch or Kitchen Aid, just toss everything in, in no special order. Just make sure to leave the last ingredient (2 Tbsp. sugar) out. If you are mixing these by hand, mix your dry ingredients together first, then add your wet.
When it's all mixed, roll into 1 1/2″ balls and flatten into 1/2″ flat circles (not too much, just so the ball flattens, they will spread out more in the pan).
Dip the top lightly in the 2 Tbsp. of sugar and place on a greased pan.
Bake for 8-10 minutes, take them out and let cool before devouring them in a corner!
[/directions]
What is your favorite cookie exchange recipe?