I have a big goal for my kids. I don't just want to raise independent men and women of society, but rather movers and shakers. I want to inspire my kids to be influencers, to be bold and courageous and stand up for what they believe in. They may not change the whole world, but I want them to have an impact on their own world, whatever that may look like. A few months ago I read a book that shifted my idea of homeschooling to a whole new dimension: "A Thomas Jefferson Education." This book took one of the great influencers of his time and explored how he was taught and how we could model that in our own children's education. It made me begin to think that instead of teaching my kids about certain topics, I wanted to take them to the very journals of greatness. I began to see how our history–the minds and actions of world changers before us–models character and values and convictions. Sometimes we focus so much on the subject we are teaching that we fail to recognize the approach.
For me, one of the most important things I want to teach my children is history. Not just random facts, but the story of the past and how it applies to them. To fully understand why our country is the way it is, we have to go back and see how our government, our lands, our values, and our laws developed. I want my kids to recognize the bravery, ideas, and leadership qualities that history makers are made of. All of this cannot possibly come from a dry, boring history textbook. I want to teach my kids history, but I want to use what we have learned from the world changers and great minds in our past to filter how I do that. Which is why I want to introduce you to "The American Story," a Charlotte Mason inspired history curriculum for grades K-7 by WinterPromise. PLUS keep reading for a coupon code and an EPIC giveaway!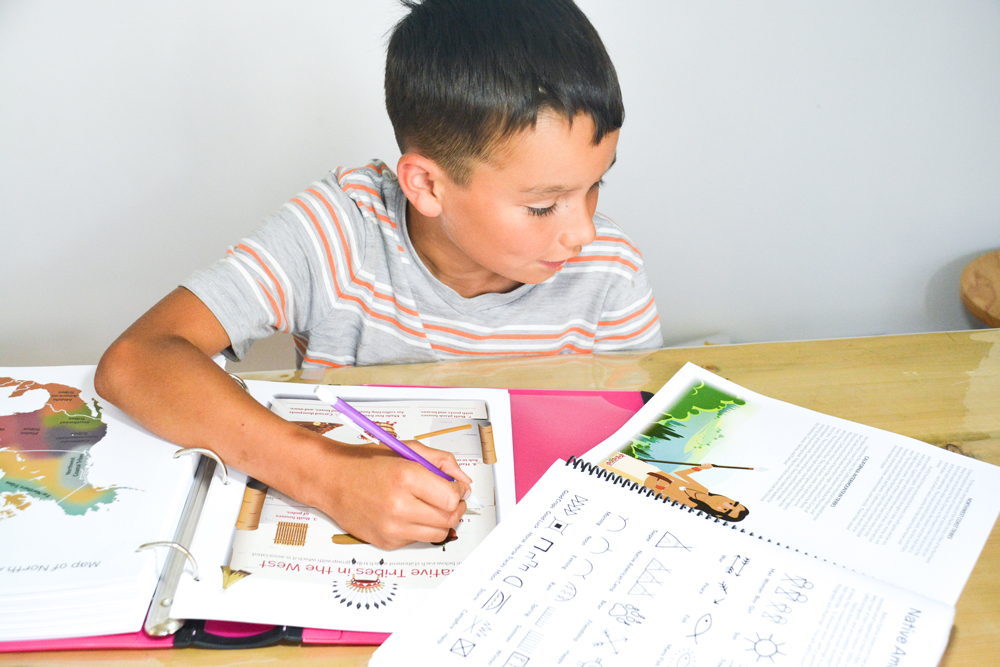 Introducing our kids to greatness
So how can we do this? How can we teach from the classics and introduce our kids to some of these amazing people in a way that isn't boring? How can we model a love of learning and learn alongside them, becoming their mentor rather than their educator? How can we make history come to life, discuss how it applies to us now and the values that made it happen… while still teaching to our children's learning styles? The new themed program by WinterPromise kind of makes the magic happen you guys. I'm not saying this is the only way to teach this way, but it kind of takes the value system of this model of education and organizes it all for you so you can just open and go. You will be reading aloud to your kids with classic literature that is appropriate to their ages. You will be doing hands-on projects and learning about Geography and Culture and even Science through the lens of the history of America. This curriculum adds in the fun with activities and projects, the relevance through living books, and the discussion through interactive notebooking.
An approach that blends the best of both worlds.
The American Story is a 1 year themed program that begins with the discovery of America and ends with Westward expansion. It covers multiple subjects and can be adapted to work with any child between Kindergarten and grade 7 (teaching your kids together saves you time and money). It uses an exclusive, full-color text (living book) that is written as a story and takes your student on a journey through America in only about 5-10 minutes a day. It has a weekly guide that takes you through all 36 weeks of the program, divided into 4 day school weeks to give you flexibility and ease-of-use. It has an interactive journaling/notebooking resource that is nearly 600 pages long, full color, and helps your child utilize written narration, projects, and activities that aid in memory retention and give your child something to be proud of at the end of the year. It also includes building, mapping, art, and hands-on activities to make it applicable to all different learning styles.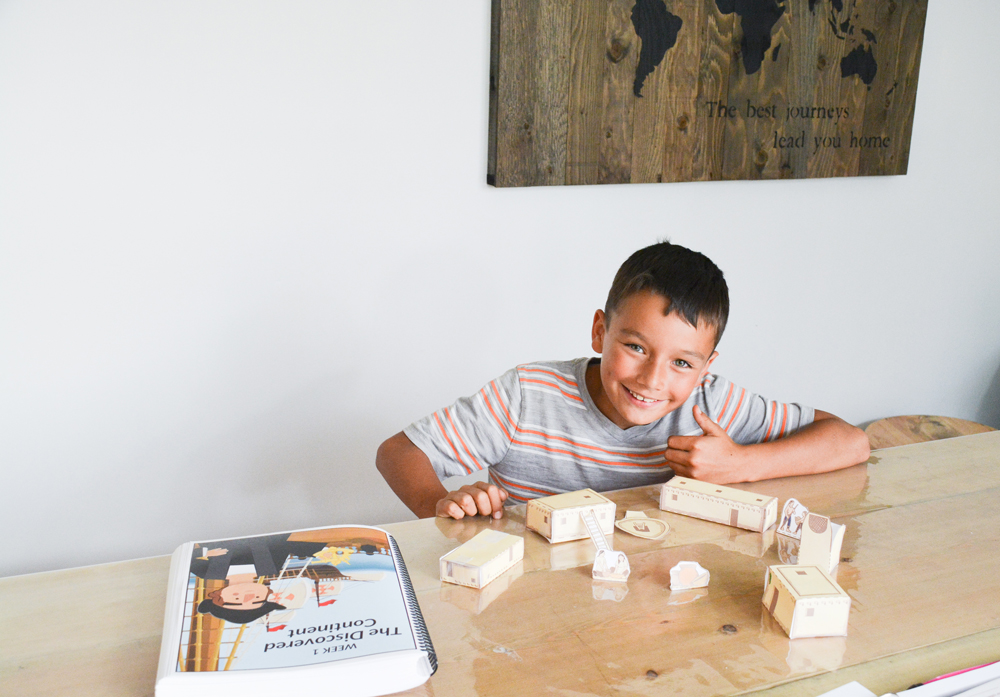 There are three different adventure reader packages available: one for older students, one for younger and one for combined (when you are teaching multiple kids at once). You can either choose to purchase these classics from WinterPromise or snag them from your local library or even on your kindle or Ipad. These classics take you inside the history and culture of early America and are rich books to help your family discuss what these times might have been like, the decisions that were made, and how those affect us today. There are also tons of internet links that have videos, games, and tons of information. This is another great way WinterPromise adapts this program to teach to all learning styles.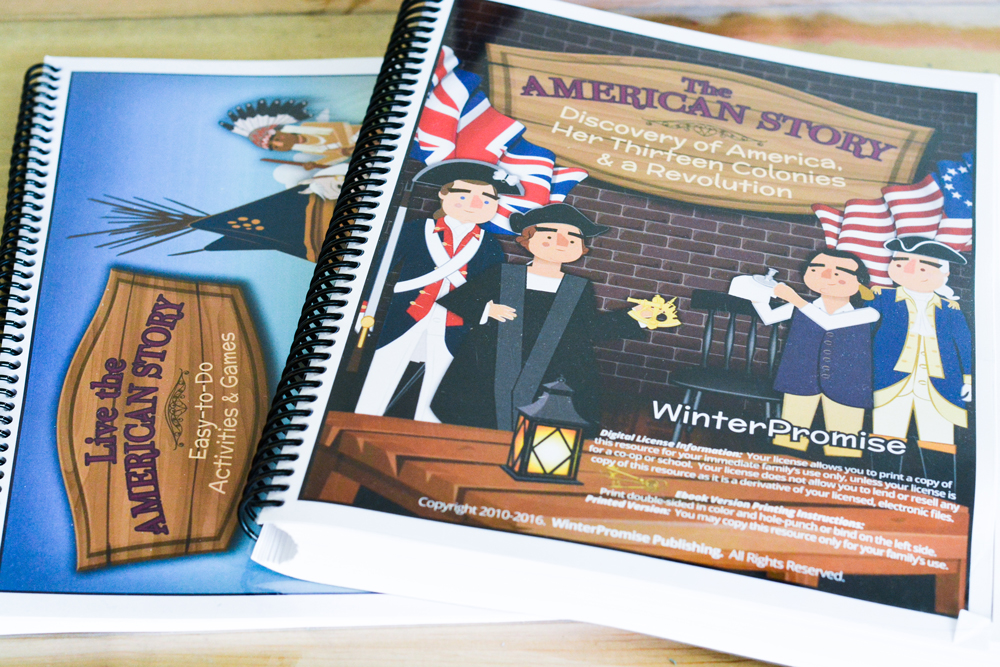 Will this homeschool History curriculum work for you?
What I love about this homeschool history program:
Fun
Engaging
Adaptable
Hands-on
No Prep (Hallelujah!)
Inspiring
Charlotte Mason inspired
Incorporates classic literature and a family style of learning
Can be used to teach the whole family
Has options for print, e-book, or to separate the package and get books from the library to save money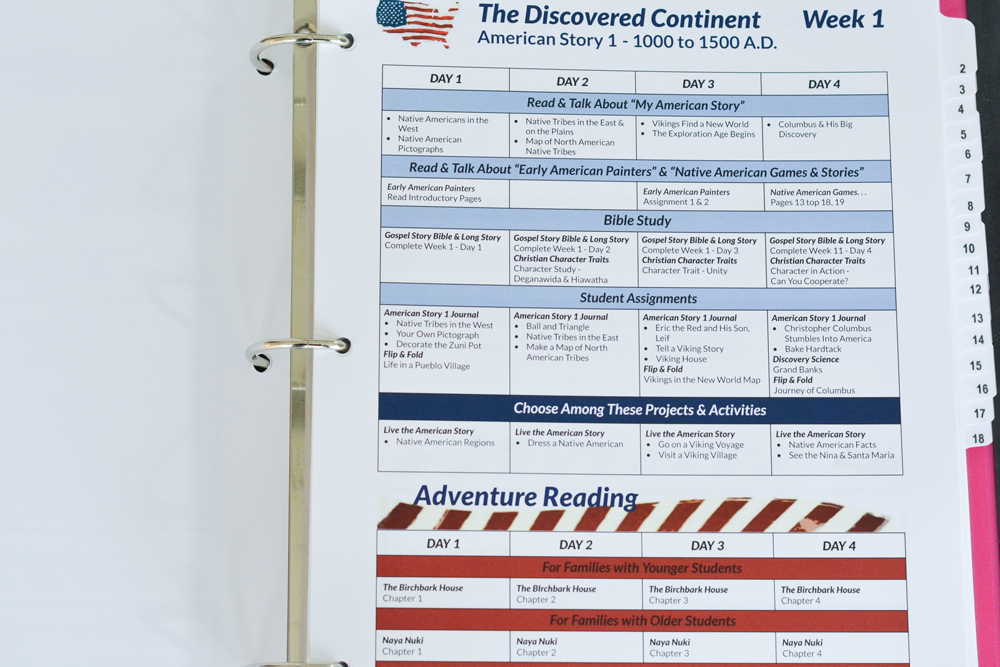 Things to keep in mind:
I don't have a whole list here but part III of the interactive notebooking and part II of the text is still in production. It will be done any day now and sent to you as soon as it is complete if you purchase the package. Basically, it's just so awesome, they didn't want you guys to have to wait to get started and get planning your school year. Also, for those of you who live up here with me in Canada, this program may not teach your learning outcomes or meet your goals (or maybe it will! We want our kids to learn American History after they have the basics of Canadian history down so don't let that stop you from checking it out!). PLUS, WinterPromise publishes language arts from K-12 as well as science, notebooking, and many other resources on their website so check them out.
Approach homeschool History a new way this year!
If you want to inspire your family and learn about history makers this year, this could be the perfect curriculum for you. Packages start at just $199 and depending how many kids you are doing this with, that could save you a ton of money and time! The great thing about WinterPromise is that if one subject doesn't apply or interest your family, they have a TON of other curriculums and programs available. ALL Charlotte Mason inspired, ALL exclusive and published and created by them, and ALL high quality and fun. They have programs from K-12 so head on over to the website HERE or on the image below and check them out, download a sample, and get to know the why behind their programs! They are also offering $20 off any package of the American Story on the website with code: WASHINGTON1720. So click on the image below and let's get started! 

Enter to win!
WinterPromise has generously offered to give away The American Story Basic eBook version to 1 lucky person, valued at over $300! Enter as many entries as you'd like below (some you can do daily) and check your email to see if you won (winner will have 24 hours to respond and confirm with their email for the files).
Questions? Post them in the comments below!