Teaching our kids to read, write, and communicate with language is quite frankly a whole lot harder than it looks! The different elements of Language Arts can seem daunting because there are a lot of them: creative writing, grammar, spelling, vocabulary, structured writing, reading, writing form (neatness), comprehension, and oral language skills. With 5 kids to teach at 5 different levels, using multiple curriculums to address all these facets was making me crazy! This post is part of a series I am doing about how to teach LA using tools you have all around you. It is about teaching our kids how to master language the same way we taught them how to talk: giving them lots of experience and exposing them to good examples and giving them room to make mistakes while celebrating their success. This is the Brave Writer way, a program I stumbled upon a few years ago that empowered me to ditch our workbooks and teach my kids this complex subject with confidence. Last month we discussed how to teach language arts through copywork, today we are going to add to that and show you the power of poetry in your homeschool.
The value of bringing poetry into your homeschool
When I talk about using poetry in your homeschool you probably imagine doing a unit on poetry with your kids and teaching them how to actually write their own poems. While this is a common approach, I view poetry not as a singular topic to be taught but rather as a teaching tool. Poems teach our kids how language can be manipulated and combined as an expression. They help improve phonemic awareness and reading comprehension. Reading rich poems exposes children to many literary elements such as: metaphors and similes, rhythm and rhyme, cadence and inflection, patterns and repetition, punctuation and vocabulary, and a theme or a story. They inspire our kids to see the full picture that is being painted, to read between the lines, to ask good questions. More importantly, they help our children find joy, happiness, meaning, sadness, love, bitterness, etc. represented through masterful use of language. This is an incredible tool to utilize as part of our approach to language arts.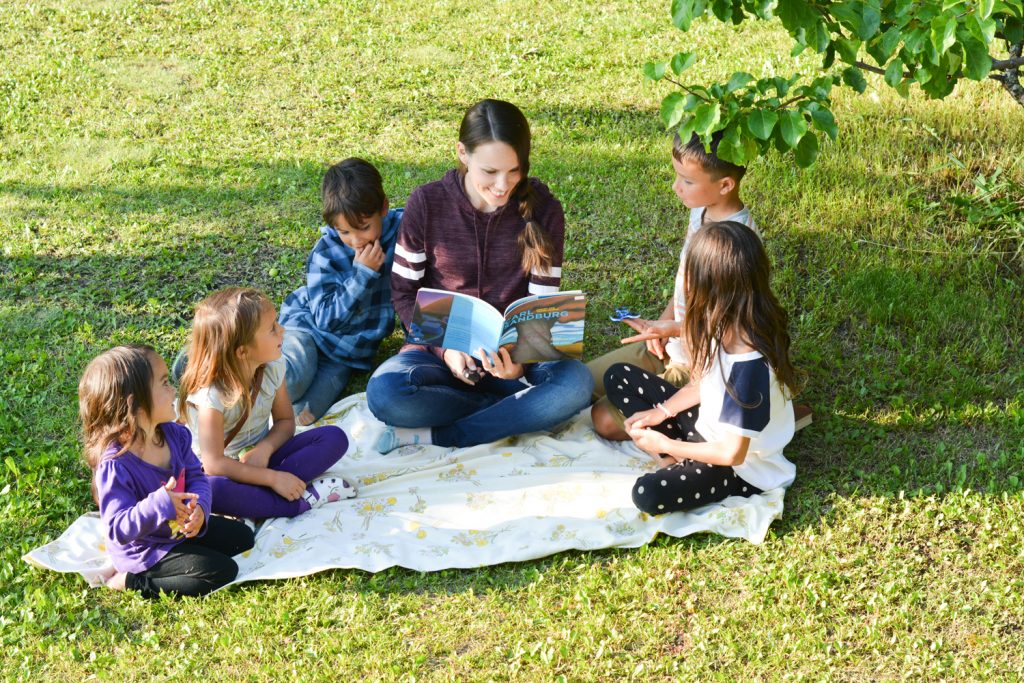 I like to think about poetry like a good piece of chicken, there are so many good things to pull from it, always a little more meat on the bone (bet that's a simile you haven't thought of before!). We love pulling from poems from different cultures, countries, and time periods and incorporating this into our historical studies. We discuss the time period, how the culture or country might effect the style or tone of the poem. We learn about the times and situations that people lived in and like to imagine what might have happened to that person to inspire them to write that poem. Poetry can be applied to science as well. There are SO many beautiful nature poems to use to inspire your little scientists to learn more about that subject. The rhythm and patterns in poetry also tie in well with math, write a poem about a math principle and you won't soon forget it (read more about the connection between math and poetry in this article).
How to teach writing using poetry
Understanding the value of poetry is really only half the battle. Many of us are mildly terrified by the idea of reading poetry with our kids. Maybe you didn't understand poems as a child or feel you won't be able to explain them well as an adult. I want to walk you through an exercise that can dispel the myth that you aren't capable of teaching with poetry or that your child might not enjoy it. Even the most reluctant of readers/writers can find pleasure in the rhythms of poetry. If you don't believe me, head to the library and request anything by "Shel Silverstein", your whole family will have a brand new, shocking, hilarious appreciation for just how out-of-the-box poetry can be! Here's the big secret you guys… it isn't all about finding the most intense, deep, confusing poem you can get your hands on and increasing your intelligence by dissecting it's prose (parents everywhere breathe a deep sigh of relief). Any poem, from ridiculous or sad to simple or profound… is full of potential and can be used to broaden our understanding of the art of language.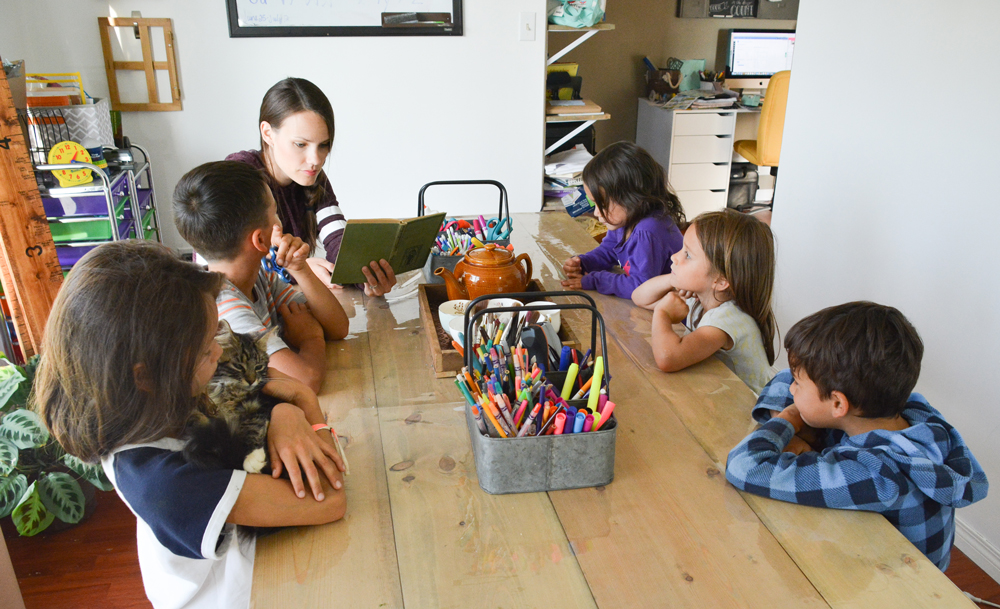 Poetry teatime is something we have been doing for nearly 2 years now. It is really as simple as it sounds. We pull out a poetry book and read poems together while having tea and a snack (or juice and a snack, we like to be a little rebellious). We do it once a week and the whole family is invited (dad too if he is home). We invite friends to participate with us if they are over, and we just bask in the beauty of language together. I want to show you how to use this element of Brave Writer to teach your children language arts and expand on it if your kids are older. Take a look at a typical poetry teatime in our house.
1. Set the mood.
While poetry can be read anywhere and everywhere, I try to set the mood as often as possible. I have learned that snacks and something special to drink like hot chocolate or lemonade can go a long ways in keeping that attention span going. We often dim the lights or open the curtains to let the sun in (depending on the mood), light candles, turn on some music, etc. Experiment with different settings (like the park, the doctor's office, in the car, outside, in a tent, etc). The more we get out of our element, the more creative and imaginative we can be.
2. Choose (or have your children choose) 2 poems.
I usually read my poems ahead of time, looking for elements that I want to teach. Whether that be a discussion on metaphors or a topic we are learning about in school or some new vocabulary. I have two baskets under my bookshelf. One is full of my poetry books, the other is full of children's poetry books I have collected (stay tuned for a list of my top recommendations). I usually choose one simpler poem that I know my kids will understand or laugh at to get their attention and just enjoy the creativity. Then I choose one that I know will challenge them but that I have already deciphered or understood so that I know how to walk them through it.
3. Read the poem together, naturally (FIRST TIME).
4. Ask questions to get them thinking about the poem, such as:
How does this poem make you feel (tone)?
What interested you about this poem?
What do you think this poem is about (theme)?
5. Read the poem again, slowly. (SECOND TIME)
When I re-read the poem the second time I read it much more slowly. I tell the kids I want them to look at the writing and tell me any metaphors, similes, vocabulary words they don't understand, alliteration, or other literary elements they can find (if this is new to your kids, you might just want to point them out yourself). I pause after each thought (sometimes that is a line, other times it is a complete stanza). I give it time to sink in. I emphasize vocabulary words or literary elements I hope the kids will notice.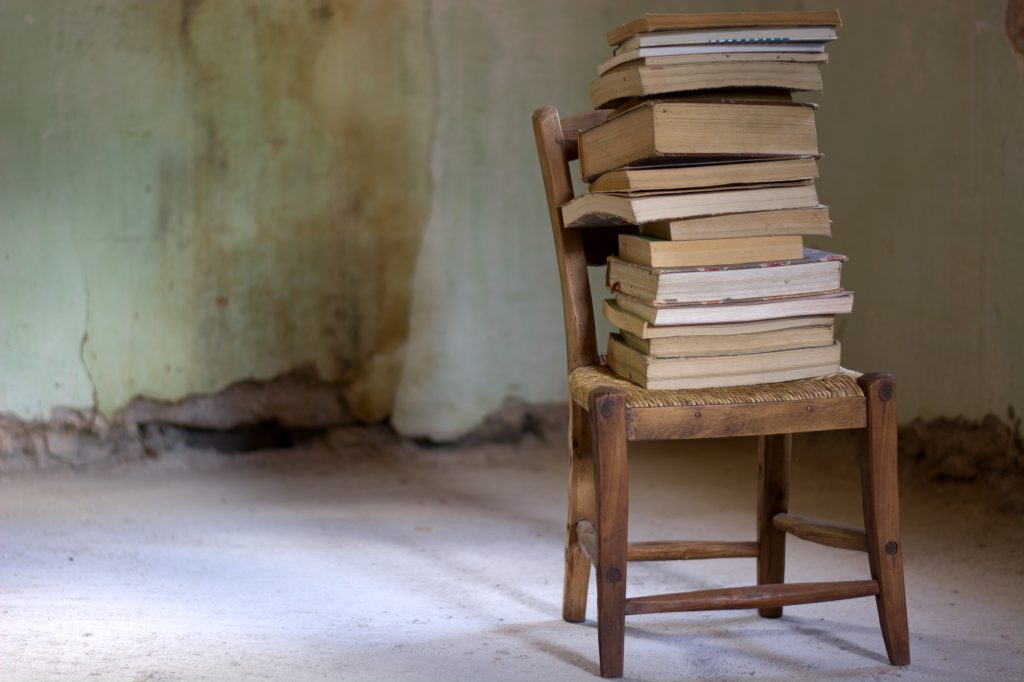 6. After this reading, discuss.
Discuss how the poem is written and what we can pull from it. I often show the kids the book and we take a look at grammar, punctuation, and point to words we don't understand. We discuss, we look things up in the dictionary, and we all mention something we liked or disliked in the way it was written.
7. Read the poem again, fluently. (THIRD TIME)
I tell the kids I want them to each tell me what this poem means to them and then I read it one last time. We go around the room and take turns saying what it meant to us or what we got out of it.
8. Have the kids read or memorize the poem (depending on their age)
My older kids that can read take turns reading a part of the poem and work on developing their own fluency, rhythm, and inflection.
9. Use parts of the poem (or the whole poem, depending on your child's age) for copywork.
We often use a section of the poem for our copywork during the week. This is a great time to apply and put to practise spelling and grammar rules, improve form, and teach writing mechanics without the pressure of comming up with it all on their own.
Where to learn more about Brave Writer
Poetry Teatime, Friday Freewrites, Copywork and dictation are all part of the Brave Writer lifestyle. I purchased the Writer's Jungle (a training manual for parents) and it honestly changed my homeschool, my attitude, and my entire approach. It walked me through the different writing stages and showed me how I could start making writing as natural as speaking in our home. I was equipped and freed to enjoy writing together with my kids. Not only is the Writer's Jungle available to give you the tools you need, but Julie wrote entire curriculums that give you all the copywork, dictation, read alouds, writing projects and information you need to teach a particular writing stage. Her curriculum bundles go from Kindergarten all the way through to grade 12 and can turn those tears into confidence! Read more about how I got started with Brave Writer HERE or head on over and check out the website HERE.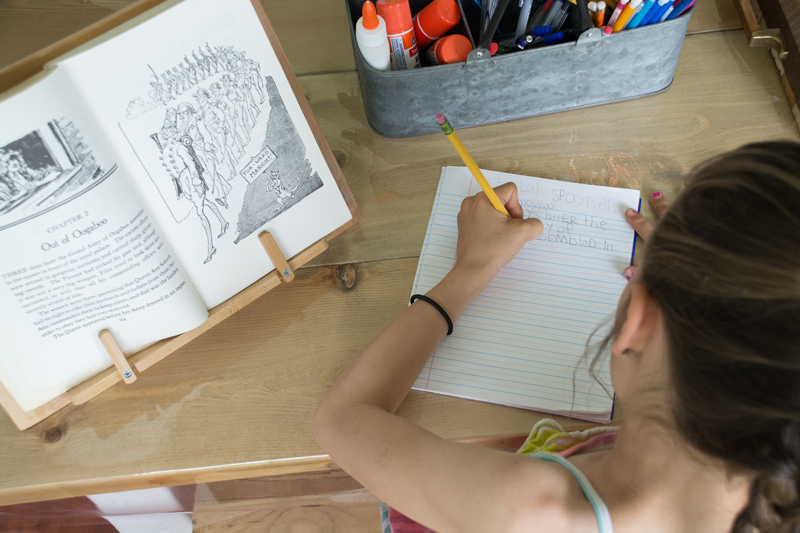 Not sure what bundle to start with? Comment below and I'll give you my personal recommendation!
My favorite poetry books/poets
Choosing where to start with poetry can be another hurdle to overcome, but I've got you covered! I've created a list that is linked so that you can use it on your computer and just click on the links to view the books (how easy is that?).
1. Shel Silverstein (funny kids poems)
2. Favorite Poems of Childhood
3. Walt Whitman
4. American Poetry
5. Lewis Carroll
6. Edgar Allan Poe
7. Carl Sandburg
8. The Llama Who Had No Pajama
9. Robert Frost
10. Emily Dickinson
11.Robert Browning
12. Henry Wadsworth Longfellow
13. William Wordsworth
14. Ella Wheeler Wilcox (side note, the title "poems of passion" threw me off but they are not love poems at all, this is my second favourite poetry book!)
15. Robert Service (my number 1 favorite poet this year)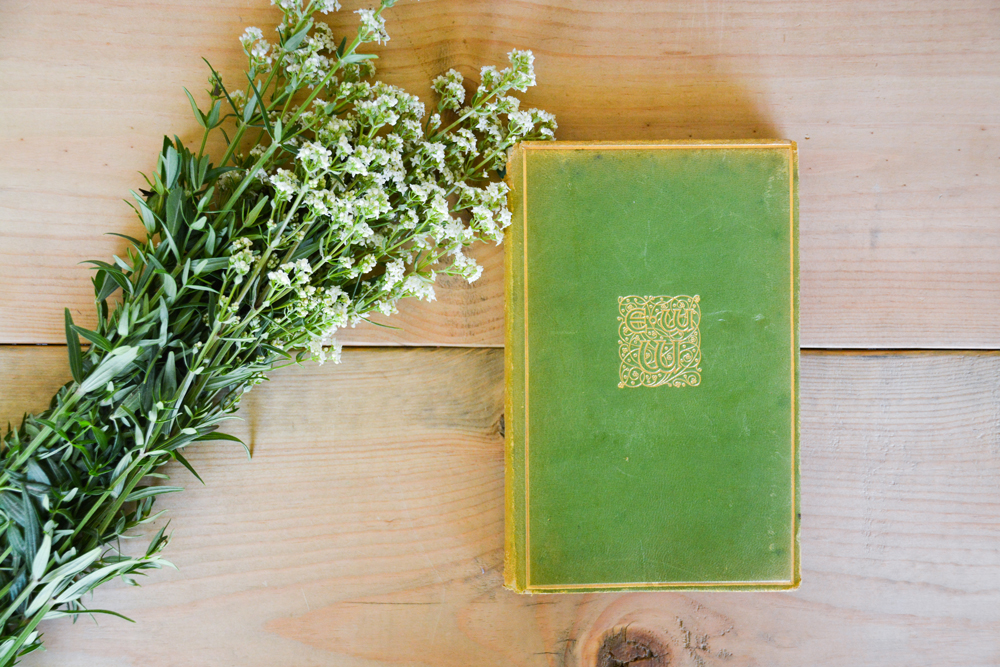 A HUGE Giveaway!!
It's that time of year, when many homeschoolers are busy preparing for a new school year.  Some of you may have already started your new year, and some of you may have never stopped!
I've gotten together with a great group of bloggers to make getting ready for the new school year just a little bit easier and hopefully a little less stressful for you.  How does $250 sound in helping you buy curriculum, books, games, puzzles, and educational supplies?  Two people will win a $250 gift card to the online store of their choice (choices are Rainbow Resource, Christianbook, or Timberdoodle).
We know homeschooling can put financial strain on families – whether it's from living on one-income or buying curriculum for your children – the financial aspect of it can be stressful.  Our hope is that we can bless  homeschool families so they can buy the curriculum and supplies they need (or maybe a want you can finally splurge on) for their school year.
To enter for your chance to win, simply use the Rafflecopter form below to enter.  Now I know that is quite a few entries for you, but each of these bloggers generously chipped in their own money to bring you this giveaway, so I hope you will take the time to do all of the entries.  And hey, the more entries you do, the better your odds are at winning!
Giveaway ends August 4th, 2017 at 11:59pm ET and is open to CANADA and the USA.  Must be at least 18 years of age.  Selected winners will have 48 hours to respond to email notification to claim their prizes or another winner will be drawn.  Please be sure to read the Terms & Conditions upon entering the giveaway.

Questions? Recommendations? Comment below!