How do I manage 4 children's lessons each day? I use my "Mom's Master Homeschool Binder". I have been using this system for a while, and love the simplicity of it. I really do hate having to dig through all my teacher's guides and various curriculum each day to find out what we are doing… for each child! So I started a master binder where I would assemble all of my teacher's materials and student worksheets for the week, separated by dividers based on the subject. I wanted to test it out and see how it worked in the long term, because I am notorious for my pathetic follow through. However, after a full month I am happy to say this is still my number one method of organizing our lessons and it has simplified my life so much I wanted to share!
How to Set Up Your Mom's Master Homeschool Binder
You will need an empty binder (size depends on how many subjects/children you have) and some dividers. I created a different section for each subject, including one for preschool (for all our WinterPromise resources), Socials (hello Home School in the Woods), Writing (Brave Writer), Science (Master Books), and even Art (Home Art Studio). Let me tell you, my binder was NOT as pretty as the one I made for you guys above, but it will be now! Once you have your dividers set up, you will want to put your subject section cover in the front. I use see-through dividers so I can see my page. I decided I may as well make something that is useful AND stress-relieving, so I created ones that you can color! This means that while you are teaching a subject and correcting your child for the hundredth time… you can get out your markers and start coloring away all your frustration!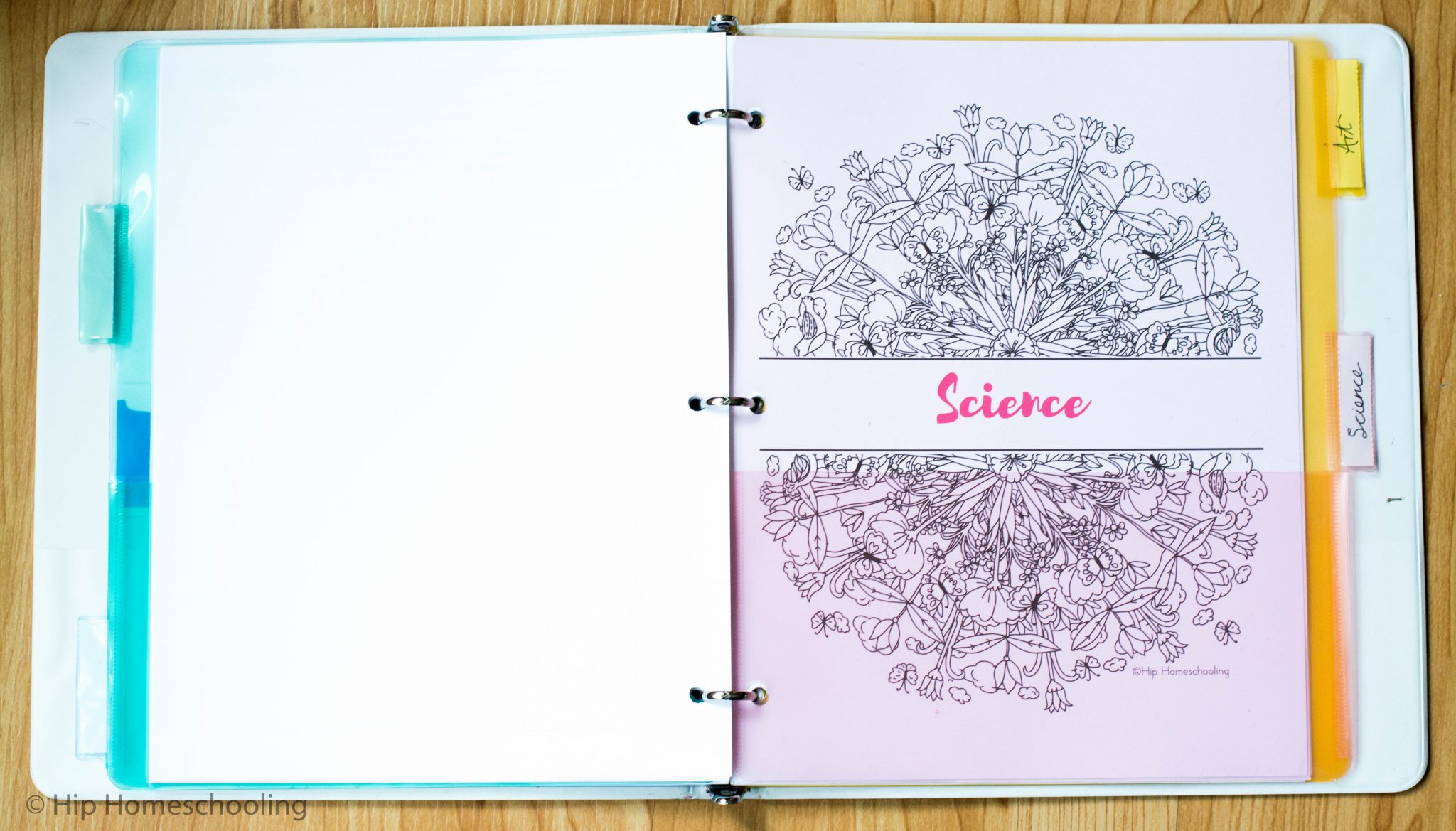 You could also print them off on cardstock, laminate them and add your own tab to make your own dividers (I may do this once I have coloured mine). The bonus with this, is that if you do it BEFORE coloring, you can get yourself some washable paint or dry-erase markers and re-use the coloring pages time and time again! The binder printable includes your main subjects as well as one blank one that you can print as many as you'd like and use for multiple other subjects in your binder. For example, I used the blank tree page for both Preschool and Art in my binder. I figured it would give you flexibility to use the binder customized to your family.
How to Use your Mom's Master Homeschool Binder
Once you have it all set up, you simply go to all your different subjects (for all your different kids) and pull out any relevant worksheets and teachers papers for that week. I do it a week at a time, collecting our Preschool resources, Science sheets, Socials printables, and more! Once they are in my binder, all I need to do is open it up to that subject and I have all of my children's lessons in front of me. This is great if you do school on the go, just bring your Mom's Master Homeschool Binder with you and you are ready to school anywhere!
Photocopy a poem and pop it in there for poetry tea time! Have your schedule or routine in the front to follow! Put your reading list from the free homeschool portfolio printable (find it here) in the front to keep track of books you read that week. The uses for it are endless! Bringing back open and go to our homeschools, no matter what your homeschool may look like or how many kids or grades you are working with!
Get your Mom's Master Homeschool Binder Free Printable!
To download your binder printable, simply put your name and email in the box below. You will want to make sure you have rebecca@homeschoolon.com added to your contact list so that it doesn't go to junk. As soon as you put your name in, you will receive your download link directly to your inbox! Simply print on either cardstock or regular white paper, and put your new Mom's Master Homeschool Binder together!
Tag me in your coloring creations! If you follow my bullet journaling page on Instagram, you'll know I am addicted to creative expression. I love coloring and painting and doodling and I really would LOVE to see your completed pages! So tag me @homeschoolon on Instagram and I'll feature your binder on my Instagram! I can't wait to see your creativity shine!
What additional subjects will you have in your binder? Comment below!