The number one question I get asked isn't what I recommend for curriculum, it is what we are using (the ultimate vote of confidence, right?). Of all the homeschool curriculum I have tried and reviewed, what are we settled on for this coming school year and why? Before I share that, let me explain a little bit about my family to give you an idea of who I am talking about. I have five kids: Caleb is 10 (turning 11) and supposed to be going into grade 6. Selah is 9 (turning 10) and supposed to be going into grade 5. Malakai is 8 (turning 9) and supposed to be going into grade 4. Aliyah is 6 and supposed to be going into grade 1. Lastly, Janiah is 4 (turning 5) and supposed to be going into Kindergarten.
None of my kids are working exactly at their level for all their subjects (if any). We are all over the place. To find out where all my kids are at (ahead and behind) and why… come check out my most recent podcast episode, When They're Falling Behind. Now that you have a framework, you'll have a better idea of what we are using. I'll group it together by subject (which will also give you a good idea of our daily routine) and then I'll do a paragraph about some of the reasoning behind our choices for the year. Settle in, this is going to be another long and thorough post. If you prefer to watch the unveiling, check out the YouTube video instead (and subscribe for more homeschool help!).
Morning Basket
We start our day at about 8:30 with Morning Basket. Morning Basket is as simple as books you want to read, put in a basket (or in my case a bin) and read together as a family. Some people put a ton of stuff in there, some people put topical books in there, some people do their group subjects in there… everyone uses them differently. But it really is as simple as it sounds: a basket your read together in the morning. It is a very Charlotte Mason idea and a lot of families love that it starts your day off with gentle together time rather than more intense bookwork time. For kids that are slow to wake up (or moms) it often creates a wonderful atmosphere to start your day.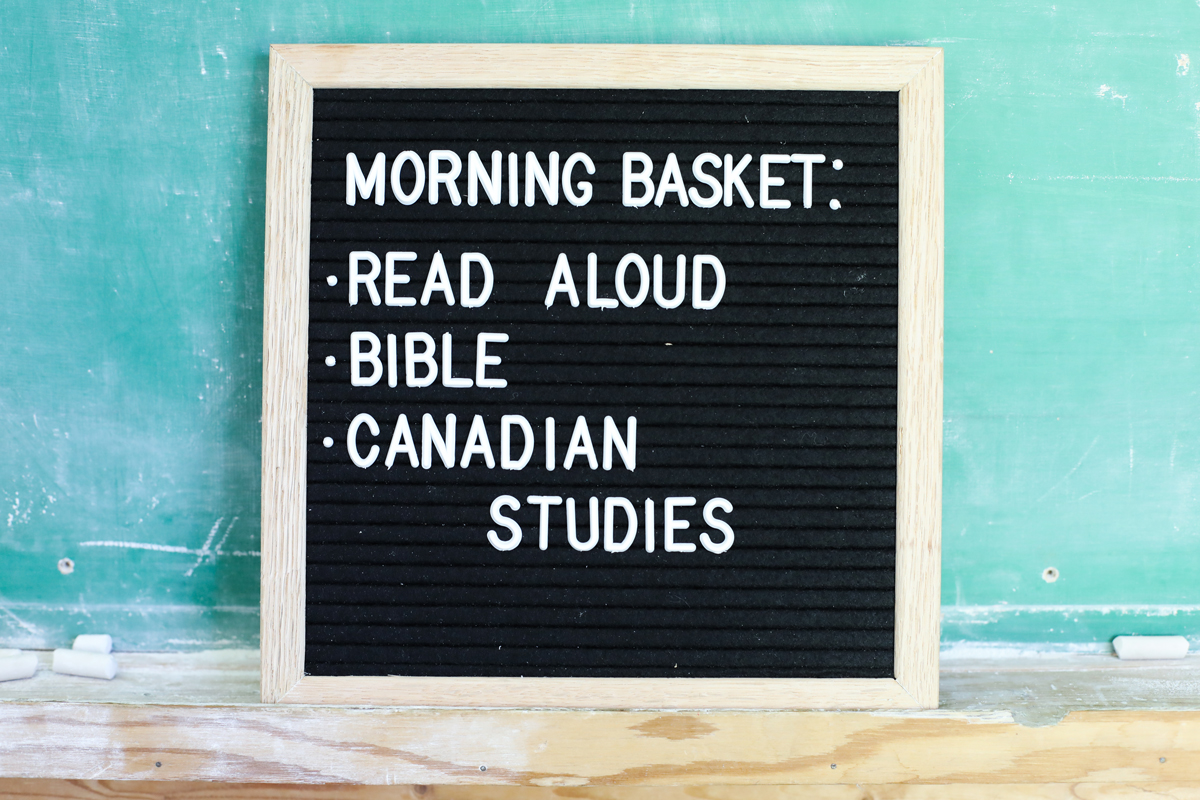 I used to have our socials or history in our basket (they took us about 30-45 minutes), our read aloud, poetry, art, Bible, and everything I wanted to include that was on top of our school. This meant that morning basket was taking an hour or so to do and the kids were dreading it, which meant I was dreading it. An hour was too much for me to commit to first thing in the morning. It seemed like a massive undertaking and I avoided it. Now we have condensed it with the power of looping and introducing another basket time in our day so that it takes us more like 20 minutes instead. This is WAY more manageable and I really recommend you try to keep your reading time shorter and do 2 instead of 1 if you have a lot you want to do.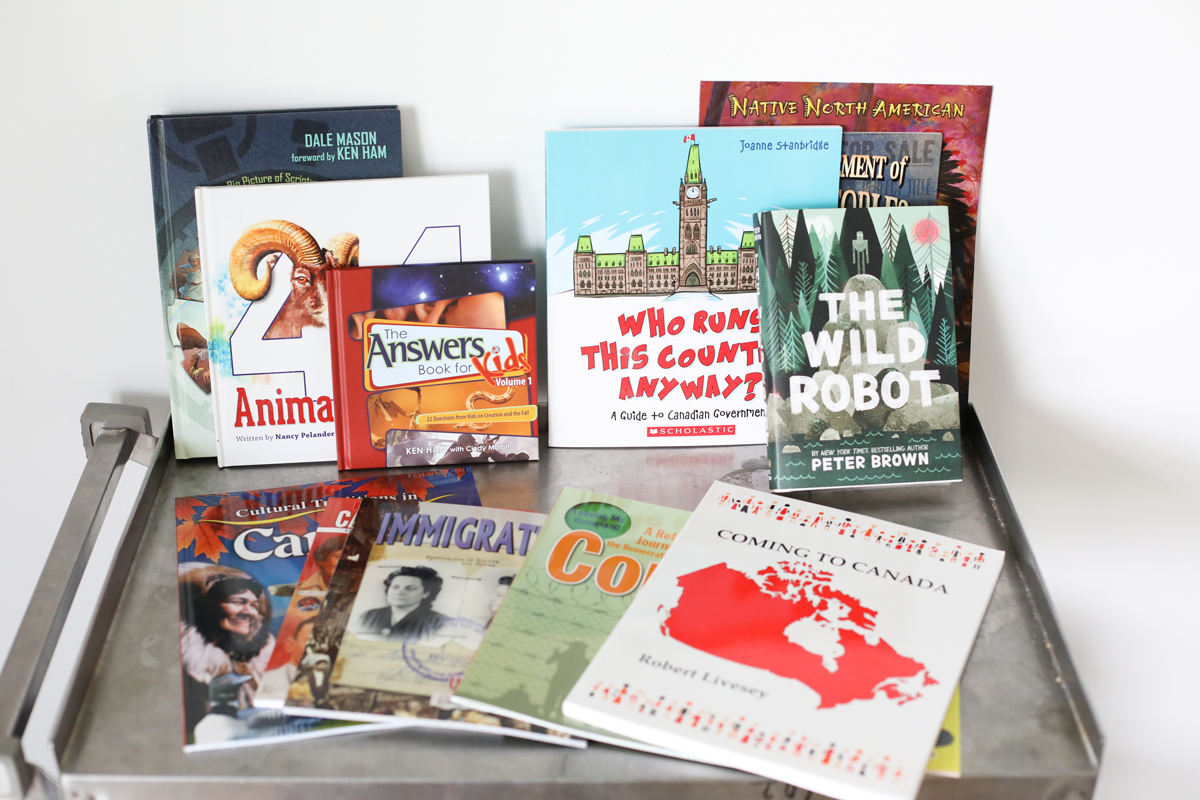 This year our morning basket resources include (but are not limited to):
What is Looping?
Looping is the process of working through a certain order of lessons or subjects or books or extra-curriculum in a series rather than pinning them down to a certain day or time. It is a flexible way of figuring out the subjects or books that are most important to you and ones you just want to touch on and creating a pathway rather than a plan. An example would be how I do Bible in our morning basket. I do not just read from ever book in my basket every day… I have a loop. So the first day I would read from the first book, the second day from the second book, the third day from the third book and then repeat. It allows me to broaden the horizons of what we can cover and the subjects we talk about, it keeps my kids on their toes and it keeps everyone more interested in the lessons because they are always fluctuating.
What we use for Math
For math this year we decided on three different programs to use with our five kids. My youngest two are doing Math Lessons for a Living Education from Master Books. This program is Charlotte Mason, living book style and incorporates stories and real life application into the problems with CM ideas such as copywork, narration, and hands on projects. It is easy to do, relational (meaning you do it together in a fun way), a blend of mastery and spiral, and open-and-go easy.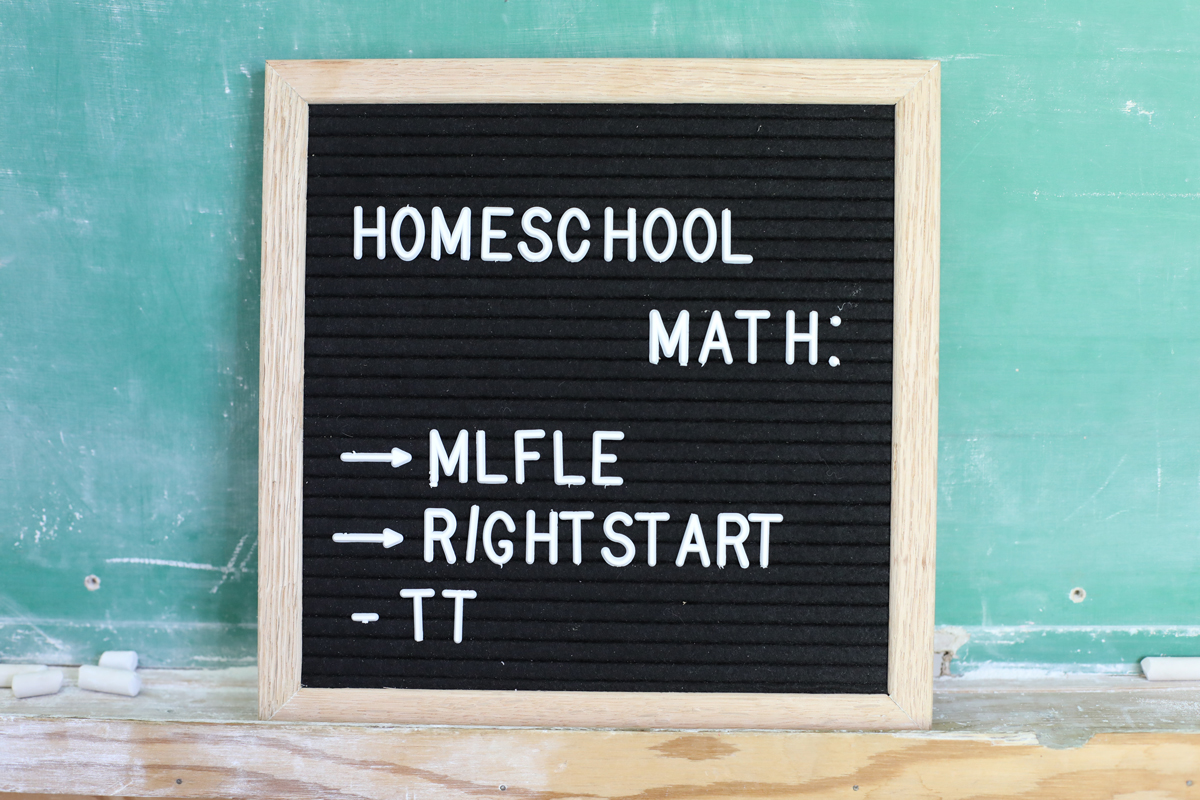 My middle son is trying out the brand new Teaching Textbooks 3.0 which can now be done entirely online (no more scratched discs, digging out the DVD player or having to steal mommy's computer!) and can even be done on an iPad. He is loving the fact that he can do the lessons on his own and I am finding it gives me one less person who needs me at all moments. My eldest daughter, Selah, is using RightStart this year. One of the more expensive math's on the market, I am committed to making sure that people understand the price so they aren't shocked when they see the listing. RightStart is pricey because of the value, it offers an intense manipulatives kit, a book on card games, everything you need to teach math in a really out-of-the-box way that works INCREDIBLY well for her. Check out my math comparison review for more math comparisons and details on each of these programs.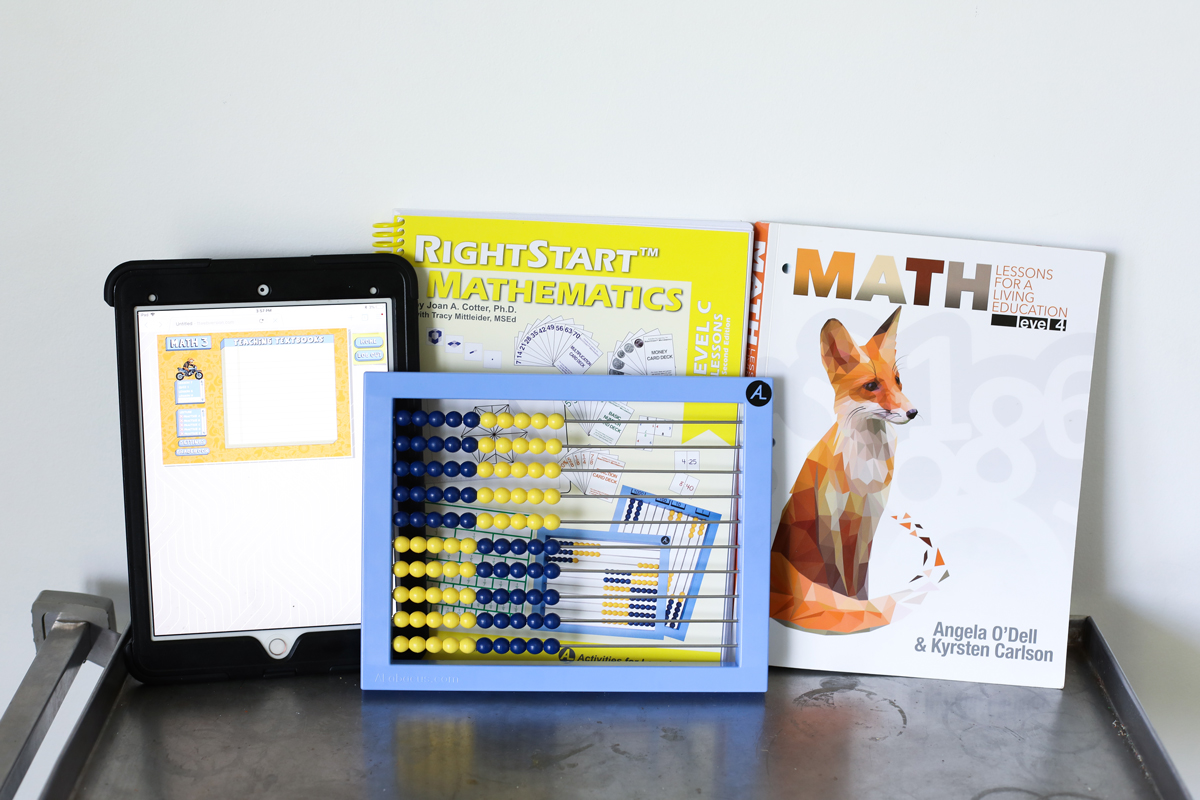 Want to learn more? Check out the reviews/sites below!
What we use for Language Arts
Language Arts is a big one! I think we are still searching for some of the kids to find their perfect fit after departing from The Good and the Beautiful this year (sniff sniff, check out my Facebook page for a live announcement about this Thursday, June 14 at 10am PST). We have found a program we love but a few of my kids are entering the dreading middle school age where good homeschool curriculum starts to become scarce so I'll be in the market for something for grade 7 if anyone has any favorites!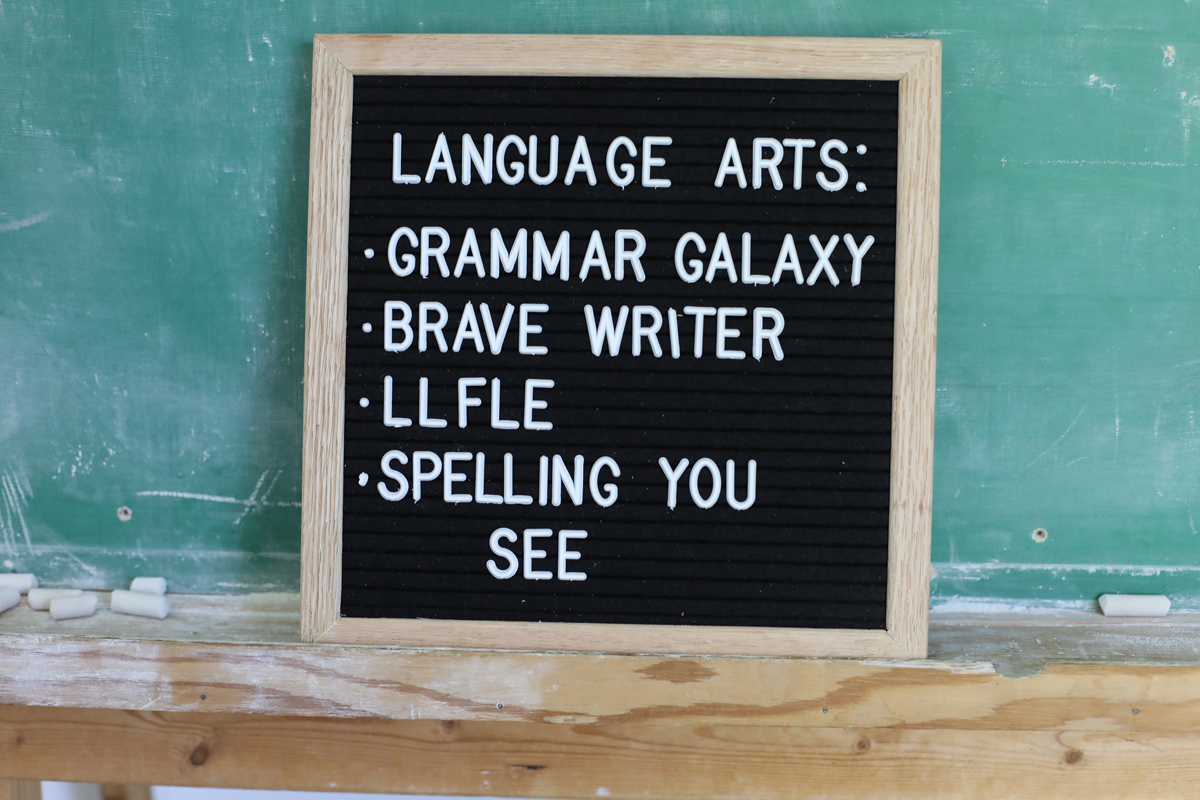 My 4 year old is starting with Foundations Phonics (from Master Books). I also have my All About Reading here that we will probably use together with some preschool resources and Maze Writer from EdZone Publishing. My 6 year old should be going into grade 1, but she is a little keener and will be working at more of a grade 2 level. This year she is using Language Lessons for a Living Education which I am SO impressed with! My 8 year old son is trying out Grammar Galaxy for the first time and really enjoying it! My 9 year old daughter is waiting for LLFLE 3 to be completed and will be starting that in the fall. My oldest son is doing Grammar Galaxy along with daily Vocabulary skill building.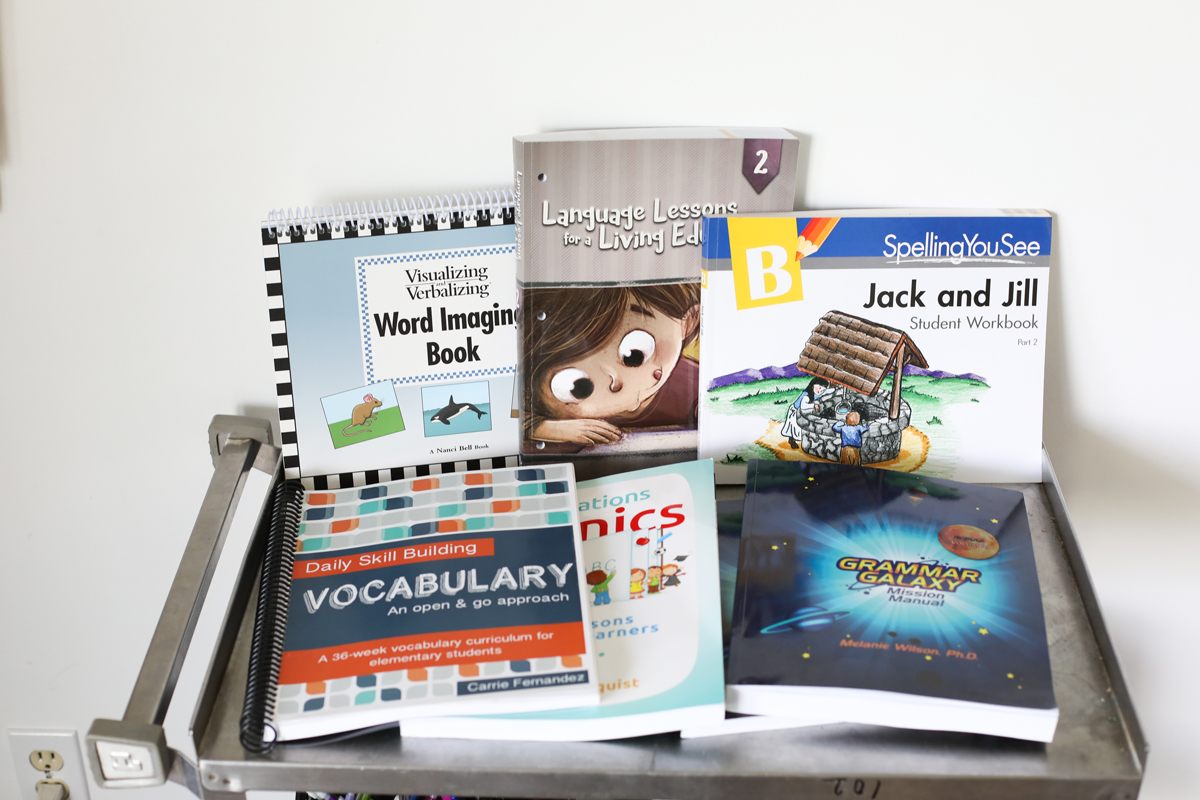 The kids are all doing these alongside Brave Writer as none of these programs really goes as in depth or as free into writing as I have a heart to (but we'll talk more about Brave Writer further down). They are also all going to be doing Spelling You See this year, we are just waiting for our new books to come in the mail (rather impatiently I might add).
The full list:
What we use for History
This year, on top of our Canadian history in our morning basket, we are doing some other socials studies/history programs. My middle two children (6 and 8 years old) are doing the brand new program, My Story, from Master Books and we are LOVING it! It is so well done you guys! It starts with the family, moves on to community, then you travel to different countries around the world. It is engaging, fun, tons of bright pictures, so impressed! I wish I had one more book, I'd throw my 9 year old daughter in the mix as well. I think it is incredibly versatile and can be used for multiple ages to make it a program that is adaptable to suit your family!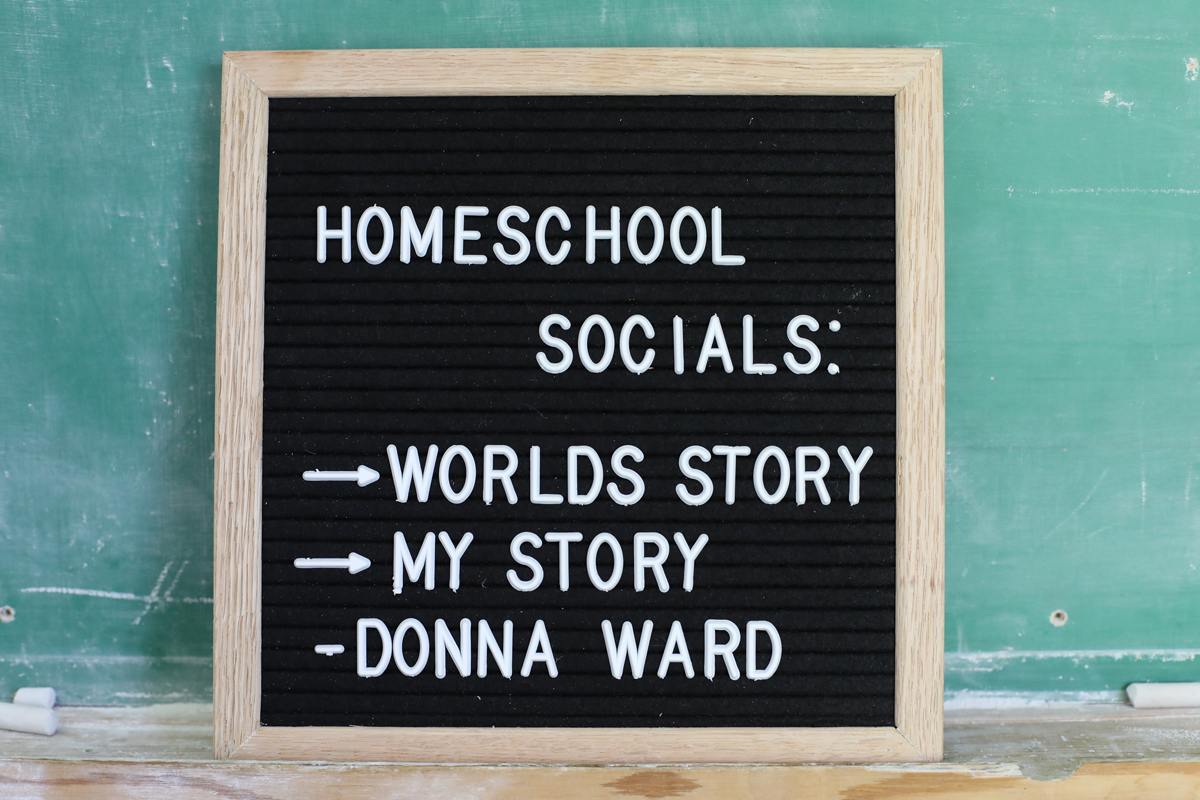 My 10 year old son chose to do the World's Story by Angela O'Dell for history but wanted to supplement with the videos from Unearthing the Bible (by Science Shepherd) which is a super cool online program with daily videos that show how archaeology prove the Bible. He loops World's Story with Unearthing the Bible.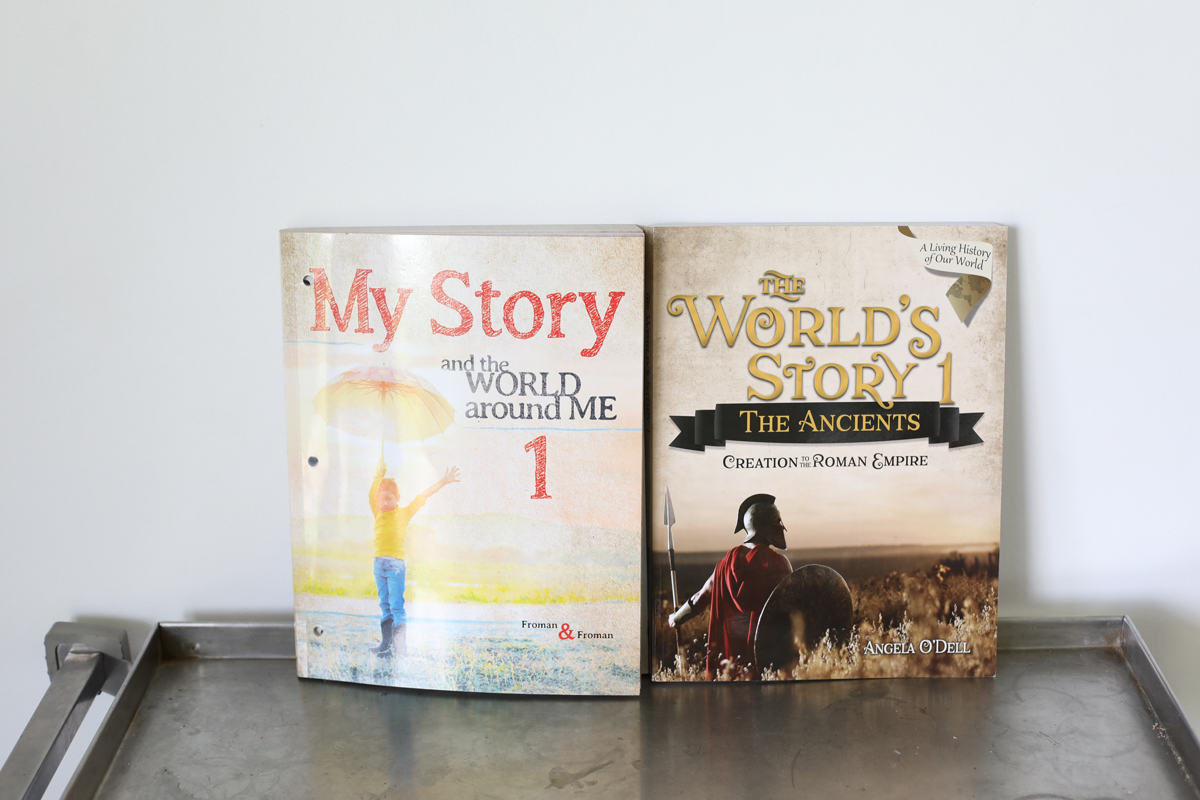 Check them out!
My Story: Review (coming soon!) or Shop
World's Story: Review (coming soon!) or Shop
Unearthing the Bible: Shop
What we use for Science
Our science choices were pretty easy. This year, I decided to include my 10 year old in the decision process and we shopped together. He chose to go with God's Design for Life which has recently been redone and includes three studies: plants, animals and anatomy. He works through this independently and we pick and choose the questions that he has to do in the accompanying pages so that he doesn't get too bogged down with stuff to do.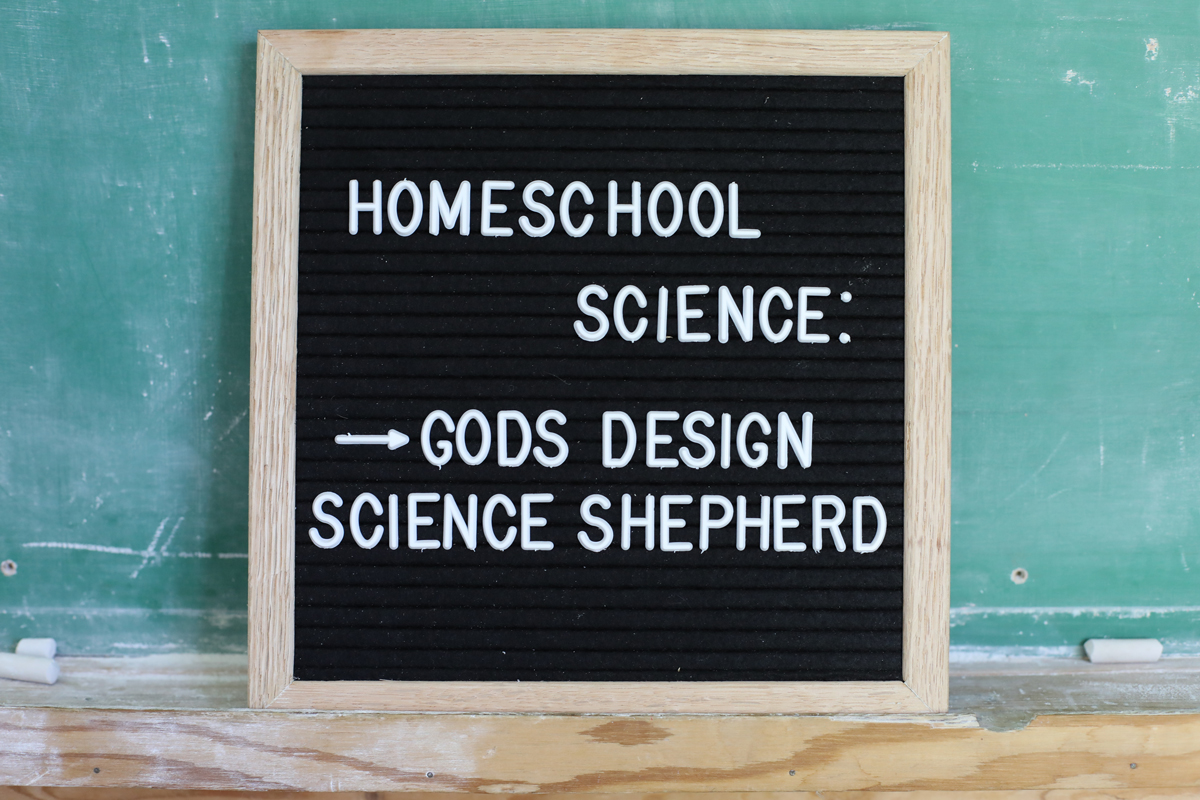 My middle three children are continuing with Science Shepherd, along with Nature Studies and whatever else strikes our fancy throughout the year. Science Shepherd is a program that is online, with daily short video lessons and daily worksheets to complete. It is comprehensive and covers all the basics of the different areas of science, making it a great fit for all ages!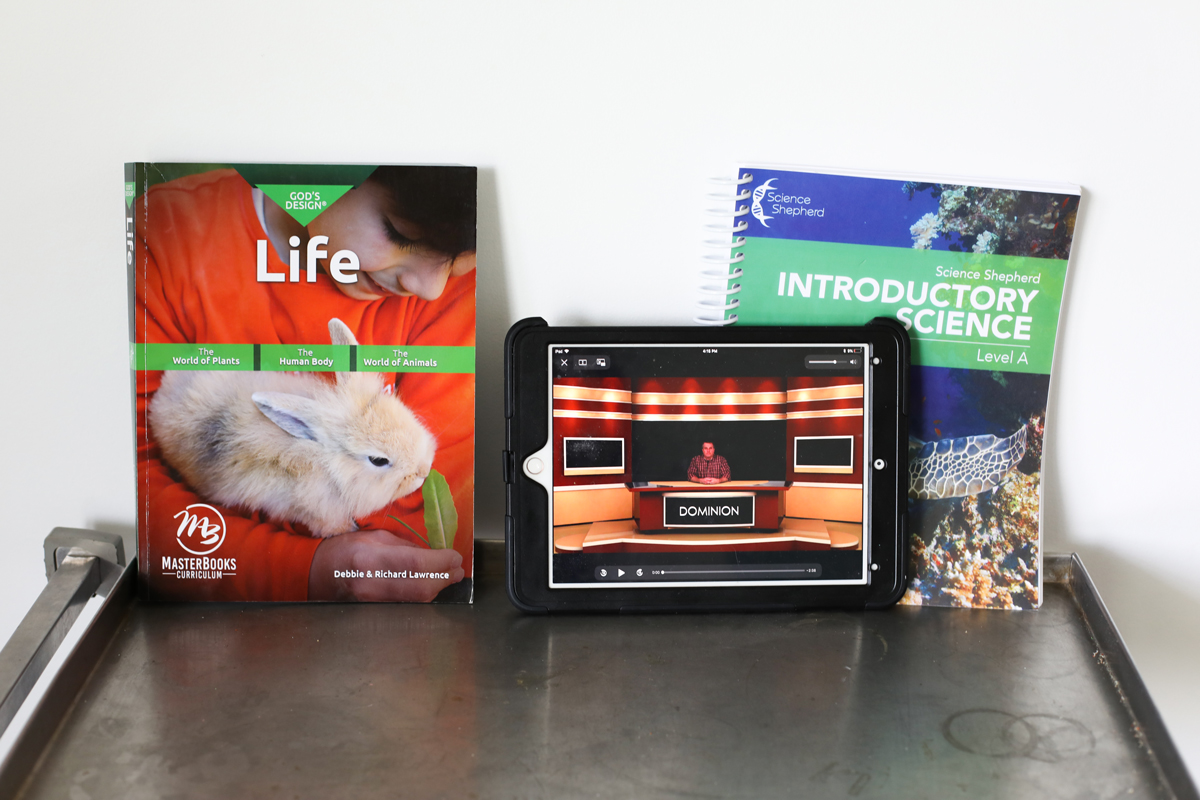 Check them out!
What is in our Poetry Tea Time basket?
Poetry Tea Time is something we learned through Brave Writer and it is supposed to be done as a once a week special thing. As a bonefide rule breaker, I decided we would do it every day (I'm even getting a custom tea set hand made by a potter specifically for Poetry Tea Time!!!). We created a secondary basket that we are doing in a loop to coincide with our Brave Writer loop (two loops, I know, it's a bit confusing). Our Brave Writer loop is basically the different aspects of Brave Writer that we work through in a sequence. The tea time loop is the other stuff in our basket. So each day we do mapwork and our Brave Writer loop, but we add in one other thing depending on where we are at. Our afternoon loop includes music study, shakespeare, art, nature study, and current events.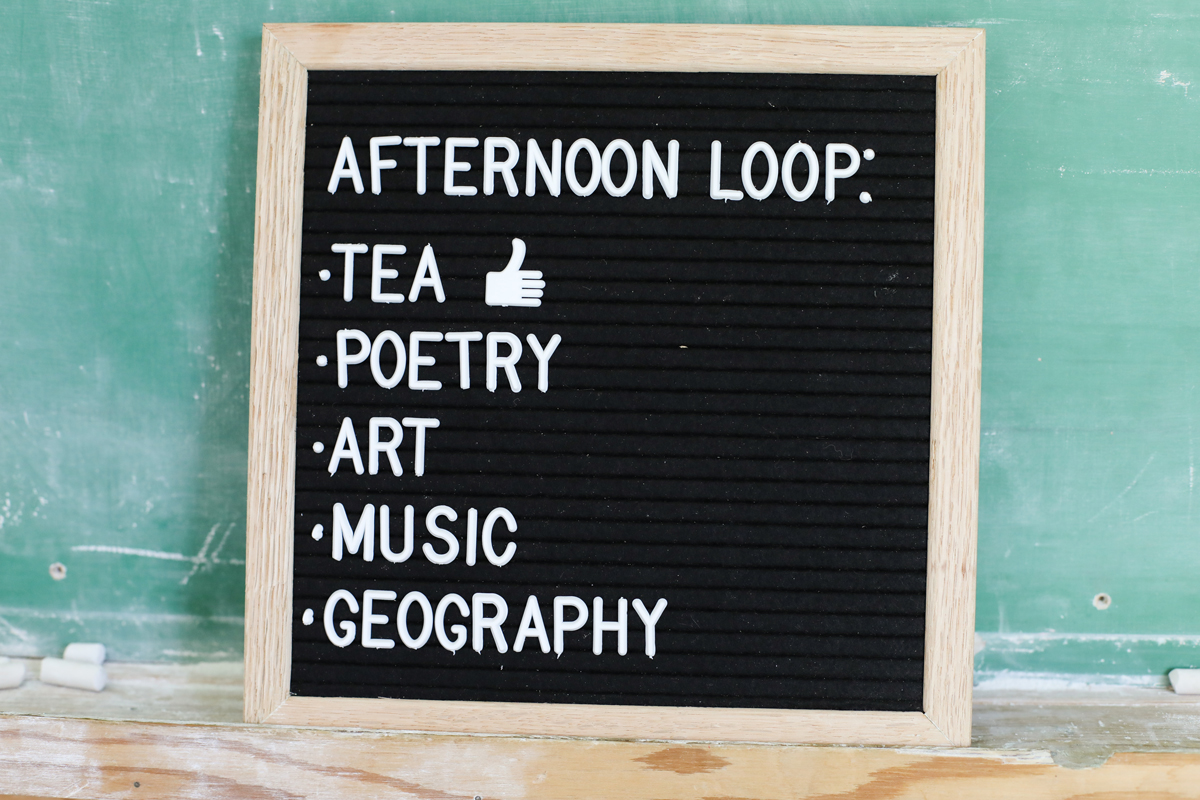 This allows us to create a rich learning experience without having to do everything every day (which would be crazy). A sample day might be free write, mapwork, and music study. Or the next day might be nature study, poetry and mapwork. The third day might be current events, writing project and mapwork… and so forth. I have some awesome resources we are using for this!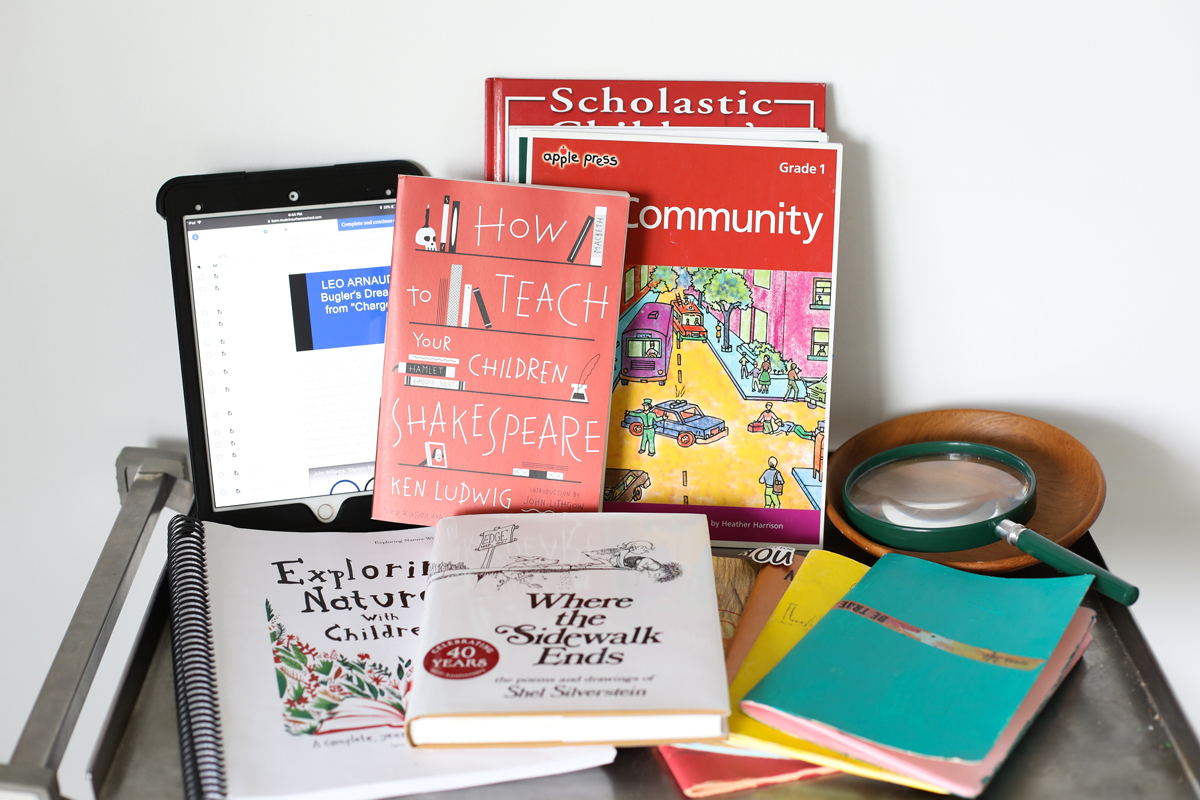 Links:
Record Keeping (Our Homeschool Portfolio)
Last year I purchased a hand-stamped leather folio that holds a beautiful art journal (refillable) with a dream to have a commonplace book that we all wrote in each day. I was first inspired by reading a book on a Thomas Jefferson Education but this is also a Charlotte Mason philosophy as well. For one year it sat nearly untouched on my school table. Getting scratches and dents and dings from being tossed from one corner to the next. Alas, this year I am recommitting to this vision and we have already started using it to log and record our days.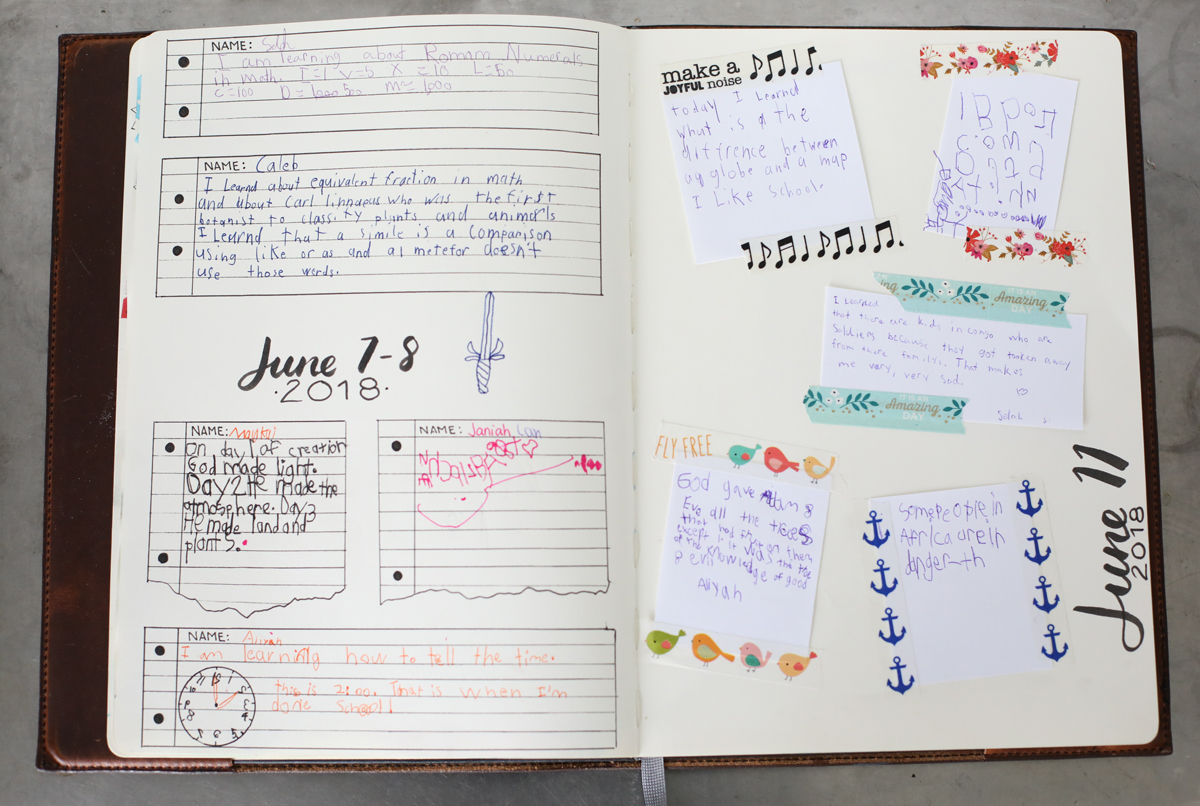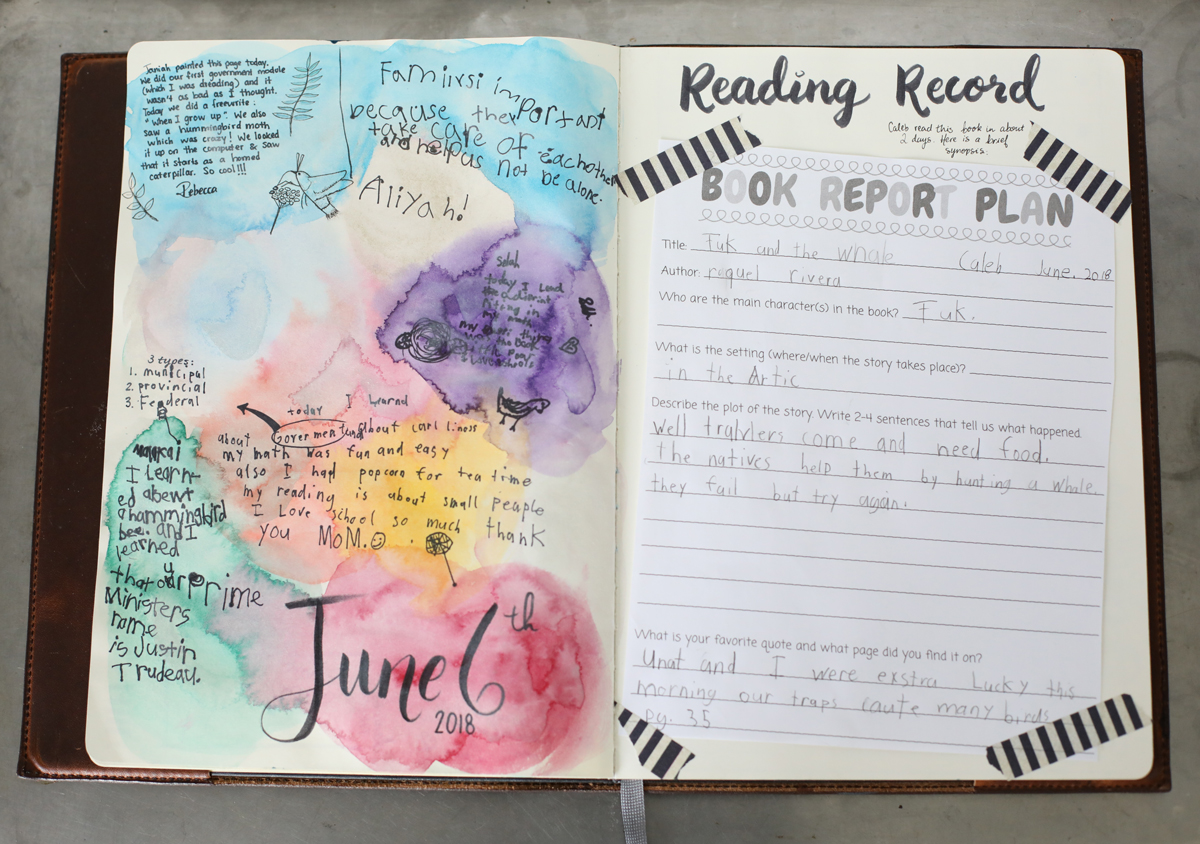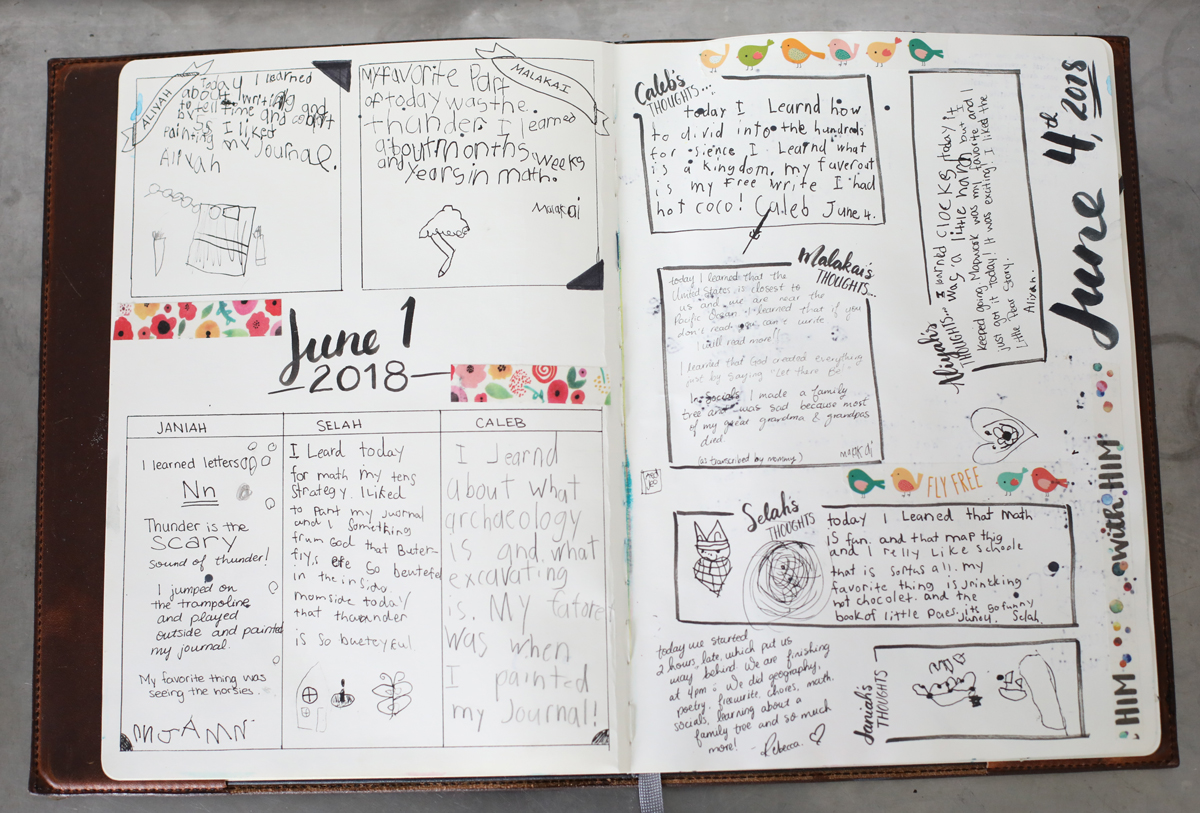 Bullet journaling meets homeschooling meets a daily log? I don't really know what it is to be honest and I haven't seen anyone else doing anything like it. I think it is unique and fun and a great way to add some art and reflection to our day and will make a beautiful keepsake to look back on over the years! You don't have to use a leather folio like this, the art journal that I am using you can find on Amazon here and if you want a folio like mine you can also find it on Amazon here. Plus get my free book report planner/printable here.
Watch the Video reveal
SUPER long post, but sometimes you just need to see to fully grasp what I'm talking about. The video isn't perfect but it will give you a good idea of not only what we are using but how our day is structured. And don't forget, if you have questions, post them below!
The logic behind our choices
I know that our homeschool curriculum choices this year are going to come as a surprise to some people. Things we thought we would be using we are no longer using and we have a bunch of new stuff planned. There are various reasons for this, some of which I'll go into on my Facebook live video today at 10am PST. I am super excited to be partnering with Master Books to write a Bible curriculum this year! This project is taking up more of my focus and trying to keep up with another big writing schedule (did you see my last book on Amazon?), PLUS homeschooling, PLUS this here blog and YouTube and Instagram and Pinterest and my Podcast and everything else I do online (not to mention my home and meals and leading worship and general sanity)… is difficult. I needed to find homeschool curriculum that was less teacher intensive, less time intensive, and gave us more flexibility in our day.
Secondly, I am still learning what works for our family and likely we'll change everything up next year too. I don't have all the answers (I know, shocker). I make mistakes, what was working stops working, I am constantly re-evaluating and experimenting in my homeschool. I am finding that the less bookwork we have to do, the more free we are to do stuff like Brave Writer and journaling and music studies and poetry and all the fun stuff that I dreamed of including in my day but haven't really had time for this past year. I am shifting into a new season in my own life, and with 5 kids to homeschool this year, trying something new to offer us a Charlotte Mason "feast" of learning rather than being too tied down to curriculum.
We are in flux, constantly, both for your sake (this means more curriculum reviews) and our own! Homeschool On isn't some big group of people, it's me (Rebecca) and my cup of coffee and my stack of laundry and my hours of researching. I hope that this gives you some fresh ideas and inspiration for this year and maybe some new programs to check out that might work for your family too! And if you love what you are using this year… share it in the comments below!!!!
Comment Below
What are you using for curriculum this year?
SaveSave
SaveSave
SaveSaveSaveSave
SaveSaveSaveSave
SaveSave