As a homeschool mom of 5 young children, teaching each child at their own level with their own subjects was slowly killing me. Like a slow moving poison, I was losing the life and passion and fire in my homeschool. I was burning out, I was frustrated, I was tired, something had to give. Language Arts, the one subject I was the most confident to teach my children, turned out to be the hardest subject to approach. Every angle I tried was met with tears–failure. Every curriculum I bought felt like a battleground–failure. Every time I asked my kids to write out an answer or read a book with me, they complained–failure. The love I had of the written word was not being passed down, I didn't know where I had gone wrong.
That was before Brave Writer, before I sat down with the Writer's Jungle and worked out that my vision and my path were not lining up.
It didn't take me long to find that I had been pressuring my kids to read, to write, to spell, expecting them to know how to do it, without showing them a model of quality written works to emulate! Once I discovered this, I knew that I wanted to make a change, and the benefit of combining language arts into one time slot was just an added benefit! This post is part of a 5 part series. I will be sharing how we use poetry to teach language arts, how we use dictation to teach language arts, how we use free writing to teach language arts, and how we create our own writing projects. This will show you what the Brave Writer lifestyle is to us. I will also discuss a little bit about Brave Writer and how it works at the end PLUS an exclusive offer, so stay tuned!
Why Copywork?
Copywork has been used for centuries as a way to teach our kids literary concepts by asking them to emulate some of the great works. When I think of copywork I think less about an educational tool and more about a form of punishment. Copywork has also long been used as a way to write lines to help children reflect upon their behavior (a tool I have used in my house a few times as well). So when I began to learn about the other side of copywork I had a hard time getting past the feeling of monotony and drudgery that I have associated with this task. The first step to incorporating this education model in my home was to change my mindset–and that had to start with me. So before I ever gave my kids a passage to copy I began doing it myself. I copied scripture, poems and quotes that meant something to me. I began to create a collection journal of things that spoke to me, things I wanted to remember. I found freedom and relaxation in the very process of copying it out. I found that the words, and the meaning behind them, was set a little more resolutely in my mind. I remembered what I was reading, and at the end of the day, I was creating a journal that meant something to me.
How to get your kids to do copywork
This is the craziest part of my story, I didn't have to get my kids to do this! My children saw me brewing a hot cup of tea and sitting by a sunny window. They saw me pulling out my poetry book or Bible and slowly working on my hand lettering while I copied the words on the book. They didn't need to be cajoled or convinced, it was being modeled to them. It looked calming and relaxing and fun and they wanted in! I am firmly convinced that this is one of the greatest keys to homeschooling our children. We have almost all grown up with the model of a teacher and student. Something incredible happens when that picture shifts and you begin to take on more of a mentorship role. When you learn WITH your child, when you get right in there with them and show them they are naturally inspired to want to do it themselves!
The nitty gritty: how I teach language arts through copywork
Now that I understood the why behind copywork and saw the benefits, I needed to figure out how to translate that to language arts. This is where the Writer's Jungle came in. I'm going to share more about Brave Writer in a bit and how it is set up, but it really did walk me through how to use Copywork as a tool to teach grammar, spelling, and even phonics rules. The idea here is three-fold:
1. Choose quality passages to copy.
You are looking for passages that introduce a concept you are trying to teach. If your child is still in the early reading stage, find passages that re-enforce phonics rules that you are currently learning. If you want to focus more on grammar, choose a passage that has a new punctuation rule in it. Be specific in what you choose. Make it great, make it quality, make it count!
2. Less is more.
Figure out what your child can do before they start to run out of steam or get emotional, then choose half that amount. You want to go for an amount that seems very attainable to your child, but then expect greatness from them. Ie. my grade 2 gets VERY emotional if he is too overwhelmed, so I give him 1 sentence, but expect him to do it to the best of his ability.
3. Discussion is key.
You are targeting passages that you can use to build on your child's grammar and spelling skills, this means that you need to discuss them. Before your child even begins to copy the passage, discuss the dialogue or the spelling rules, etc.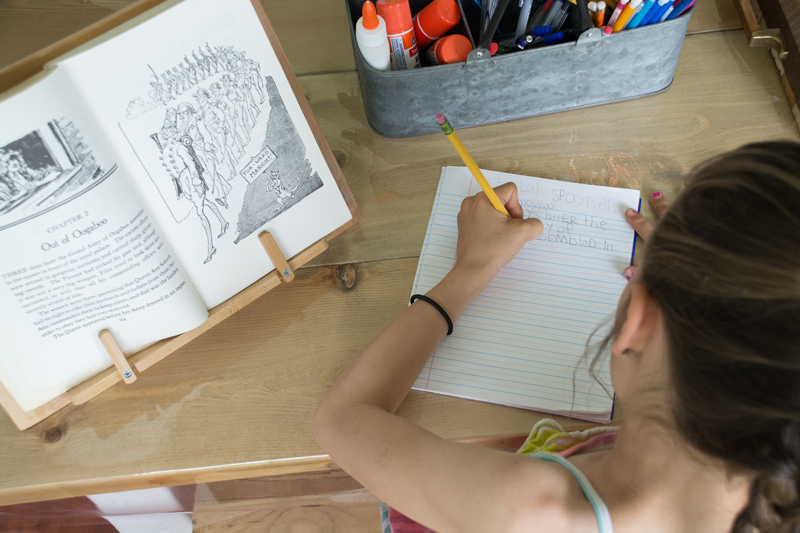 How I use copywork with all 5 of my kids
For those of you with large families, you might be wondering what this looks like in a homeschool day. For me, it means bringing all five of my kids to the table, where they choose what they want to copy. What I loved most about copywork was that it was meaningful to me, it wasn't rote work or busywork, it was enjoyable. I wanted to offer my kids the same experience so I let them choose what they want to copy. Maybe it is something in the book they are reading, or in the poem we did that week, often it is scripture or they will choose a non-fiction book about something they are doing in their nature journal. The choice is theirs. I choose not to dictate it because my vision, my long-term goal is to facilitate a love of writing, the technique will come.
My 3-year-old draws lines and beginning letters in her notebook. She tries to form her letters one after another. My 5-year-old will often choose one of her readers, writing a line or a sentence. My 7-year-old always chooses one of his non-fiction books about bugs or animals or something that he is interested in. My older two usually choose quotes from their read alouds. It is different every time. Because they choose their own copywork, I don't have as much control over the passages they are choosing, but it is developmentally appropriate so we make sure to have lots of discussion about their passage. I love asking why they chose that passage, I love giving my kids a highlighter or pencil and asking them to mark up their book with things they like the sound or meaning of. The discussion is my favorite part of the experience. We do copywork at least twice a week, though some weeks we do it every day as a part of our routine.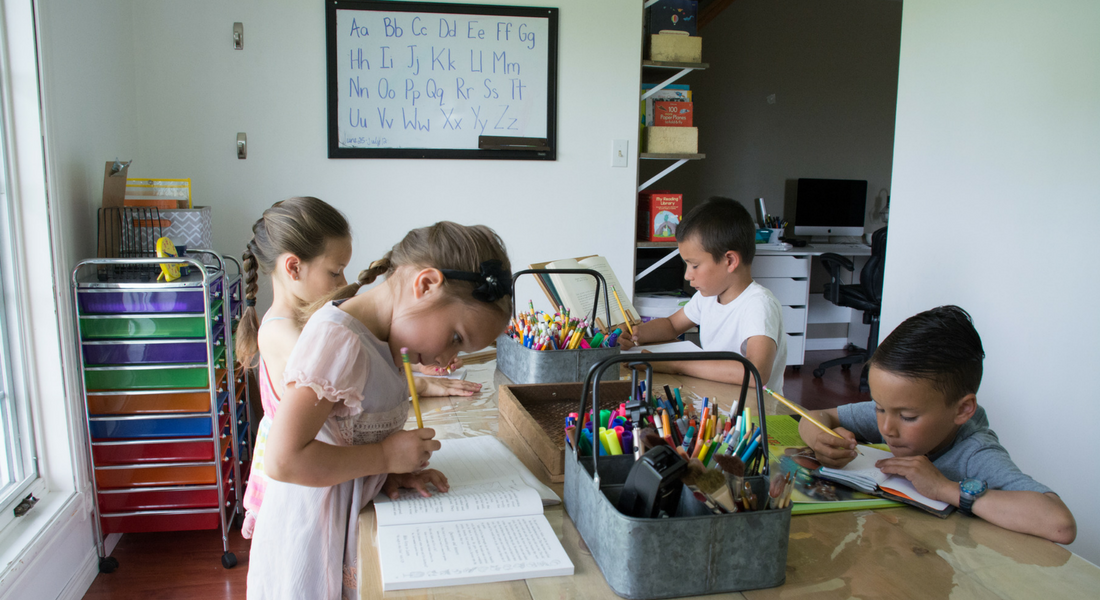 Let's talk about Brave Writer
Before I finish my ode to copywork, I wanted to share where my inspiration came from. I have been using Brave Writer as my primary language arts curriculum for nearly 2 years now and it changed everything you guys. You can read more about my journey here. The Writer's Jungle is more of a manual for parents. It goes over the different writing stages and the Brave Writer lifestyle and how to teach your kids. The bundles are acutally walking you through it. They give you read alouds, copywork passages, dictation passages, and writing projects so that you have a plan of how to implement this style of teaching. I do not use the bundles, but rather have implemented the lifestyle. I recommend getting a bundle if you are new to Brave Writer as it shows you what it should look like. However, if you have been doing it for a year, take the leap! Doing it on your own gives you so much flexibility to tweak it and make it work for your family!
A special offer from me to you
I totally get that this is overwhelming, if you need a personal suggestion of where to start, I don't mind setting aside some time to help you make this choice. Just email me and let me know your kids' ages and grade levels and I can give you some suggestions that I think will work for your family.
Have you used copywork in your homeschool? What does it look like for you?
Disclosure: This is a sponsored post. I work with Brave Writer to share my experiences and get paid a small commission if you purchase through one of my links. Thank you for supporting my blog!