I love to write, it comes very naturally to me. It is my favorite form of communication. I would far rather write a letter to someone than confront them in a conversation because I think more clearly when my thoughts are being translated by a pen. I love the feel of my pen on paper. I love the click of the keys on the keyboard. I love reading my thoughts and ideas and stories and hearing the fluidity of the words that I have put together. I love creating with my mind and hearing my brain's masterpiece presented in a way that doesn't seem to naturally come out of my mouth when I speak. I am passionate about writing, and yet I have failed when teaching my children. Somehow I am unable to translate that same love, ease, and enjoyment I feel towards writing when I am wearing my teacher hat. I pull out curriculum that my kids hate and we use repetition and expectations and practise and often a lot of tears (on both our parts) trying to teach them the mechanics of writing. All I managed to do was make writing a miserable subject that they dreaded to learn and I dreaded to teach. Until I found Brave Writer.
Brave Writer changed everything. I was first drawn to it because my kids fell further behind in their writing skills. The tears and frustration that I was experiencing every time I pulled out a sheet of paper with my kids made me begin to label them as "reluctant writers." I needed something that could switch it up, and fast! What I discovered was so much more than another curriculum, but rather a lifestyle. The Brave Writer lifestyle is essentially a way-of-teaching for floundering parents like me (though they do have Language Arts programs that incorporate that lifestyle and even online courses!). It taught me how to make writing less of a performance and more of a natural part of our day. It taught me how to make it fun. It taught me how to approach writing with my kids, how to react to their written words in a way that inspired them rather than discouraged them. It changed writing from something that brought tears to the favorite part of our day. Read more about our introduction to the Brave Writer lifestyle HERE.
How I Teach Writing to 5 Kids at Once!
I have five young children, from 2 1/2 all the way up to grade 4. I teach them writing all together, yes, even my 2 year old. Today I am going to show you a few of the different ways that we incorporate the Brave Writer lifestyle with all our children: inspiring a love of writing from the tender age of 2! First of all, we do family free writes. This just means a pencil and a piece of paper. We can do this anywhere, we usually time it but it's pretty casual because some of the kids get emotional or stressed if I put a time limit and they aren't done. At the end we all get to read our masterpiece with NO criticism whatsoever! Sometimes I guide the free write a bit, giving a topic we all write about or a question to inspire them. But often I just say "write" and we all go at it. I never have to force free write. As soon as I say it the kids rush to get their pencils and paper, they love the freedom, they love sharing their stories, and all the kids are really into it!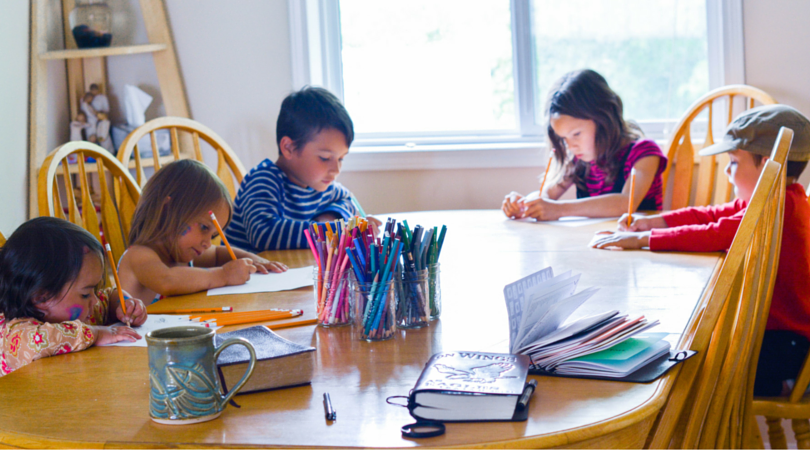 When I first started with free writing, my toddler and preschooler would either color quietly or read a book. Eventually they wanted to write with us. I mean, when mom is writing too, they wanted in! My 4 year old writes as many letters as she currently knows on her paper and then reads her "story". She never would have done this in the beginning, probably because I was so critical when it came to writing. Now that it is all fun and exciting however, she loves sharing her story. I tell the kids to zip it if they try to tell her that isn't what it says, because free write is more about finding FREEDOM in writing, than teaching the mechanics (I know, kind of a broken record, but it's important!).
My 2 year old babbles away about her story, usually something we don't understand at all. But I was looking at her writing the other day and noticed that it looked awfully close to letters. The beauty of teaching your kids all together is that while you are modelling for your older children, your older children are modelling for their younger siblings! She is paying attention and wants to be a part of it! She is learning that writing is fun and exciting, a time for you to share and stand out in this busy family. Her outlook on writing is already so natural, it isn't school, it's just something fun we do together! Take a look at her free write from the other day.
Copywork, reading, poetry and mechanics/structure of writing
Although I am sure you are thinking "that looks fun" you are probably wondering what about the other stuff? How do we teach the mechanics of writing to all our kids, because surely we must do SOME of that, right? One of the most amazing things about the Brave Writer lifestyle is that rather than sitting down and doing rote "schoolwork" that is meaningless to our kids, we can incorporate "language arts" into our everyday life! So we have a family movie night that we have a TON of discussion around (think plot, storyline, climax, character studies, and more… with popcorn!). We have poetry tea time where we read ridiculous poems and sad poems and deep poems and (quite honestly) dumb poems and laugh and wonder at the rhythm of the words while sipping our tea (or sometimes petting the dog it would seem). We do one GOOD writing project each month rather than making a bunch of sub-par writing attempts. We demand FAR less, but teach them to do their best at that small amount rather than overwhelming them with such a crazy amount.
We do copywork to show our kids good writing examples where they can learn spelling and grammar and structure while studying excellent work! We read good literature and show our kids, all together snuggling on the couch, what good writing looks like! I am AMAZED at not only the new outlook on writing in our home, the joy that we have in it now, but also the improvement. While you may look at my 6 year olds paper and think "wow, that's pretty bad for 6" I was so impressed you guys! When we first started this program, he would cry if he had to write his name. He was so overwhelmed with writing, he would just shut down. He can now copy a sentence without too much drama and created something there that he was proud of, that he thought was funny.
Writing has become a natural part of our life. It is no longer an extra "subject" that I need to teach but rather something we do together as a family. My kids don't even recognize it as school! And while you may think that it is too light and you want something that is more structured and more comprehensive… I can tell you that I have used those programs and it made my kids hate writing. I figure in the end, what good is it to send a child off who knows how to write well but hates writing? I would far rather have one that uses spellcheck every once in a while but loves to write and has no trouble getting their wacky thoughts and ideas out onto paper!
Watch a Family Freewrite in Action!
Before I sign off, I shot a quick video of our last family free write. Granted, it happened to be one where my kids wrote essentially words rather than sentences (my pride can take it ;)). But it was funny, we had a blast, I loved watching them smile and giggle over what they had written. Maybe next time I'll give a bit of direction, but this right here is why we switched to the program. My kids LOVE this you guys, we can hardly wait until our next "writing class" 😉
Learn more about Brave Writer either in my review HERE or on their website HERE. I also wrote a post going into more detail on poetry tea time which you can check out HERE if you want a glimpse into how that aspect of the Brave Writer lifestyle works.
What does language arts look like in your home? Do you teach multiple kids? Join the conversation!