Homeschool planning, it SHOULD fill us with a sense of peace, knowing that we are going to be organizing lesson plans and goals for the week/month or year. Instead, it often fills us with dread or just feeling completely overwhelmed. I talk a lot about planning on my blog. I share pictures and videos of my bullet journaling, my Traveler's Notebook, my custom inserts. And I can feel people's eyes glazing over. It's all too much! The planning world is SO overwhelming! Everyone is doing something different, every planner is "THE BEST" and it is honestly enough ladies! The time has come to take back planning! The time has come to make it work for YOU! And I am going to tell you exactly how to do that. Without an expensive planner, without a lot of time, without being artistic or spending a fortune on stickers and washi tape (wait, what IS that?!?!?!). Keep reading for an idea of how to get FREE customized planning pages tailored to your family! Are you ready?
DIY homeschool planner: step 1
The first thing you need to do is get a notebook and a pen. I could tell you all about my custom made Traveler's Notebook and inserts, but here's the thing… all you really need is paper that is put together. You can staple together paper, you can string together paper, you can tape together paper, you can have paper in a binder: IT DON'T MATTER! I don't want to tell you how to make a beautiful planner, I want to focus on function. And to be functional, ALL you need is paper, held together in some fashion, and a pen. Again, use a ballpoint, or even a pencil! The custom, unique, high quality stuff can come down the road, after you have designed a planning system that is consistent and useful and you can't live without!
DIY homeschool planner: step 2
Now that you have your tools, you are ready to get started. I usually make a list of all the different aspects of homeschooling that I want to plan, think about, or track. My list looked like this:
Index (to keep track of what is on which page)
Curriculum we are using
Curriculum to look into
Supplies we need/want
field trip ideas
random ideas and inspiration
things the kids say
monthly record keeping/goals/big picture ideas
looping
a typical routine
weekly pages to set up lesson planning
our cooking class planning, things to buy/prep
I made this page with a ruler, but if you are using a ruled notebook, you don't need to do that you guys! Just use one ruled line for each page you want to index. Once you have your list of what you want to wrap your head around or think about or plan, you are ready to set up your notebook, or whatever system you might be using.
DIY homeschool planner: Step 3
Now you are ready for the fun part. What you are going to do is set up a page or spread (2 pages) for each of those, depending on how much space you need. For example, for my weekly planning I have 2 pages so that I have the maximum amount of space to work with. Most of the other pages are just individual collections I call them (things I refer to time and time again). I index those in the front so that I can find them easily, you can also color code your pages with a piece of coloured tape or washi tape (don't worry, not necessary) you can even use a highlighter to mark the edges of your paper and organize it by color. NOT NECESSARY if you have an index, but an option.
Again, I like to doodle, I like to make things fun. You could just write the title on top and use the page to write them down in order on ruled lines, this is my artistic take on a simple idea. I went this direction, you can go minimalistic. Don't feel overwhelmed by my creativity, I hope instead it just gives you some ideas.
DIY Homeschool Planner: Step 4
Now you have your planner, you need to figure out a planning routine. A good part of the reason that planners don't work for us is because we forget about them. But planning really CAN make your life easier. It will give you an idea of what you have accomplished, a clear glimpse of what you did and what you still need to do. It will help your days run smoother and you will feel more relaxed IF you stick with it! This means planning time to plan! It doesn't take a long time you guys, 10 minutes in an evening before bed, organizing your thoughts, writing what you did, adding in anything from your iCal or Google Calendar. Simple. Easy. Once a week lesson plans. Or don't lesson plan at all! Make this work for YOU! Get into a rhythm. If you want to see more of my homeschool planning pages, CLICK HERE.
Get your free custom tailored planning pages!
My goal today was to show you that planning can be SIMPLE and effective and you don't need to be artistic or have a lot of time to make it work for you. But I KNOW some of you are still overwhelmed after reading this post, and I just can't stand it. So I had an epiphany. Rather than creating a homeschool planner that will work for SOME of you… why not create a customized planner for EACH of you!!?!?!?
I am creating a planning subscription group where you will be "subscribed" to personalized planning pages from me to you! You will have multiple spreads to choose from, you can give me the number of children you have, their names, the subjects you want to plan or boxes you want (i.e. one for notes? One for meal planning? A quick glance calendar of the month?). You can choose the colors and quotes and layout. Each month you will get dated weekly planning pages that are easy to print and put into a binder! As well as a monthly planning page, and 2 custom planning pages to add to your collection that YOU get to choose! Those could be reading logs, budget planners, whatever you need! No special resources or books necessary, and no setting up your pages!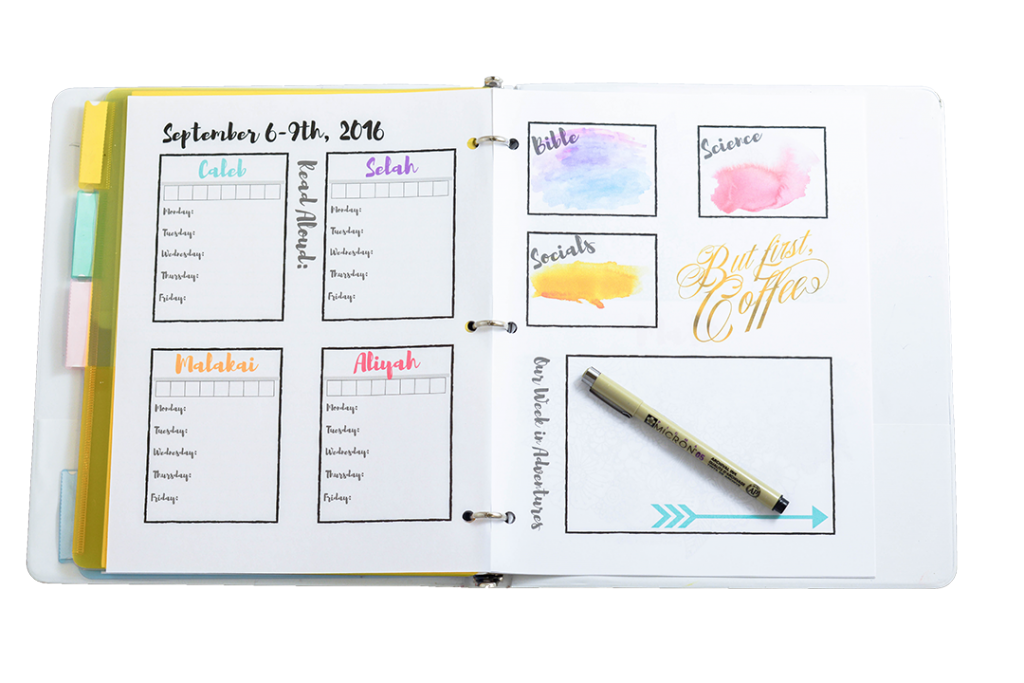 This is a sample I put together to show you how easy it will be and how many options you will have. The group will not only be a place for requests and me to show designs for you to choose from, BUT it will also be a planning paradise for homeschool moms where you can share pictures, ask questions, get ideas and inspiration, share struggles and vent, and have a sense of community! The best part is, for this custom planner community and printables, it will only be $5 a month. I currently spend closer to $30 a month on supplies, not to mention the time of setting all these collections and pages up each week! You will be able to leave the group anytime, so no pressure 😉 But I can promise you it will be cheaper and less time for you than going and buying new inserts and planning supplies each month! You will have an easy paypal link to click on and as soon as I receive your payment and your specifications for that month I will set it up!

Need more homeschool organization inspiration?
This post is part of a blog party over at They Call Me Blessed. There are lots of other amazing bloggers posting about their organization hacks and tips so make sure to check it out!