I recently snagged a beautiful cowhide leather journal from Imagination International Inc. (III) and I sat here staring at it for a few hours. It is a grid (or squared) journal, that can be replaced month after month, and I couldn't for the life of me decide what I wanted to use it for. I have two notebooks I use (one for home, one for work) in my Traveler's Notebook and I wanted this one to be functional and something I would use every day. I considered a recipe book maybe a budget book, but I came down to a prayer journal. I did some research and some prep work to figure out what I needed to set this up and have put it all together in a blog post for you. So grab your favorite pen and a fresh notebook, and let's get planning and let me show you how to make your own prayer journal! Make sure to pin this for later!
What you need to make your own prayer journal
All you really need to make your own prayer journal is a notebook and a pen. You can use a lined notebook, a grid or dot notebook, or even a blank notebook. Whatever is the easiest for you and/or whatever you have on hand. You will need something to divide your book, I made my own clips for this or you can use just post-it notes to make your own temporary dividers as well. These are helpful even if you don't want to use dividers, as you will want to visually organize your journal and will need to plan how many pages you want to use for each category.
My favorite notebook is the SenseBook, which you can purchase here. I love that you can purchase refills for it for a really reasonable price and continue to use the same journal time and time again. It is compact, the raw leather is so soft and grippy, plus the price is right! At only $15 with refills at $3.99, this is one of the cheapest journals I have found. The paper quality is good, the grid lines are a bit darker than I generally prefer, I like them as a reference, but not to be too noticeable. But considering the cost, the pros outweigh the cons on this one! It is an excellent choice to consider if you need an idea to make your own prayer journal.
I am also partial to Copic markers, they have an entire line of doodle pens that are PERFECT for bullet journaling, Bible journaling, and in this case… prayer journaling. I have fallen in love with their multiliner pens, which you can grab here. Again, their prices are insanely reasonable and the quality is amazing! I also love using their 6 piece glitter pen sets, the colors are vibrant and (eeeek) they glitter in the light, what's not to love?!?!?!
Though I have my favorites, the main goal here is just a notebook and pen, so even if you just have a book from the dollar store and a cheap office pen, you can still start a prayer journal! Let's talk about the set up!
Make your own Prayer Jounal: the Setup
The first thing you need to do is figure out which/how many categories you want. I determined how many pages I had (135) and divided it up. I have two pages for each prayer section to write down things I want to pray for for that person, a gratitude spread, an answered prayer spread, and then 30 pages each for prayer journaling, bible study, and memory work… with some room to spare if I decide I want to add in anything else! Here's a look at my index. I also created custom tabs using metal paper clips, decorative paper, a glue gun, and clear contact paper to "laminate" them and make them last longer.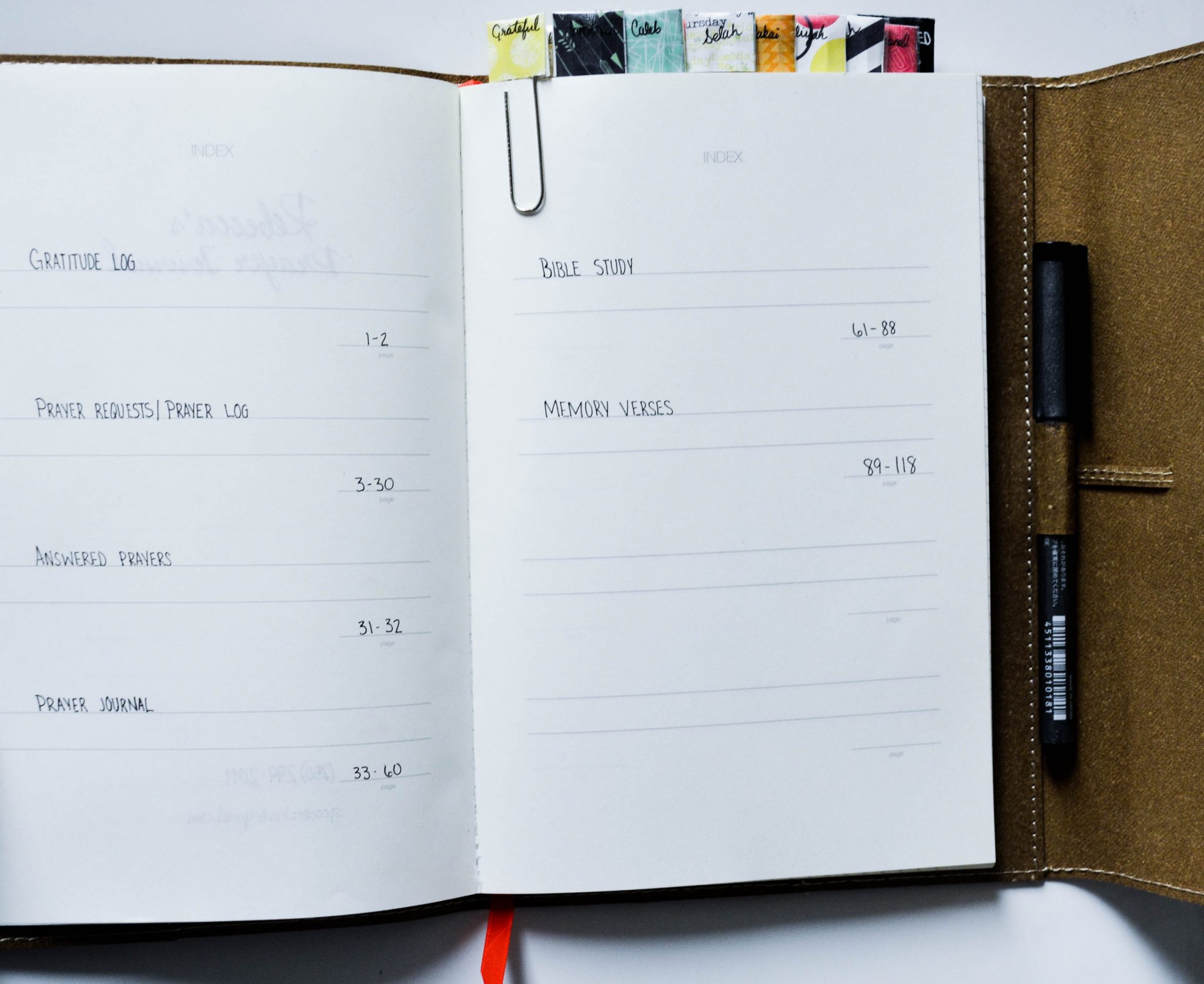 Once you have divided up your sections and figured out your categories, you can start creating headers, adding in information, using it however you want to. This is how I set up my Gratitude log. I have enough space on this 2 page spread for 2 lines each day for 30 days. At $4 a refill, I intend to try to use one new book each month and package them up at the end of the year. But alas… the best laid plans… am I right? 😉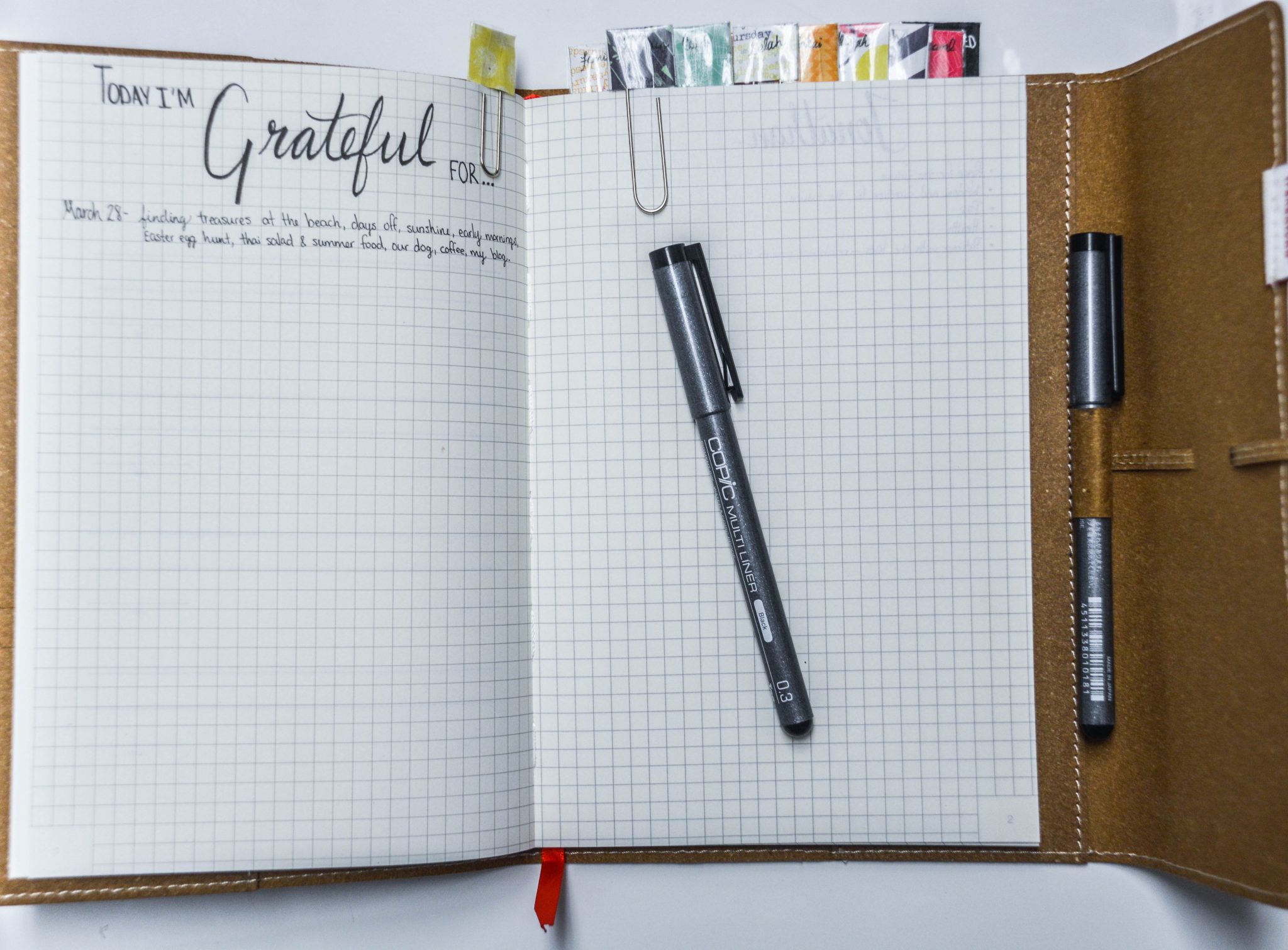 Next I have a 2 page spread for prayer requests, things I want to pray for. It is divided up into sections, each section has it's own custom tab at the top and I have lots of space to add in bullet points as I think of new ones throughout the month. The prayer sections I chose (and you can choose whatever speaks to you, don't feel bound by this) are:
My husband
My kids (each child has their own spread)
Myself
My Family
My friends
My church
Bible Study Group Requests
My Community
Miscellaneous
Here is one of my prayer spreads:
Next I have a spread for answered prayers. This is a special spread for me, so I created a unique black tab with white chalk pen. I am really looking forward to tracking how God answers my prayers, I have actually never tracked this before, so this should be fun!
Then I have three different sections with 30 pages in each. One for prayer journaling, just letters to God. Then one for Bible Study, I intend to break this up to study words in the Bible I want to understand more, attributes of God, etc. And lastly, one for Bible memory work. I will be journaling verses that I want to memorize, copying them, working on my lettering at the same time as I write God's word on my heart. I still have room at the end, I am thinking of adding a "God's Words to me" section where I can put things that He is putting on my heart or words He has given me. Aren't you ready to start your own? I can't believe I've never done this before!
Your Turn! Make Your Own Prayer Journal Today!
So now the fun part, you get to go off and make your own prayer journal. If you need a notebook, check out the senseBook from III, otherwise, grab whatever you have on hand and just get started! You can always use a nicer notebook next month! Tag me in your spreads and show me how YOU set it up on Instagram on my new planning page HERE. I can't wait to see what you come up with and I hope this gave you some inspiration to start a new journey to deepen your prayer life with me!