We all have those things, those gifts we love and secretly want but can't really justify. Maybe it's not in the budget, maybe we feel bad because it doesn't serve a practical purpose or it's just for us. Whatever it is, it is pretty much the BEST kind of present to receive! If you are looking for THAT kind of gift to give to a sister or friend this Christmas, I have the perfect idea for you!
Anyone who has tried their hand at Bible Journaling can generally agree on one point: it has the potential to change your relationship with God. Whether you write notes in the margin and use stickers and washi to add color, or do hand lettering, sketching or painting… it is a way of responding to the scriptures. What if you could pass that on? What if you could share something that has touched your life with someone else and inspire them on a journey of their own? As I pondered Christmas and upcoming birthday's, looking for unique and meaningful gifts, DaySpring.com was the first thing that came to mind. Check out these 5 reasons to gift Illustrated Faith.
1. Give the gift they might not buy themselves

Amongst most of my friends and family, there is a lot of interest in Bible journaling, and yet they don't ever seem to take to plunge. I have found that either people generally don't think they are creative or artistic enough because they have seen the professional pages and feel completely overwhelmed. Or, because it is a personal growth purchase and not something for the family, they feel guilty buying it for themselves or have husbands who would see it that way. When you give the gift of Illustrated Faith, you are getting them something unique they have probably never received before, that is singularly for THEM. It is also something they can use immediately, not a material possession as much as a tool, which let's face it, those are always the best presents!
2. Give the gift of creativity
No matter if you are artistic or not, we were made in the image of a creative, imaginative, original God. He is the author of creativity and beauty and that is one of the by-products of Illustrated Faith. Bible journaling causes you to rest, to focus, and to let go. I have found that the more I do it, the more creative I become. Creativity begets creativity and I think that is one of the most original gifts I can give someone. If they can find some inner piece of the artist who made them, then it is truly a priceless gift.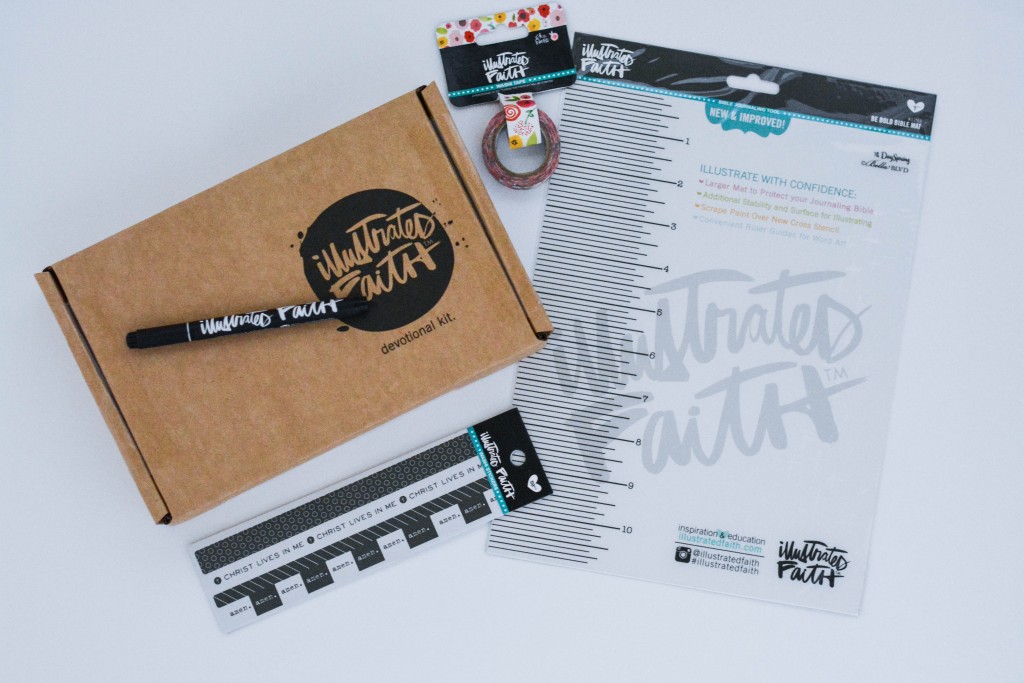 3. Give the gift of Inspiration
As I Bible journal, I am always inspired. There is something about taking the word of God and meditating on it while you draw or write or paint that write's it on your heart. It encourages me to go deeper into God's word. I am gifting this month's devotional kit to my sister-in-law for Christmas, and I know she is going to be inspired with the stamps, devotional, washi tape, and cards in this month's box!
4. Give the gift of beauty
My mom has always wanted to try her hand at Bible journaling, but has never had the tools nor the Bible. So I put together a fun little starter kit for her with my favorite journaling Bible from Illustrated Faith along with a Bible mat, some washi tape, and a IF pen. As I was wrapping everything I was captivated by the beauty of this Bible, with it's birds and space to journal inside. I know that this gift has the wow factor that any woman would swoon over. We like beautiful things, it is part of the way we were made, and I can't wait for her to receive her beautiful birthday gift. From journaling supplies to journals and mugs, the Illustrated Faith line has something for EVERYONE in your life!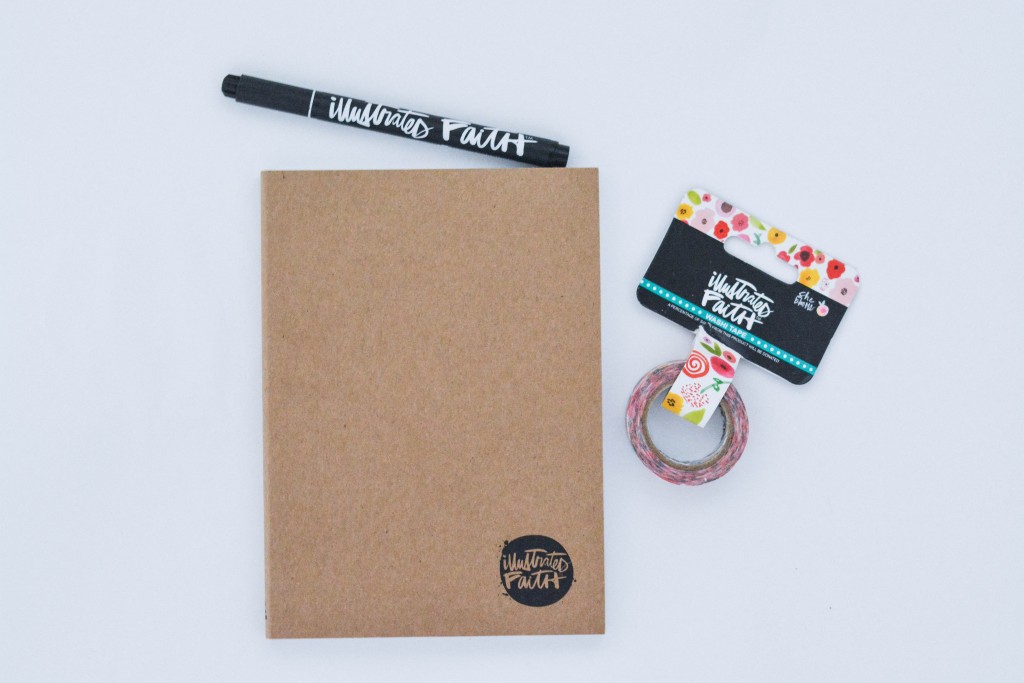 5. Give the gift of expression
One of the most precious aspects of Bible journaling to me is the response aspect. Reading the word of God is a rather simple process and it is easy to do it for the sake of doing it. When I am sitting down to a Bible journaling session, I pull out all my supplies, I turn on my favorite worship music, and I pray. I pray that God will speak to me, that He will make something stand out or use this passage to help me grow in some way. Now, as I read, I am doing so with purpose. I am searching the very heart of God, looking for what He has for me that day. Let me tell you, my God is faithful to deliver! Without fail, I find the word He has for me, or the verse, and I know that is what I will journal that day. I think about the verse and what it means to me and then I respond to it with my pen or my watercolors. I express not only what I feel God has given me, but how it impacts me, through art.
To be able to give someone the tools they can use to worship God in a way that may be a totally new aspect, is something I really can't wait to do! I know that both my mom and sister-in-law are going to love these gifts. I know they are unique and personal and they won't get anything else like it, and I know it is a gift that keeps on giving.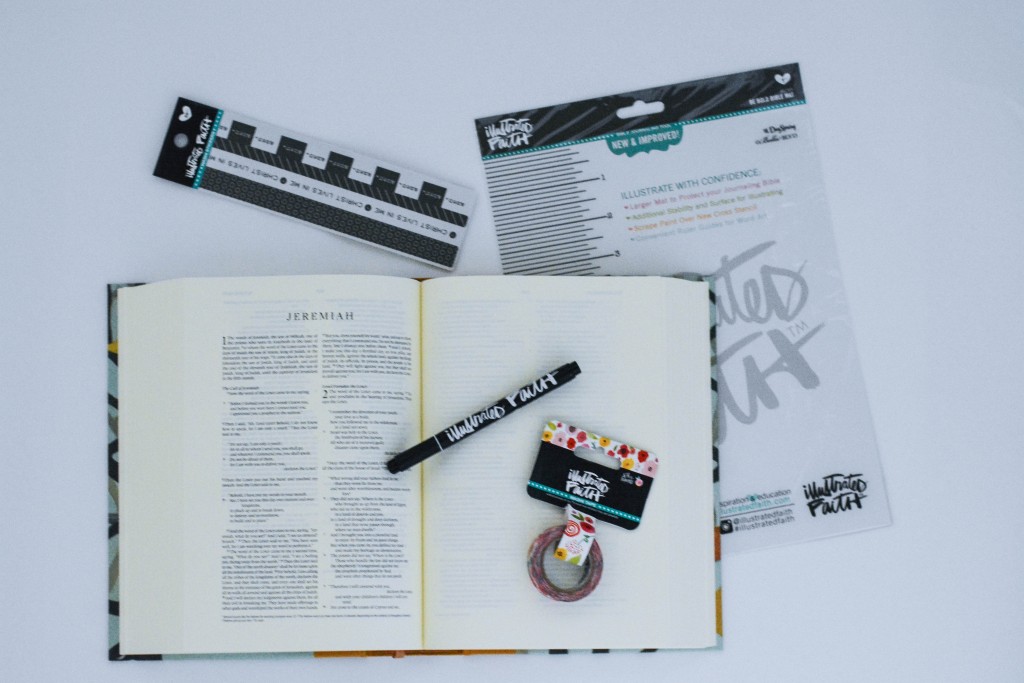 Pass it on
If you have fallen in love with Bible journaling, Illustrated Faith, or these beautiful devotional kits, why not pass it on? By sharing your passion with a friend, you just might connect in a  new way you haven't before as you both grow in your Bible journaling journey's together!
Don't miss some of the new and exciting products over on the website and make sure to use the code SHINEHISLIGHT for $20 off your purchase!