Let's talk Lego animation and kids… yes, your children could be making their own animated videos! In this review of Stopmotion Explosion I will share with you how this amazing product works and we'll show you our very first Lego animation (bear with us, my son is only 8 and we were learning as we went). Make sure to pin this post for later!
Lego Animation with a click of a button (well… lots of clicks)
We received the Stopmotion Explosion Animation Kit to try with our kids, which includes the software download, a quick start reference guide, a full book about video animation, plus a high def camera! The camera stands on its own at a low height or can be mounted. There isn't a recommended age, primarily because it can be used with all levels of experience, a beginner could learn how to start and an intermediate animator could go into a lot more depth with it. Though all of the kids could have participated in our little video, my 8 year old really took to it. He enjoyed painting his own set, coming up with a plot and storyline, and then learning frame by frame.
You can animate ANYTHING! From paper to clay to toys… the sky is the limit! All you need is some preparation and patience, there really are a lot of clicks! We set it up at 4 fpm (frames per second) so that means that for a 60 second video, we needed to have 240 frame shots. It was a TON of work, and we ran out of story ideas fast, so we ended up doing a few different stories in one. The software was a super fast download, and is compatible with both Mac and PC. The camera just hooked in via USB and we were ready to go! I honestly want to create a video of my own and am a little bit giddy about trying it out in a quiet moment when the kids are playing somewhere else (am I allowed to say that?). Ha! Fun for ALL ages indeed!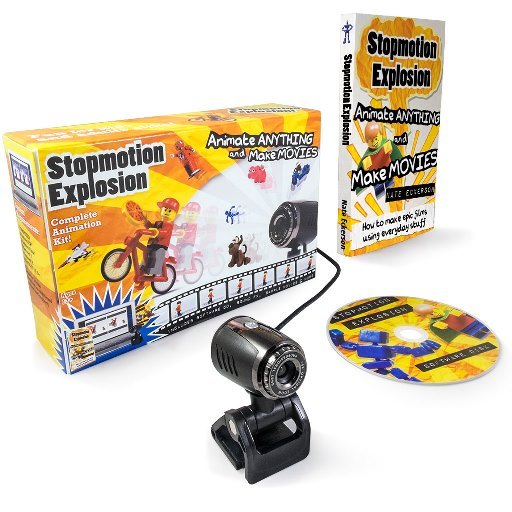 Once we had our photos completed, we exported it as a movie on my desktop and imported it into video editing software (we use iMovie). Here we added a voice over, some sound effects, and published it onto YouTube, how easy is that? We are total amateurs, but it was a lot of fun and a really special time for my son and I to bond, you know… through the hundreds of still shots, ha!
Watch our Lego Animation!
Better than anything I can tell you though is what I can show you. Once I showed my son what to do, he created the movie entirely on his own. Then I exported it and put it into iMovie where we worked together on putting in some fun sound effects and he did a voiceover. Then I just published it onto YouTube. It took us about 3 hours to make this video from start to finish, not including set, scene, and storyline prep. The more time and prep you put into it, the better your video will be. So again, older children would be able to take this to a whole new level. If you have time, make sure to go to the site and see some of the videos other kids have made in the content hub here.
Find out more information about Stopmotion Explosion!
If you want more information about the videos, the program, the kit, or the camera, head on over to the website. You can also find them on Facebook and Twitter. Or head over to the Review Crew to read more reviews (and watch more sample videos) here.
What would you animate if you had this kit? Comment below!