My 8 year old son has been asking for a "real" Bible for some time now. He is tired of the simplified children's stories and wants to start memorizing verses and learning how a Bible is set up. Because he is reading so well, I was eager to find him one that was accurate but also easy to read and bright and colorful at the same time. When I logged in to my BookLook Blogger's account (where I can choose Christian books in exchange for my honest review), I was thrilled to find the NKJV Study Bible for Kids prominently displayed as a review option. My 8 year old eagerly checked the mail each day, looking for his new Bible to arrive.
The NKJV Kids Bible Features.
One of the things I love about the NKJV (New Kings James Version) is that it is a more accurate translation however it has some language updating so that it is still understandable for young readers. The NKJV Study Bible for Kids features:
Behind the Scenes: introduces the author, dates, key passages, highlights, etc.
Spotlight: How it all relates to us today.
Timelines: This helps children see where on the timeline the book/stories were written.
Starring Roles: Learn about the author, how to say their name, what their name means and their background.
On Location: Bright maps that show the WHERE to help visual children really see the whole story.
Action!: Little sections within the text that take a verse or story and apply it to your child's life. What would YOU do, how would YOU feel, have you ever struggled? Etc.
And more!
Why we love the NKJV Study Bible for Kids.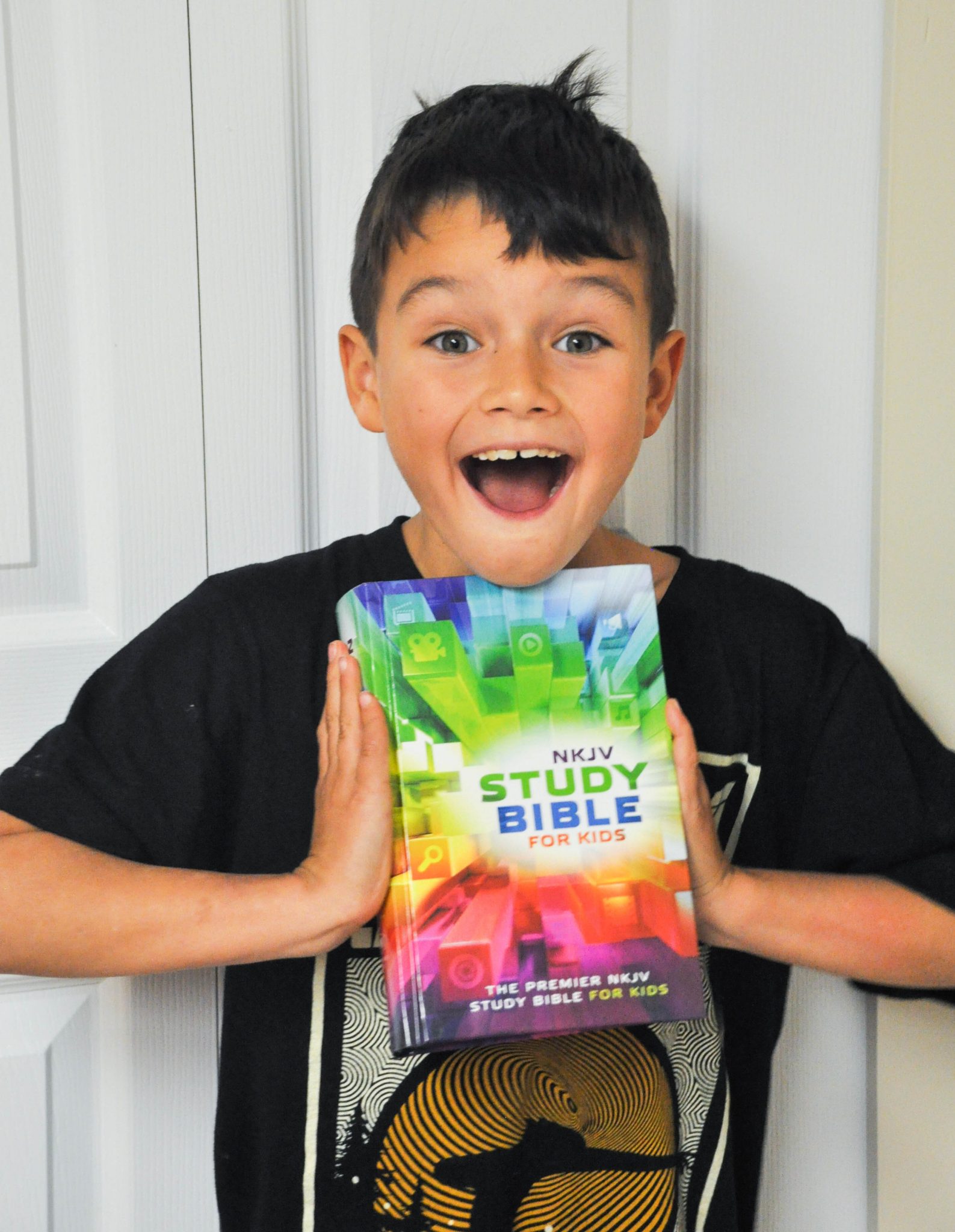 I love this kids Bible and so does my son! It is engaging, bright, accurate and yet not too difficult to read. It has helped my son take ownership of his relationship with God and I am always blown away when I see him nestled in his bed reading his Bible or coming to me with a question. If you are looking for a kid's bible for a gift, achievement award, or just because… this is a beautiful Bible you won't regret purchasing! To get your NKJV Kids Bible, simply click on the image below or CLICK HERE to check it out on Amazon.
Do your children have their own Bible's? Comment Below!