The newest craze in social media… Periscope. What is it? How does it work? What do you use it for? Come find out! I stumbled upon Periscope and kind of dove right in. The beauty of this new social media is that you can interact and relate in a way you can't anywhere else. The videos are live, they are not edited, doctored, acted out 5 times, scripted, etc. They are authentic, real life, not perfect, but oh so fun!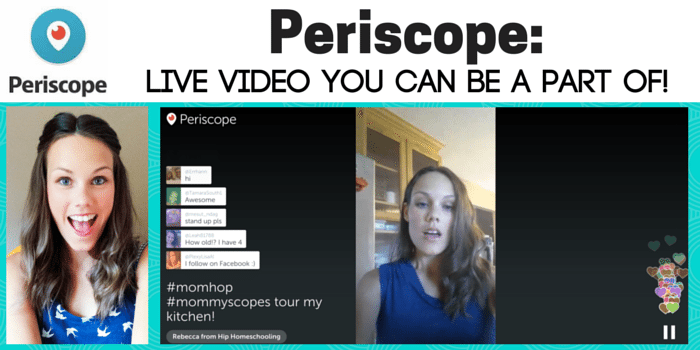 What IS Periscope?
Periscope is a new video streaming platform. Essentially people go on there and do live video chats while anyone who is watching can ask questions, comment, interact, give hearts on the side if they like it, etc. It is a free mobile app, like Instagram, meaning although you can watch replays on your computer you must be on your mobile in order to engage in the live videos. It was created by Twitter so it is easily connected to your Twitter account. You can share the videos you are watching with your Twitter followers, you can share a broadcast on Twitters, etc.
How does Periscope work?
The best way to get started is to download the app and start watching some videos. You can play around inside a video to see how it works but I'll give you the run down if you get a little lost.
Unless you change your settings, you will get a notification every time someone you follow is live. If you only follow your absolute favorites, this is great! Most people only go on once a day or even once or twice a week and you won't want to miss when they post! If you follow everyone you have on Twitter, you may go a little crazy with the "Periscope Whistle" every few minutes, so that is something to be aware of. It can be changed inside your settings but then you won't get notified at all and may miss live broadcasts.
There are four icons at the top of a Periscope screen, each one serves a different function. I could describe them in detail but I can just picture you sitting with your phone trying to figure it all out. SO, if a picture says a thousand words… 😉 Note that these screen shots are taken on Android, if you have an iPhone, it will look a bit different for you, but the idea should be similar!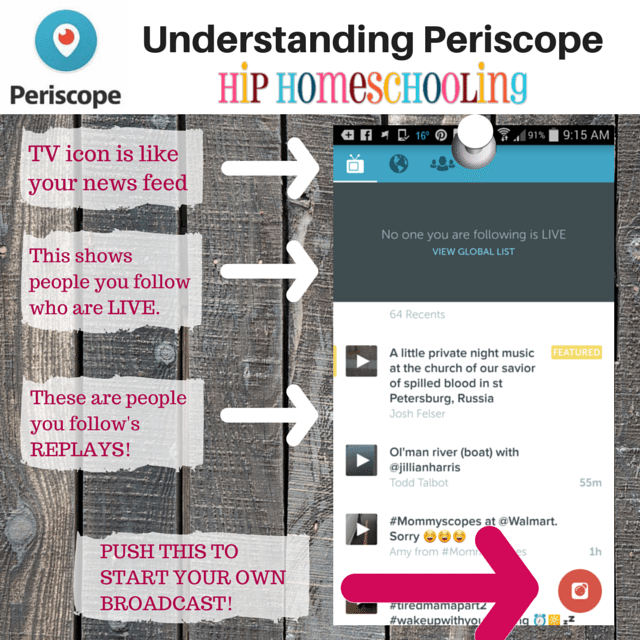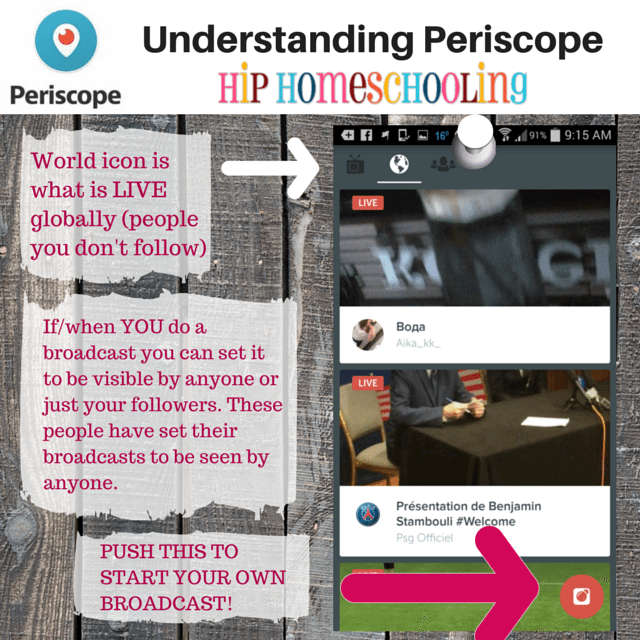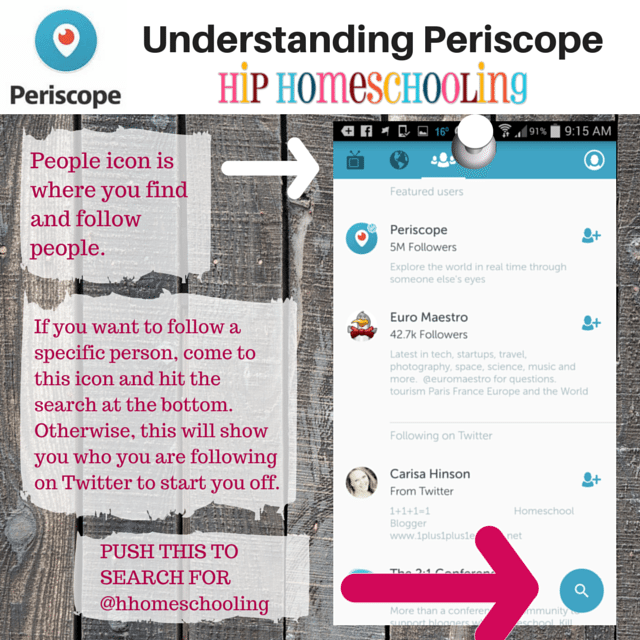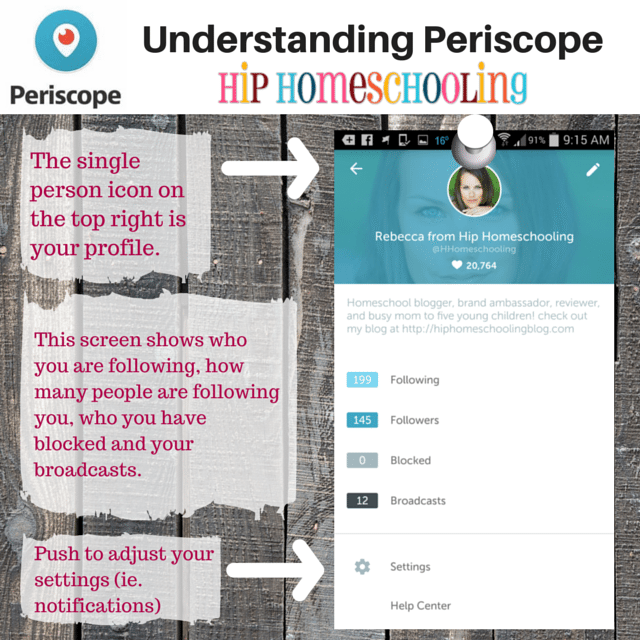 How to be safe on Periscope!
Any social media has safety concerns. When you are posting personal information, pictures, etc. there are always dangers and Periscope is no different. One of the best features of the app is that you can block a user with a click of a button. If you were scoping and someone came on (hereby referred to as a "Creeper") and said something super inappropriate, you just touch their comment and hit "Block User". And that's it, they are off your chat and won't be able to come on again!
You should also be careful how much information you give and show on Periscope. For example, maybe don't broadcast your address and last name 😉
Overall, I do all my broadcasts open to the public and haven't run into an issue yet! I have not let my kids come on yet with me, I think if I do that I will be having them only broadcast to my followers.
What is the PURPOSE of Periscope, is it just another time waster?
NO NO NO NO NO! Honestly, it could be. You could spend hours on this thing watching scope after scope, it's slightly addictive. However, there are so many practical uses to this app!
Watch a live scope lesson (art, piano, etc.) with your kids.
Watch live worship.
Watch live product and curriculum reviews and ask questions.
Watch live Q&A sessions and don't wait to hear the answers in an e-mail!
Participate in live devotions/Bible study together.
Watch someone cook a meal live, ask questions, see how it's done, do it along with them!
Watch how to videos, ask questions and interact throughout.
Just a few of the uses for Periscope. I am so excited for it that I can't seem to pin myself down to just one thing! It is not only fun to broadcast and get to know you all but also to watch other people's broadcasts and ask questions, be a part of it in a real way.
Come follow me @HHomeschooling on Periscope!
Ok, you're convinced, you are downloading the app on your phone as you read, but what will I be scoping about?
First things first, hit the 3 little people at the top of your screen and then the search icon on the bottom and search for HHomeschooling and follow me 🙂 Next, take a look at this image to see my "general" broadcast times. I can't promise I'll never miss one, life with 5 kids, stuff comes up! But I can promise I'll try!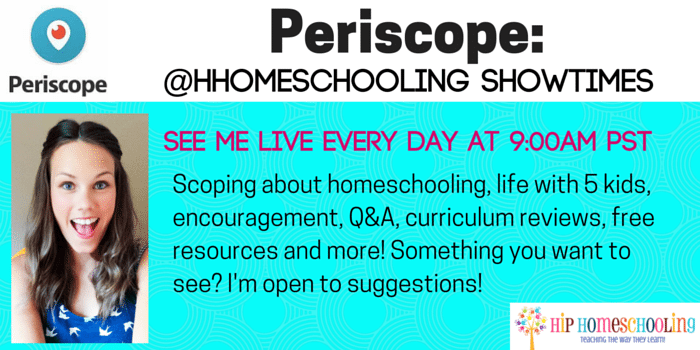 Have an idea for me to scope about?
If you have something you want to see on Periscope, either email me at rebeccaspoonerpgblog@gmail.com OR come join my Facebook page HERE and message me on there! I really want to keep it open so I am free to talk about what YOU need to hear. So suggestions are welcome! See my scoping calendar below to find out what is on the schedule for this week!