I am beyond excited to be releasing my Shark Unit Study right in time for Shark Week! I have been working on this the whole week and barely got it together in time, mainly because I wanted to make it a little more challenging and engaging. I opened up the age range of this one from grades 2-6 to allow for a bit more in-depth learning for the older children, but you can easily use this for younger children, or stay tuned for a K-2 version (hopefully) coming very soon!
What's in the Shark Unit Study?
This Shark Unit Study has everything you need to cover all your subjects for one week! It includes tons of reading and science lessons as you learn about four types of sharks including the Thresher Shark, Mako Shark, Whale Shark, and Hammerhead Shark. It also includes math word problems that further reinforce the learning and make math fun. There are comprehension questions, word searches, and notebooking pages that all integrate the lessons and help children document and organize what they have learned.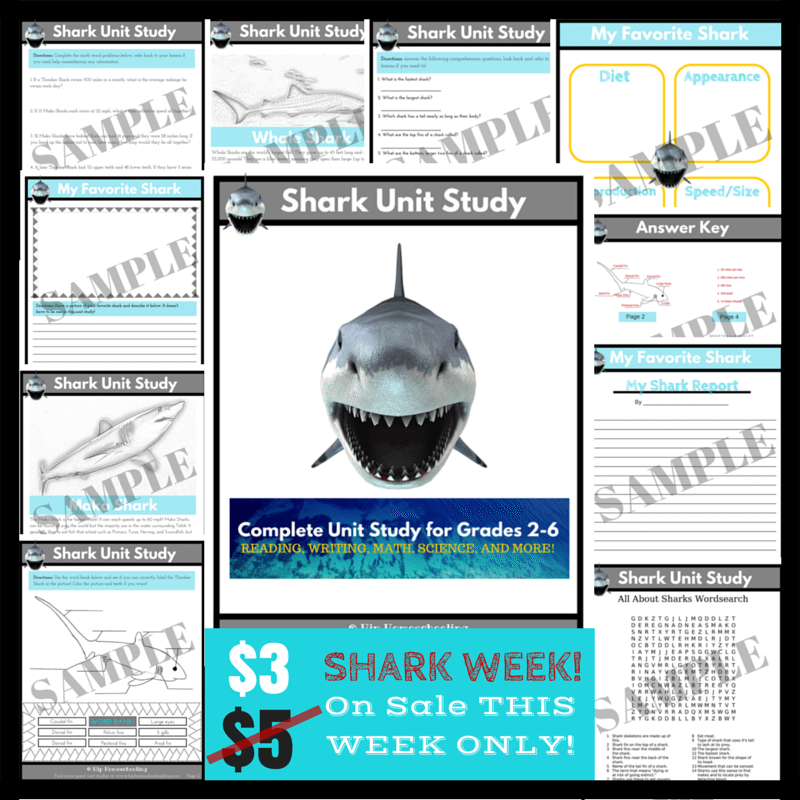 This shark unit study is a 14 page download and includes an answer key to make it easy for diagrams/math word problems/word searches and more! It is designed to be used as a one week unit study. Each day would be 2 pages, a reading/lesson page and an activity page. Near the end the child would begin compiling the information and choose their favorite shark to write a report on. There are four pages designed for this aspect of the unit study, giving your child ample time and space to develop their plan and process how to write their report.
How do I get the Shark Unit Study?
Simply hop over to the SHOP page or click HERE (or on the image above) to see the Shark Unit Study. It will be $5 but is on sale for Shark Week for only $3 so grab it while it lasts! You can pay by credit card, bank transfer from paypal or contact me if you would prefer to set up an etransfer. Downloads are available immediately after purchase for 30 days! They are designed for family use only, so make sure you grab enough for all your kids and please share the link to the shop page if you want to share it with family/friends. A lot of work goes into these unit studies and it is a means of supporting this blog to keep it up and running!
I hope you love your unit study! If you like it and have a few seconds, head back to the shop page, log in and write a quick review or rate it. This would be a HUGE help to me and of course, other people who may be considering purchasing from my store.