Bible journaling is becoming one of the newest fads inside Christian circles. It can vary from writing notes in your margins (which we have been doing for years) to complete art plastered all over the page of the actual scripture. There are some conflicting opinions on how far is "too far" with Bible journaling, but the fact remains… artistry, freedom, and creativity are becoming more and more mainstream. I am all over that bandwagon you guys! I love Bible journaling, I love art, I love color, I love creativity and expression and I think God, the one who instilled all of that wildness in us, loves to see that in our Bible. Loves to see us meditating on His word and creating something beautiful out of it! That is why I was so excited to find out that DaySpring had an entire line for Bible Journaling and creative expression called Illustrated Faith.
What are the Illustrated Faith Womens Devotional Kits?
This is a monthly box but it is not a subscription. Rather they release them regularly and you can go in and buy them, which I think is AWESOME! You aren't tied into something on a regular basis. This month I received the I Am Strong devotional kit. It came with a devotional (that was the perfect size for my Traveler's Notebook by the way) that has 14 daily devos in it. This was such a relief to me, something I have to stick to every day doesn't tend to happen and fills me with more of a sense of pressure than freedom. The devotionals are short, written so well, engaging, heartfelt, and have questions and room for you to journal or express yourself (which is great practise for Bible journaling!). This month's devotional was written by the talented Wilna Furstenburg, she will blow you away with her deep insight and refreshing point of view.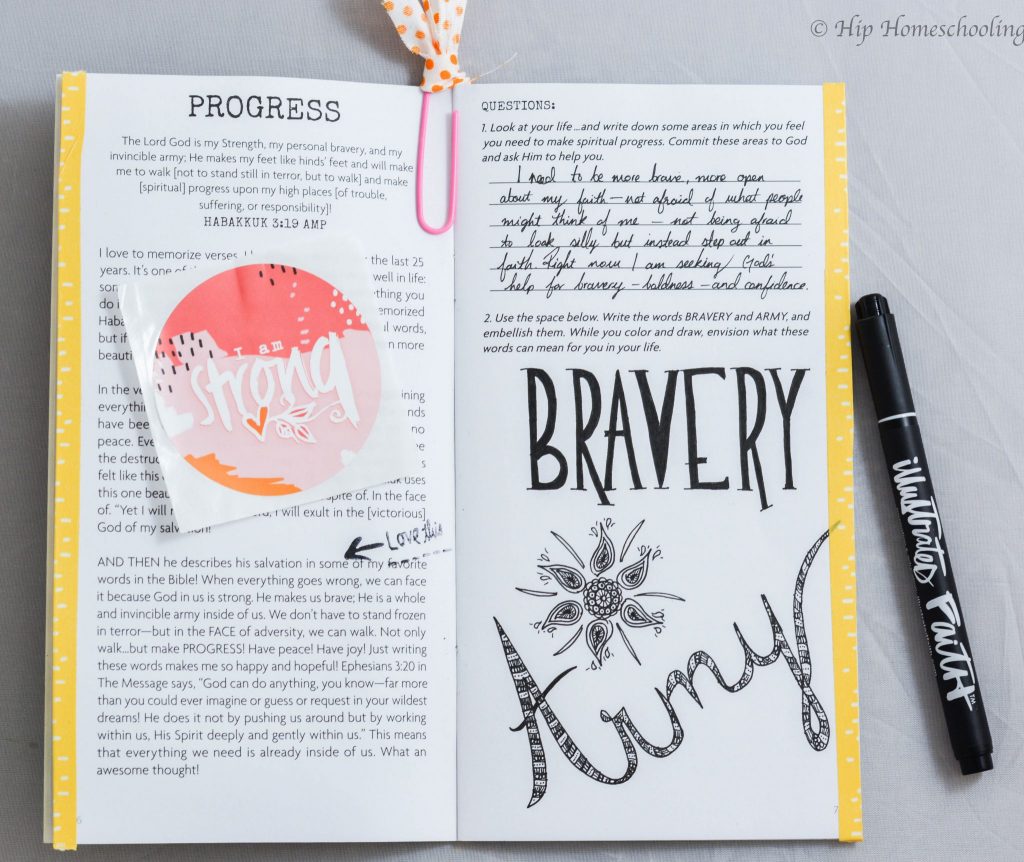 It comes with:
a stamp set
a bright orange ink pad
a paper clip with fabric embellishment
3 scripture cards
a card stock cut out full of tabs and shapes
a small envelope
a sticker
and some peach coloured washi tape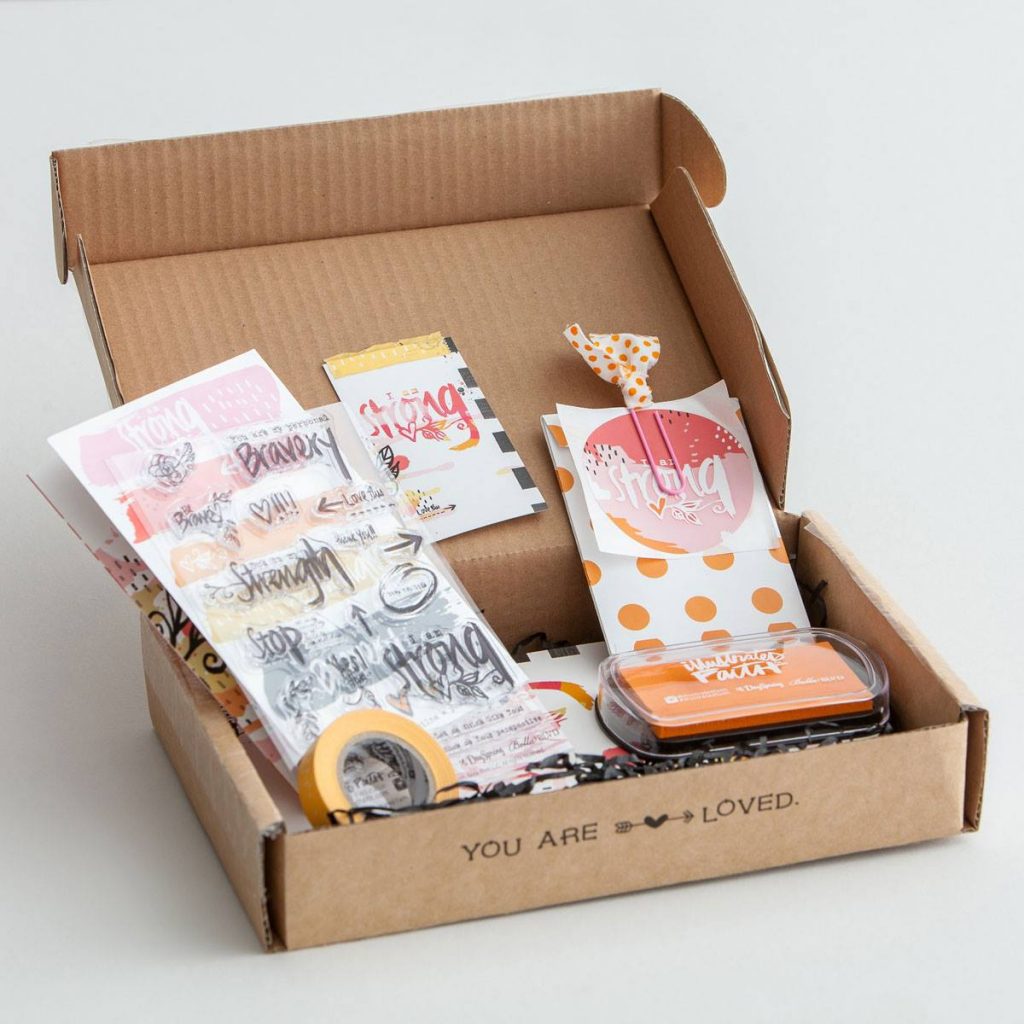 I think saying I fell in love with this bright, summery devotional kit would be an understatement. I was instantly inspired to open it all up and get started! I pulled out my pen and supplies and dug in! I have been working on my hand lettering, my doodles, my painting and stamping skills and more and I am doing it all for God. I have never in my life felt so connected with who God made me to be than when I am creating something beautiful using words and inspiration from scripture.
As much as I loved the devotional kit, I was pretty much addicted to the entire Illustrated Faith line and was looking to expand my Bible journaling supply repertoire. If you are a new, beginning, or avid Bible journaler, you are DEFINITELY going to want to check out the other resources they offer on their website. Their prices are affordable, shipping is fast, and the quality is superb. They have stickers, inspirational washi tape, painting supplies, canvas storage bags, pens and more! I love these acrylic tubes, the paint dries super fast, it has great coverage, and the colors are bright and blend perfectly! The best part is that they come with these great cards, think of them kind of like a hotel plastic card, but they are cute! You can use them to scrape the paint across your paint in the margin of your Bible! How cool is that?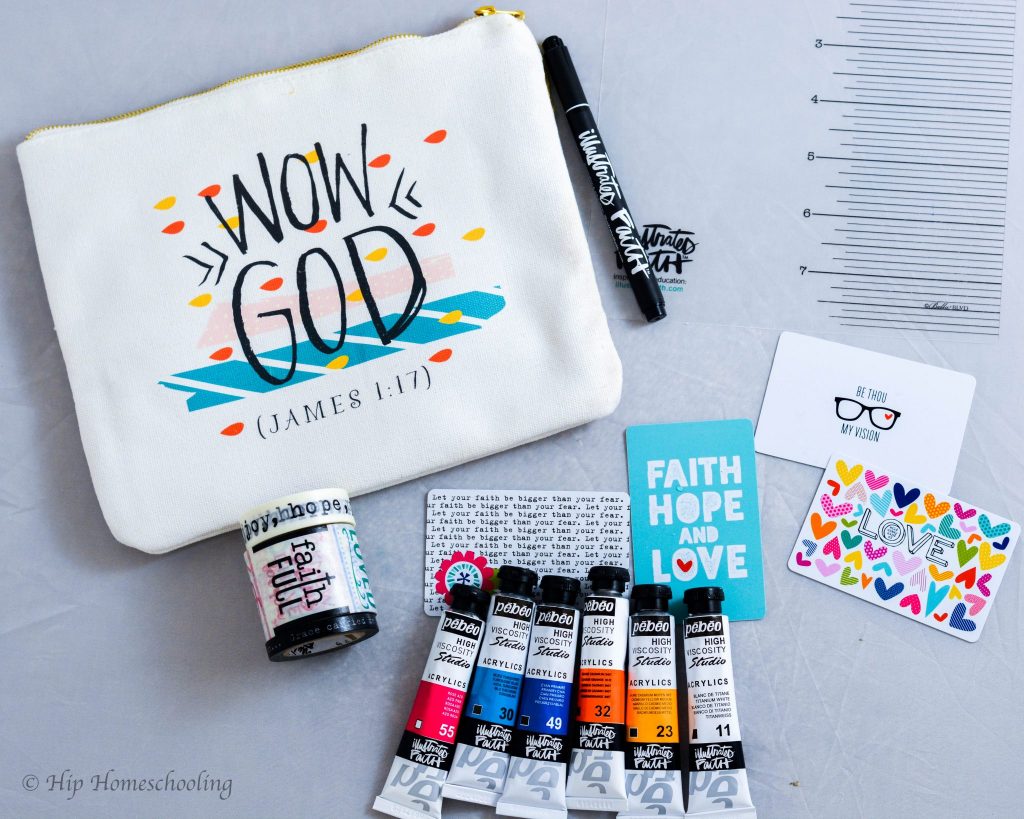 The pen is really high quality, it writes over anything, the ink doesn't smear when you use watercolor or other mediums overtop. It is a great thickness and does pretty much anything I need it too! Here is a look at one of the watercolor pages, not a bit of smearing or smudging!
I can't neglect to mention their stickers, whether you use them in your journaling, your Bible, your devotional, or even scrapbooking, I LOVE the sticker sets you can find on the shop right now. My favorites are the inspirational and tab stickers, which I am planning on using in my bullet journal pages, but you could use these right in your Bible as well, they are affordable and high quality stickers.
I am a visual learner, I spend a LOT of time on Pinterest just getting ideas and inspiration, and I feel like that is the number one thing that these resources offer me… inspiration. I am learning new things, I am exploring my talents and gifts and learning that God made me to create! You can watch my entire box being opened on my Facebook page, but the fact that it is encouraging me to dig deeper into the word, to do something beautiful makes this 100% worth it to me!
I am going to add in some other simple Bible journal pages I have done, for inspiration for you guys, and also to show you that Bible journaling doesn't have to be hard. It isn't only for the super artistic. I am a newbie Bible journaler, I am not super artistic, I have NO idea what I am doing, and yet I am on a journey to write the word of God on my heart, in my mind, and in my soul. I hope you'll join me! There will be more Bible journaling posts to come in the next few months and I can't wait to share my journey with you!
stick figuring here my friends!
this was done with my kids' pencil crayons!
This is one of my favorites
Simple black and white verse in my margin with a little doodle
this was done in my devotional kit, but I will find a place in my Bible to put it when I am done.
Have you done Bible journaling before? What do you think?
Want to know my top recommendations for Bible journaling supplies? Check them out here! Want more inspiration? Come follow my Bible Journaling board on Pinterest HERE for daily inspiration and ideas for your Bible journaling journey! Also, come follow me on Instagram. I would LOVE to see your Bible journaling pages! Tag me in them and I'll come over and say hi! @rebeccaspoonerpg.
I love this product so much, I asked to review it on my page! Because you guys are so awesome, I was sent a free kit just for helping get the word out and sharing how much I love it! I never work with companies I am not over the moon about, so you can trust my voice as I find content that I love and I think you will too! To learn more, check out my disclosure policy.