So you have nothing planned for dinner and need something quick? We love easy recipes over at our house, they win out every time! How about some tart and savoury Chana Masala? This is amazing on a bed of rice and as a bonus, make or buy some naan bread to dip in it. Mmmmm.
This recipe is easy to follow and only takes a few simple ingredients! Most likely you will need to head out and grab some chana masala (or garam masala) from the ethnic isle of your local supermarket, and maybe some spinach, but the majority of the ingredients you will have on hand.
Just put your name and email in the address below to get your free recipe card for your recipe box or book!

[wp_eStore_free_download_squeeze_form id=45]
Easy Recipes: Healthy Chana Masala
Before you begin, tidy your counters, wipe the crusty food from your stove, take a few minutes to get things organized. Trust me, I spend half my life in a disastrous kitchen and it is enough to make my blood boil.
Next, pull out your ingredients/supplies:
a tablespoon
a teaspoon
an onion
3 cloves of garlic
cooking oil
2 cans of chick peas
your spices (salt, pepper, masala, cumin, coriander, turmeric)
1 can diced tomatoes
Spinach
Lemon Juice
1/2 ccup of water
your pan
Rice/rice cooker
You are ready to start cooking this fantastic dish! First, start with your rice or you'll have your masala cooked and spinach wilting while you wait on the rice to finish!
Then basically throw the first half of ingredients in your pan and fry for five minutes (I love frying my spices with my onions and oil, makes it so fragrant and really seeps into the onions). While that is frying, drain and rinse your chick peas and open your cans. Add your canned goods and water, mix well, and let simmer for about 10 minutes on medium low heat.
On a side note, I only had 1 can of chickpeas so we substituted 1 can with Romano beans and it tasted fantastic! Don't be limited if you don't have garbanzo beans in stock, this works well with literally anything and it is packed with protein and fibre!
Now that your dish has simmered down, you can add your lemon and spinach and let the spinach wilt just for about 2 minutes, don't overcook!
Now your rice should be done and you are ready to plate it Gordon Ramsay style 😉 Or maybe not quite so pretty, but I had fun plating this dish anyways. Easy recipes look fantastic on a nice clean plate. Basically spoon the mixture over a bed of rice, and if you want to be really fancy, serve with a piece of oven-warmed naan bread! It is the perfect dish for a rainy day, warm, savoury, popping with flavor and texture and incredibly filling! My kids (7, 6, 5, 3, 1) LOVE this dish, but maybe for picky eaters you'd want to mash the chana masala into the rice a bit so remove some of the chunks.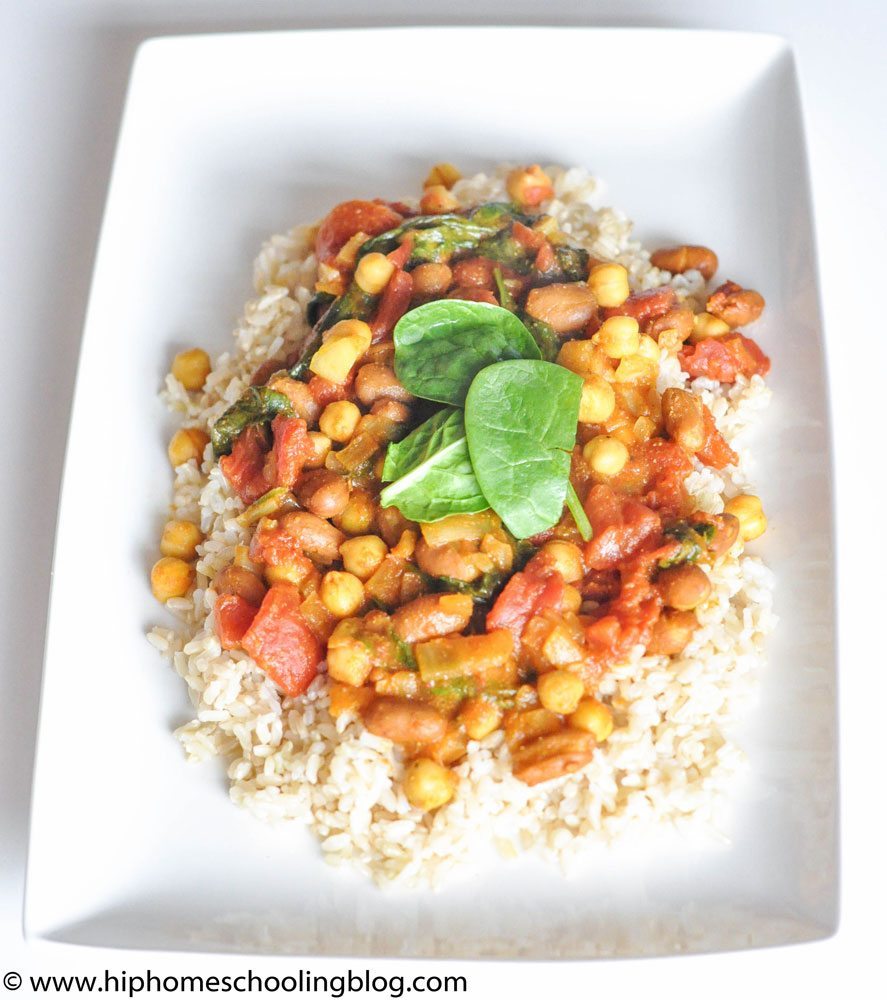 Have you ever tried Chana Masala before? I want to know what you think of this recipe or any of my easy recipes! Once you try it pop on over and tell me if your family liked it as much as mine! And I'm always open to new ideas, if you have a recipe you want me to post, let me know! I am hoping to feature a recipe post once a week for tired moms like me who have lost drive and inspiration. I mean, really, it's supper…. AGAIN?!?!?!?!? 😉
If you're looking for more great recipes to add to your repertoire, check out my easy recipes category and start being inspired to take back dinner!