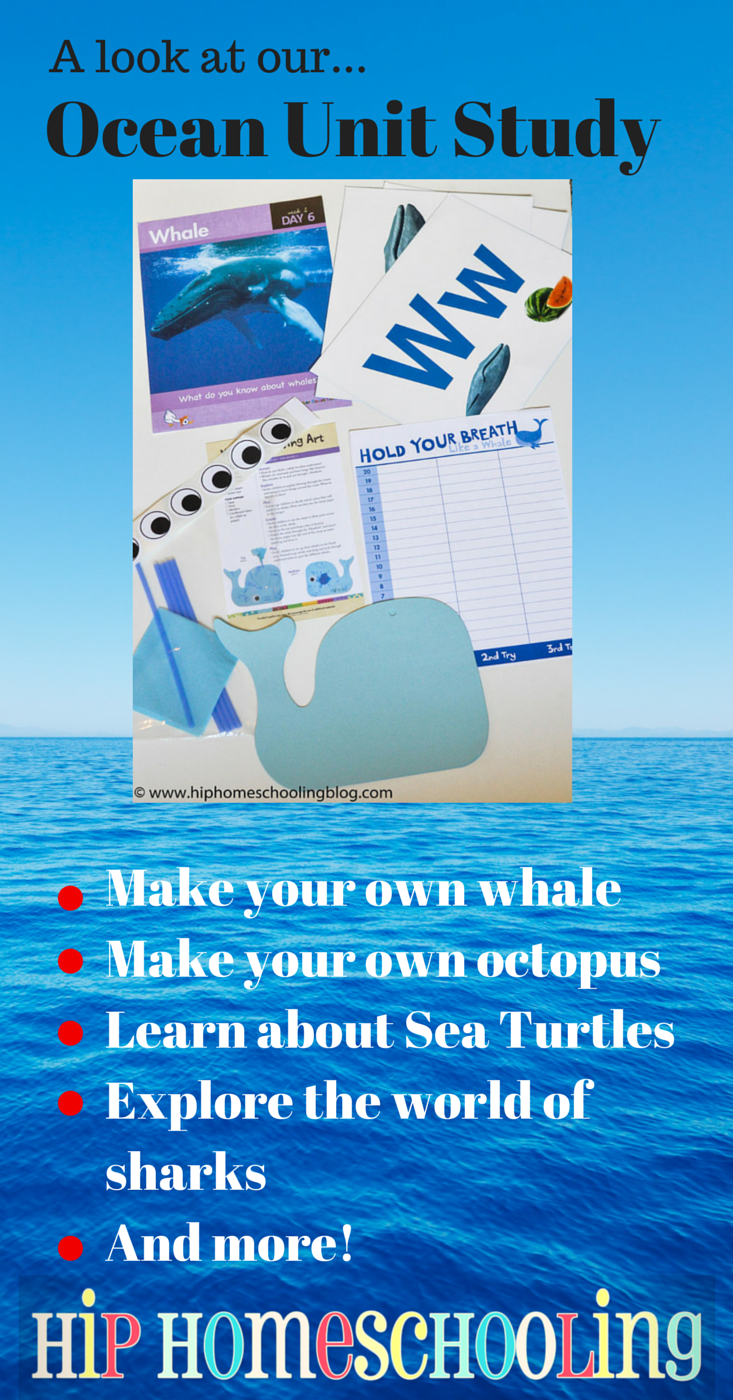 I am super excited to show you all the great activities we have planned this week in our preschool homeschool curriculum with Mother Goose Time!
This week we will be full of crafts and games and activities. We will be learning about different ocean animals and using these animals to learn math and reading skills at the same time! If you have been looking into Mother Goose Time, this will give you a good idea of what just one simple week looks like. To see the first week in our ocean unit study in this great preschool homeschool curriculum, checkout my post: An Inside Look into our favorite Preschool Curriculum. Each month comes with four weeks of lessons related to the theme. Each day is seperated into bags and I opened up these bags to show you some of the different things inside! There is a wealth of information in the teachers guide that gives a ton of great ideas and activities as well.
A look into week two of our preschool homeschool curriculum
Week two looks like a ton of fun! What kid doesn't love ocean animals? If this is something your child is interested in, no matter what their age, I will be putting together some great ways to supplement and add to the study on my Favorite things Friday post in a few days so check back!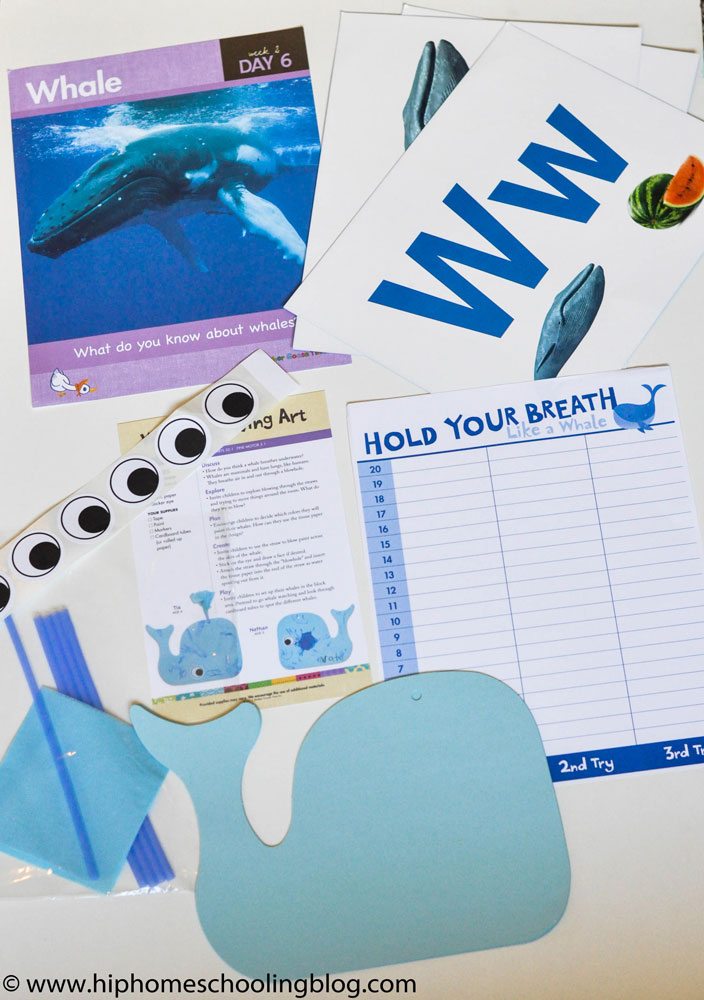 Day 6 (as this is our second week) we will be learning all about whales! We get our new alphabet cards for the letter W as well as a fantastic craft to make our own whale. This looks like so much fun! Blowing paint from a straw, every kids dream 😉 We will also be charting how long we can hold our breath, this is a great way to incorporate math and science into our lesson and checks off some of my learning outcomes for even the higher grades. I know the kids are super excited about this day!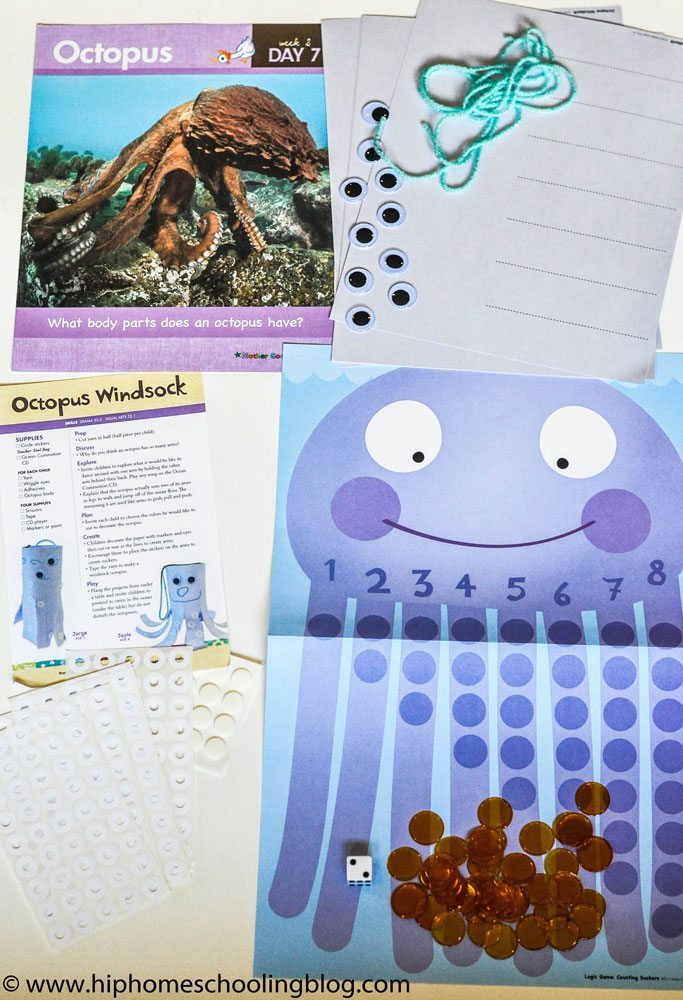 Day 7 is all about the octopus! We will be making our own octopus windsock, don't you love the idea for making suction cups?!?!? If you take a look at the craft card, you'll see two pictures. Each card has a picture from an older child and a younger one. I place this on the table when they work and it gives them an idea of the craft but also some perameters to work within. Rather than me showing them a perfectly done one, they get to see some exampels from kids their ages and be free to just run with it! We will also be playing a game that again incorporates math into our lesson for the day.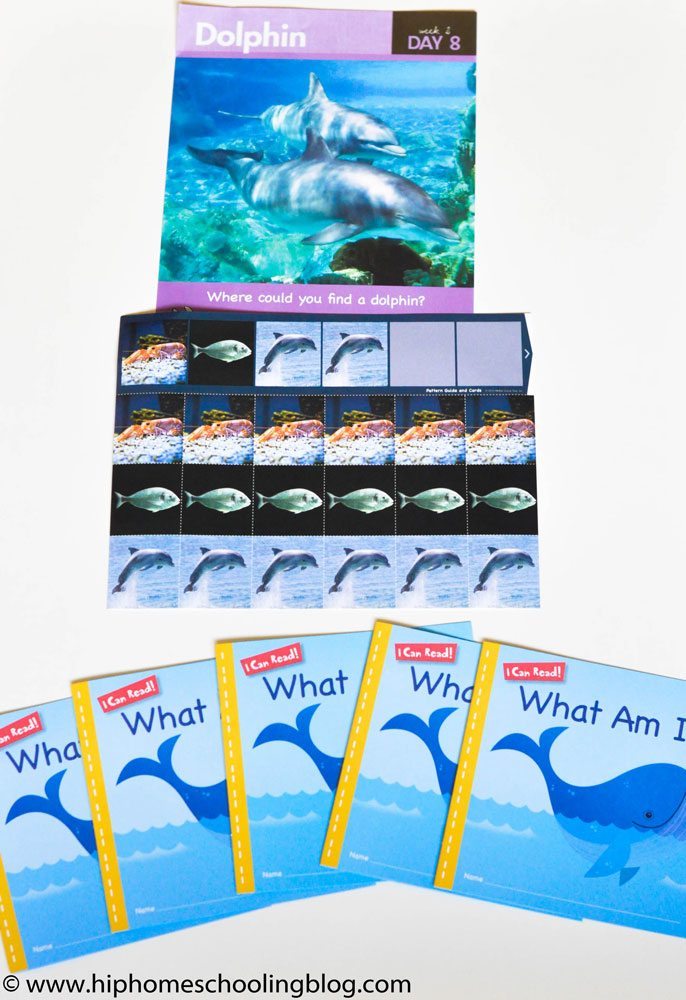 Day 8 is dolphin day, remember that each day has four different activities or games listed in the teachers guide. What is shown here is just what comes in the bag, the rest of your supplies will all be items you already have (so there are more acitivites than what is shown here). Other than learning interesting facts about dolphins, what they eat, etc. We will also be doing some patterning (math and science again) as well as getting our own I Can Read book! We read through this a few times, following along, and the kids start to pick up on some sight words! They are great little books and bring in some language arts into the lesson as well. Just what you are looking for in a preschool homeschool curriculum, something that has it all in one!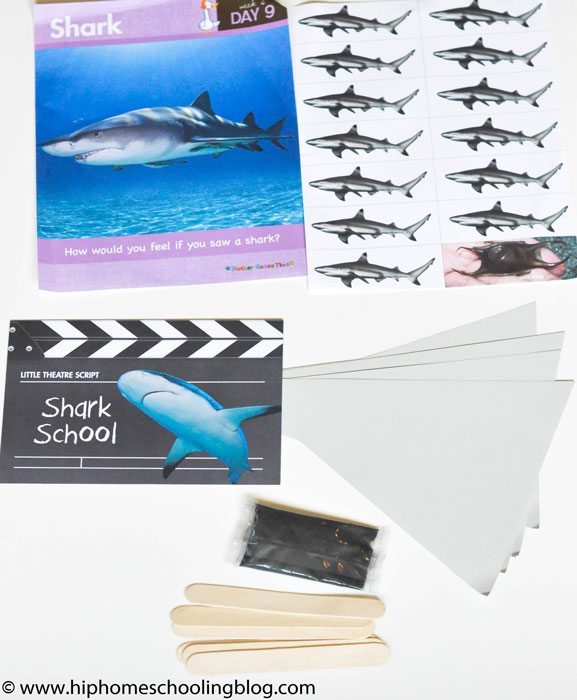 Day 9-I have a sneaky suspicion this will be our favorite day this week. The kids LOVE sharks so we are really going to run with this day by reading different books about sharks and watching a few videos. We get to do our own play using the little theatre script shown above and making shark fins as well. Games, drama, crafts, just a small glimpse of how Mother Goose Time can bring all your subjects into one great theme each month.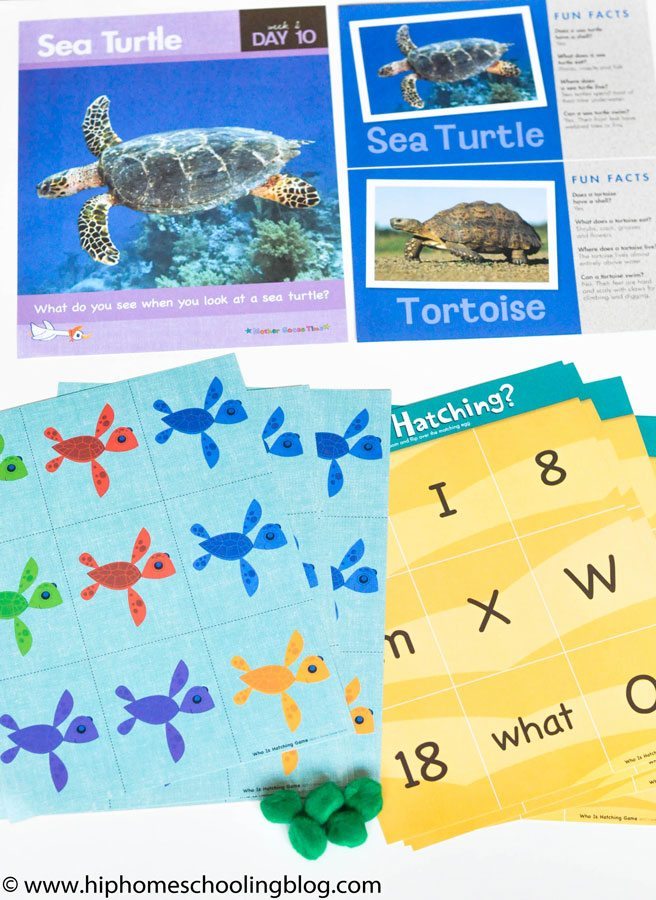 Day 10-Yay for sea turtles! Games, fun facts, and more! We will be watching some great educational videos to expand on this topic, I love watching these little guys hatch and race for the water, we are all rooting for them! We will be doing some imaginary play and discussions as well as we continue learning about the amazing creatures in the sea!
What the baby does while I do homeschool prep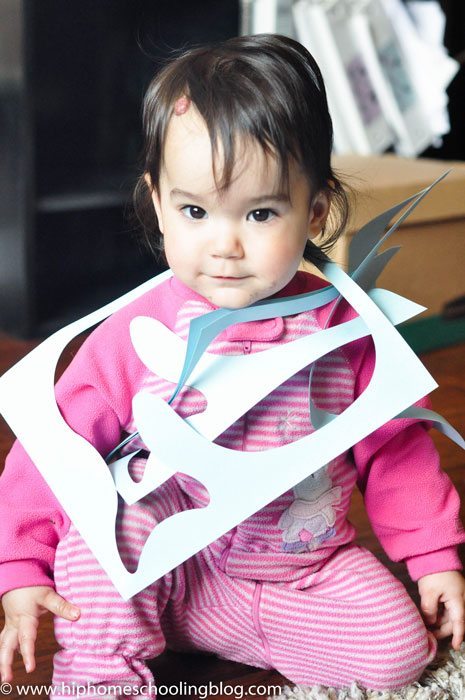 Uses the paper cutouts as a necklace of course, then rips them to shreds in glee! She loves it when momma preps her school week, lots of scrap pieces of paper to play with 🙂
We are ready to go for the week of our preschool homeschool curriculum ocean unit study and we can't wait to start! Stay tuned for the Favorite things Friday post to see some of our highlights from the week, and don't forget to subscribe for your free 1 week meal plan using the banner at the top of the page! Thanks for visiting!