Choosing curriculum can be one of the most stressful aspects of homeschooling! If you have ever been to a homeschool convention and seen the rows of tables FILLED with curriculum, you may have felt completely overwhelmed at where to start! Every homeschool mom you talk to has a different program they love and it is difficult (if not seemingly impossible) to know ahead of time if something will work for your family and your child. If you have been or are at your whits end when it comes to choosing curriculum, take a deep breath and read on! Find out the top 5 questions you need to ask yourself before you purchase anything and grab your free planning printable!
5 Questions to Ask Before Choosing Curriculum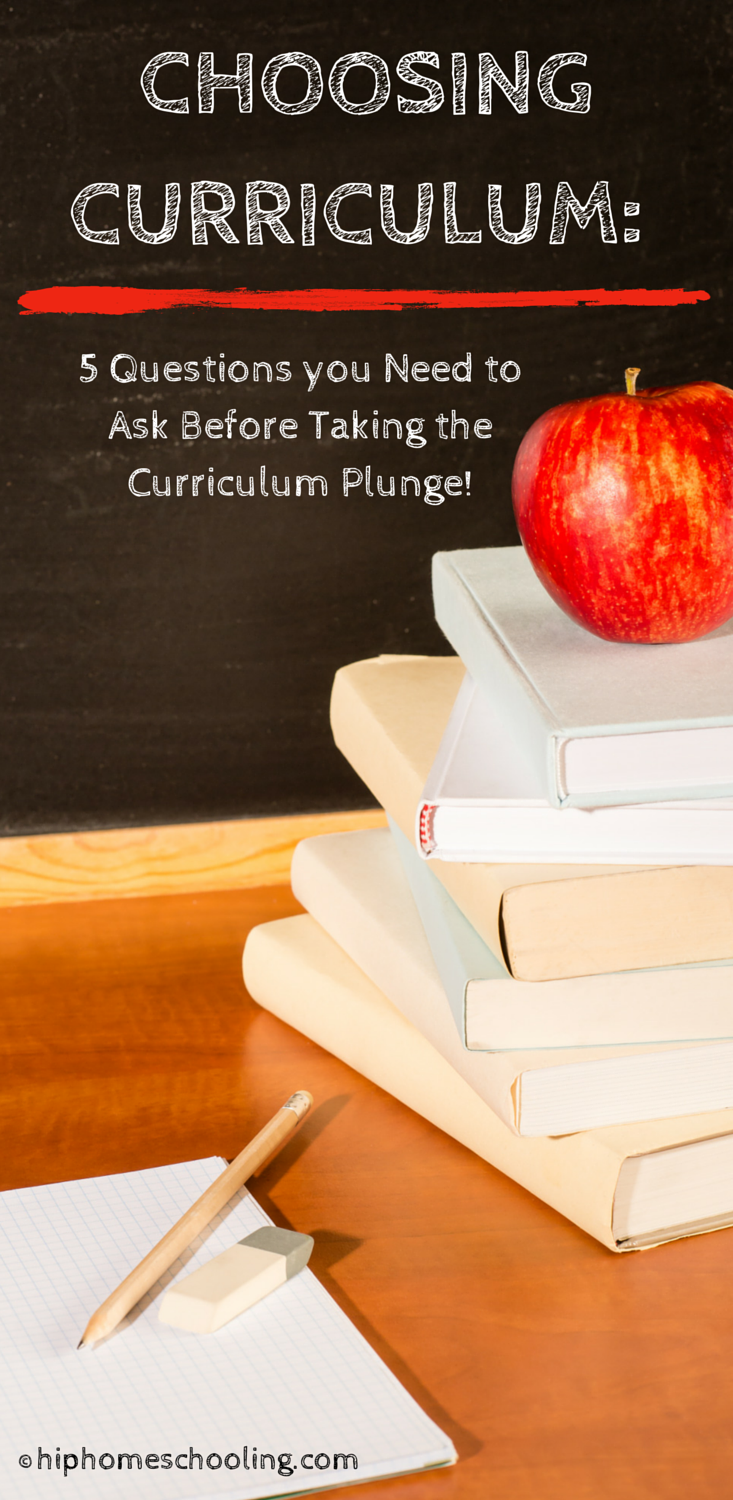 1. What is my child's learning style?
It is crucial to know your child's learning style before you spend a ton of money on curriculum. If you don't yet know what that is, hop on over and take the learning style quiz before going on.
How our children learn is key to knowing ahead of time what curriculum will work for them. If they are an auditory learner you may want to be looking at curriculum like Mystery of History or Story of the World that have an auditory component. If your child is kinesthetic you may want to consider something like All About Reading or All About Spelling with a more hands on approach, etc.
I can't stress enough how important this step is. Before choosing curriculum, you HAVE to ask "how does my child learn and how does this curriculum teach?" If they don't relate to one another, you will be wasting your money and creating a lot of frustration for both you and your child!
2. What is Your Family Size/Dynamic?
When choosing curriculum for your child, you have to take into account the dynamic of you family. How many children do you have? I'm going to give you a personal example here:
We have 5 kids, I fell in love with Sonlight. The idea of sitting down with my children all gathered at my feet and learning through literature is like a dream come true. Totally my teaching style! HOWEVER… trying to get five young children to sit side by side and actually pay attention with all their mixtures of learning styles and personalities and attention spans… SHOOT ME NOW!
The point is that even if it works for one child AND you, if you have multiple children you kind of have to take into account how time intensive it is, how much it requires of you, if you have time to do it with all your other activities and children, the age of your children, how you enjoy teaching, etc.
It is a difficult thing and not something that can be done quickly, but I promise you it will save you a ton of grief and wasted money! It is well worth the time to figure out the general dynamic of your homeschool and family life and see how a particular curriculum will fit in.
3. Will this curriculum fit in my budget?
Confession: I don't really have a budget for curriculum. Part of this is because we get some financial assistance from the government, and part of it is because when it comes to finding something that will make school less stressful and more enjoyable in our home… it just gets purchased! Not without a lot of planning and consideration, but money is kind of the least of my worries.
However, as I have continued along I make far fewer mistakes and my money goes a lot further. If you plan curriculum based on these questions, you know you will be getting a curriculum that will work for your family and not just putting it in a donation box within a year!
At the beginning of the year, set a reasonable budget for each child. This could be between $200-500 depending on your style/needs (or free if you have the time and energy to plan your own from the library/online). Take it into consideration when you purchase. This doesn't mean you can't purchase something more expensive like Sonlight, however maybe you can blend a few grades into one and teach students together to save some money and stay within a reasonable budget.
4. What do other homeschool parents have to say about it?
If there is a curriculum, there is a parent out there who has tried it. Do a quick google search and read some reviews on that curriculum. Remember that "cons" for someone else may be a "pro" for you! For example, someone may not have liked a program because it was "boring, with no pictures, no color, etc." But maybe you are looking for a more classical approach curriculum that doesn't distract your student. What they hated about it you may love! So be open, don't take someone else's word for it, read enough reviews to get a general idea of what it is all about and then figure out if it will work for your family before choosing curriculum.
5. Does this curriculum light a "spark"?
Okay, bear with me here. First of all, note this is the last question you should ask. This is because even if it is not the way you learn or teach, if it fits all the other requirements on your list, this isn't necessarily a priority. Sometimes as homeschool moms we have to think outside the box and try something totally out of our comfort zone for the sake of our children. However, I do consider this when choosing curriculum. If I just HATE the way it is laid out to me as a teacher the majority of the time I find a reason not to stick with it.
Does this curriculum look interesting TO YOU? Does it look like something you can't wait to teach or do with your child? If it is exciting to YOU it is going to come across to your child. Even if it is not your "norm" if you can find something fascinating about it, you'll be able to make it work. So look through the books if you can, see how you feel about it and that is going to give you a good indication of it will work for you or not.
Choosing Curriculum: Plan Ahead with this Free Printable!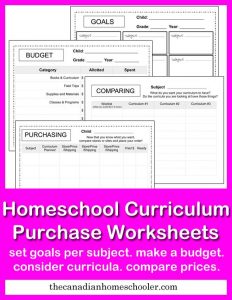 Taking all these things into account, you are going to have to do some planning and put a lot of thought (and prayer) into choosing curriculum. This is something I do each year and there are some awesome free printables to help you out over at the Canadian Homeschooler as well as a whole list of resources and blog posts about choosing curriculum! If you have been DREADING this time of year, head on over and grab your printable and be encouraged! There are so many ideas and methods you'll want to be sure to add to your idea book 🙂