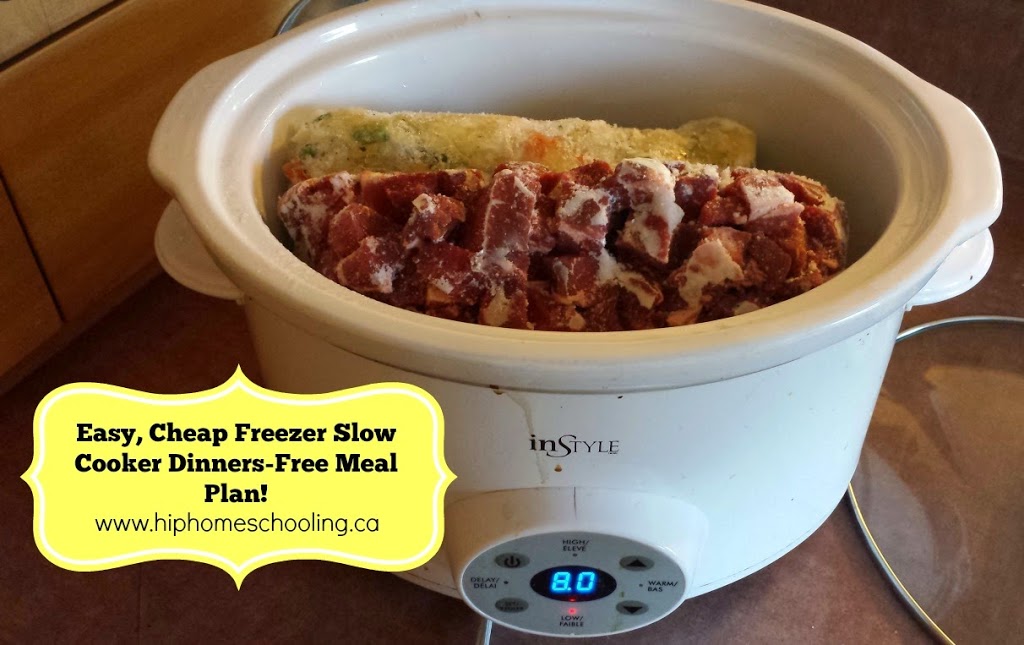 Are you going crazy in the mealtime mud pit? It NEVER ENDS does it? Check out my free, full week meal plan of easy freezer slow cooker meals!
I suck at meal planning. I dislike cooking. I loathe destroying my house over and over and over again just to repeat in about 2 hours! I can't stand trying to think of something creative to make and I despise going the the cupboard and finding I am missed just a few key ingredients to complete my meal! Is anyone with me?
I am going to be doing a slow cooker freezer meal plan for one week, we'll see how it goes if I continue it or not. But for me, it may be the only way we eat a nice home cooked meal without mommy pulling out all her hair in the process!
Slow Cooker Freezer Meals: Dump it in and go!
To begin with, download the printable grocery list and recipe cards by putting your name and email in the box below. You'll want to print off to do your prep. Make sure you check what you have, you probably have some of the spices, the cheese, cooking oil, perhaps even the bouillon cubes, which will save you some of those extra costs. Don't forget you need large ziplock bags to freeze all your prepped meals!
Here's a preview of what the recipe cards look like: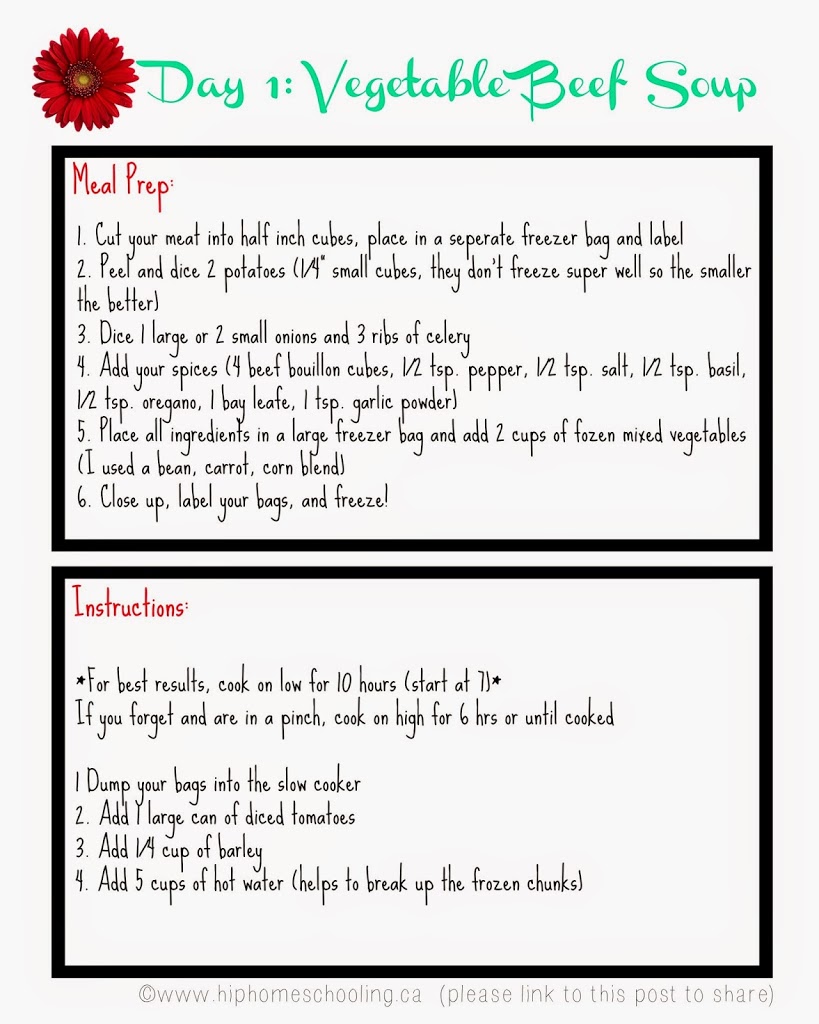 This is a free resource, but one I have put a TON of time into, so if you share, please link back to this post and credit my blog 😉
Before You Begin!
There are a few things you should note before you begin, the recipe sizes are large, all enough for 8-10 servings. I do this personally because we love leftovers for lunches the next day. If you have a smaller family or a smaller budget, you can cut for sure the chicken and pork chop recipes in half. A lot of kids won't eat a whole pork chop or piece of chicken. Also note, some of the grocery list items will need to be adjusted based on your family's preferences. Ie. if you don't like green beans, supplement another vegetable on pork chop day, or buy a different veggie mix that would work in soup. I would recommend reading through the daily meal plans to get an idea of the recipes and tweaking them based on your preferences before you go shopping. 

Basically, play around with it. Read the ingredients, the instructions, see what works for you and what doesn't, you can always change the beef chili to turkey, or have potatoes instead of rice. Do what works! But put it all in your meal plan so that you can do your prep over the weekend and be ready to go for Monday (or whenever you choose to start). This is a free printable for a limited time, so share it with as many people as you would like. I would love to have 20 different families trying this out and commenting on what they thought.
How much time do I need for prep?
I would suggest giving yourself a few hours one afternoon for your prep. It really didn't take me that long even. I was dicing my day 1 veggies while frying my day 2 hamburger, it was a crazy 2 hours, but then it was done. The ease of just tossing in your canned goods and a bit of water is so worth it, and smelling dinner cooking all day long makes you way more productive 😉
I want to hear from you! Let me know what you think or what you would like to see next or what you thought of the meals or pop on over to my Facebook page to join the conversation. Happy meal planning!