Looking for a great, easy to prepare, healthy snack option? Have you ever tried making your own hummus? If you have a blender (immersion or traditional), with just a few basic ingredients you can have a much cheaper option than store bought without any preservatives. This is a great snack for kids, FULL of fiber, iron, protein and even vitamin C! Finding a dip that my picky kids will eat is difficult but hands down they all love hummus and it really is easy to make!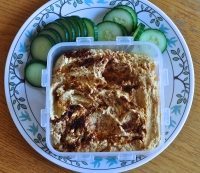 *On a side note, we like our hummus thick, we use a vitamix but you may need to add more water as needed.
When it's mixed, we like to sprinkle to top with a bit more chili powder (don't use an extra hot version or your kids won't eat this, this little bit of chili powder (we use mild, regular heat) does not make it spicy at all, just adds some depth of flavor) and a bit of oil drizzled on the top. This is optional, it just makes it look yummy and pretty and gives the top layer a bit more flavor.
Dice up whatever veggies you want, we often do some cheese and crackers with it, and serve! It keeps well in the fridge for 3-5 days, just put it in a container that has a lid or cover with cling wrap.