Today was our first official day back at school and honesty bomb… it was pretty awful! After 4 years of homeschooling, I must finally be mentally prepared for this day. I was excited and looking forward to getting back into the swing of things, but at the end of the day I realized that it went largely how I was expecting. Pause and pin this image so you don't lose it and keep reading to grab your free first day of school signs!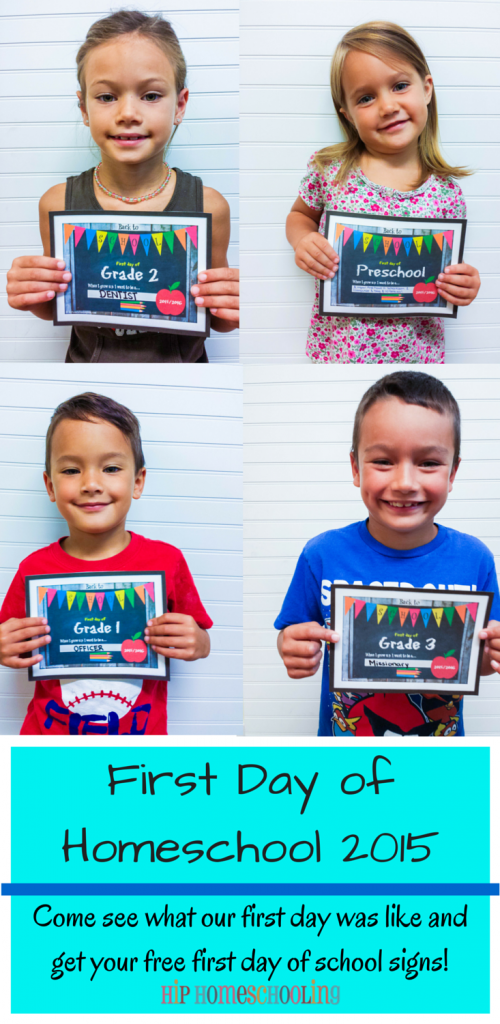 First day of School Expectations vs. Reality.
I woke up at about 5am, knowing I would need to be in the right frame of mind. I went for a walk, cranked the worship music, spent time praying and mentally preparing myself for the day. I got ready without kids, started some oatmeal, had a coffee and got some blogging done. It was the perfect amount of time and at 7am I was ready to get the kids up.
I had to pull my girls out of bed. They were literally covering their heads in their blankets blocking out my sign-song voice! The morning started with many a buckled knee and pouting lip.
We made it through the day. It was long, there was a lot of whining, but I managed. I felt ready to handle it, buffered by my morning walk and time with God. We somehow did get all our school done (with the exception of art, BOTH dvds are missing), we took lots of breaks, and I anticipate it will get easier as the kids adjust to the new schedule.
A peek into our schedule.
If you are new to my blog, I have 5 young children and homeschool grade 3, 2, 1, and preschool (with a toddler hanging on my legs). Because of our crazy days I scheduled every minute of our day. I scheduled my toddlers day down to the minute.
7am-kids wake up and get ready/clean their rooms
7:30-eat breakfast and do chores
8am-Bible all together
8:30-preschool one-on-one with my three year old
9am-grade 1 one-on-one with my son
10am-snack/break
10:30-grade 2 one-on-one with my daughter
*my grade 3 son does school in between all this with a bit of help/direction from me
12pm-lunch/quiet time (toddler nap)
2pm-art/foreign language/science/socials
3:30-free time (I make dinner)
4:30-kids come in and help me with tidy-up/dinner
5pm-dinner
Afterwards, get ready for bed and read quietly before bed. I lay the kids down around 7-8 depending on their age. My toddler's schedule is alternating between time with her siblings so I can do the one-on-one work with the kids during the morning. We have all afternoon together and I make sure to schedule in some one on one time with mommy for her too! If it's not on the schedule it's not going to happen!
Free first day of school signs for you.
If you like those printable signs you can get them for yourselves! Simply CLICK HERE or on the image to grab them!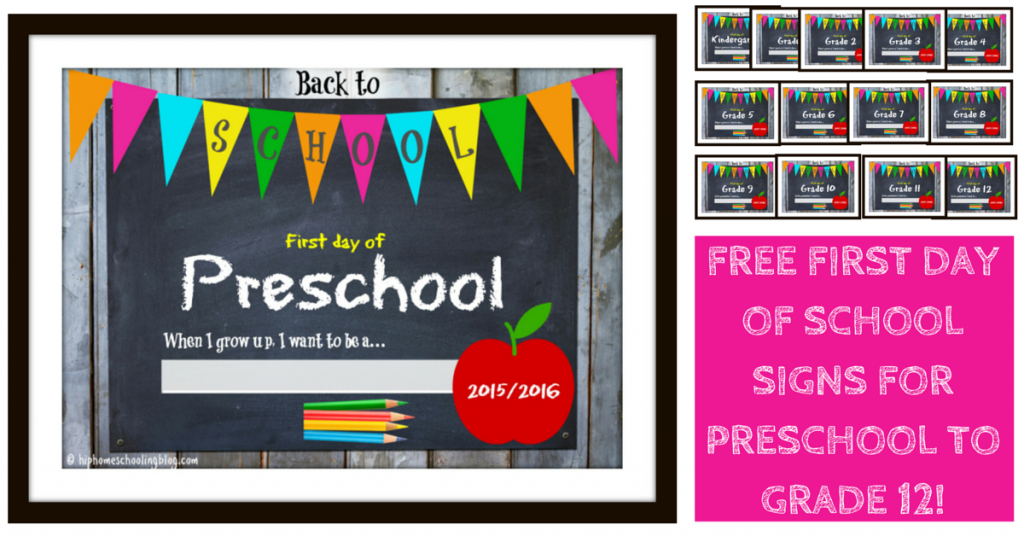 How was your first day of school?