NEWLY UPDATED for 2020/2021: Start keeping track of your homeschool year with a homeschool portfolio and this free printable! All you need is a binder and some dividers. Just print this homeschool portfolio printable off and you are ready to make your own homeschool binder with me!
WHY should you make a homeschool portfolio?
A lot of people are required to make them for their state/provincial laws. We are one of those people. In our province (BC) we are required to keep examples of each student's work, 3 from each subject each semester if we choose to go under a school (which means some financial help). My system in the past has been sorely lacking and this year I was determined to make a real go at it and save my sanity!
There are a lot of benefits to having a homeschool portfolio.
It is a great way of keeping track of reading lists.
It is a place to collect the memorable artwork and letters/stories in one place.
It is helpful to track your child's growth.
You can keep a clear grade/attendance record in one place for each child.
Keep all those papers together in an organized way for easy reference.
Consider it your homeschool scrapbook, a way of cataloging all your memories from the year in one place. Your homeschool year at a glance binder. A new one for each year!
Whether you are required to keep a homeschool portfolio or not, there are a lot of reasons you may want to consider starting! It is not hard to do, especially once you get into the swing of it. If you are compiling work on a weekly/monthly basis, you never have a big job on your hands and your future self will thank you!
How to assemble your homeschool portfolio.
Assembly really is easy with this free printable (keep reading, it's coming!). All you have to do is purchase a binder and some dividers. The cheapest binder I have found is this beauty from Amazon (aff link, see my full disclosure policy for more details). 1 year guarantee, big enough for all the kids in your home, only $4.64 and you can customize them!
Print off your binder spine inserts (there are ones for each size of binder) as well as a cover to go inside the front of your binder. Then pull out your dividers and glue one portfolio cover on each one (for each child in your house). If you only have one child you are homeschooling, you could alternatively use the binder a little differently, have the portfolio child page as your cover and use the dividers to separate your subjects.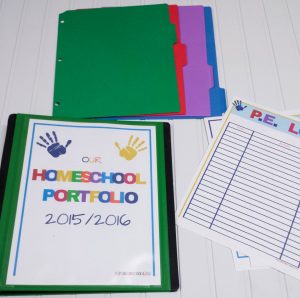 Download your free homeschool portfolio printable pack.
Alright, you've heard why you should put together a homeschool portfolio, you've seen how to set it up, now you need to grab your free PDF printable! Simply fill in your name and email address below and you'll get a download link directly to your inbox. Make sure to add homeschoolon@gmail.com to your address book to make sure the email doesn't go to junk.
Please do not share the link with anyone or share the printable as your own. I put a lot of time and effort into these and they are not for resale or distribution. Instead, share this blog post and your friends and family/readers can grab the portfolio pack for themselves!
Do you create a homeschool portfolio?