Every day the mail comes, bringing bills and renewal notices and stuff I need to add to my to-do list. But somewhere in the midst of that monotony, a little parcel slip arrives. I pack all five kids in the van and head to the nearest post office pick up location for my box, feeling a little bit like Christmas morning. Returning home with my box, I kick the kids out to play, make myself a big cup of coffee, clear a space in the midst of my chaos, and have a date with my parcel. Who doesn't get excited about happy mail? Each month I (impatiently) wait for my Illustrated Faith devotional kit to arrive. Never knowing what it will look like or what to expect, it is something just for me each month (which is a rare occurrence). Check out the top 5 reasons I love the Illustrated Faith devotional kit, get an inside look at this last month's kit, and stay tuned for more details on a HUGE sale over at DaySpring!
5 reasons I love Illustrated Faith devotional kits
1. They are just for me
Very few things in my life are just for me. When I go shopping, most of what I spend money on is my kids, my family, or our ravenous stomachs. The kits are affordable, replacing my Starbucks trips with something tangible and lasting. They are pretty and they make me happy, plus they encourage me and help me be a better person, my eyes focused on what is important.
2. They motivate me
I struggle with follow through, it is just part of who I am and what I'm working on (evident by all the empty pages in my many many journals and Bible study books). Having some fresh inspiration each month motivates me to get back into the word, to get creative, to use all these beautiful supplies!
3. They help me build my Bible journaling supplies
Bible journaling can be expensive. I have a hard time justifying spending money on supplies but with these devotional kits, I don't have to. Not only do I get a devotional, but I am building up my supplies with fun washi tape, stickers, new stamp sets and tip ins every month!
4. I pass them on to my kids
One of my favorite things about these kits is doing Bible journaling along with my kids. I give them any supplies I can spare, some of my old devotionals that I didn't fully fill out (refer back to point number 2 to find out why I have blank space EVERY month!) and those cute little zipper pouches and my kids get to participate alongside me!
5. They are relevant
Every month there is something in them that just speaks to me. They are written by someone new each month which means that they never get old! There is always something you can pull from them that can impact your life and I love that about them!
"I Am" Devotional Kit
The newest kit on the market is the beautiful "I Am" devotional kit by Melisa Garcia. It is one of the most beautiful kits I have seen so far, the illustrations, stickers, and stamps are ones that I will be using over and over again. It is all about digging into who God is and finding our identity in Him. Perfect to get you over that summer slump, this is one kit I WON'T be giving to my kids when I'm done with it!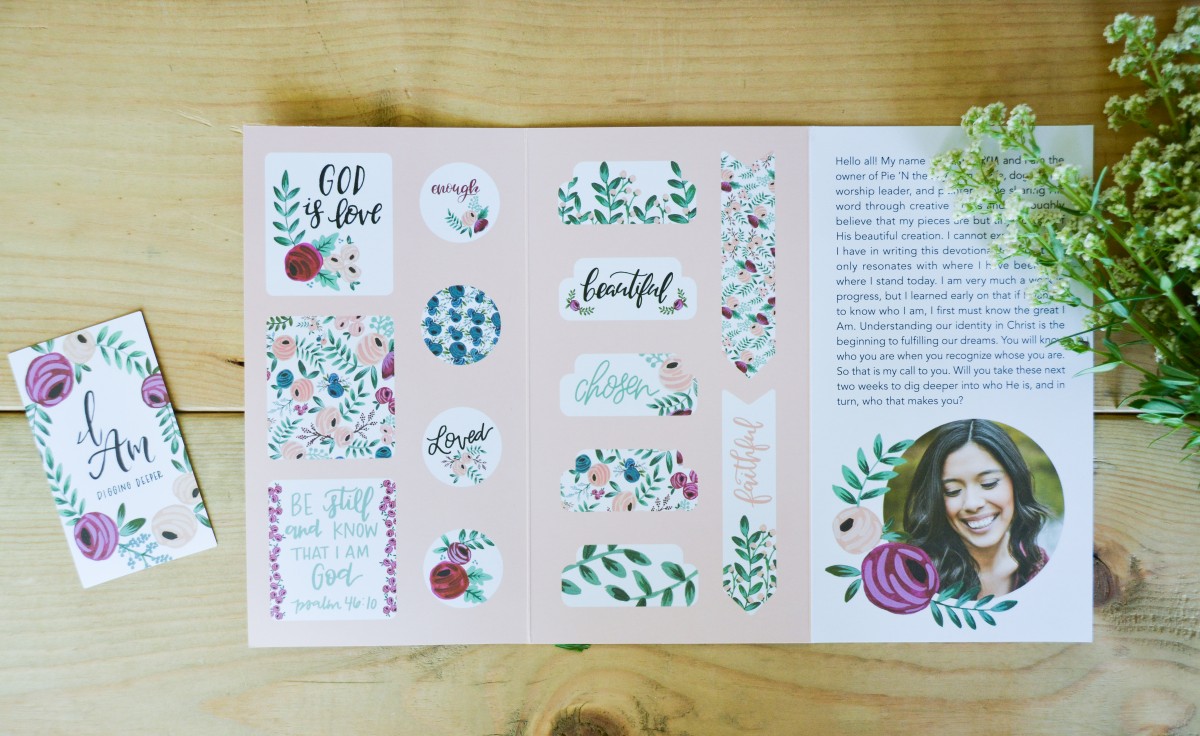 A HUGE sale over on DaySpring!
Right now there is a HUGE sale going on over at Illustrated Faith! It will be going on until 07/17 and you can get some of the older kits for only $15 PLUS up to 80% off some of their beautiful Bible journaling supplies! You can shop the sale HERE or click on the image below.
I am part of the blogging team over at Illustrated Faith, this means that I get the kit for free in exchange for sharing what I think about it with you guys. The only reason I do this with them is because I would purchase all this stuff anyways, I love it that much. Also, note when I say I "bought" something, I really did buy it, I spent about $150 on stamps and stickers and washi (oh my goodness, in love with their black and white collection) etc. I am also an affiliate which means that when you purchase through my links I receive a small commission. Every click you make on my blog helps support it and I appreciate each and every one of you. Have an awesome day!