A while back I discovered the Taga 2.0 bike and fell in love with the idea of what a family bike ride could be. With five little kids, going on a bike ride is a little less enjoyable and a little more like the wild west. My 9 year old is very independent. He always wants to be the leader and is constantly taking off too far ahead while we bellow for him to wait for us hoping that he'll hear. My 8 year old daughter is a weaver, she weaves back and forth amongst the disdainful lines of society regularly cutting off an outraged sibling in her wake. Meanwhile, my 7 year old son thinks he is a stunt double. He goes too fast, jerks too hard to the left and the right, and it isn't an uncommon event to stop for a scrape or a fall, as to which he reacts in a most outrageous fashion. My 5 year old daughter turns the handles with each push of her feet and get's tired easily. Once she is tired the tears start and one of us often ends up trying to hold her bike while we ride. We never really found a solution for our 3 year old. We have tried the bike trailer (which my kids treated as a trampoline one sunny afternoon and is now bent beyond repair). We have tried a seat on the front of the bike (those ones that attach to your regular bike, not the Taga 2.0) but she felt insecure and scared. So our new reality is that bike rides just don't happen. "Maybe when the kids are older," we tell ourselves. Until now…
Introducing the bike that revolutionizes the family bike ride forever
Recently I received the Taga 2.0 bike to review, and hubby and I spent an afternoon setting it up together. The instructions were given both in an illustration booklet as well as a text booklet. It came mostly assembled other than the carriage and the wheels so it actually wasn't as big a job to set up as I thought it might be. The kids waited expectantly while we put it together, watching it take shape like a giant Lego project. Let's talk about some of the features of the bike before I share how it has transformed our family fun days.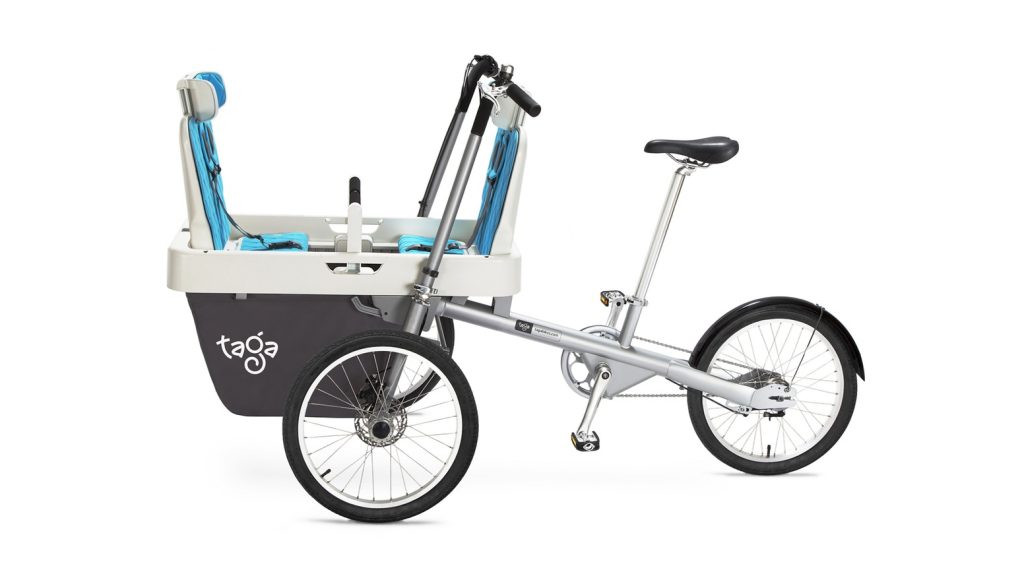 The bike has StableTurn™ Steering geometry. Basically it has a low center of gravity and is easy and safe to turn. It has DualBar™ handling, the handles are very far apart but work together. This allows the carriage to be as close as possible to the parent and helps decrease the bike's length. The cargo box in the front comes with one or two seats that are removable, reclining, and reversible. You can also put a car seat into the front or use it simply as cargo as the kids get older and can ride independently. It is incredibly versatile and can be used for children for 6 months all the way up to 8 years old. There are multiple accessories available including an accessory bar to hold water bottles or toys, a rain cover, even an electric kit! Although it has some weight, it is lighter than what I thought it might be considering the size. I can remove the cargo box myself and lift the bike to put it in the van (which is saying something—I'm not exactly Popeye with the muscles over here).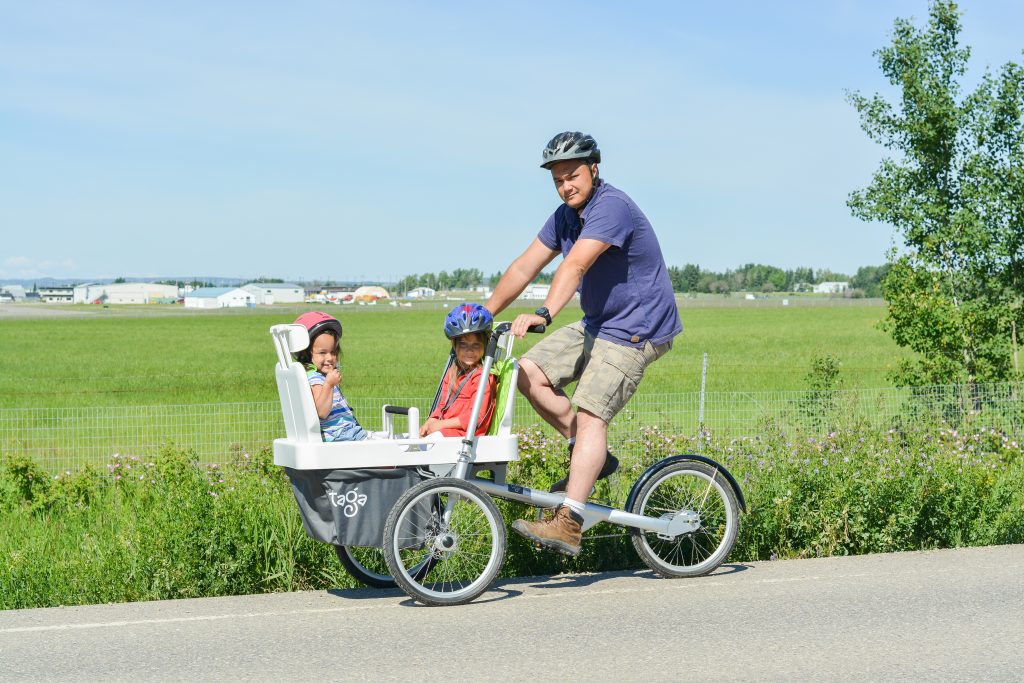 Taga 2.0 vs. our chaos
When we first pulled it outside, we decided to put the rain canopy on. It never hurts to be prepared and it doubles as a sun cover as well. The girls needed a bit of help getting in as it is a little bit high, but it is very stable and even without me holding the bike, it didn't topple or tip as they moved around and got themselves settled. It easily fit both my 3 year old ad my 5 year old, the headrest is extendable and there is an extension for the straps as well for older children (I can't tell you how happy that makes my 7 and 8 year old). I was concerned from the pictures that I would be too short to see over the top of the canopy, however this wasn't a problem as it does have enough height for even a vertically challenged individual such as myself to see where they are going.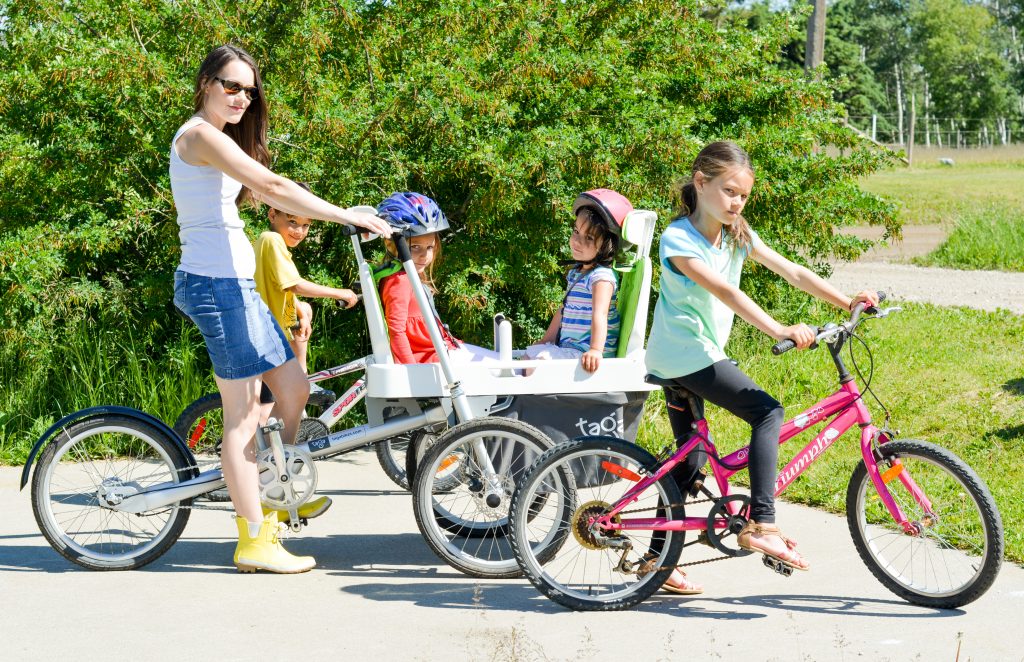 For us, having a bike like this means no more whining and crying and carrying bikes. My older three can ride and we can keep up with them without having to go slow for little legs. The bike goes smoothly over paved roads but definitely isn't made for the dirt roads near our home. If the kids want a bike ride in the front yard, daddy is nominated. Mommy reserves her child-carting skills for the smooth pathways in the park. My favorite aspect of this bike is that the kids are so close to me, we can talk and interact the entire time, it feels much more cohesive than having them in the bike trailer behind me. I love seeing their reactions to sights we see along the way. PLUS this bike is cool enough for Dad to use too! This truly is the ultimate family bike, I've never seen anything else like it!
Where to get a Taga bike for your family
The Taga 2.0 is available for pre-order through an In-Demand campaign on Indiegogo, starting at just $869 + shipping for the basic bike with the cargo compartment. There are lots of options on the campaign website, so head over and check it out HERE.
What do you think? Comment below!