Are you looking for fun Inside Out Games to play with your children? You've come to the right place! We love family game night, we love drama and being loud, we love laughter and having fun as a family, and we REALLY love FREE! So with another family game night coming up in our house, I decided to create an educational, bright, hilarious family game for us to play. One of my children's favorite movies is Inside Out, and it is such a valuable way to teach them about their feelings and how important they all are! This game was inspired by that movie and will teach and help children identify with 9 different emotions or feelings. They will be practising their drama skills PLUS you can even add a Language Arts component to the game and play with the additional punctuation cards. LA, Fine Arts (drama), and CAPP/Social Studies (Feelings/Emotions): this game is a homeschoolers dream! Don't forget to pin this image for later!
Step 1: Download the Inside Out Games Printable.
If you are looking for Inside Out Games FREE for download, you've come to the right place. Before you start, you MUST add rebeccaspoonerpgblog@gmail.com to your contact list otherwise the confirmation email has a tendency to disappear into cyberspace. Once you have added me to your list, fill in this simple form below to subscribe to my blog. You will receive a confirmation email with a large grey button "Yes, subscribe me to this list." Hit subscribe and you will automatically (nothing more you need to do) receive the free printable within 5 minutes. If you get cold feet at the thought of yet another newsletter, don't fear! I only send out newsletters once a week and they are full of deals, freebies, information, updates, and specials you won't want to miss.
[wp_eStore_free_download_squeeze_form id=16]
Inside Out Games Step 2: Before you start.
This is such a simple game with very little prep and can be played with all ages! The cards require some reading, but I tried to make the sentences simple enough for emerging readers. If your child is not yet reading, I recommend setting everyone up in teams, and teaming them with a parent or older sibling OR just help them with their turn.
Before you begin, you need to print, cut, and laminate your cards. If you don't have a laminator, you can get one for relatively cheap on Amazon, or you can play with the paper cards or print them off on cardstock for a more sturdy alternative. If you are not laminating the cards, I recommend using a bowl instead of making stacks, it will be easier to play with and hold up better in the long run.
There are expansion cards that you can laminate and write your own sentences on with a dry-erase marker to play time and time again. You can play for points and have a winner or you can just play for fun (great for families like us with highly competitive kids). However you choose to play it, I guarantee you will have a hoot! Keep reading to find out how to play!
Inside Out Games Step 3: How to play.
There are multiple ways to play this game, if you have an idea of your own or a different variation that what is listed here, post it in the comments so we can try!
Inside Out Games Variation 1: No Pressure, no Winner!
If you have a highly competitive family (like mine) you may be looking for Inside Out games that are not going to end in tears and frustration. You can easily play this game just for fun! To play this way there is no point system, instead players act out the emotions for the fun of it, ideally with a large bowl of popcorn in the middle!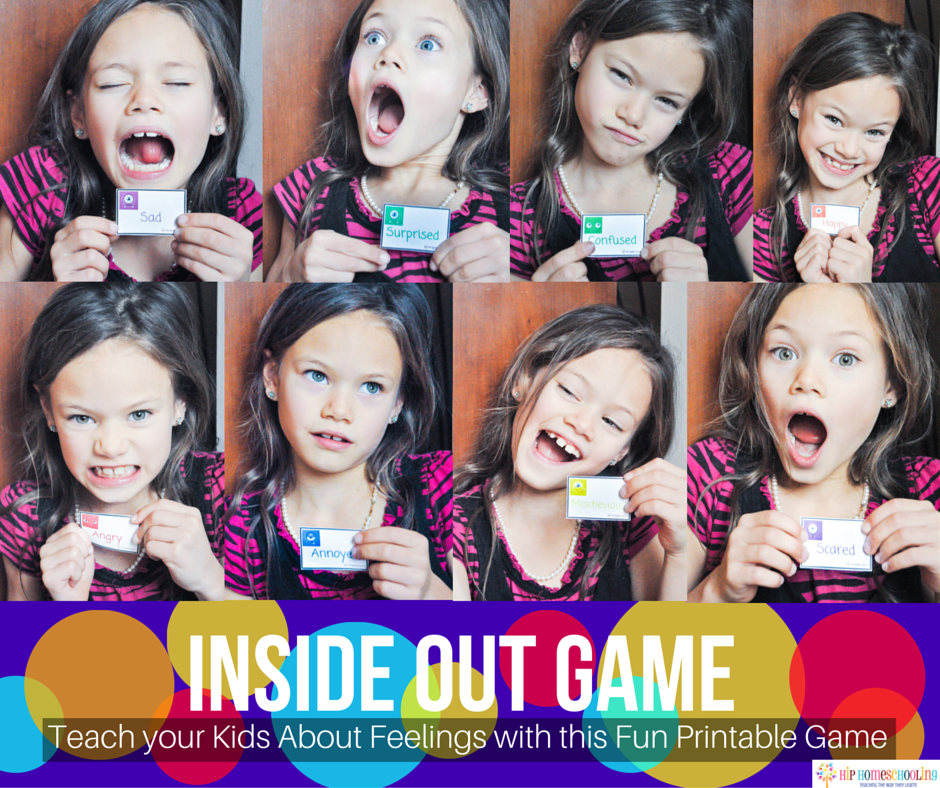 Inside Out Games Variation 2: Each Man for Himself!
To play this variation you will all be your own player. Everyone will have to guess the emotion being acted out as soon as they discover it. Set a timer for 30 seconds and have the player do as many as they can during that time. Each emotion the rest of the players are able to guess is 1 point, set a "winning amount" such as 15 points and the first person to reach it wins!
Inside Out Games Variation 3: All for One and One for All!
If you have a large family or large group getting together, you can play this game by separating into two teams! In this variation you will play it similar to charades. The team guessing their team-mates emotion. The first team to reach 15 (or 20 or 30 or 50, you set the winning number) points, wins!
Inside Out Games Variation 4: Punctuation Revelation!

To play with this variation you will use the three additional punctuation cards included in the printable. Players will have to act out the word AND choose the punctuation mark that fits the feeling card (confused would be question mark, mad or excited would be exclamation mark, etc.).
Inside Out Games Variation 5: Small group setting!
If you have a smaller group or want to switch it up, print one additional page of feeling cards for each player (on top of the ones in the main pile in the middle). In this variation, the player will pull a feeling card and a challenge card from the pile while the other players will listen carefully. Once they have identified the emotion, instead of yelling it out they will hold up the same feeling card, showing the group. The people who guess correctly get 1 point, move on to the next player. In this variation the points are not going to the "actor" but rather to the "guessers". And instead of continuing to read the cards until time runs out, each person takes 1 turn being the reader and you continue going around the circle.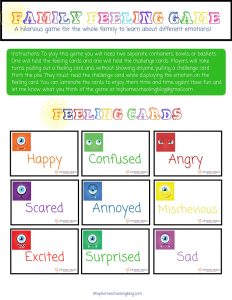 Inside Out Games Variations: How Did You Play the Game?
If you have a different idea or way of playing this game after trying it out, please let us know in the comments so we can try it too! I hope you love this game and it brings a ton of fun and laughter to your home! Don't forget to share this freebie with your friends using these easy share buttons below! Want to meet me? Come follow me on YouTube!