Have you ever asked your kids what they want to learn about? Mine told me one day they wanted to learn about the human body. Well kids, that's perfect, because that happens to be a unit in our Nancy Larson Science curriculum! We have been loving this unit, it is so hands on and fun and hands everything we need to complete our lessons… without me having to search in 10 different places! By far the best part of this unit was the human body skeleton X-Ray's… getting to see how everything fit together. We did a YouTube video on that lesson, so keep reading to see what a sample lesson with NLS looks like!
Learn about the human body in a way that kids can understand.
One of my favorite things about Nancy Larson Science is that it is scripted, meaning it is written TO your child's level. You just read out of the text without having to stop every few minutes to explain a concept. It works really well for multiple age groups, we use our Grade 1 curriculum for 3 different grades (gr. 1, 2, and 3). Human anatomy can be a complicated subject for young learners, however the curriculum does a great job of giving an introduction and overview of how the human body works without overwhelming early elementary students. Our kids loved the book included in our kit, "Your Insides" by Joanna Cole. It is so fun and bright!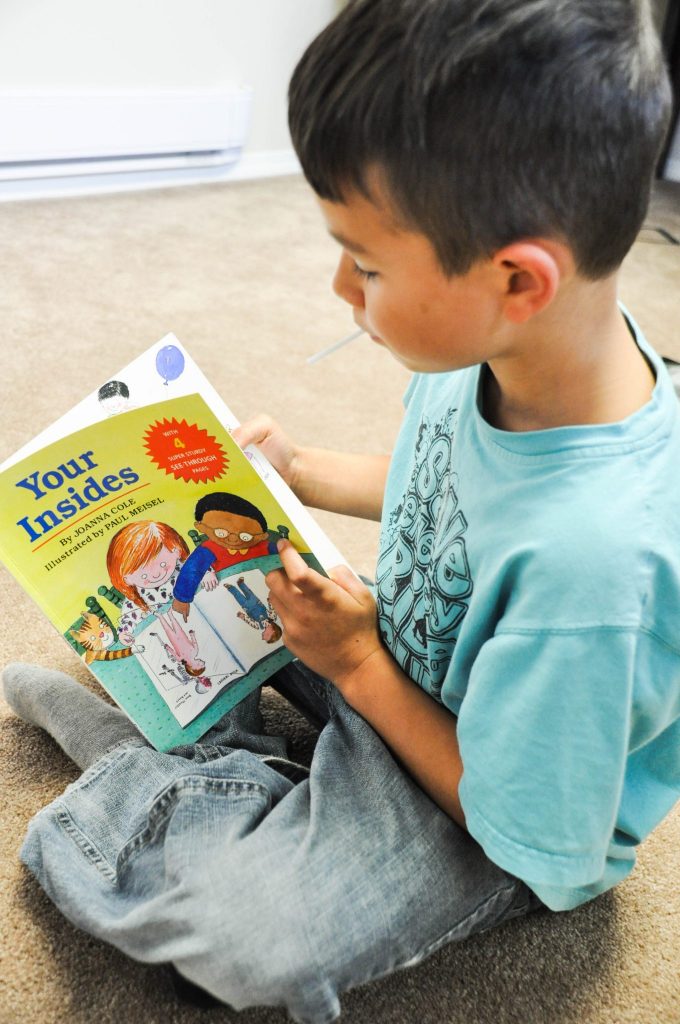 Each unit in the curriculum is separated into a student booklet. We put those together in a binder or folder for each child. This month the topics covered included:
Identifying parts of the human body.
Identifying the function of parts.
Skeletal system.
Digestive system.
Respiratory system.
Circulatory system.
Nervous system.
How to keep our bodies healthy.
And more!
Our grade 1 program included 6 units, and therefore 6 student booklets. To see exactly what was included in our box, CLICK HERE. To learn more about Nancy Larson Science, click on the image below!
Watch a complete sample science lesson here!
What's your favorite resource to learn about the human body? Comment below!