Do you have a kinesthetic or hands on learner with whom writing is a constant battle? Are you at your whits end trying to get your child to write and looking for creative ways to make it fun and engaging? I have put together 400 hilarious creative writing prompts specifically designed for Mega Bloks and inspired by my new found Brave Writer lifestyle. I chose Mega Bloks as opposed to smaller Lego for a few reasons. First of all, it is cheap. If you aren't a Lego collector, you can run out to the nearest thrift shop and easily find a bucket or bag for $5. Secondly, they will work for children of all ages and abilities. If you are working with a child who has a learning challenge, the size of these blocks will make building stories much more doable. Thirdly, the larger writing is much easier to read for emerging readers. You can shrink your printable down to size and use it on Duplo or even Lego bricks, just make sure your child can still read them!
In this post I am going to show you how you can create 400 different story scenarios with your children in a hands on way that brings writing to life! We are going to talk about the best way to approach creative writing with your kids in a way that facilitates a love for it rather than making it overwhelming and unattainable.
Free Hands On Creative Writing Prompts for Kids.
Before we begin, grab your free printable creative writing prompts or story starters below. You want to make sure you test out your printer and see if you need to scale it down in size or can print it directly from the PDF. Also, don't forget to add rebecca@rebeccaspoonerpgblog.com to your contact list so you get the emails I send and they don't go to your junk folder!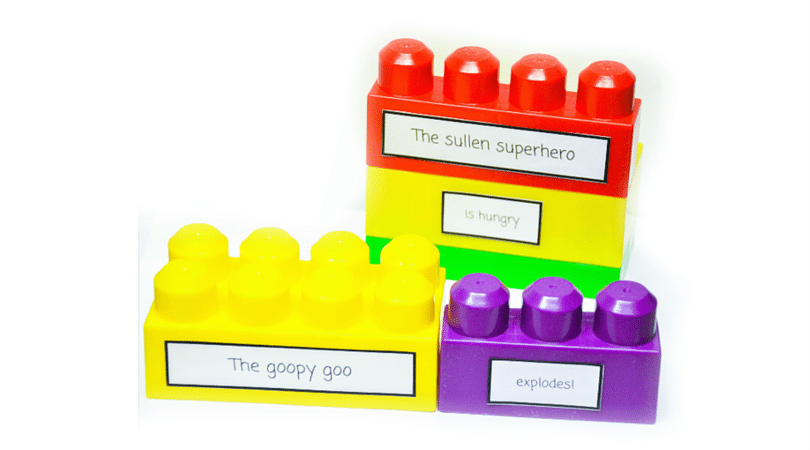 How to use these creative writing prompts.
To use your creative writing prompts, you will print and cut them out. You can either glue them on with a light glue, or a glue gun which is easy to remove, or even little removable sticker dots. Another easy way is to print them off on sticker paper and just stick them onto your Mega Bloks directly, though these can be difficult to take off afterwards so keep that in mind if. Once you have your labels fastened, your children will pair up a character with an event. There are 400 options available if you set them all up. You will need 40 blocks for this set up. I highly recommend allowing your children to create ANY pair that is interesting to them, don't try to direct them. Something that has them laughing and engaged is the best place to start! You can use these with younger children as well by just narrating what they say and transcribing the story for your children.
I chose strong adjectives for many of the characters to add interest and increase your child's vocabulary. You may need to explain what the adjective means so your child can decide how they want to pair them up. Once they have the title, they can write that down on a piece of paper as the title and write to their hearts content! You can use this as free write inspiration or do a full writing assignment out of it. But keep in mind ENCOURAGE, PRAISE, be their biggest cheerleader. Say the positive things about their writing FIRST. Train your eye to not focus on printing or spelling or grammar, but rather the idea, the thought, the person BEHIND the story. You set the tone for the writing experience in your home, the more fun you can have with it, the more successful it will be!
Did you try this writing activity?
PLEASE tag me in your posts on Instagram so I can see what you did with them. Take pictures of your child building with the Mega Bloks (or whatever blocks you choose to use). Take pictures of the outrageous stories they write. SHARE them on social media and tell your kids that. Show them that you are so proud of what they made that you want to "publish" it for the world to see. Begin instilling confidence in your little writer today and stay tuned for more info on how Brave Writer is changing my life!
Happy Writing!