Looking for a fun activity to do with the kids (of course, with a learning aspect involved)? Why not try this awesome, easy, 10 minute prep homemade fishing game? I promise you that you have everything you need around your house (as long as you have magnets) and it will occupy the kids for HOURS! Plus it can be used over and over again and doesn't break the bank! Do I have your attention?
Pause and pin my friends, you'll want to have this on hand for those rainy days of desperate Pinterest searching… (you'll thank me later). Just hover over the image and click on the pink flag in the top left corner.

How to Make Your Own Fishing Game
To start with, you'll need:
Bright cardstock paper (ANY paper will work, but cardstock will hold up longer).
Small magnetic items (such as nuts and bolts, washers, nails, raid the toolshed!)
String or ribbon
A Magnet
A stick (the sturdier the better)
Simply cut your paper into the shape of some fish or ocean animals, tape or hot glue the metal to the back, tie the string or ribbon onto your fishing rod and your good to go! It literally took me less than 10 minutes to make 3! Now, you could go all out and make them beautiful, get the kids to decorate the fish, tidy up the sticks nice, etc. But I needed to make dinner and the goal for me was OCCUPY 😉 So I just whipped it up, taped some metal looking duct tape on the bottom and sent them outside to "fish" in the pool (empty if you want them to last).
Extend the Fun
Do you need a magnet kit? We used the magnets from our magnet kit HERE.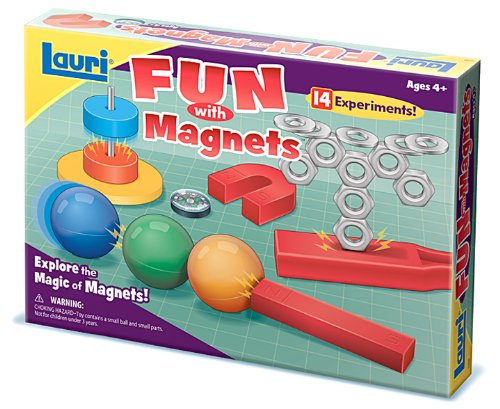 Want to extend the fun? Try these fun activities/alternatives and create a fishing game:
-assign points to different sized fish and make a fishing game to see who can earn the most points.
-have a preschooler? Cut out numbers or letters instead, try to collect them in order or by color/size.
-throw some random nails or nuts/bolts in the "pool" with the fish, have the kids close their eyes and try to catch something, if they catch a magnetic "floater" they have to put a fish back.
-have the kids take their fishing rods around the house and find other things they can "catch". What is magnetic?
-Experiment with different strengths of magnets and different types of metals on the backs of the fish, record in a science journal.
Really, the possibilities are endless. You can have so much fun with this fishing game and learn about magnets at the same time. Hello impromptu learning (that didn't cause me grief OR mess) #victory!
What is your favorite fun, learning game that is fast and easy?