Our favorite math curriculum just became more versatile! Demme Learning's Math-U-See has been our math curriculum of choice ever since we started homeschooling. With three different learning styles in our homeschool, the multi-sensory approach of Math-U-See has consistently worked with all our children and we have been blown away by the results. With a large family and young children, the DVD component of the program has often been a challenge for us. We have lost DVD's, scratched them up, or been unable to do a lesson because we don't have our DVD with us. But Demme Learning has changed all that with the introduction of their new digital packs! Keep reading and don't forget to pin this image for later!
Delta Digital Pack Overview
We were selected to review the Delta Digital Pack with my eldest son, who is 8 years old. We received one year of access to the digital pack and purchased the student workbook and test and activities booklet separately to go along with it. Because we are very familiar with Math-U-See there wasn't any learning curve to get started, it was very easy to just use this exactly as we had the traditional DVD version, just using our internet browser instead of popping in a DVD.
The Delta Digital Pack comes with 12 month access to the streaming instruction videos, an instruction manual PDF, lesson and test solutions, skip count songs MP3s and Songbook PDFs, 12 month access to digital manipulatives, as well as other online resources such as a worksheet generator, online drills, math fact sheets, and more! You can access everything on an iPad or computer through your internet browser (it is not an app). Once you log in, you can choose which lesson you want to watch or access any of the other resources as needed.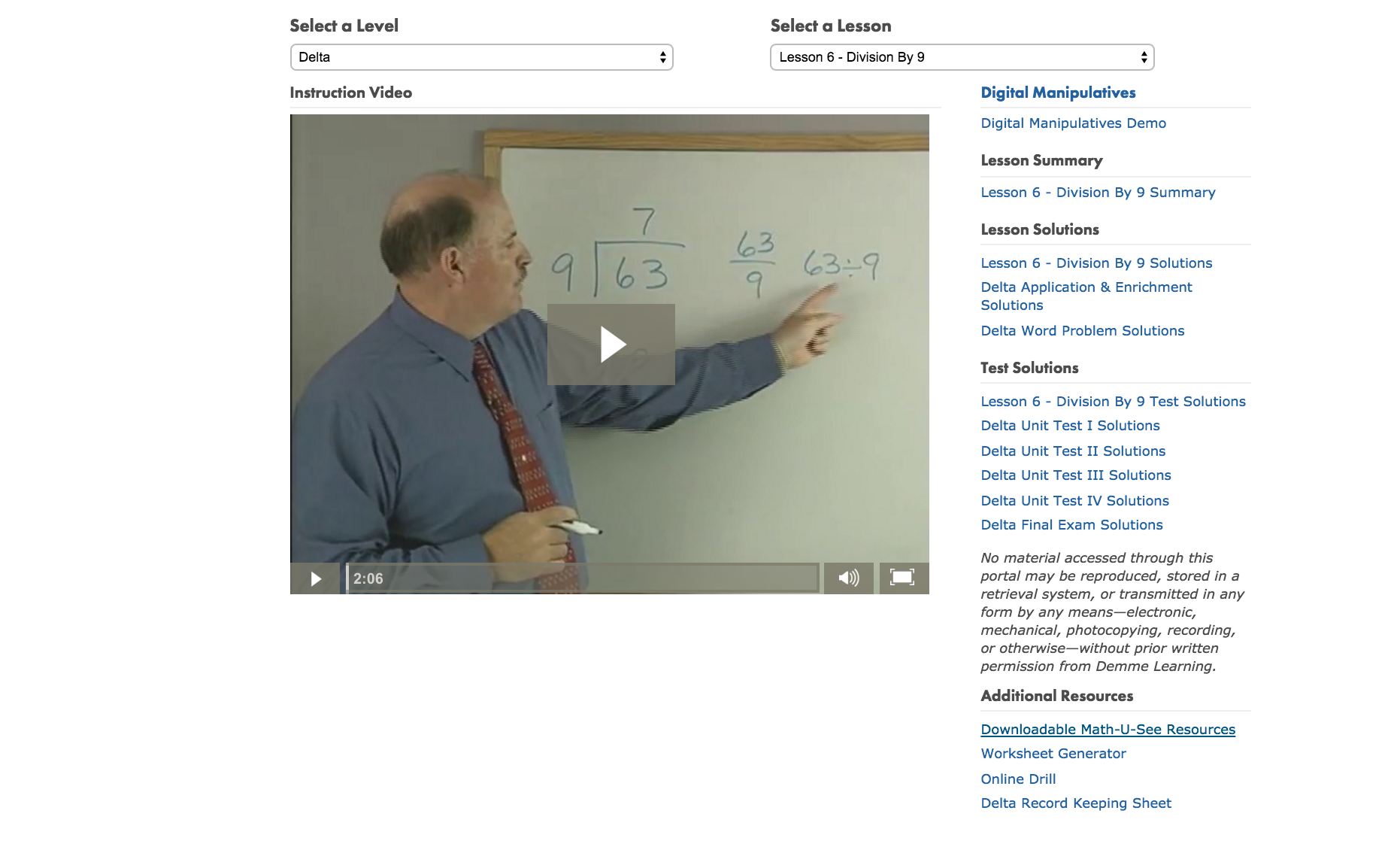 The digital manipulatives were definitely fun to play around with. You can put in any of your colored blocks, even turn them over to show a negative number, and add fraction visuals as well. Although this is a super handy resource if your child has access to their own computer, I was a bit disappointed to find out that this is separate from their manipulatives app which is just plain handy. I don't like giving my children my login information and password, let alone access to Safari on their iPads so we didn't use their iPads for this but rather did our lessons on the computer. While this still totally worked, I didn't want my son having free access to the digital pack either where he could easily see his test and lesson answer keys. It meant more supervision for me because everything was accessible, which at his age can be a bit frustrating when I am trying to get him working more independently.
Math-U-See Review: Digital versus Print
Would I buy the digital over the print version? This is such a tough call! The digital version is cheaper, it is more accessible wherever you are, it comes with more resources such as the skip counting CD, etc. However, it is limited to just one year of access as opposed to lifetime and is hard to break up the student lessons from teacher resources. Also, it means I have to sit there and log each child in as opposed to just them turning on their lesson. Because I have multiple children that I will be using the program for, I think I'll be sticking with the print version. It means I can save money each year by passing down my teacher resources as I still have 4 other children that will be using it. It also means that I have more control over what my kids have access to… meaning only their lessons and not the answer key. I may splurge and get the manipulatives app though, it means we can all be working on math at the same time. 😉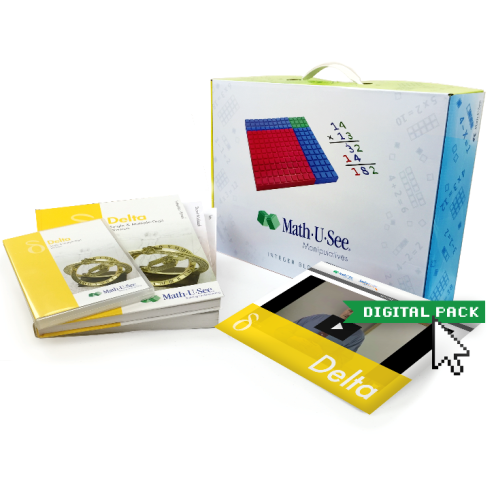 If you have just one or two children or aren't sure you want to commit to Math-U-See yet, I recommend the digital pack. It is cheaper and will give you a good idea as to whether or not you want to invest the money moving forward.
Want to Learn more?
You can find Demme Learning on their social media channels below for more information about their digital packs.
Facebook
Twitter
Instagram
YouTube
Also be sure to check out the other crew reviews HERE to get a better idea of how the digital packs are working for other homeschool families besides us.

Do you like digital or print curriculum resources? Comment below!