I was recently given the opportunity to review a fantastic program called "Incredible Creatures" by a company called Incredible Living. Incredible Creatures is a fun children's book that helps you discover your children's personality types.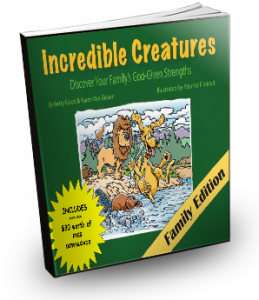 As a mother to five young children, I have spent a lot of time trying to figure out my kids. I have developed the Learning Style Quiz and analyzed the best way to teach a Kinesthetic Learner or an Auditory Learner. I have read books and sought to discover their love language. However, I had never found something designed for children to discover their personality types.
Discover your Whole Family's Personality Types Together!
Incredible Creatures is essentially a program to help you learn not only your children's personality types, but also your own! As you read the story together (which is fun and engages children of all levels) you come to these decision points. You then decide which animal (or which personality types) you relate with the most. The beauty of the program is it is not just a simple book! It also includes over $30 of free downloads to help you create an entire discovery program together as a family! It educates you on what the different personality types ARE and how you can identify them. It shows you how to use the book and also has a ton of extra, fun resources such as certificates, quiz cards, and more!
The book took us about 15 or 20 minutes to read together with all the discussion it sparked, and that was a long time for my little listeners! I was so impressed by the books ability to draw them in and hold their attention, and they didn't want to stop!
How Learning Your Family's Personality Types Helps You Communicate and Relate With One Another.
To me, what made this program a treasure was the results! We created a family wheel to help us identify each other's personality types and put it on the fridge (included with your downloads). Now when the kids are fighting or we approach a situation, we have so much more empathy and understanding ALL AROUND. Instead of me coming in and dealing with the behaviour, we have been equipped to understand the why behind the behaviour. To help teach and empower our kids to use their strengths and control them so they don't "overuse them". Our children are starting to become more aware of the differences even in our own family and more empathetic when those differences present themselves!
Curious How it all Works? Watch the Full Video Review Here!
Want more Information or Interested in Grabbing This Amazing Family Discovery Program for Yourself?
Check out Incredible Living's website HERE or click on the image below to see what they offer in their online store. Also, be sure to check them out on Facebook by clicking HERE.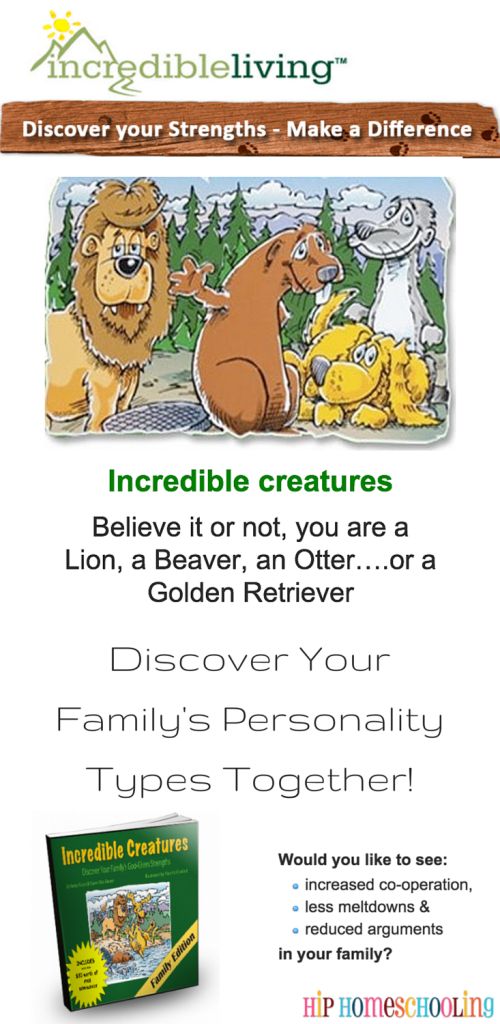 Overall, we were SUPER impressed with this book, it's only $28 including all the downloads, it was insightful, fun, easy to use and has truly helped our family grow closer together. I highly recommend it and it officially gets the Hip Homeschooling Seal of Approval!
And as an awesome bonus, $5 from EACH BOOK SALE will be donated to the Micah Project to support the education of 35 students in Uganda!
Do You Know Your Children's Personality Types?