Planning speaking engagements and presentations, writing curriculum and books, blog posts, live videos, responding to comments and emails, creating courses… this is my life. This is what I do into the wee hours of the morning, this is what I do when my kids are sleeping or playing outside. This is what I do instead of hanging out with friends or watching a show in the evening: I work. Thankfully I am passionate about my work and most days, I love it with all my heart. But it doesn't change the fact that I am more than just my work. I am also the world to my 5 kids, I am the world to my husband, I am involved in ministry and I have friendships that I value and a house that is always calling my name. To say I am busy is quite simply an understatement.
But somewhere in the midst of the chaos I also have to find time to homeschool. And somewhere in the midst of all of this chaos I am re-evaluating everything. Like the midlife crisis of a middle aged man I am asking myself "why" for everything. I am digging deep within to make sure that the direction I am headed is where I want to be. I am over halfway there, time is short, what am I doing?
Today's podcast episode is about balancing work and homeschool. I don't talk about managing your home and cooking good meals, I just talk about priorities, limitations and choosing between your head and your heart. Some people have the luxury of doing both, moms who work do not. We have to be vicious in our decision making, cut-throat. We can't hold onto something because we want to or because we feel obligated. Every decision has to be checked and balanced with our goals, priorities and limitations. Sometimes we need to say yes, a lot of times we need to say no.
Balancing work and homeschool (my musings)
Take a peek inside my homeschool planner
I snapped a few pictures of my homeschool planner from the last few days to show you my heart on paper. We will still use curriculum, I am not sure what yet, but I want them to be tools in my belt, not something we have to do.
We want to incorporate all those amazing Charlotte Mason principles and create a feast of education, but we can't do it all so I created a loop in a kind of artistic way to show how we can alternate some of those extra things that we don't need to do every day. On the bottom I show what we could do more often/on our school days.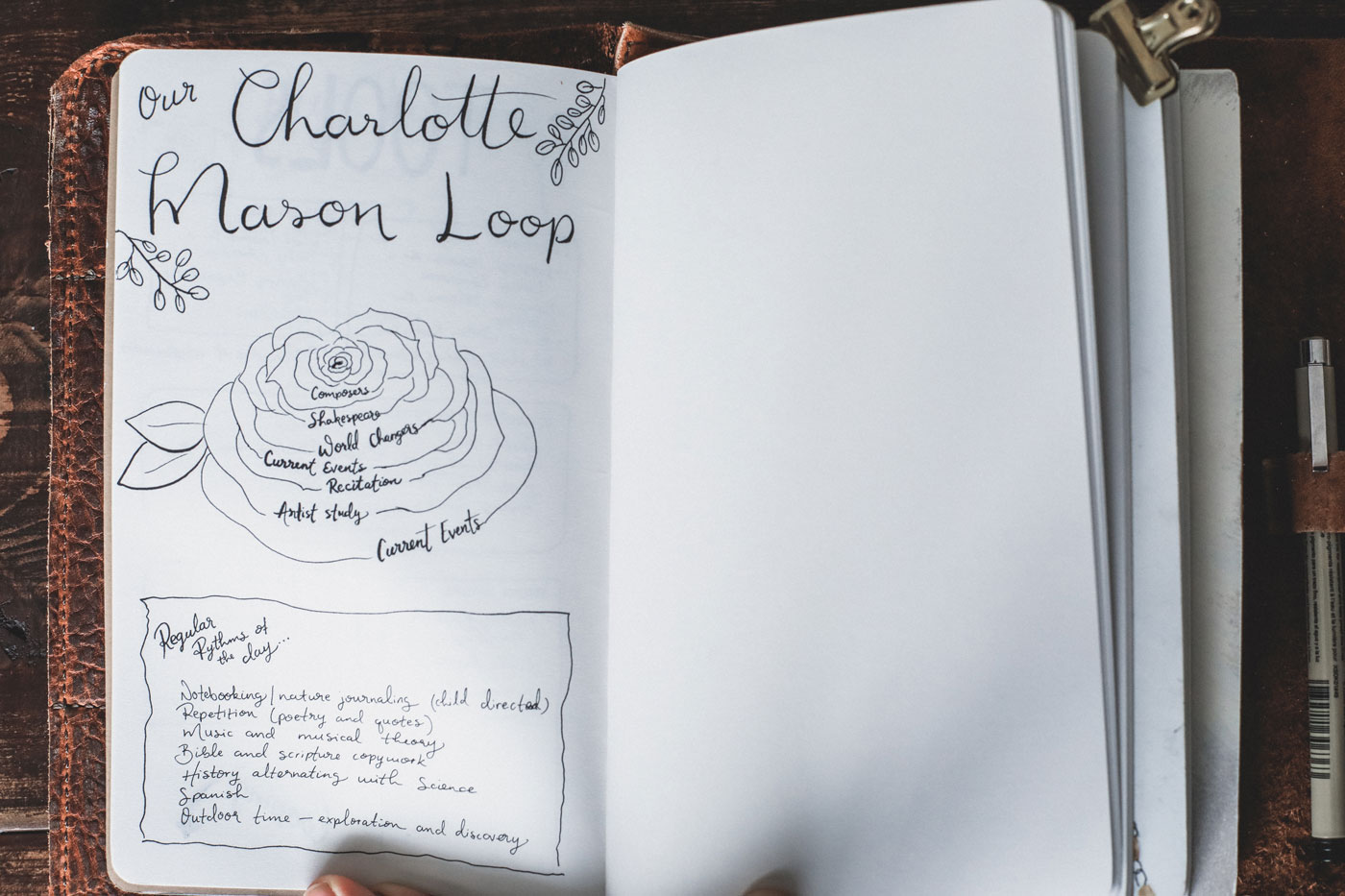 Links mentioned in todays episode
It is now the next day and I honestly can't remember what links I mentioned other than speaking. If you want to hear me speak, you can see the US conventions I am in here or come and listen to me at AHEA in Alberta!
Want to hear something on this podcast? Comment below!
I am not joking when I say I take my inspiration from you! If you have something in particular you haven't seen on my podcast that you want to hear my thoughts on, please please please post them below. If you want to chime in on today's podcast episode, ask a question, tell me something my 2am brain missed or anything else, post a comment!
Otherwise, until next time my friends!