There are so many reading programs out there, it can be difficult to sift through them all. I am going to tell you my hands down FAVORITE reading fluency program of 2015. This program helped my daughter grow from sounding out words- halting and slow-to reading fluently and with confidence. If you are looking for a reading fluency curriculum to take your child's reading to that next level, this post is for you! Keep reading to enter to win a FREE level of One Minute Reader for yourself! Don't forget to pin this image for later!
One Minute Reader is a reading fluency program specifically designed for struggling readers. They offer varying levels from emerging reader to about grade 5 level and an easy placement test to help you find out which level will work best for your child. The program essentially works through modeling reading fluency to the children through an audio recording. Students apply what they have been shown through repetitive reading exercises. If your kids are anything like mine, the word repetition may give you a serious headache! Before you start to envision the teary encounters this may bring, One Minute Reader is one step ahead. With the addition of a simple timer to their program, this "repetitive reading" has evolved into a challenge. What child doesn't like a challenge? The stories are all non-fiction, which I think is yet another genius step by the creators of One Minute Reader. As a homeschool mom, I love myself some sneaky teaching!
The print version comes with a sturdy case, your readers and audio CD's, a simple 1-minute timer (just press start) and a dual-sided colored pencil to record your hot and cold scores. The app comes with the exact same readers but everything else is a part of the program (it automatically scores their hot and cold score and they push a button to time themselves).
Students begin by reading the passage with the timer to find out their "cold score." My daughter's first time doing this she was so discouraged by how difficult it was. She was only able to read about 10 words in the entire minute and each one was a painful process. We used the blue side of the pencil to graph our cold score on the graph chart provided. We then listened to the CD numerous times and read through it numerous times on our own. As she practised, her reading improved dramatically. By the second day, she read through the entire story fluently with time to spare! We recorded her hot score and I saw something amazing start to happen.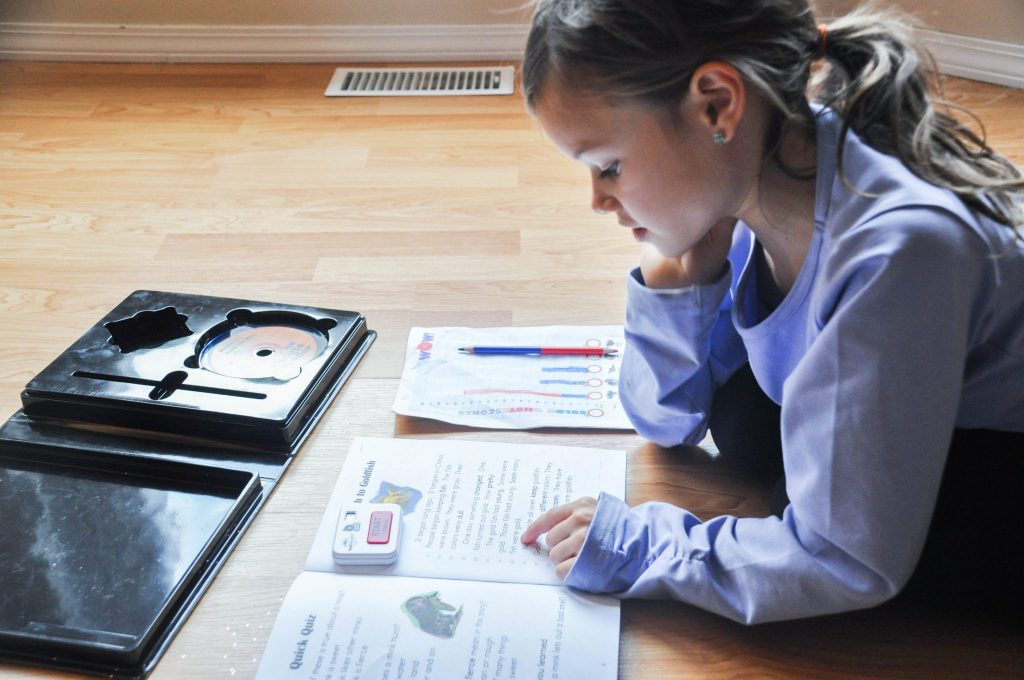 My little girl was smiling, she was proud of her self, she was even (gasp) having fun! The next story she was a little more sure of herself, that much more independent and determined. She started taking OWNERSHIP of her reading, her confidence in herself grew by leaps and bounds and there were no more tears and frustration! Not only that, but she was learning new things about bugs, animals, natural wonders and more! The change we saw come over her not only in her reading but her overall demeanor and approach to homeschooling blew me away. I could hardly believe that all this change was facilitated by this one reading fluency program I bought almost as a side thought!
One Minute Reader for reading fluency: The Final Word
How much is the program?
Each One Minute Reader iPad app level is $19.99 on the apple iTunes store. Each level includes eight books with 5 stories each totalling 40 stories per level. The print version is available both with and without record sheets. I originally purchased from the cataloge not realizing what the record sheets were so I purchased the print program WITH the record sheets. I realized afterwards that these are intended for school use. They are basically the score sheets and quizzes/games in small booklets for a classroom of students. This allows many children to use the books, instead of just one. As a homeschooler, I don't think these are necessary and they double the price of the program. I would recommend going with the level of your choosing without the record sheets, which is $99.99. If you act now, they have a 50% off special with coupon code: 50offOMR on the printed levels. This means you can get an entire level for $49.99 to use time and time again, take with you in the car or on a road trip, and more!
Should you get the print version or the iPad app?
We have both the iPad level as well as the print version. I personally love the flexibility of the print version and wouldn't trade it for the world. That being said, I do not enjoy having to put in the CD, find the tracks, etc. In the app, I don't have to worry about any of that and I find that super handy. We actually often find ourselves listening to the stories and reading along with them on the app and then testing ourselves with the print version. What you should purchase is entirely up to you. If you are on a budget, the iPad app is really affordable and comes with everything you need for a year of reading lessons! If you don't have an iPad… it's the print version for you!






Before you go run off and buy all the levels you can fit in your cart… make sure you enter the giveaway below! I KNOW you will love this curriculum. I haven't found anything like it and have been more than impressed with it so far and we have been using it for the last 7 months. It is rare for me to actually stick with a program so the fact that this is still a big win in my Hip Homeschool home, means that it is TRULY a remarkable program!
Enter to win 1 level of your choosing of One Minute Reader for iPad!
*This is a sponsored post by Read Naturally, the creators of the One Minute Reader program. I reached out to them after purchasing the product because I fell in love and wanted to see about partnering with them to share it with my readers. All opinions and thoughts expressed in this post are 100% my own, there are no affiliate links in this post. Thanks for reading and don't forget to share!