For many years I have been a huge fan of Master Books (a division of New Leaf Publishing Group). I trod through the crowds at the homeschool conventions, looking for these treasures amongst the books. I read them together with my children and we have enjoyed every book we have purchased. Just a few months ago, I heard about their new curriculum sets, and it blew my mind. I don't know how I missed it, but they have created 1 year curriculum lesson plans to accompany some of our favorite books from them! While we have loved using them as stand alone resources, I have never used them as an actual curriculum as I am frankly too busy to create lesson plans around it all. I have five young children, I'm in survival mode over here! So when I heard about their new elementary bible curriculum, we just had to have it! Make sure to pin this for later!
Elementary Bible Curriculum that Teaches Grammar!
This is so much more than just an elementary Bible curriculum, it is actually a grammar curriculum as well! It is a 1 year curriculum designed for children grades 3-6, though it is an in-depth program that definitely caters to the higher end of the spectrum. The lessons involve a 2 page reading in the illustrated Bible and a weekly 2-3 page worksheet to be done at the end of the week (or broken up throughout the week if you prefer). The worksheets go over a verse of the week, vocabulary words, a grammar review, comprehension and memorization, an activity and additional grammar practise. There is space to choose the date for each lesson if you prefer a different schedule, a place to check off when it has been completed, and a place to record the students grade.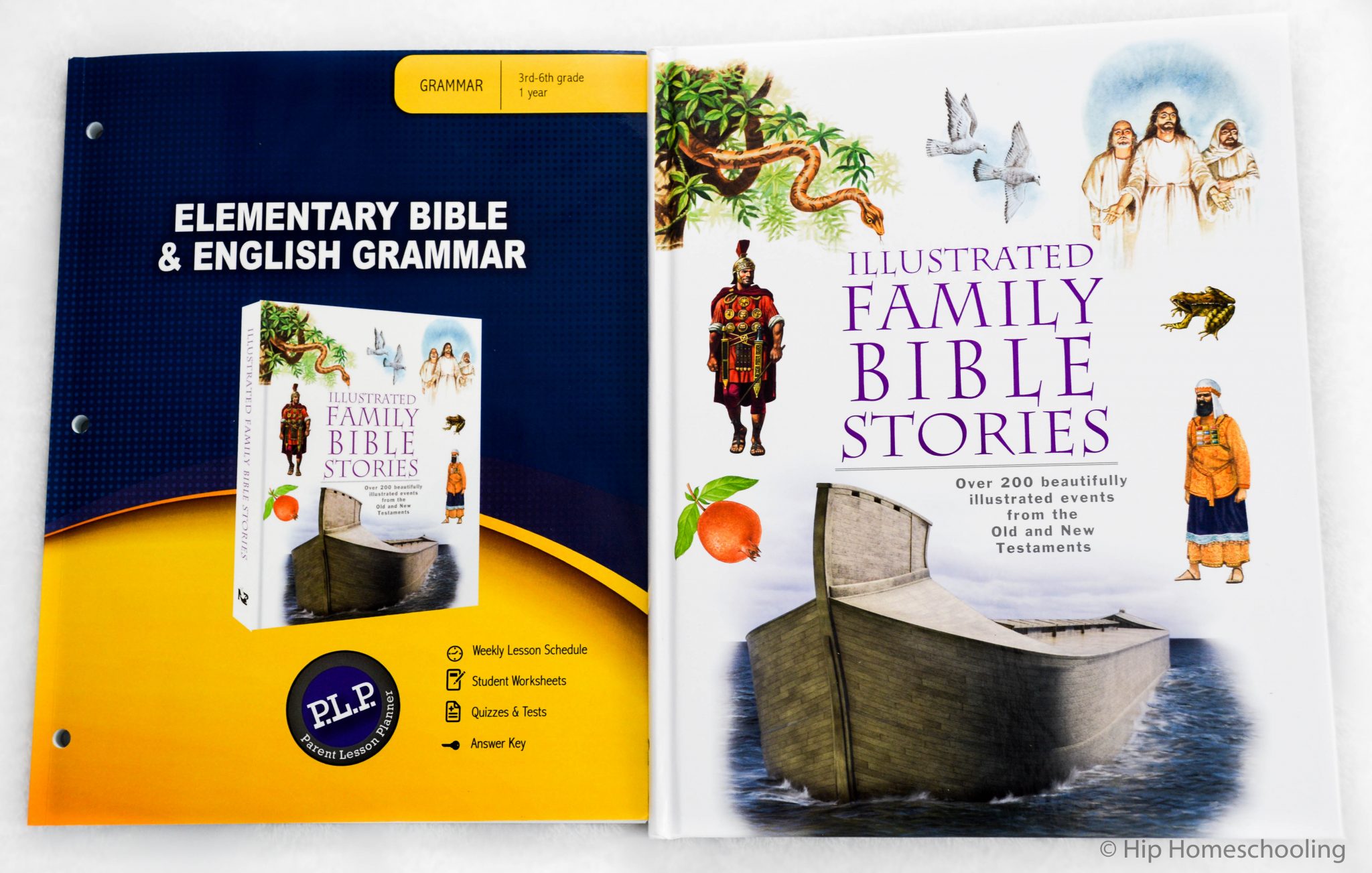 There are quizzes that can be completed, along with an answer key for all the worksheets and quizzes in the course. The curriculum book is perforated and 3-hole-punched so that you can easily break it up into a binder and organize your lessons for your students. The BEST part about this curriculum however (other than the fact that they blend two subjects into one) is that you have permission to make copies of reproducible pages within your family.
How we are using this elementary Bible curriculum in our homeschool
One of the greatest blessings I see when looking at this 2016/2017 year is that my eldest son is pretty much self-sufficient. He can read from the text on his own and do the work without too much assistance. Because the program is all laid out, we can easily put this into a binder and have his assignments ready to go for him. He is going into grade 4 this next year, so still on the younger end of the recommended grade levels, so we let him complete his worksheets with his book open. The grammar and questions are quite hard for grade 3, which we didn't mind, as when he was able to use the book/dictionary/concordance, he was challenged and interested rather than finding it too easy. I think the grade levels, though definitely challenging at grade 3, are accurate as it has to be hard enough for the older grades to complete as well. If you were doing this with a child in grade 5 or 6, I would probably have them try to complete the worksheets without the book to challenge them further.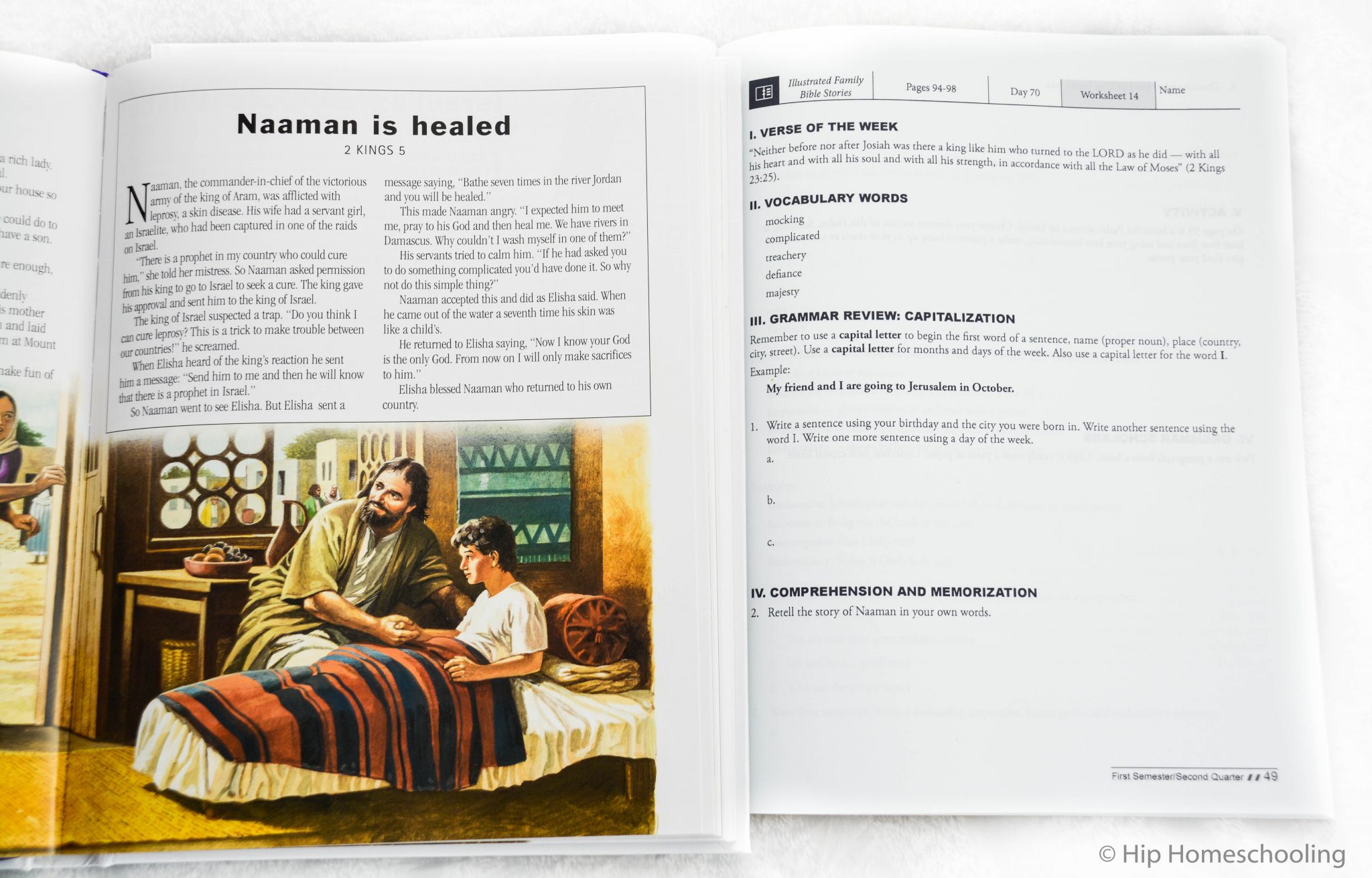 Because the worksheets and activities are quite comprehensive (and again, the age of my son), we broke up the worksheets into daily assignments. He would do a few of the sections each day along with his reading to make sure he didn't get too overwhelmed at the end of the week. The teachers introduction says the lessons should take 30-45 minutes, however we found it to be more like 20 minutes when we broke it up into manageable sections like we did. It was easy for him to do in the evenings with me once we got the younger kids to bed, and both of us are really enjoying going into more depth and challenging ourselves in our knowledge of the Bible this year. I love doing lessons with my kids where I am learning right alongside them, and this elementary Bible curriculum facilitates learning together as a whole family!
Elementary Bible Curriculum and Grammar Lesson Concepts
To give you an idea of some of the lessons in this complete 36-week course:
compound words
synonyms
similes
metaphors
double negatives
run-on sentences
sentence combining
oxymorons
hyperboles
paragraphs
different types of writing
commas
plurals
interjections
punctuation
capitalization
quotation marks
particles of speech
possession
conjunctions
homonyms
and so much more!
Your children will be learning vocabulary words such as testament, ascension, implications, indignant, Hosanna, magnificent,intervening, acclaimed, magistrates, interpreting, repatriated, restoration, prophesied, etc. They will be writing, answering questions, memorizing scripture, and applying the truths and concepts they are learning to their own life. The Bible storybook is full of beautiful illustrations that make the Bible come to life for your kids and you will be confident that your child is learning Biblical truths and principles alongside complex grammar, all in about 20-30 minutes a day. Honestly, what could be better than that?
The curriculum set is only $29.59 right now on their site PLUS you can use my exclusive coupon code REBECCASFRIEND for a limited time and get an additional discount on anything in your cart! Head on over to shop HERE. If you want to learn more about Master Books, check out their Facebook page HERE or head over to their website at masterbooks.com to see some of the other resources they have. We are so excited to be using their curriculum this year and you will be reading lots more about their different programs on my blog in the months to come, so stay tuned and make sure to join my newsletter so you don't miss a thing!
Have you ever tried Master Books curriculum sets? Comment below!
This is a sponsored post, meaning I have received compensation, either in pay or product, in exchange for my honest review. All words, opinions and thoughts expressed are my own. I only review products/brands that I know will be a good fit for my family/brand so I generally post positive reviews on products and companies I already love and want to share with you! Read my full disclosure policy HERE.