Let's talk about how to teach multiplication and division. Let's talk about how frustrating they are to teach over and over again. Let's talk about how my son went from barely understanding the concept to memorizing his times tables and division facts in 2 weeks FLAT. A grandiose claim, but 100% true! Make sure to pin this post for later! Whether you homeschool or your child just needs some extra help, you NEED to read this Times Tales review and find out about this amazing tool!
How to teach multiplication fast!
My son is 8, he is good at math… and yet we had a gap. He understood the concepts of multiplication and division, but didn't have them memorized. This meant that math went from taking 10 minutes in the morning to an hour. It slowed him down. He had to REALLY think about his answers, draw illustrations or use blocks to find out his answers. It was frustrating for both of us and it was clear to me that we needed to stop the bus and just master his times tables. We started using math wrap ups, which he found incredibly challenging on any number 3 and up. We tried singing songs, nothing was working! Some would help for a bit but as soon as we took a break, he wouldn't have retained anything he'd learned!
Until one random day, I was approached by Times Tales about doing a review for them. I was on that e-mail so fast you guys, this was perfect timing and I was reaching the point of desperation. We worked out the details and downloaded our videos and pdfs and off we went. I will admit, somewhat embarrassingly, that I had no idea what "mnemonic-based program" really meant. I was thinking acronyms in my addled mind, but I knew it was a good thing (don't judge me!). My good friend Wikipedia explained:
A mnemonic device, or memory device, is any learning technique that aids information retention in the human memory. Mnemonics aim to translate information into a form that the brain can retain better than its original form.
I looked that up for you but it was clear within about 5 minutes what this program was all about, no Wikipedia necessary! I initially put the video in and was slightly skeptical. It looked a little cheesy to me. The graphics on the video were corny… I wasn't sure this was going to work! My kids watched the first step in one sitting. We pulled out our flashcards and… they were getting it! My 6 year old who has never heard of multiplication was getting it! My 7 year old kinesthetic learner who REALLY struggles with math (even simple addition) was getting it! I went through the flashcards and watched them giggle and laugh together and fight to be the first one to say the answer and I saw the wonder in their eyes as they understood.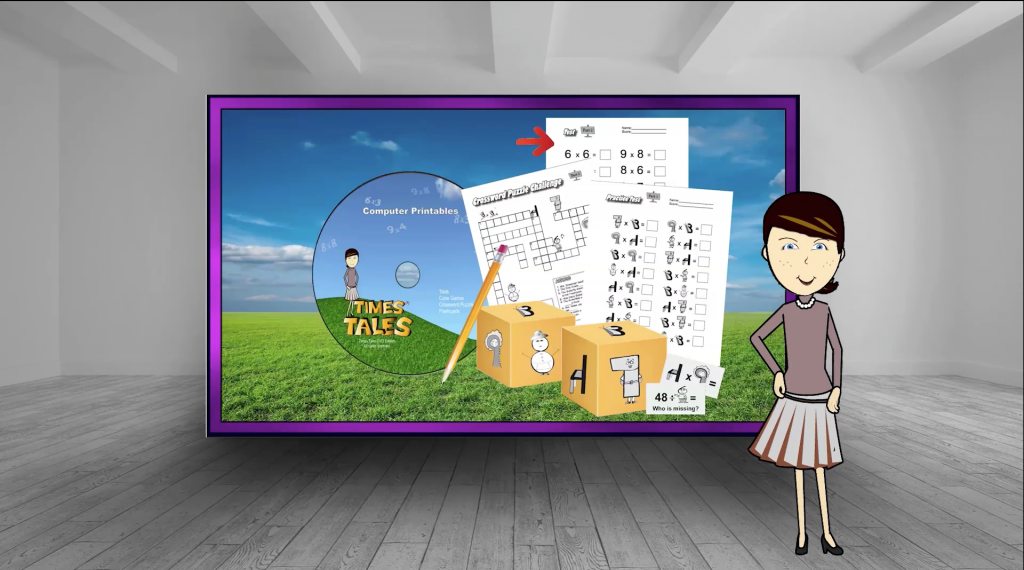 How to teach multiplication with Times Tales.
Times Tales are essentially cute little stories that act as memory triggers. For example, when the kids see 7×3, they envision Mrs. Week (the shape of 7) catching butterflies (the shape of 3) in her net. She caught 2 and 1 landed on her net. These stories are visual, they are also auditory so this worked well for both my boys. However my daughter in kinesthetic so for her we used the flashcards and cubes and did a bit more work. Still, with a bit of repetition she had it figured out and we haven't looked back.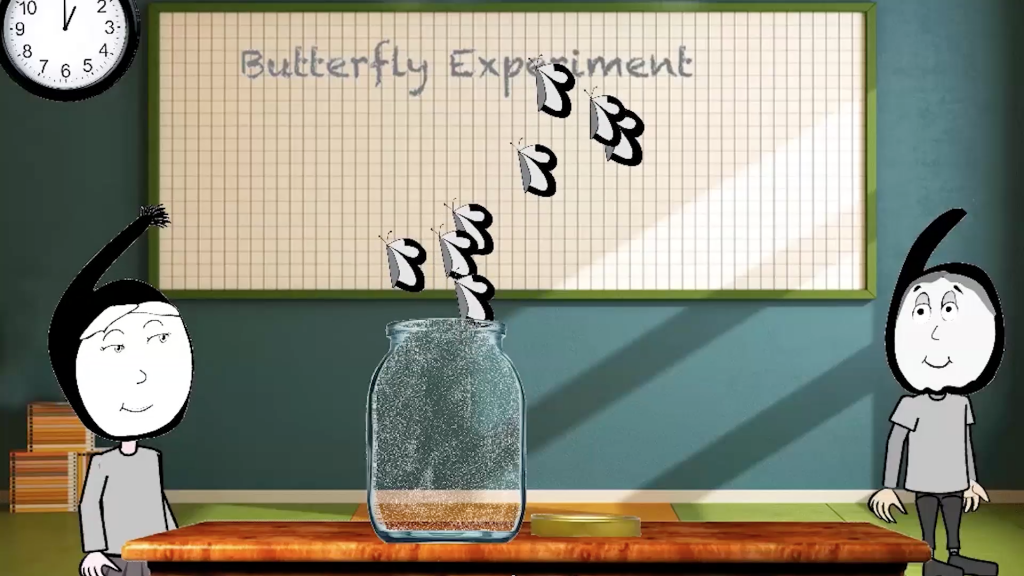 The program is available as a DVD ($24.95) or digital download ($19.95). I loved the digital download as I didn't have to wait, we could start right away! They also have a print version as well as other add-ons available on their website. You will receive your videos as well as printable PDF's to go along with your program. We printed off our flashcards and cubes on card stock so that they would last through my 3 kids. They come with easy cut marks so it was super simple and took us about 15 minutes or so of prep to be ready to start. I let the kids start watching the first step of the video while I cut the flashcards.
One of the things that Hannah (your host through the videos) says to the kids is not to try to figure out how it works. Just listen to and learn the stories and it will all make sense. When it does all come together, it was so fun to see the "aha" moment when they realized how the stories fit in. After that, we needed to watch the video a few more times with them paying more attention and within the first 2 days, all three of my children had mastered step one (3 and 4 times tables). The video teaches the most difficult to memorize times tables: 3×6,3×7,3×8,3×9,4×6,4×7,4×8,4×9,6×6,6×7,6×8,6×9,7×7,7×8, 7×9,8×8,8×9,9×9. Which is fine, because 2, 5, and 10 are the easiest ones for my kids once they learned skip counting.
What we thought of Times Tales.
The reality is this program worked exactly how it said it would. My kids loved doing it, their confidence in themselves grew, their math improved, etc. Could it have better graphics? sure! But if it ain't broke don't fix it! I was so blown away by a) how little this required of me (big family win right there!) and b) how quickly and absolutely this program worked. Even after taking a 3 week break for Christmas, they remembered the stories! A quick review and we were back to whizzing through our math books again!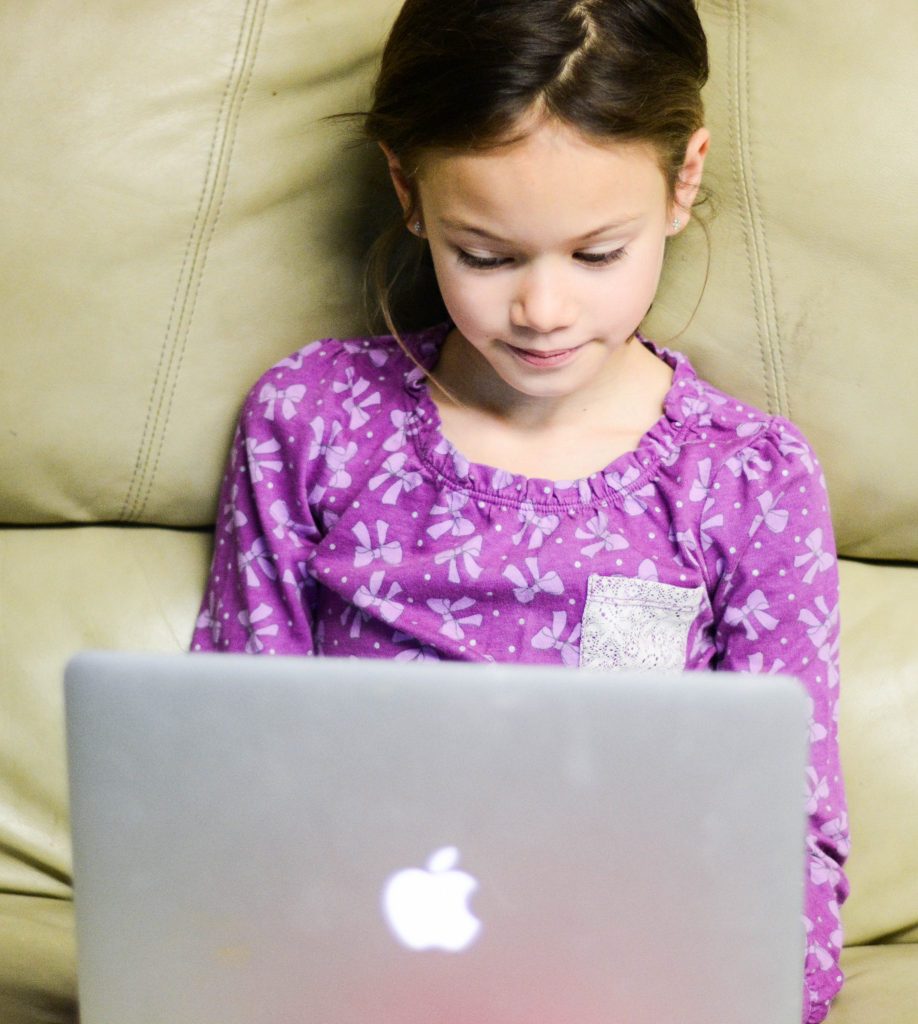 I assumed that because of the title, this program would only cover how to teach multiplication however it also teaches division. As your children learn the stories for multiplication, all they have to do to divide is find the missing number (which is SUPER simple). I still believe in my child learning the concept so that they can figure things out for themselves, however memorizing basic facts is so important! Never have I found a tool that was so effective and so fast, I have relearned my times tables right alongside my children (how cool is that?).
I wish I had this growing up, I will recommend it to everyone I know! It is very affordable, it works, it works, it works, and have I mentioned it works? If you are going crazy trying to figure out how to teach multiplication, stop what you are doing and CLICK HERE to grab your copy today. This week, you master multiplication in your home!
Have you been struggling with how to teach multiplication? Comment below!

*This is a "sponsored post." The company who sponsored it compensated me via a cash payment, gift, or something else of value to write it. Regardless, I only recommend products or services I use personally and believe will be good for my readers. I am disclosing this in accordance with the FTC.