This week we learned about jellyfish in our Mother Goose Time program. I have so many fun ideas and crafts and resources to share with you plus a free jellyfish book for you to print and make with your kids to learn more! Don't forget to pin this post for later!
Make your own Jellyfish Hat!
We started off by just talking about jellyfish together. Taking some time to discover what the kids knew or thought they knew, predicting, hypothesizing, etc. Then we were ready for our activities. First off, we make our own jellyfish hats. This was super fun, really easy, and quite ingenious in my opinion. All you need is a shower cap and some curling ribbon and your kids will be ballooning through the ocean too!
While they were making these, we did a bit more discovery online by watching some great educational videos and googling pictures. The kids were super stoked to find the Octonauts had a video on youtube about jellyfish, you can check it out at https://www.youtube.com/watch?v=cU5i4iylkJ4. We discovered so many amazing and interesting facts about them that I decided to do up a free printable book with real pictures and a worksheet so you can do it with your kids too!
Free Printable Book and Worksheet
To get this free printable, simply sign up for my newsletter in the box below, all you need is your email address and you can unsubscribe at anytime! Then go to your email provider and add me to your contact list (rebecca@rebeccaspoonerpgblog.com) so that the printable doesn't go to your junk mail. It will be sent directly to your inbox! Don't forget not to share the download link, but rather share this blogpost at the bottom so that they can grab one for themselves as well!
[wp_eStore_free_download_squeeze_form id=24]
Once you print it off, simply cut along the dotted lines and staple it together to make a fun little book to read together! An older child could read it themselves but a younger one would need help. The pictures are real images and it is full of interesting facts to inspire your little ones.
Make Your Own Ocean Scene
We made this super cool ocean scene using lentils (hey, its all I had!), water, blue food dye, and strips of plastic bags (as our jellyfish). The kids had fun shaking up the jar and watching everything swirl around and settle and the plastic strips moved about the water through the glass. We talked about jellyfish and how they move but interestingly enough, this brought us to a really great conversation about garbage in the ocean. How it sits on tops and just floats there, gatherin together and harming ocean animals. It was super fun to see where that activity brought us and we just ran with it!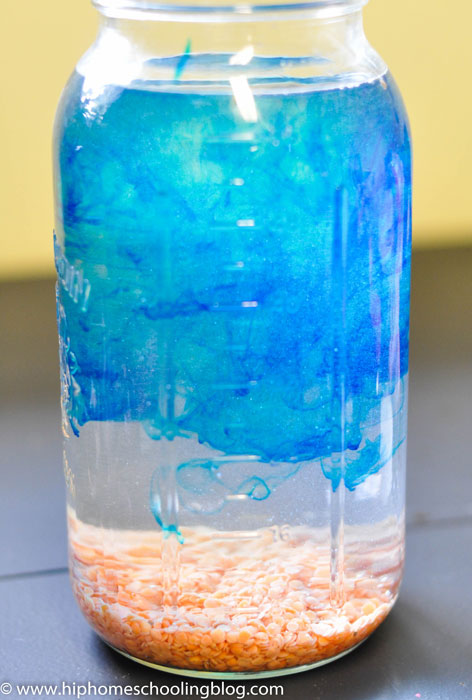 What do Jellyfish Eat?
This was a SUPER fun activity from Mother Goose Time, what do jellyfish eat? We cut up tiny little pieces of colored construction paper and put them in a bowl then I threw them all over the floor and they pretended to be a jellyfish bloom eating the plankton of whatever color I called out. The most surprising and fun aspect of this activity was watching my 1 year old get right into it. She was picking up pieces, putting them back, throwing them all around squealing and laughing and playing. She thought it was the best thing ever, she was working on her fine motor skills, and it was just so darned cute! I love activities she can get involved in because she loves to be in the action, hates being left out.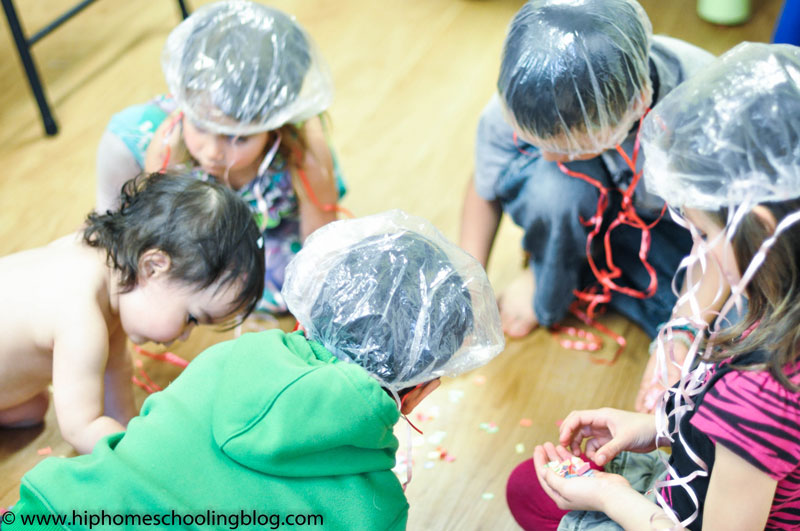 Of course, they HAD to wear their jellyfish hats for this activity, that was half the fun! The best part is a quick vacuum and my work was done. It could have been an hour long activity if we didn't have other things to do, so fun!
What was your favorite thing this week? Post in the comments, I want to know!
I received Mother Goose Time materials for free in exchange for my honest and detailed review. I was not required to write a positive review and all thoughts and opinions expressed in this post are my own.