Last week we received our K'NEX Home Designer Building Set in the mail. My 7 year old daughter has been anxiously anticipating it's arrival for the last few weeks and it was near torture to wait for mommy-approved set-up time. I am so excited to be able to offer this building set as a giveaway for you guys! It was a ton of fun! Make sure to pin this image!
What is included in the K'NEX Home Designer Building Set?
Before you begin designing any K'NEX building set, it is always better with a friend (or sibling). Selah had a playdate scheduled with her good friend Layla and we thought it was the perfect opportunity to open up the building set.
The K'NEX Home Designer Building Set comes with 433 parts in the box. There are designs/plans/instructions to make 3 different houses – a colonial, a brownstone, and a ranch. It comes with two characters: Sophia and Brianna. The kids started out by creating their characters and reading through the instructions. Before you begin, there is a card that talks a little bit about various architecture concepts and how to make a strong structure. This provides an excellent springboard for discussion throughout the building process. We kept the conversation going with questions such as: why would we connect these two pieces? What if we just do it this way-what makes this section of the design stronger? Etc.
We loved that there were enough pieces to make 2 complete houses at the same time. The girls had so much fun playing Brianna and Sophia in their neighbouring houses. The entire set up took us about an hour and a half, but we were working at a leisurely pace. Each house took about 45 minutes letting the girls do building and finding the pieces, etc. We even had Spiderman (Selah's 8 year old brother) come in and help out with the colonial house. This set is so much fun for any child. It is recommended for children ages 7 and up.
What did we think of the K'NEX Home Designer Building Set?
All in all, I think this set is amazing. It is great value for the price you pay, it has a ton of pieces, it is educational and hands on. The instructions were easy to follow and as with all K'NEX products, the pieces are quality and built to last.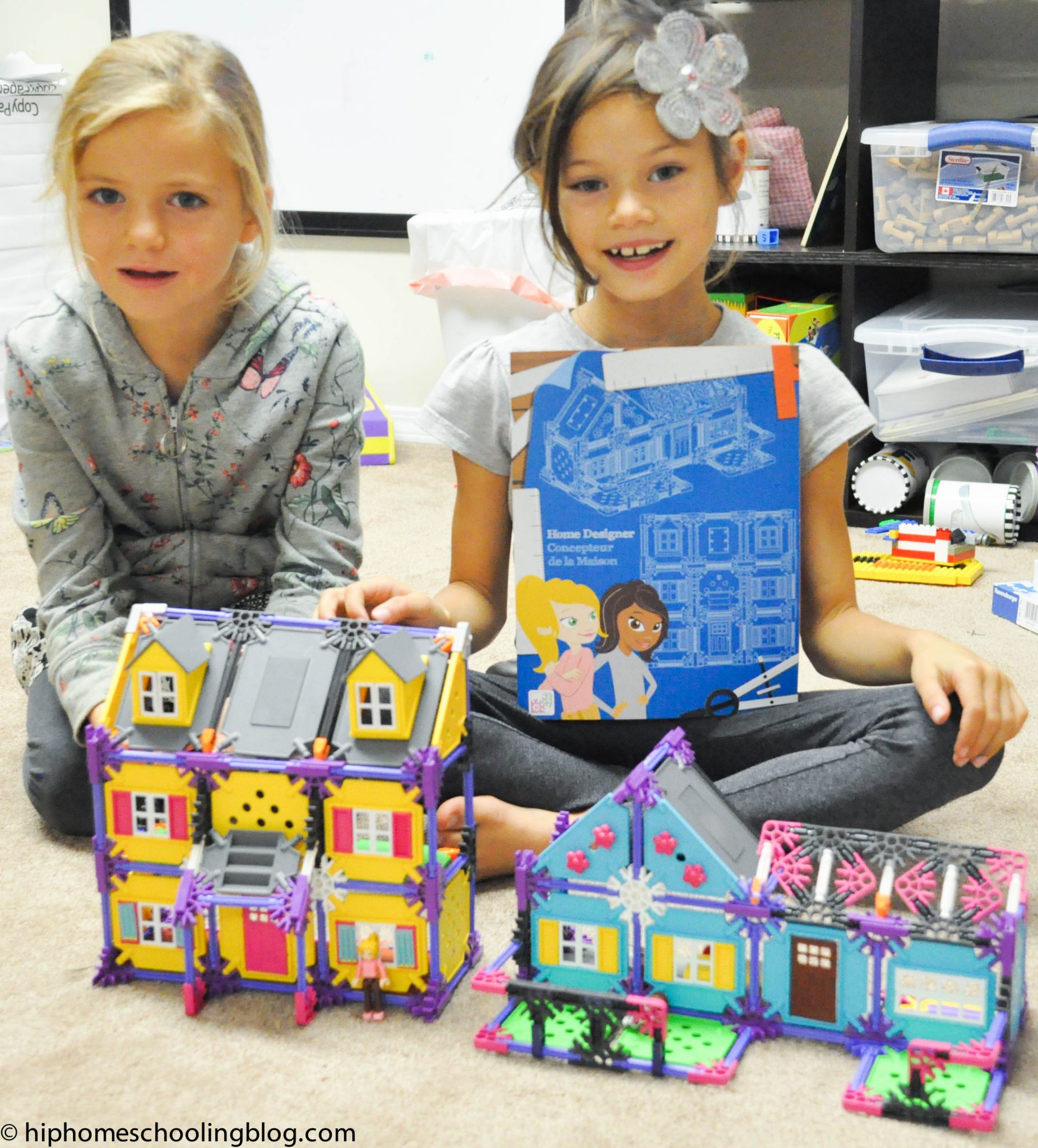 Although it was recommended for children ages 7 and up, both Selah and Layla (7 years old) needed a bit of mom help with this one (or Spiderman help if you have an older sibling available). The instructions, though detailed, are complex. There are a lot of pieces that need to all click together exactly as shown. Some of the pieces can be hard to click for little fingers and if they aren't clicked all the way, you'll have problems down the road. I would still definitely get this for a 7 year old, however be prepared to give a bit of help unless your child is used to working with K'NEX building sets. My 8 year old son on the other hand helped build the second house and I was able to go upstairs and leave him alone. Other than a few directional mistakes (some of the pieces facing the wrong way I had to fix), he was able to set up the house on his own. I think it depends more on your child's comfort level with K'NEX than their specific age, but it is something to be aware of.
My only recommendation with this building set is the character quality. They fall apart easily and often and the girls started to get a bit frustrated with them. All the other pieces in the set are strong, bendable, quality products. But all the little pieces (shoes, legs, etc.) of the people fell apart every time the girls tried moving them. Perhaps a fixed character would be a little sturdier and more practical.
I HIGHLY recommend this building set. It was one of the most fun sets we have put together and they can't wait to take them apart and try building their own houses. We intend to design some blueprints and make a house plan and using all the pieces for one giant house! There is many more hours of fun ahead of us with this set.
Want a Home Designer Building Set of your own?
You can purchase this Home Designer Building Set either on the K'NEX website directly or from Amazon below. But I have an awesome opportunity for you to WIN your very own set right here on the blog! You can complete as many entries as you would like below and some of them you can do once a day, so come back and enter again to increase your chances!
Enter to win the giveaway for a K'NEX Home Designer Building Set!

*This giveaway is now closed, thank you for everyone who entered and stay tuned for another great K'NEX building set giveaway!