I had no idea how online math would change the entire dynamic of our homeschool day! This is a detailed review of the online math curriculum: A+ Interactive Math and how it has been working for our family. We were given a 3 month subscription to the Adaptive Placement Test and Individualized Lesson Plan to review and we used it exclusively for my son (who is in grade 2) for the last 6 weeks.
The curriculum has complete lesson plans from Kindergarten all the way to Algebra I and works with children to help close learning gaps with their affordable program. They are also offering free family math packages so be sure to check it out or click on any of the pictures to grab their sales!
Online Math Curriculum to Close the Gaps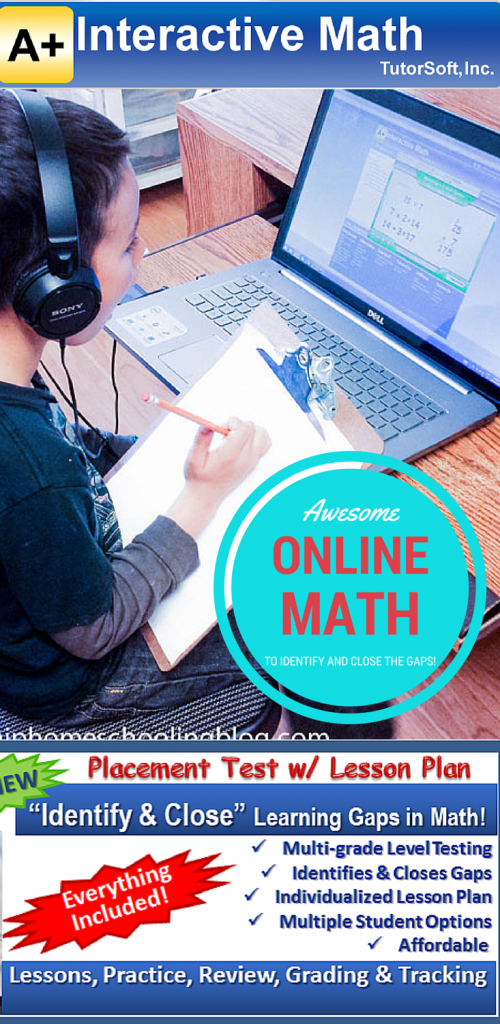 Caleb is now in grade 2 and we have been noticing that while he is mastering concepts in a very comprehensive fashion well above his grade level, there are topics he has completely missed! When I started browsing the site I was completely drawn in by the fact that it "closes learning gaps" as I felt that Caleb had quite a few of them.
When you first login, you are given a number of options.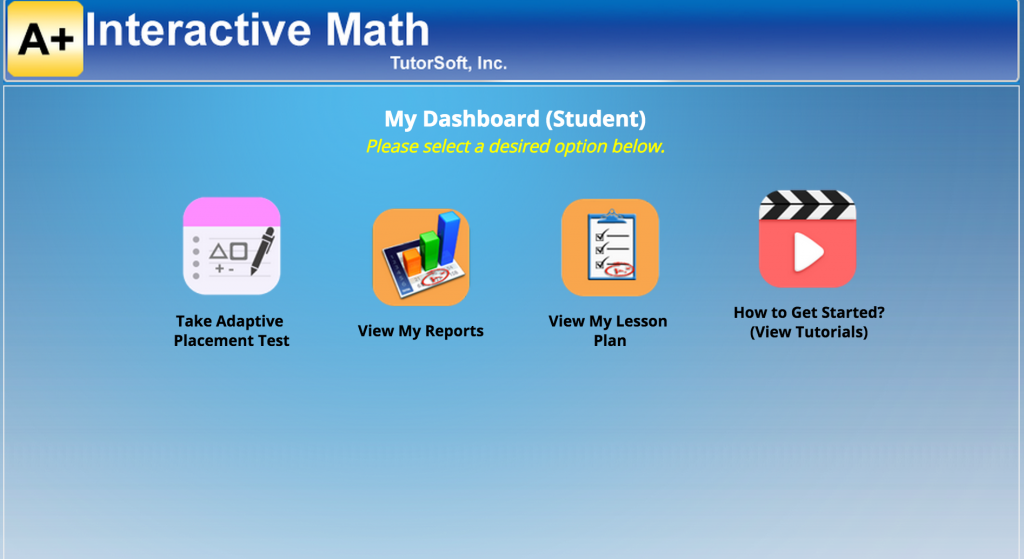 We started off by going into the adaptive placement test and seeing where Caleb was at. There were 13 tests in the grade 2 level and I felt rather than overwhelming him with taking each of them we would work our way through one by one.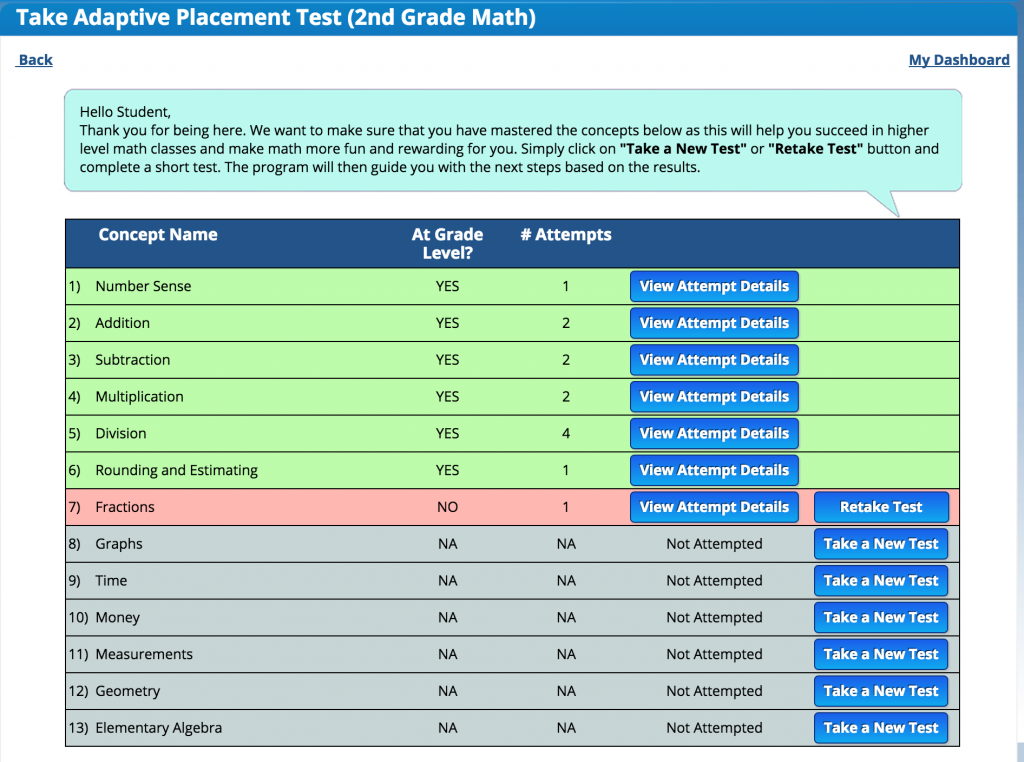 The test took about 10 minutes or so for him to complete and then we went back to our dashboard (the first screenshot) and hit view my lesson plan. He was well within his grade level for 2 or 3 or them so we just skipped those ones. But fractions, division, multiplication, etc. he hadn't even covered and we were essentially starting from scratch.
Although there is really no way to cheat, I ended up sticking around as Caleb worked through his test. I helped him read the questions, especially at the beginning, as the math was worded a bit differently than he was used to. Once he was on to his lessons however, he was on his own and I was essentially done my work for the week!
Each concept has about 8-10 interactive lessons and quizzes.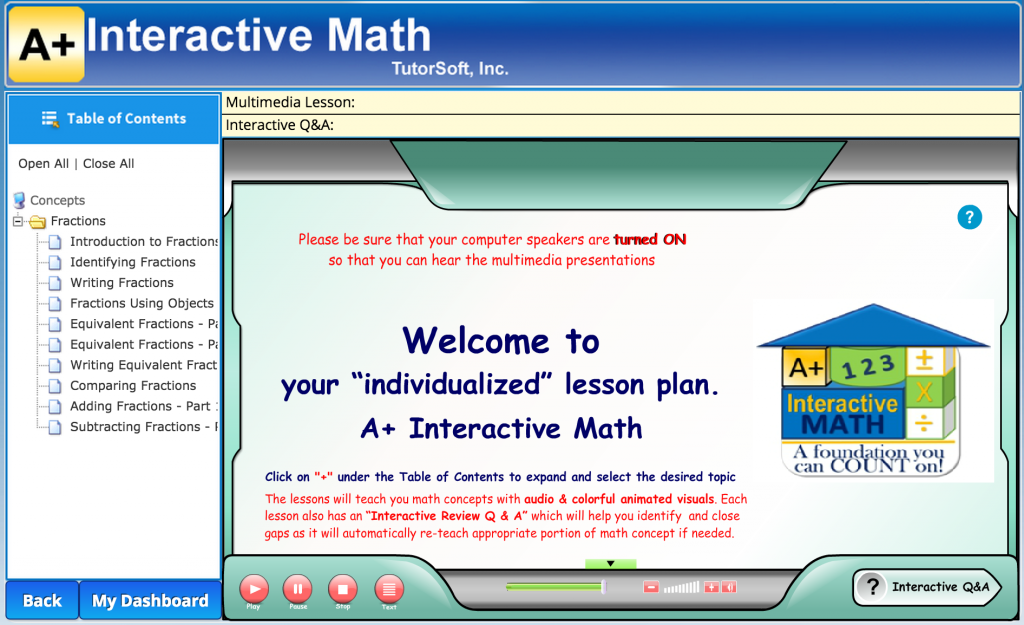 Once we were logged into this screen, Caleb did about 2 lessons on the left hand side each day. He did it entirely on his own, listening to the lesson and doing the online quiz. The BEST part is the print option! I could be downstairs doing school with the little ones and he would print off his lesson quiz results and show them to me!
I could see how many he missed, and how many he got wrong. For the most part, as long as it was just a few I would leave it as the lessons build on one another. At the end of all the lessons, he went back and tried the test again and aced every single one!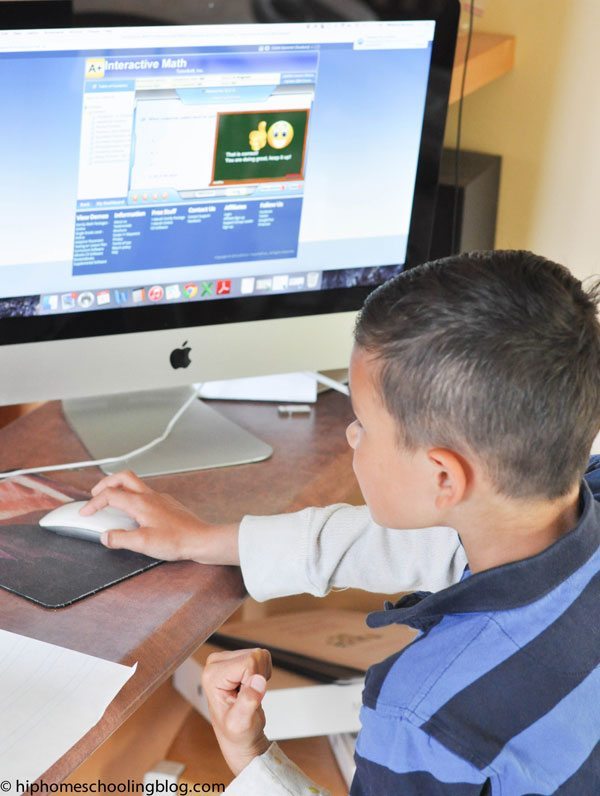 That's pretty incredible when I have done no instruction, no marking, and when he knew nothing about fractions, multiplication, division, etc. BEFORE starting A+ Interactive Math!

What can I say? I LOVED this program! I had been feeling like Caleb was missing some things and going through this lesson plan has given me way more confidence that we are covering what we should be!
Caleb loved his math! He really loves anything that is on the computer so online math was an absolute winner. He was excited to do it each day and that was a huge load of my back when I didn't have to drag him through his lessons.
If you are feeling unsure of where to start, be sure to read their Top 12 Reasons to do Adaptive Placement Test with Lessons. Also check them out on their social media, they are available on:
The biggest draw and benefit for me as a homeschool mom, was the fact that it was independent schooling! With 5 children, this took one subject completely off my hands and I was so impressed with the results I would highly recommend it to anyone who wants to check where their kids are at!
Make sure you check out the other reviews over at the TOS Review Crew and if you still need convincing try out their FREE Math Placement Test here!
Have you ever tried an Online Curriculum?