I love all things planning. Ever since I was a kid, I was teased mercilessly that my ideal present could be bought at Staples. When I was 8 I was given a leather accordion file folder case and I thought it was the coolest thing in the world (I think I still have that!). The point is, stationary, paper, pens, those things have always been part of who I am. It's like my cells have tiny little notebook fibres in them or something, it quite honestly feels a bit unnatural. Most people pick up a book and read it, I pick up a book and smell it's pages. The smell of a leather Traveler's Notebook and fresh, crisp paper inside of it is every bit as much a sensory calming experience as a mental one. That being said, a planner subscription box that comes right to my door is kind of my husband's worst nightmare. It is the kind of thing I can go a little crazy over, the kind of thing I can and WILL spend money on each and every month, and that is exactly what I am going to show you today!
A planner subscription box you're going to love!
This box came to my door in all it's white glory and I could hardly wait to open it. September's box was all about bullet journaling, kind of a perfect fit for my planning style! Each of the boxes has a unique theme, season, or creative project. It is a box built for planners, stationary lovers, and writers. Each month is different and a complete surprise! When I first went to their website, I was a little unsure if this was going to be worth it for me, but looking at their past boxes here I knew I had to give it a shot.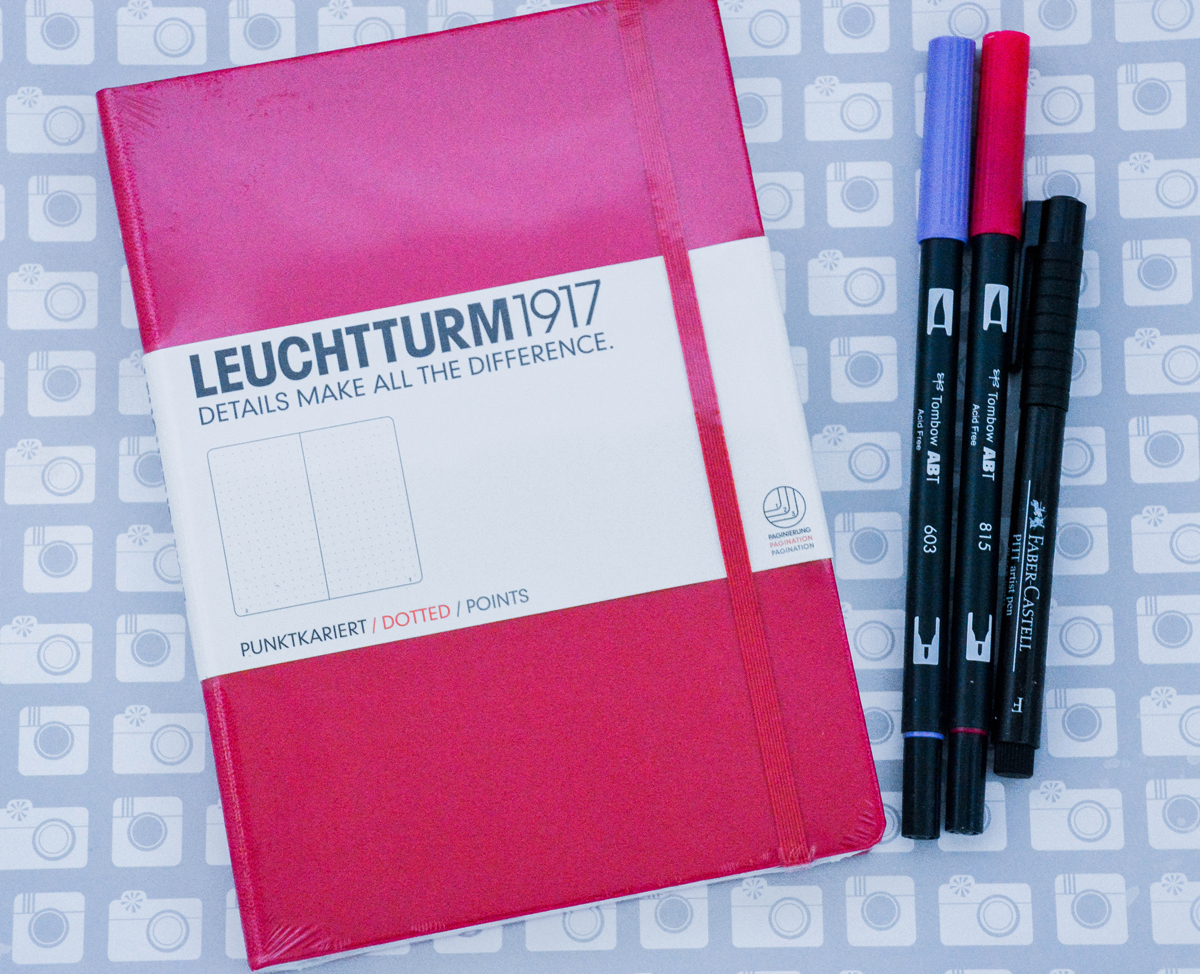 The box came with the dot grid Leuchtturm1917 in pink. This is valued at about $20. It also came with 2 Tombow dual brush pens (valued at $3.19 each) plus a Faber-Castell brush pen (valued at $2). It came with a sticker set (usually around $5 for a nice cut out like these ones), correction tape ($5 value), a roll of washi tape ($3 value), as well as Staedtler pack of ten felt markers (my fav! Valued at about $15). All together, this box is worth between $55-$60 and their subscriptions are only $39.90/month (or less if you purchase for a set amount of time). Value wise, this box was well worth every penny!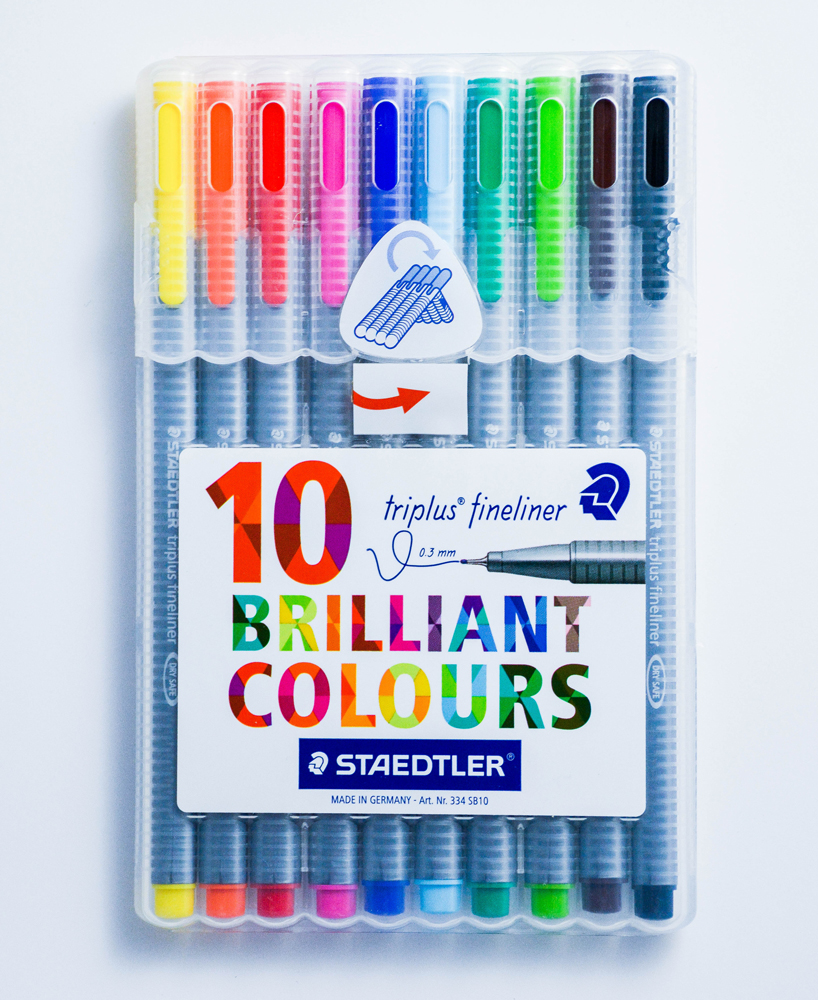 It was packaged well in a cute little box with the Busy Bee Stationery logo on top and I just couldn't get enough. I have my Staedtler pens prominently positioned on my desk. The Tombow Dual Brush pens are amazing, you can see a review of the pens here. The quality of the materials they chose are just perfect. Everything they selected worked well together, the only thing I probably won't use in my bullet journal is the stickers only because they are so thick (cardstock) that they protrude from my pages and cause there to be big gaps. But I love the sayings, the colors, and the style, so I will find some way to repurpose them.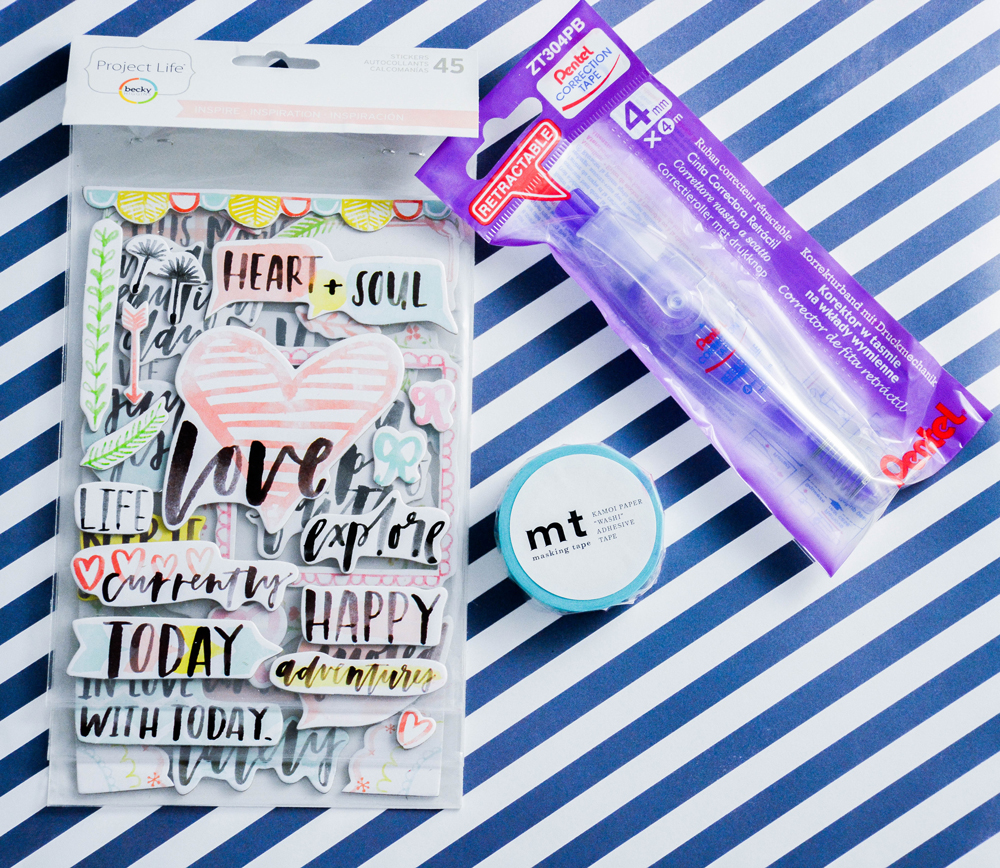 Who doesn't need more washi tape? The item that most surprised me from this box was the correction tape. This wasn't something I had ever used in my bullet journal before but it is quickly becoming a top-shelf item that I pull out time and time again. It is really a must have for bullet journaling!
How to get your hands on this planner subscription box
If you are totally in love with what you see, check out their links below.
Daily Spread Ideas
Did you know this is part of a 31 day series? There will be a post each day this month showcasing how I use bullet journaling, planning, hand lettering, and more! We will talk about the tools you need and I'll review some of my pen hoard (including my brand new flex fountain pens, eeeeek!). There will be videos, pictures, hand lettering practise pages, doodle challenges, journaling prompts, some amazing giveaways, and hopefully a TON of inspiration to get you writing in your planner, whatever that may look like for you! How can you get on board?
BOOKMARK THE LANDING PAGE (that is where all the posts will be added throughout the month)
FIND ME ON INSTAGRAM (I'll be posting the daily posts there)
USE THE HASHTAG: #PlanWithRebecca or #planninginspiration4u on Instagram for a chance to be featured on my page!
JOIN THE NEWSLETTER (if you want an short update on the latest post in your inbox)
Do you subscribe to any planner subscription box companies?