There are SO so so so many fountain pens out there it can be quite frankly incredibly intimidating getting your feet wet. Where do you start? Which pens are going to be the best for what you intend to do with them? How do they write? What should you look for? What is bleeding and ghosting and which pens do that more than others? Today I am going to share with you my fountain pen stash. I currently own a Noodler's Ahab Flex Fountain Pen in Mandarin yellow, a Noodler's Nib Creaper Flex Fountain Pen in Truk Lagoon, a Pilot Metropolitan Fountain pen-fine in Gold, a Pilot Metropolitan Fountain Pen-medium in Silver, a Pilot Plumix, as well as a TWSBI Vac700. I have prepared an in-depth video to show you how each of these pens writes, what writing with a fountain pen looks like, how much they bleed or ghost and some of the frustrations I have plus I'll even tell you my favorites for bullet journaling!
Writing with a fountain pen: How do you choose?
I wanted to give you a brief overview of these pens, their features and how much they are as well as where you can buy them. If you are worried about choosing a pen, I can promise you that by the end of the video you will have a much clearer idea of which pen is going to be best for you. if you are using these for bullet journaling, it is going to depend largely on what type of notebook or paper you are using as to which pen is going to be a good fit but we'll get into all of that in detail. Let's introduce the pens!
1. Pilot Metropolitan in gold – Fine.
Its sells for $15 HERE.
This pen is beautiful, has nice weight distribution and no ghosting in your bullet journal. It writes smoothly and is incredibly affordable, a great starter pen. It is also refillable if you get the converter which means you can use it over and over again with any ink you choose!
2. Pilot Metropolitan in silver – Medium.
It sells for $15 HERE.
This pen is the same as number one with a little bit wider nib. This gives you a nice bold line. It has a bit more ghosting from a bullet journaling perspective, but still relatively light ink distribution, it is affordable and you can purchase the converter as well. Available in lots of different color options.
3. Noodler's Ahab Flex Fountain Pen in Mandarin Yellow
Sells for $23 HERE.
This pen has a flexible nib which means that the tip spreads apart to give you very thick lines but if you don't apply much pressure you can get thinner lines as well. In theory, an amazing idea, but it lays the ink on so thick and takes about 3 full minutes (or more depending on the paper) to dry. Meaning it smears terribly. You also have to push quite hard to get the effect which indents the paper and on most of my paper, bleeds terribly. On the right paper though, this is so much fun to write with. A great entry-level flex fountain pen.
4. Noodler's Nib Creaper Flex Fountain Pen – Truk Lagoon
Sells for $16.10 HERE.
This is by far my favorite of my two flex pens. It is more flexible than the Ahab flex, it is lighter, smaller, fits better in my hand, and gives a smooth line. I can write faster with it and get a nice effect. This does bleed through Leuchtturm paper, but I am looking to try it on some different paper to see what grade you would need. On the right paper, this pen is a beauty and so so so affordable! Not my go-to for bullet journaling though because of smearing/dry-time, and bleeding.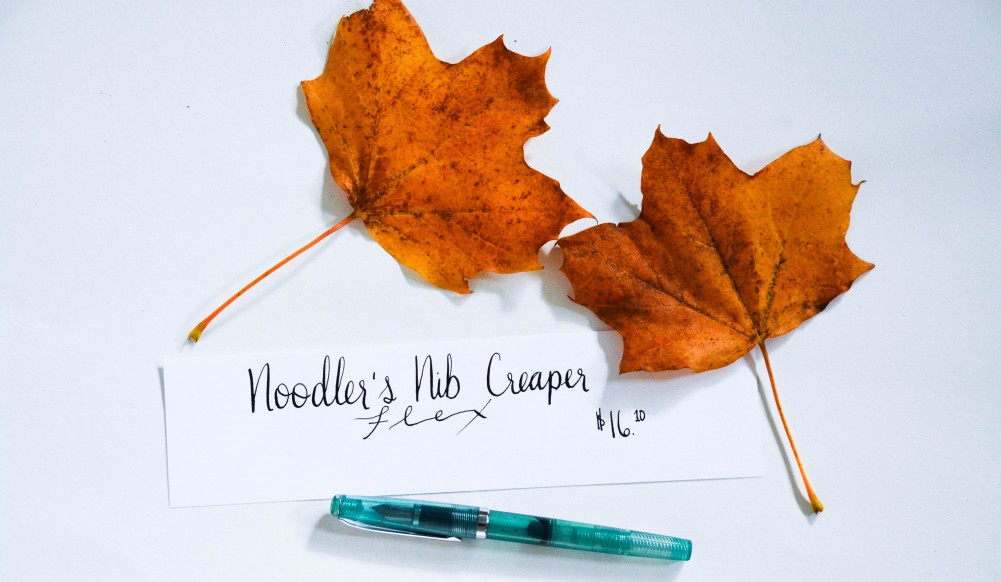 5. TWSBI VAC700 EF
Sells for $70 HERE.
This is my favorite fountain pen, it just goes to show that the pricier ones are that price for a reason. This is the smoothest pen I have every tried. It doesn't matter if I put no pressure on it or a lot of pressure on it. I can vary the line width slightly with pressure and it doesn't break flow at any point that I have ever noticed. I can get a very fine line with it which is perfect for bullet journaling and it dries really fast. My only downside on this pen is the weight. For durability purposes, it is a selling feature, but my hand get's tired easily (need to work up those fountain pen muscles 😉 ).
6. Pilot Plumix
Sells for only $9.10 HERE.
This is a cheap pen, good quality, it has a flat nib which means without applying pressure, you naturally get thicker and thinner lines adding dimension to your script. It is light and easy to use, it isn't as smooth as the other pens, again, probably because of the price. It also is refillable but you do have to buy the Pilot cartridges to do so which is a big downside for me. I recommend this pen as a starter pen if you are new to fountain pens and want the look of a flex pen without the learning curve.
Writing with a fountain pen demonstration video and review
This is the fun part! This video will show you the pens in action, I will show you the ghosting and bleeding and how the flex pen works up close. When you have a bit of time, grab a cup of coffee and your journal to take some notes and let's find you a fountain pen you'll love!
Busy Bee Stationary Review
Tomorrow I am so excited to share with you a subscription box that I have fallen in LOVE with! I will show you what was included and how to get your hands on this! It is a great way to build your supply collection! Tune in tomorrow!
Did you know this is part of a 31 day series? There will be a post each day this month showcasing how I use bullet journaling, planning, hand lettering, and more! We will talk about the tools you need and I'll review some of my pen hoard (including my brand new flex fountain pens, eeeeek!). There will be videos, pictures, hand lettering practise pages, doodle challenges, journaling prompts, some amazing giveaways, and hopefully a TON of inspiration to get you writing in your planner, whatever that may look like for you! How can you get on board?
BOOKMARK THE LANDING PAGE (that is where all the posts will be added throughout the month)
FIND ME ON INSTAGRAM (I'll be posting the daily posts there)
USE THE HASHTAG: #PlanWithRebecca or #planninginspiration4u on Instagram for a chance to be featured on my page!
JOIN THE NEWSLETTER (if you want an short update on the latest post in your inbox)
What is your favorite fountain pen? Do you have any questions? Comment below!