Bullet journaling does not have to be complicated. In fact, the original system (learn more about it here) is simple above all else. It is meant to be an efficient way of organizing your thoughts in a way that you can easily find and reference and use more effectively in your day-to-day life. Over time, people have gotten VERY creative with their bullet journals. Which is awesome, I am one of those people! I love adding watercolor and painting and hand lettering and doodles. I love adding pops of color and little quotes and all sorts of fun stuff that gives me a creative outlet to express the beauty in the mundane of my everyday life. That being said, I KNOW how overwhelming those spreads can be. It wasn't too long ago that those spreads made me want to give up. So today I wanted to share with you some of the simple bullet journal spread ideas I have used recently. I hope that it will inspire you, remind you to use the bullet journal however it works for YOU and give you some new ideas.
Simple Bullet Journal Weekly Layouts
I actually love using really simple bullet journal layouts for my weekly spreads. I love how clean they are, they give me more space to work with and they take very little time to set up. My favorite is this week's layout.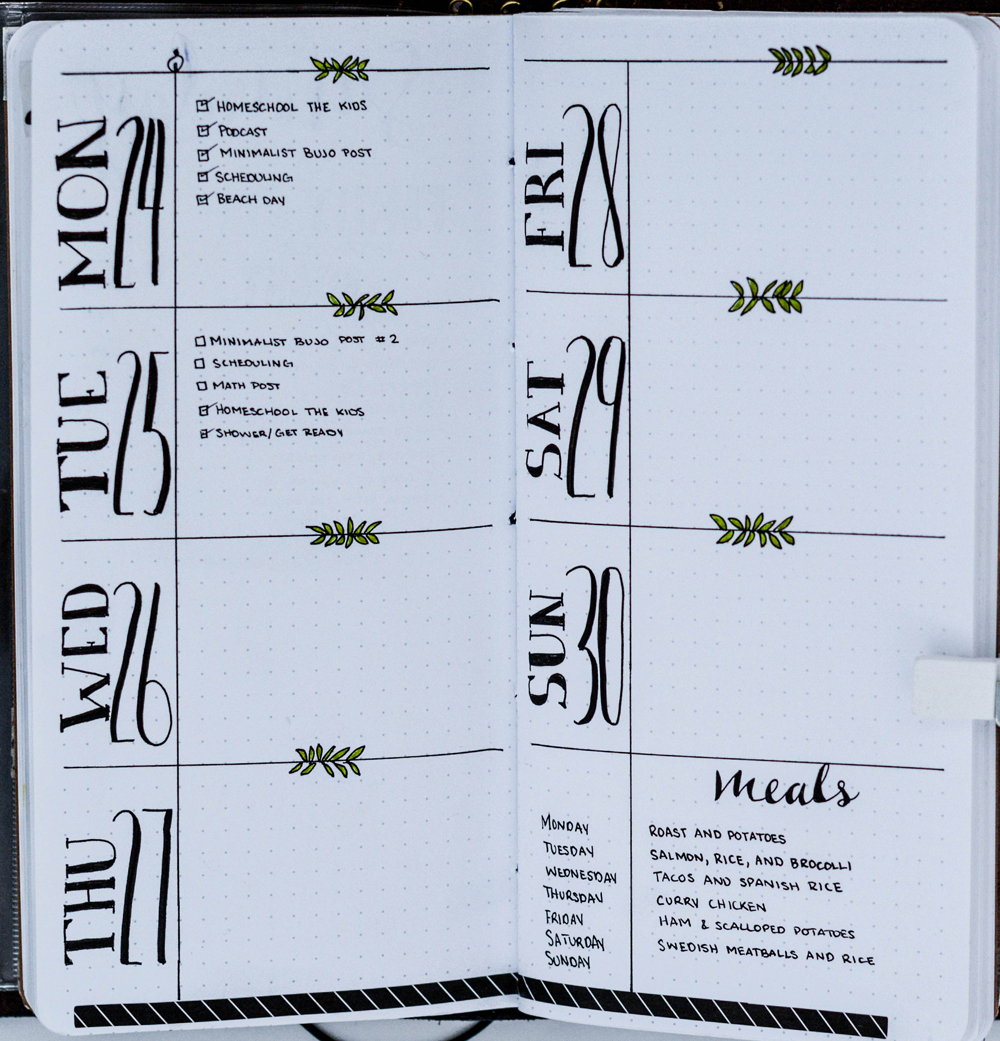 I love the little pop of color in the leaves and yet I still have a ton of space. The little strip of black and white washi at the bottom just adds a bit of dimension to it without changing the clean look and the meals are pretty much all I need to know on top of my lists.
Another weekly spread that I was playing around with in my weekly layout post (see more weekly layouts here) is this one for November. Again, this was really fast to set up, and is open and clean looking.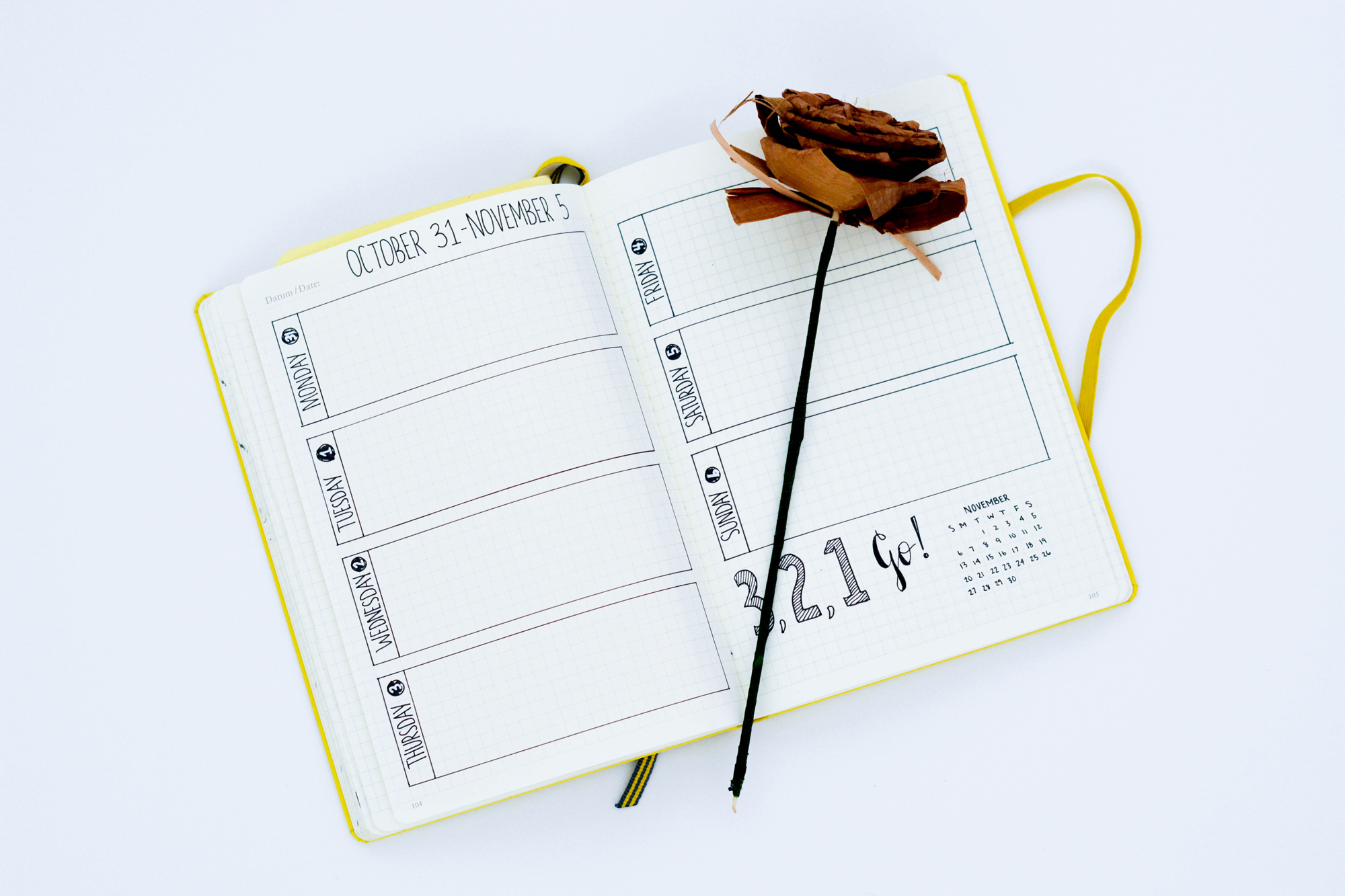 Simple Bullet Journal Daily Layout
I have shown a lot of the simpler daily louts in some of my other posts (see this one for example). I wanted to show you a simple list however. For those of us who like to make lists, I wanted to show that even without one doodle or pop of color, a simple list can still be a beautiful way to plan. It can help you organize your thoughts and lay out your day to *hopefully* get more done.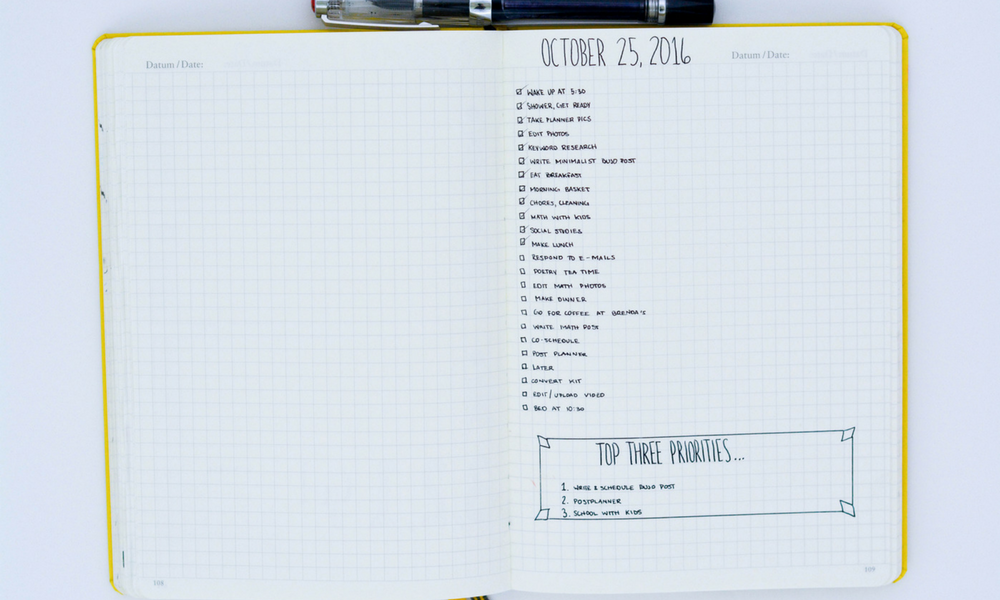 A HUGE Giveaway
Tomorrow I want to share with you a huge giveaway I have going on as a special feature that I think will be a great fit! It is worth over $100 and PERFECT for us planners so stay tuned!
Did you know this is part of a 31 day series? There will be a post each day this month showcasing how I use bullet journaling, planning, hand lettering, and more! We will talk about the tools you need and I'll review some of my pen hoard (including my brand new flex fountain pens, eeeeek!). There will be videos, pictures, hand lettering practise pages, doodle challenges, journaling prompts, some amazing giveaways, and hopefully a TON of inspiration to get you writing in your planner, whatever that may look like for you! How can you get on board?
BOOKMARK THE LANDING PAGE (that is where all the posts will be added throughout the month)
FIND ME ON INSTAGRAM (I'll be posting the daily posts there)
USE THE HASHTAG: #PlanWithRebecca or #planninginspiration4u on Instagram for a chance to be featured on my page!
JOIN THE NEWSLETTER (if you want an short update on the latest post in your inbox)
Are you a list maker? Comment below!