Let's talk about teaching kids to code. In today's culture, this is one of the most relevant things we can teach our children to give them a good start in our technological age. Aside from the obvious benefits when it comes to giving them skills and knowledge for future jobs and careers, it also offers many other developmental benefits. I have watched my 8 year old son expand his creativity, his confidence in himself as he realizes he can do this. I have seen him problem solve in new ways, face challenges that he has had to overcome on his own (because this poor mama doesn't have a CLUE when it comes to java script). I have seen his computer skills and typing skills improve in general, he is more familiar with the keyboard and more confident with the mouse.
While coding a website may not sound as interesting, we have stumbled upon a way to bring coding to life through Youth Digital. Youth Digital is a website that offers coding classes for children ages 8-14. Many of their classes use the medium of Minecraft, and this was what really drew my sons interest. Keep reading to hear the full review of this amazing program and don't forget to pin this for later!
Teaching Kids to Code with Minecraft
My 8 year old son signed up for two courses, both the Mod Design 1 (creating your own Mods) and Server Design 1. These are highly comprehensive courses so at this point, we are still working on Mod Design 1 with him and haven't tried Server Design 1 (stay tuned for more info on how that one goes for us as well!). When you sign up for a course, you get 1 year access to the course materials, you get the software downloads you need to complete the lessons and coursework, as well as online support. The courses are delivered via videos that you access when you log in to your dashboard.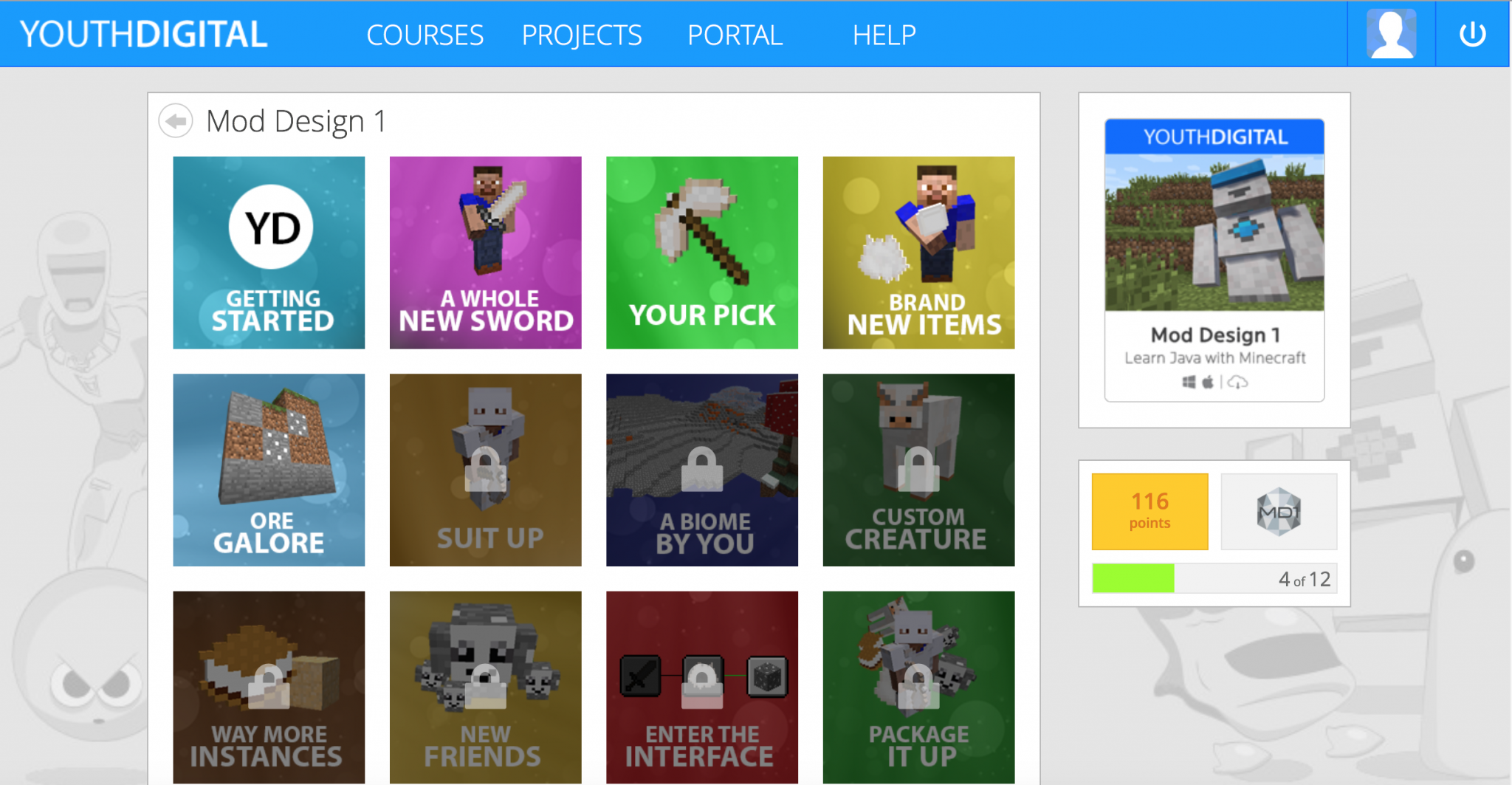 Once you select your lesson, you are taken to a video that is around 20 minutes long (lesson times vary). They show you clearly what you will be doing in that lesson, how to do it step by step with lots of pictures, screen shots, and you can watch them typing it out to see exactly what it should look like. Then they set you to work to do the lessons for yourself. Wondering what my 8 year old thought of the video lessons? Here is what he had to say:
The videos were interesting and fun. The instructor is really funny and pretty easy to understand.
Now I am going to be completely honest here… I am a busy mom, with 5 kids, I could have sat down and watched the videos with my son to help him step by step, but I don't really have the time for that though I believe in the value of teaching kids to code. So here was my favorite part about it… I didn't have to! Even though he is on the younger side of the recommended age range, he was able to do his lessons independently. When I watched him code a new item for Minecraft for our YouTube video, I was blown away. I had no idea what he was doing and it was incredible to watch! When I asked him what he did when he got stuck, this was his response:
When I got stuck I just watched the video again to find where I missed the step, and try again. If that didn't work and I still got errors, I would go to help and ask my instructor. But most of the time I had just missed a step and I could see it when I watched the video again.
Beautiful! My son was learning a complex skill and though I had the ability to learn alongside him and do the lessons, I didn't *have* to. The Mod Design 1 course covers a TON in the lessons. Including:
Coding a Sword
Coding a Pickaxe
Coding your own brand new item (see the video below to see my son's creation)
Coding a New Suit
Coding a Biome
Coding New Friends
Coding a Custom Creature
And so much more!
There are 12 lessons in total, and we found that 1 a week was a good pace for him, though an older child may work through it much faster. My son created a YouTube video to show you exactly what a typical lesson activity looks like, check it out and don't forget to subscribe!
Teaching Kids to Code with Youth Digital
If you are looking for more information or want to read more reviews, head on over and follow Youth Digital on their social media:
Or check out their website at www.YouthDigital.com. From now through March 28th they have 40% off on all their courses to celebrate their new website so make sure to check that out and use code: NEWLOOK40 to get your discount! They also offer a 30 day money-back guarantee so their courses are no risk. If you find it isn't working for your child, is too complicated for them, etc. you can contact their helpful staff and get a full refund within that time frame!
What do you think about teaching kids to code?
I received a free course in exchange for my honest review. All thoughts and opinions expressed are my own and not influenced or managed by the company at all. For more information check out my full disclosure policy here.