I love bullet journaling and I love doodling, but the real magic happens when you can bring them both together! Check out this doodle challenge and some tips to get you started! Don't get me wrong, I am not really an artist. In fact, being homeschooled, art was something I largely missed out on. My dad and mom are both super talented at sketching and doodling and I thought I didn't have a creative bone in my body. Since I started doodling though, I realized it's just like everything else, anyone can do it–with practise. So I started adding little doodles, and I began creating a doodle page. These are GREAT to put in your bullet journal to refer to. I often forget about doodles you are fond of and this helps you catalogue commonly used doodles such as banners, backgrounds, symbols, etc. If you don't know what bullet journaling is, check out this post. Don't forget to pin this for later on your planning board!
Why Create Doodles in your Bullet Journal (or Planner)?
One of the things that people love about bullet journaling is the simplicity of it. There are many people that don't want to doodle because a) they feel inadequate or that they don't have the ability of b) that they don't want to lose the simple feel of their Bujo. If you are concerned about point b, I'm here to tell you that you can do both! You can have a simple bullet journal with a few doodles, especially if they are with a simple black pen, that really "pop" from your page. They are a great way to represent visually a key moment or event from the day. Ie. if my favorite moment was that I went out for ice-cream with my kids, I would do an ice-cream doodle as well as maybe a little notation on that page. I often use doodle's to highlight or accent the simple lists or details that I am writing about, and I don't find they detract from the simplicity at all, but rather add a simple beauty to each page.
How to Doodle (when you have no clue what you are doing)!
If you are like me, with little to no experience with doodling or art in general, it can seem a super daunting task to begin. Here are a few simple steps to get started today!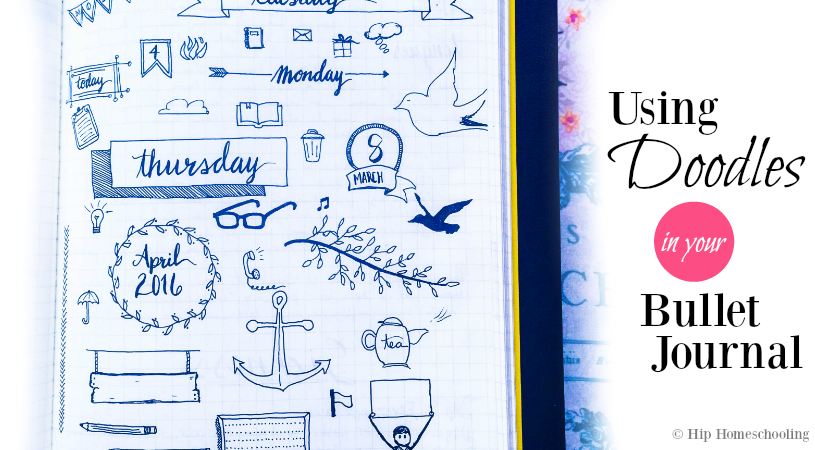 1. Doodle every day: If you are too much of a perfectionist to try adding it to your bullet journal yet, start instead with a little doodle notebook or even just scraps of paper. Find something and try it, Google what you don't know, learn something new every day! The more you practise the faster you will succeed! In fact, as added inspiration, we are going to do a doodle challenge on Instagram! Download your free doodle challenge printable below and try doodling one thing each day. Take a picture of your doodle with your phone and post it on Instagram using #beginnersdoodlechallenge and #planninginspiration4u so I can see your posts! I will be checking in and can't wait to see what you come up with!
2. Copy! Seriously guys, I'm not talking about tracing doodles and claiming them as your own here. I am talking about looking up doodles and trying to emulate them, credit where you got the idea if you know! This is how I began all of my doodling! In fact, I created a board on Pinterest and reference it regularly to get new ideas. If you follow my board (follow here), you'll get lots of weekly inspiration for your own doodle board (which you should start, immediately).
3. Create a doodle collection in your bullet journal, or a few of them! Have a doodle collection just for food! One for planner icons, one for animals, one for banners. Index hem and reference them when you need inspiration for a new doodle.
Do you Doodle in your Planner?