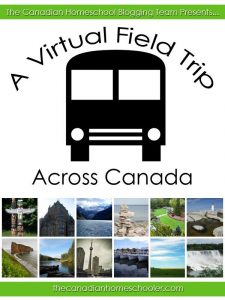 We over at the Canadian Homeschool Blogging Team are so excited to introduce a virtual field trip across Canada and an AMAZING giveaway! This month one lucky winner will receive:
Want to go on a virtual field trip through BC with your kids? Come and explore beautiful British Columbia along with my family. We will take you on a virtual field trip through the Thompson/Okanagan region. If you are looking for more Canadian virtual tours, check out the posts from the Canadian Homeschooling Blogging Team.
Virtual Field Trip in the Thompson Okanagan
The Thompson Okanagan is a highly sought after region of BC. Sunny and warm, surrounded by lakes, rivers and streams. Kamloops is a city of about 99,000 people. The Thompson River runs through it along the trans Canada hwy on the way to Chase. In Chase it connects to the Little Shuswap Lake which then connects to Adam's River and on to the Shuswap Lake. Shuswap Lake is quite large, it is shaped kind of like an H if you can see it on the map here. Driving along the Thompson River on the trans canada hwy is kind of like driving through Arizona, because of the layers from the River over time on the sandy hills.
Things to do in the Thompson Okanagan:
There are lots of great adventures in the Thompson Okanagan area. Here are just a few of them.
Kamloops Wildlife Park is amazing! It has some great animals for a little zoo, it is relatively inexpensive, and has a ton of great programs and events. Other than the park, sandbox, petting zoo, and water park, we love the train rides and the yearly wildlights they put on every Christmas.
Shuswap Lake
Shuswap lake is one of the gems of the interior. It is much less busy than Okanagan lake (although still getting busier every year), it is clear and because it is so long there are lots of places to go from the little Copper Island near Blind Bay to Salmon Arm to Penticton. Houseboating is very popular on the lake as well and there are lots of great places to stop and go cliff jumping or hiking or even camping!
Adams River is stunning, every fall they have their annual Salmon run (although every 4 years is the big one). This is fantastic, it is a beautiful trail with tons of overgrowth and places to stop and throw rocks in the water, and on a good year, the Salmon are astounding! Definitely worth the trip in October if you are ever going through!
Pete Murray's Corn Farm is a little farm in Chase, BC. Every October they take you on a hay ride to go feed the sheep some corn and go pick a pumpkin. This is so much fun and we go every year! One of our favorite fall activities!
Blackwell dairy farm is a wonderful place for a field trip! They take you on tours through the farm, on a wagon ride to see the cattle, we got to see the calves, feed them and pet them and see how modern day milking is done! We love that they are so humane… Blackwell allows their cows total freedom. They choose when to go into the milking themselves and just walk in for a robotic milk and back to their sanctuary. There is even a backscratcher they can access whenever they want!
Davison is one of the gems of the Okanagan. We go there every year for our tour/field trip and to stock up on yummy apples. I always come back motivated to bake some pie and make some applesauce and it is really a wonderful family trip. There is tons to do from the apple cart wagon ride to the tour to the play area… the kids get so excited to go back year after year.
If you live in the area and are looking for some things to do, all of these make great field trips! If you live far far away, take a look at the pictures with your kids and use it as a springboard for discussion and further research.
And be sure to check out the other virtual field trips over at the Canadian Homeschoolers Blog!
Enter the Giveaway!