We have been working on our gardening unit study with Mother Goose Time and the kids are having a blast! There is one particular project that we just ran with and spent most of the day working on… our "garden to groceries" project.
This is a fantastic activity for preschool, kindergarten and older children! The beauty of this is that you can adjust it based on your child's age. It is a great way to teach about sustainable resources, where our food comes from, money sense, and reinforce healthy eating at the same time!
From Garden to Groceries: Plant a Garden, Harvest it and take it to Market!
To start off with you will need to gather all your supplies. Including:
Half an egg carton per child
Bright construction paper
Black or brown paint and paintbrushes
6 popsicle sticks per child
Scissors and Glue
Take a look at our layout before I called the kids in for school: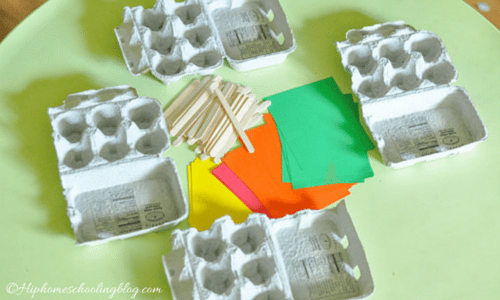 It looks like a lot, but of course there are four kids to do the craft. And that's without the scissors and glue and paint! Whew!
We started out by painting the inside of our cartons black, because dirt is black underneath too (my kids' logic at least)! Then we closed the cartons and painted the outside black as well. This was our dirt "garden".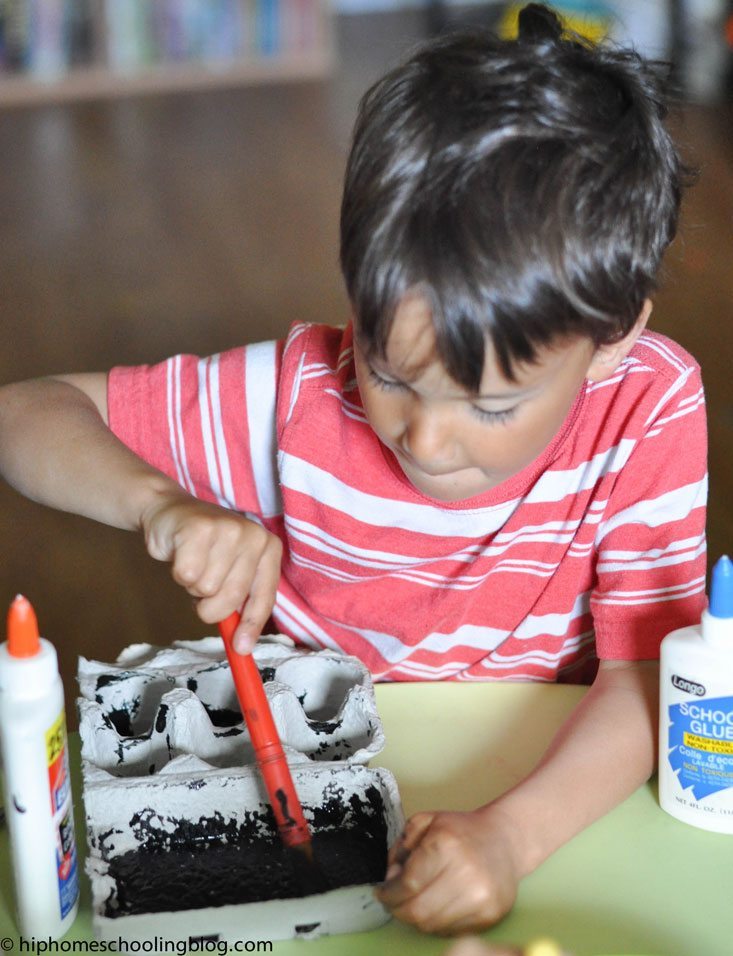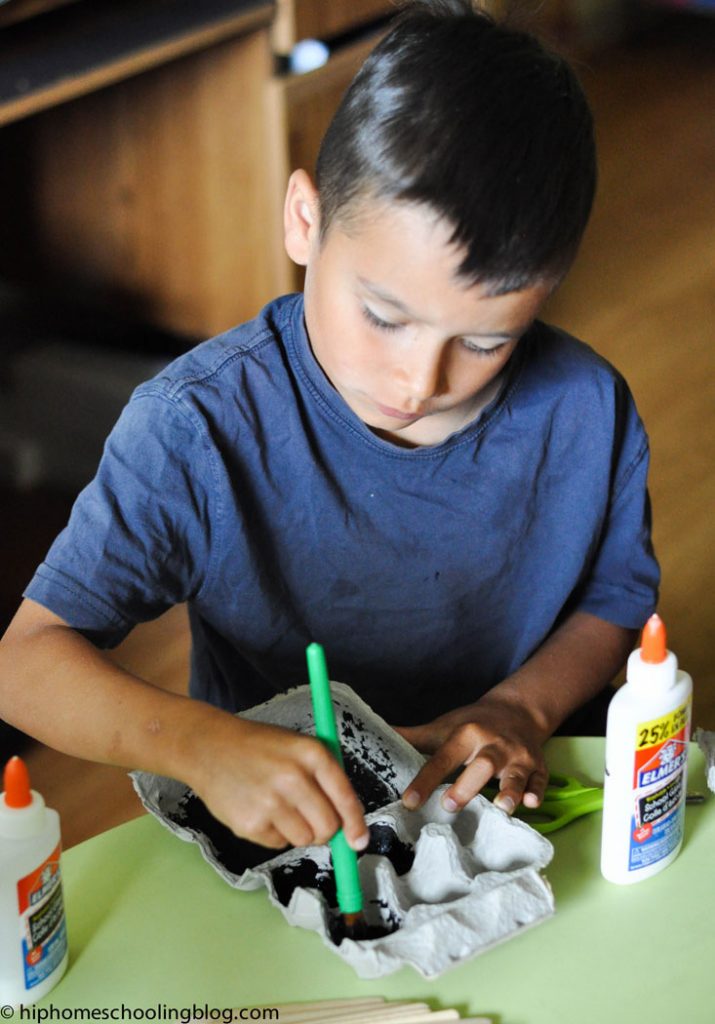 Of course when paint comes out, tornado toddler is right in the action! She had fun painting the table, the floor, and herself when we turned our backs! (Have I mentioned how much I love homeschooling with a toddler???? 😉 )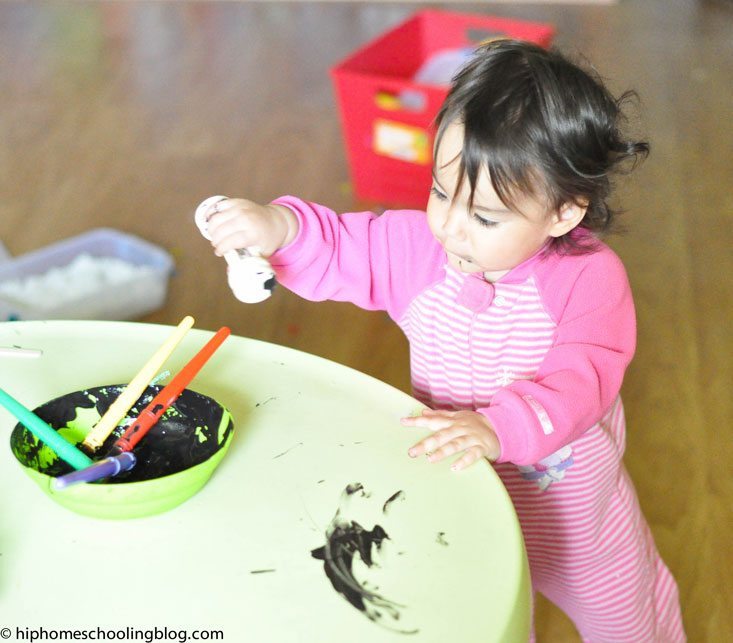 Meanwhile, we moved the party up to the big table because she was getting into literally EVERYTHING and destroying as fast as the kids could create.
Next we used our bright construction paper to cut out and design six different produce items to grow in our gardens. The kids had to plan out what they wanted and how they would use the colored papers to create them.
Honestly, the most important thing for me is to GO AWAY and come back to see what they have done. I catch myself stifling their creativity without even realizing it! "Do it this way, let me help you!" For me to walk away means that the kids get to surprise me with their creations and forces me to butt out and let them create!
I nearly stopped Malakai from "doing it wrong" when he started gluing his carrot but stopped myself thinking 'Ah well, it doesn't matter'. Only to discover he was the ONLY one who created 3D vegetables. All the other kids did it the way I had shown them, 2D cutouts. Malakai made these (a green pepper with seeds inside and a carrot).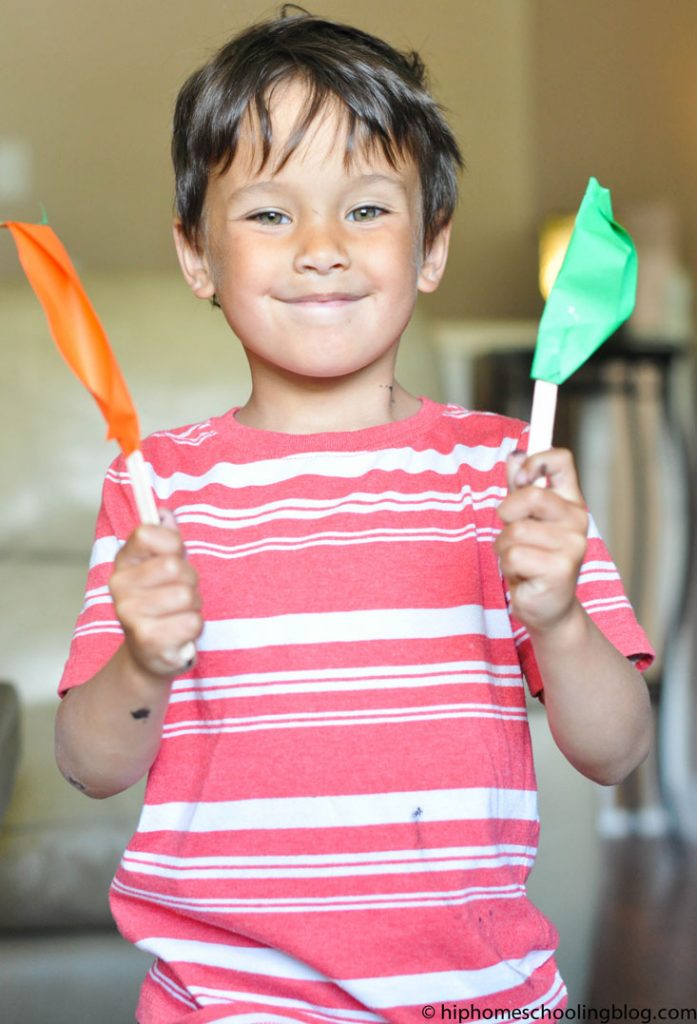 I was shocked when I came down and realized what he had done, and to think I almost stopped him! Another win for Mother Goose Time, this preschool program keeps me on my toes and I am always finding some new fun thing the kids are learning without me even realizing it!
Selah is my little designer and she had to make her garden perfect! She cut and recut and spent a lot of time planning out her vegetables. The key with her is not to rush her, give her plenty of time.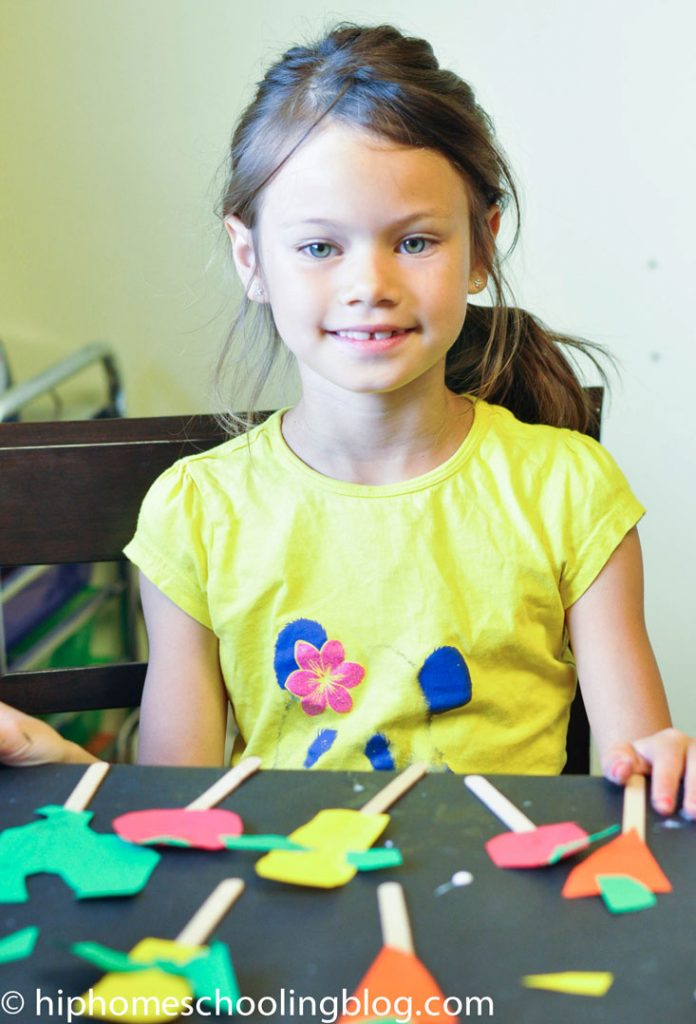 Once we were done designing our garden, we cut little holes in the top of our carton and "planted" them. We then took our vegetables to market to sell.
Extended Learning Activity: Take Your Vegetables to Market to Sell and Learn the answer to "Where Does our Food Come From"
This was a super fun activity for all my kids, including my son in grade 2. It is a great way to learn about counting, money, making change, product value, etc. Learning through play, my favorite! I have some fake money we use for math so I pulled it out and the kids took a plastic shopping bag and went "shopping" at the market. They priced out their vegetables and we learned how produce is sold by weight.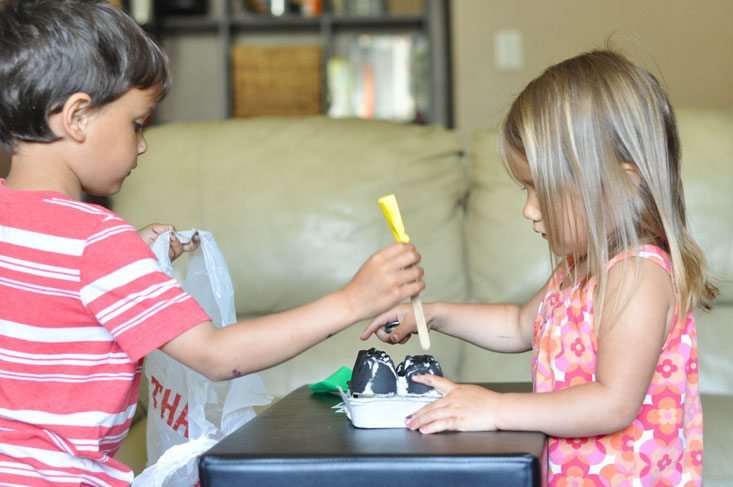 Funny how sometimes one activity from Mother Goose Time just "takes root" (pun intended). This turned into a math activity, science, socials and CAPP! We had so much fun doing it from toddler all the way up to grade 2 and learned a ton!
If you have an early elementary child who is asking where does our food come from, try this out at home! And make sure to pin it by clicking on the flag below!
*I received Mother Goose Time curriculum in exchange for my honest review. All opinions expressed are my own.