The number 1 concern that I hear when it comes to Bible journaling, is that people don't want to write in their Bibles. Perhaps they don't want to paint or cover the scriptures, or maybe they are afraid of ruining their Bible when their art doesn't work out the way they had planned. Whatever the reasoning, this is no reason to hold back from the experience of Bible journaling and the expression and act of worship that it can be. Today I want to share with you 5 different ways you can experience Bible journaling without actually writing in your Bible (non-artsy people, this is for you too!).
1. Start an art journal.
This is a great place to draw or illustrate verses or scriptures that have spoken to you while you are reading. I love making these myself by ripping or cutting up some watercolor paper and making a little booklet out of it. Take a look at the art journal page below to get an idea of how simple this can be (or click on the image to see how I made mine step-by-step)!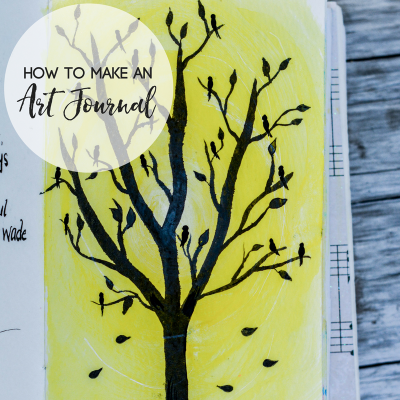 2. Start a scripture notebook.
This is an amazing way to copy the words of God, work on your lettering and improve your art skills so that if you ever do choose to copy something over to your Bible, you have tested it out beforehand. Scripture journals are extremely popular right now because not only are they an opportunity to create something beautiful and artistic, but they help to infuse the word of God into our lives, hearts, and minds. I have been enjoying scripture journaling so much that I am putting together a free scripture notebook that will be sent to my current subscribers sometime in the coming few weeks. If you want to be on the list to receive this 1 month scripture printable/calendar/notebook pages (with a coloring angle), just put your name in the box below and I'll send you a free brush lettering pack to get you started on your calligraphy while you wait!
3. Start a prayer journal.
A prayer journal is another form of Bible journaling. Rather than illustrating or writing out the words of God, you are simply writing out words TO Him! Whether this be praise or requests, a prayer journal is simple to make and can help you keep track of when and how God answers those prayers! I always include one of these inserts in my traveler's notebook, though I tend to keep it a lot simpler and not as artistic as my other journals. If you are interested in making your own, check out this tutorial here.
4. Use free space in your devotional.
My favorite resource for ALL things Bible journaling is Illustrated Faith. They have all the supplies you could possibly need from journaling Bible's to stickers and washi. Their monthly devotional kits are one of the primary ways I have built up my supply section (take a look at how I organize my supplies here). Each month they produce a new devotional kit that comes with washi, bookmarks, stickers, stamps, and more! The devotionals are designed to be a secondary place for Bible journaling, to get you started. They almost always have space for you to practice or illustrate the concept or what God is saying to you and I LOVE this! It means that I can work through a devotional, work out what is meaningful to me, not to mention my designs, and then just copy those over to my Bible! CLICK HERE or on the image below to check out their latest devotional kits and supplies!
5. Bible journal in your regular planner.
Depending on what planner you use, this may or may not work for you. I love combining these two because it means that God is infused into the very substance of my day. I might choose a verse that is on my heart of uplifts me and make it the centerpiece of one of my daily pages. Then I plan my day around it. It is basically a visual representation of keeping the word of God in my heart, in my mind, and the center of my everyday. I think this is ideal for most of us busy moms as it also means you don't have to do anything else, add another book or item to your to-do list. Instead, it is all incorporated. If you do not yet have a planner, I just make my own, and you would be shocked at how easy it can be! I use some pretty cardstock paper for the outside, a traveler's notebook to hold them together, and parchment or some form of art paper inside. I paint, sketch, and doodle my way through my days (see a preview of what some of my more recent pages look like on my planning account @planninginspiration4u).
Whether you are looking for supplies for your planner, journal, or Bible journaling, Illustrated Faith has it all. PLUS they have just released over 100 new products in their shop! AND I have a coupon code to get you started! From now until March 31, you can use code 25FORYOU for 25% off your order and FREE SHIPPING (within the US)!
Need support? Join the group!
Join the exclusive group for Bible journaling inspiration HERE!
*This post contains affiliate links for your convenience. I love sharing what I personally use in my home. Take a peek at my disclosure policy for more info! Every purchase you make through one of my links helps support this blog so that I can continue to bring you awesome content! You guys are the reason I do this, and the reason I am here!