The Beginner's Bible Come Celebrate Easter Sticker and Activity Book by Kelly Pulley popped on the BookLook Bloggers site about a month before Easter. 'Perfect!' I thought, 'Just in time for Easter!' WRONG. The book unfortunately was backordered and we got it only about a month ago but that didn't stop my 5 year olds enthusiasm at this bright book wrapped up all for him! He was ecstatic!
The Come Celebrate Easter Sticker and Activity book is 16 pages long, full color, and created by the same illustrator as the Beginner's Bible. The pictures are familiar if your kids have ever had the Beginner's Bible or even played on the app and there are lots of fun activities to do in the book, perfect for keeping a little one busy at church, the doctor's office, while you are teaching older children, etc. It is best suited for children ages 3-5 although older or younger children would love it too!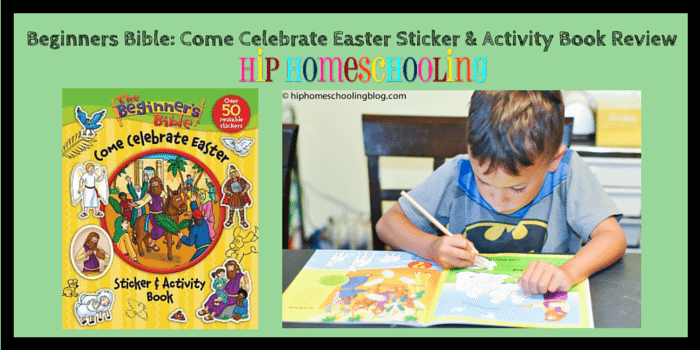 The book is a bit larger than a standard sheet of paper and the pages are thick and durable (while still made of paper, they are thick enough to withstand little fingers). It goes over the life of Jesus up to his death and resurrection and as with all Beginner's Bible books, does this in a very brief overview format (perfect for little people).
What I loved about this book is how simple it is, it is extremely affordable, a great little prize for a job well done and a fantastic way to continue to foster your little ones interest and knowledge about Jesus. My son loved the colors, and what little kid doesn't like stickers?
You may not like this book if stickers give you palpitations, make your palms sweaty, or bring about feelings of anxiety or stress (my husband HATES stickers). But then again, that is written right into the title, so no surprises there! The simple format was something I appreciate from the Beginner's Bible products when working with my really young children, however if you are looking for something more in depth and bang on (word for word with the Bible), you may want to look elsewhere.
Overall, we were very happy with the book. You can purchase it on Amazon for about $3.99 (though it is out of stock right now), so keep your eyes out for it when Easter gets a little closer! Make sure to check out