I'm a big believer in learning through play, I think it is a powerful learning method, especially for kids! So when I discovered Dice Off® Spanish Game for kids by Foreign Languages for Kids by Kids®, I was blown away! Come join us on our family games night and see why you need to get this game!
Dice Off® is not too complicated to figure out. When we opened up the box I'll admit I was a little overwhelmed with the amount of different cards and bags inside, but after spending five minutes or so going over the instructions, I had a pretty good idea of how it worked and couldn't wait to get started.
Step 1: MAKE POPCORN!
You can't have games night without popcorn! Pop up a few bowls, if your kids are anything like mine, they'll be wanting to play for a long time!
Step 2: Set it up
The set up is relatively simple, for beginners, you only use one set of the cards and your flight manual and a dice. Once you have your places set up, you are ready to start!
Step 3: Go over your flight manual
Before you begin, you learn and study the words on your flight manual (every manual has different words). Practice the pronounciation, look at the pictures to see what each word means, look at the spelling, etc. Once everyone feels comfortable with their cards you can move on to play time!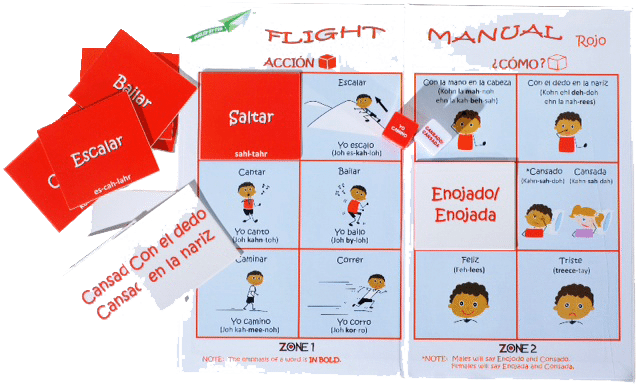 Step 4: PLAY!
This is the best part, each player rolls the dice and has to say correctly the word that comes up. They then have to act it out and place the matching card over the picture box. The next time they roll the dice and get the same word, they won't have the picture clue to remind them what it means and will have to remember the meaning to act it out. It is so much fun acting out the actions for "I sing, I dance, I run, I jump, I drive," etc.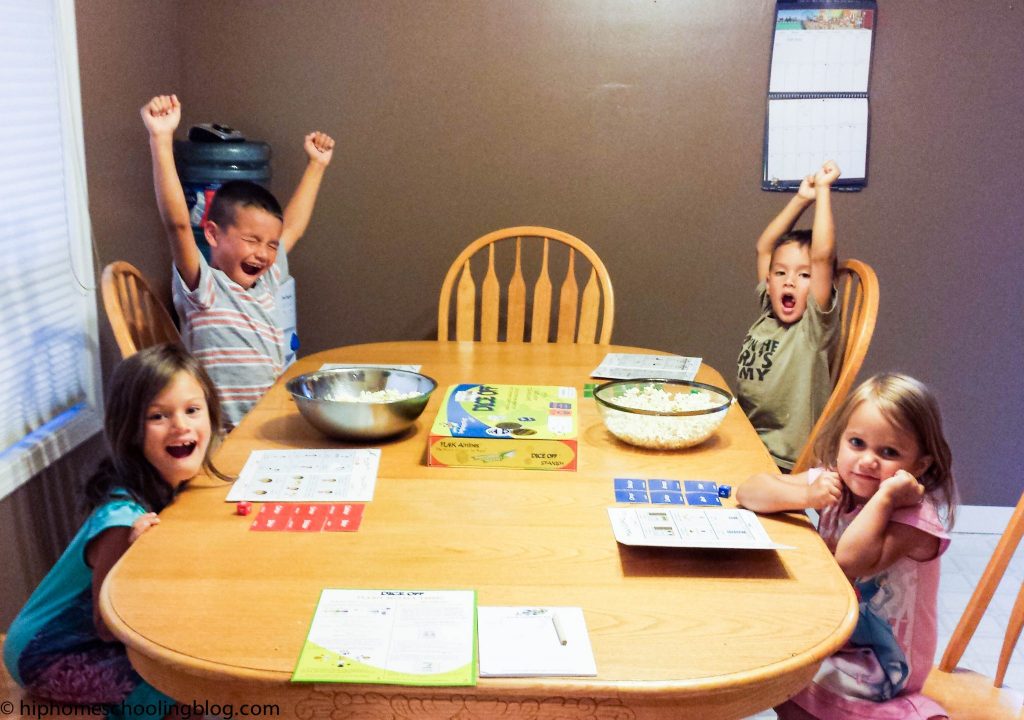 Why do we love this Spanish Game?
Dice Off® is a super fun Spanish game for the whole family! Everyone can enjoy playing and learning Spanish together and it is a great way to enjoy some family time! Dice Off® has 4 different levels of play and over 48 different verbs and word combinations to learn! It gets progressively harder as you go but also includes the free Dice Off® phone app to help you with your pronounciation (hear the words as you go).
It is not difficult to learn how to play and works for kids of all ages (the younger ones work with me and the older ones do it on their own). It makes Spanish come alive for our family! Rather than just learning a word, we are relating these words into our own lives, into actions and personalizing them (not just jump, but I jump).
Where do I buy this Spanish game?
If you want more information or are looking at buying the game, hop over to the website and check it out! The game is $44.95 and the app is included as well if you are concerned about pronounciation!
SHOP HERE
Find them on Facebook!
Have you ever heard of the Dice Off® Spanish Game? Comment below!
This post uses affiliate links for your convenience.